Anyone who is remotely interested in makeup understands the value of a good bronzer. Contrary to popular opinion, bronzers are not agents of bronzing, and don't make you look like a copper utensil. They have many more advantages and uses, some of which are listed below:
Bronzer can add depth to your face. It can make your features look sharp and gorgeous, after they have been subjected to the flattening effects of foundation and concealer.
A good bronzer can hide chalky, cakey makeup. If you are like me, and you love makeup but sometimes suck at it, you know important a correcting finishing touch can be.
Bronzers can also make your face look thin and angular, because it plays with light and shadow.
Bronzers give you the natural sun-kissed look, so that you look like you got the most beautiful tan ever.
Bronzers add warmth to your face, especially if you have exceptionally yellow or cool-toned skin. It lends a glow and evenness to the complexion which no other product is able to do.
Those were only some of the beautiful effects of bronzer. However, if you have sensitive skin, then you must be thinking whether all that was relevant to you at all or not. The thing is, people with sensitive skin tend to shy away from makeup because their skin is highly reactive to products. However, when you know which products and brand to trust, you too can look like a bronze goddess. To achieve the dream, you can check out the following guide on how to choose the best bronzer for sensitive skin.
---
Suggested read: How To Pick The Best Primer for Sensitive Skin
---
However, before I get to revealing the ultimate tips for picking a bronzer which won't make your skin look like crap, here are a few skin care tips, which will help you prep that gorgeous face of yours, for a hassle-free and flawless makeup experience.
Do not forget sunscreen. Half the time, your skin reacts because you are exposed to the harmful rays of the sun, which can be avoided when you use sunscreen with the right amount of SPF every day of the year.
Cleanse your face as often as possible with natural cleansers like milk, apple cider vinegar, honey, etc. This leaves the surface of your skin feeling smooth and fresh always.
Make sure that you don't use makeup products which have been used by other people, whether it is a lipstick, blush, brush, mascara or anything else.
When choosing your makeup, make sure that you know exactly what goes into your products, and whether you are particularly reactive to any of the ingredients.
Choose the most natural products and brands available, and don't become miserly when buying makeup. Good brands might be a little more expensive that the stuff you get in drug-stores, but they are infinitely better for your skin.
These are only some basic skin care pointers for you, if you have sensitive skin. However, just because you have sensitive skin doesn't mean you have wave goodbye to makeup. You can use bronzers to your advantage and look like a goddess without compromising on the health of your skin. Check out this guide to figure out how to buy the best bronzer for sensitive skin.
1. Know your skin tone: Whether you have sensitive skin, acne-prone skin, dry skin or oily skin, you have to consider your skin tone first before investing in makeup. Even though you can choose whatever makeup you think looks awesome on you, you can check out your skin tone if you need a place to start. This is especially for novices. Depending on whether you have fair, olive, or dark skin, your choice of bronzer also undergoes change.
If you have fair skin, then you should check out high-end bronzers which come in soft shades like pink, peach and rose gold. These colors will give you a natural bronzing effect, instead of creating an unnatural brownish contrast with your pale skin. It will also sharpen some of the paleness and give you a shiny, glowy look. Here are a couple of brands which have a great bronzer collection for pale skin.
Becca Luminous Body Perfecting Mousse
Essence Luminous Matte Bronzing Powder
MAC Sculpt Delicates Fruity Juicy Studio Bronzing Powder
If you have olive toned skin, then you can find bronzers really easily, because most of the shades that bronzers commonly come in are compatible with your skin tone. This is probably because you have a gorgeous natural glow to your face already, which is only highlighted when you have access to the perfect bronzer. Check out shades in the warm spectrum, in colors like honey, golden, sheer browns. Here are some of our favorites!
NYX Professional Makeup Matte Body Bronzer
L'Oreal Paris Glam Bronze Duo
Benefit Hoola Matte Bronzer
---
Suggested read: Great Tips For Choosing The Best Blush For Sensitive Skin
---
The best part about having dark skin tones is that you don't need a whole lot of bronzer to make your skin look naturally shining and bright you already have that glow, which is only enhanced when you dab on a little shimmer in the form of your bronzer. A little dab on your forehead, cheeks and chin is more than enough to give you the perfect sun-kissed look. Go for shimmery shades in brown, honey and golden for that ethereal goddess effect. Here is what we recommend.
NARS Sun Wash Diffusing Bronzer
IMAN Cosmetics Sheer Finish Bronzing Powder
Makeup Revolution Vivid Baked Bronzer
2. Decide which formula suits you: The second most important thing that you need to consider when buying yourself bronzer, is the formula that you are most comfortable with. Oftentimes, people with sensitive skin have trouble with makeup because their skin cannot handle the form of the product, rather than the contents. The essential difference in choosing a powder bronzer or a liquid bronzer is the kind of finish that you want. However, that is the case for most people. You have to see which formula suits your skin the best and you can work yourself to get the finish that you want with your makeup. Here is more on liquid and powder bronzer.
Summary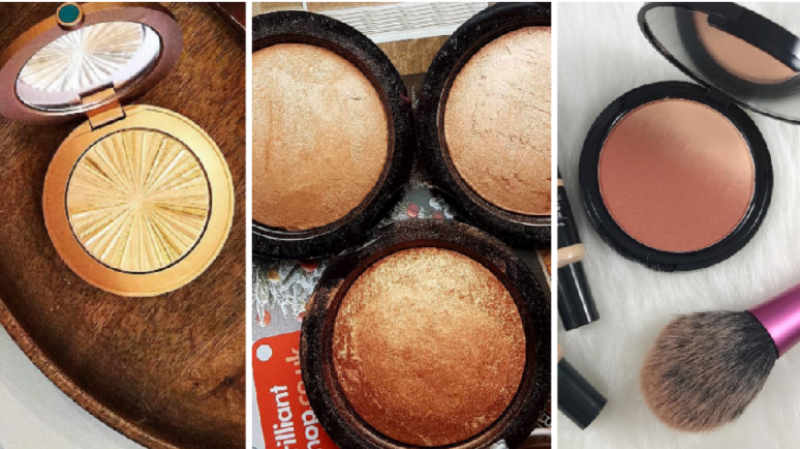 Article Name
Essential Tips For Finding The Best Bronzer For Sensitive Skin
Author
Description
Sensitive skin doesn't mean a permanent makeup hiatus! Check out the ultimate guide for picking the best bronzer for sensitive skin.
Read the rest of the article:
Next