Having oily skin means having to deal with a hoard of problems that people with dry or combination skin don't have to worry about. One of the biggest drawbacks of having oily skin, is that makeup does not last very long as the oil tends to oxidize most of the makeup and essentially melt it away.
Also, having oily skin usually means that you have relatively large pores. The larger your pores, the higher the chance of gunk getting stuck in them, resulting in even more skin problems including pimples, severe acne and blackheads. If you have oily skin and large pores, you must be especially careful about the kind of makeup you use, because most makeup products are chemical based, and letting their elements settle into your pores will result in long-lasting skin problems. While one of the most problematic parts of makeup for oily skinned people is the foundation, a little known fact is that the right kind of blush can actually make you look a bazillion times better than if you wear a random, average quality blush.
---
Suggested read: Essential Tips You Must Know To Choose The Best Setting Powder For Oily Skin
---
Before we can start going through the list of best blush for oily skin, here are some of the top skincare tips for those of you with oily skin.
Wash your face at least twice a day and exfoliate only once or twice a week.
Make sure you moisturize your skin. If you try to forcefully dry out your skin, it will produce more oil than ever before, in order to survive. So, if you want to get your oily skin under control, always remember to moisturize it well. You can use gel-based moisturizers and hydrating agents in order to moisturize your skin without making it feel too thick and goopy on your skin.
Use good quality makeup. Bad makeup may trigger an unwanted reaction on coming in contact with your skin. Oily skin types must always keep their skin clean, in order to prevent break-outs and severe skin infections.
Always clean your brushes. Dirty brushes will not only prevent you from having a great makeup day (think streaky foundation, dirty eye shadow, etc), but they also carry bacteria which may aggravate any skin conditions you may have (especially acne and pimples).
While your skin tone has a pretty big role to play in finding the most perfect blush ever, your skin type is also a pretty important variable in that equation. Here are our top tips on how to find the best blush for oily skin.
1. Know your skin tone:While makeup and beauty has no rules and almost all makeup looks amazing on everyone, there are some ways in which you can find the products that will make you look like a goddess. If you are fair skinned, olive skinned or if you have dark skin, there are a gazillion different blushes to make you look and feel like a million bucks.
If you are relatively fair skinned then you can opt for pinkish shades of sheer blush for a soft, no-makeup-makeup look, or even bold, dark shades like purple and red, for an edgy look Here are our top picks for fair skin.
MAC Blush in Full Fuchsia
Charlotte Tilbury Cheek to Chic Blush
Marc Jacobs Air Blush Duo in Flesh and Fantasy
If you have olive skin, you can opt for warmer tones of blush including bronze, peach and coral. You can go for high shine blushes for a glam look, or opt for a more sheer finish for a naturally flushed look. Here are some of our favorite blushes for olive skin.
NARS Blush in Orgasm
Marc Jacobs Shameless
MAC Extra Dimension Blush in Into the Pink
For those of you with dark skin, your options are endless. You can opt for a simple look with sheer blushes in shades of orange, peach, coral and fuchsia. You can go for more OTT shades like shimmery pink, bronze, glittery peach blushes for a glam-party-look. You can also opt for shades of purple and even red, for an edgy and high fashion look. Here are some of our favorite blushes for dark skin.
Sisley L'Orchidee Deep
Urban Decay blush in Crush
Nars Angelika
---
Suggested read: The Ultimate Guide On How To Pick The Best Concealer For Oily Skin
---
2. Decide on the Occasion:
Like I said before, makeup tends to not last very long on oily skin. So, it is very important to choose your blush according to the occasion and how long you intend to wear your makeup without touching up.
If you want something for a semi-special occasion, like a date or just brunch/dinner with friends then you can opt for soft matte or semi-sheer blushes that provide just a light wash of color on your cheeks (for a natural flushed look). Of course, most of these blushes tend to not last very long as the oiliness of your skin will probably dull the color after a couple of hours of wear. So, you will require touching up every now and then. Here are some of our favorite daily-wear blushes for oily-skin.
Clinique Cheek Pop in Berry
Charlotte Tilbury Cheek to Chic Blush
Hourglass Cosmetics Ambient Lighting Blush collection
Marc Jacobs Airblush Duo in Kink&Kisses
If you wear makeup throughout the day, you should reach for something that is a bit more heavy-duty than the ones listed above. Brands like MAC, Urban Decay and NARS tend to make relatively heavy-duty blushes that not only have more color payoff, but also last very long, with little to no touching up. So if you want a blush that you can wear to work and not have to worry about reapplying every couple of hours, then these next blushes shall be your salvation.
MAC WellDressed
MAC Mineralize Blush in Dainty
Benefit Benetint
NARS Blush in Oasis
3. Decide on A Form/Texture:
While the most obvious form of blush for oily skin would be a matte powder blush, there is actually a large variety of blushes available to oily-skin types. You can choose from a vast array of styles ranging from matte powder blushes, to baked powder blushes, to liquid blushes and cheek tints.
Powder blushes are great for days when you're going for a pretty full-on glam look. The powder will absorb any excess oil your skin may produce after you've applied your makeup. This will not only help the blush really melt into your skin and last super long, but will also keep at least a part of your makeup from oxidizing or fading. Even in case of powder blushes, you can choose matte blushes that give amazing payoff (heavy pigment transfer) or you can opt for high-shine blushes (generally called baked blushes) to get a two-in-one highlighter-and-blush-combo effect. Here are some of our favorite powder blushes.
Summary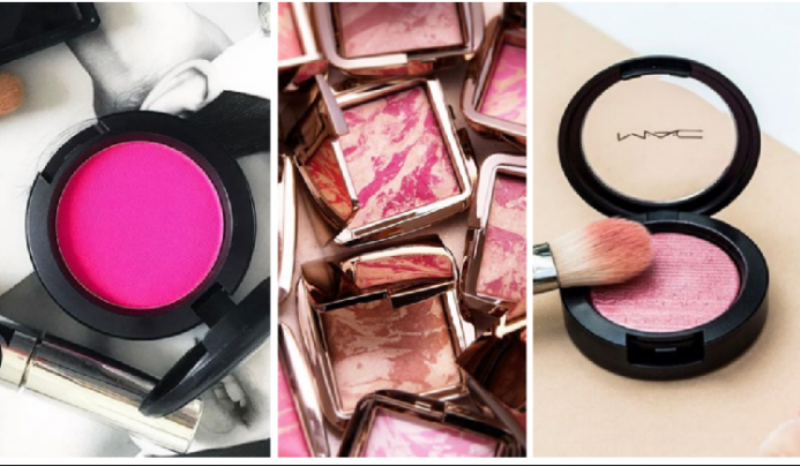 Article Name
Ultimate Tips For Choosing the Best Blush for Oily Skin
Author
Description
If you think you can't wear blush because you have oily skin, think again. We have for you the ultimate guide to choose the best blush for oily skin, to make your makeup dreams come true!
Read the rest of the article:
Next