Who said romance is dead? It is very much alive and kicking. Well, this couple ain't got nothing to complain, that's for sure. Maybe the guy is getting an earful from his laughing girlfriend, but I'm guessing even she wouldn't, given a chance.
Paige-Ellen Williams got a surprise visit from a Tesco delivery driver. He informed her that he was there to deliver the 12 bags of flour that were ordered. A baffled Paige told him that he might have the wrong address, and sent him away.
But the Tesco driver came back, insisting that the address was right, and that he'd spoken with her boyfriend Richard Selway, who'd confirmed that the bags of flour were definitely for her. Then, things began to become clear for Paige.
Image source: Facebook
In her Facebook post, Paige writes: "A Tesco delivery man knocked my door this morning and I sent him away telling him he had the wrong address! we never shop in Tesco and why the hell did I need 12 bags of flour? He came back insisting the delivery was for me as he'd spoke to my boyfriend! Turns out its this idiots idea of a joke!! Idiot!" (sic)
Talking to Wales Online, Paige said,
"I was teasing him a few weeks ago telling him I deserved to have flowers delivered to the house after a pretty challenging day. I completely forgot I'd said anything to him about it."

"It wasn't until the delivery driver left that I realized every single carrier bag was full of flour and the penny finally dropped," she said.
Eventually, when Paige texted her boyfriend, Richard, things were clarified.
Image source: Facebook
Meanwhile, Tesco put in its two cents worth of praise for the romantic gesture: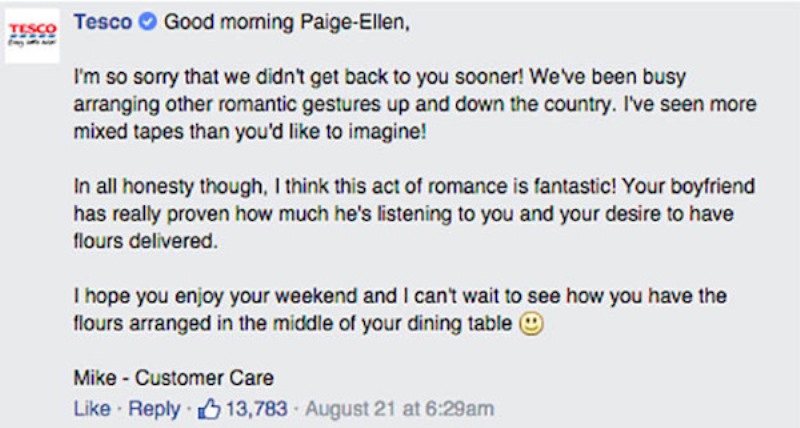 Image source: Facebook
---
Suggested read: Research confirms that women are more likely to initiate divorce
---
Talking about her boyfriend, Paige further said,
"He's usually very romantic and thoughtful and he's a great daddy to our daughter Hazel. But he has a wicked sense of humor. He's very lucky I find him so funny!"
And according to Wales Online, this isn't the first time that Richard has displayed his wicked sense of humor and weird pranks to show his girlfriend that he loves her. Apparently, when Paige got sick, he wore a hazmat suit to tend to her. Take a look at the picture.
Another incident where Richard displayed his wacky sense of humor is when the couple celebrated their first anniversary together. He apparently gave Paige this card: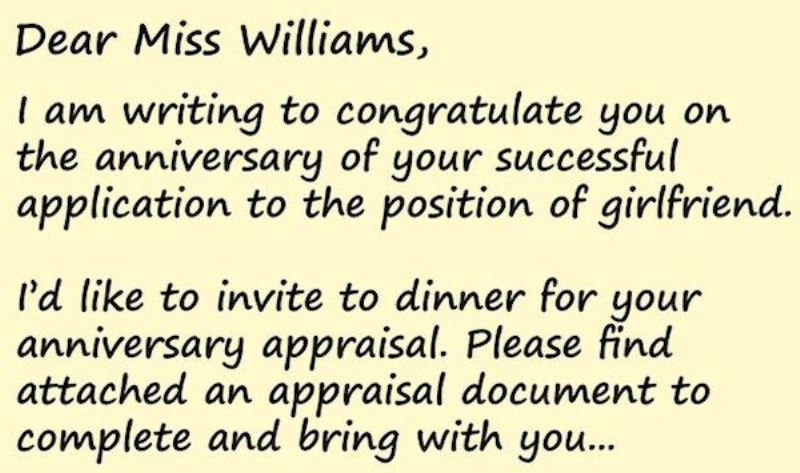 Whether it's 12 bags full of flours or 12 dozen flowers, keeping the spark alive in the relationship, and seeing the lighter side of life are very important.
Would your partner take kindly if you replicated this romantic gesture? Or will they find fault in it? Tell us in the comments below.
Featured image source: Facebook
Summary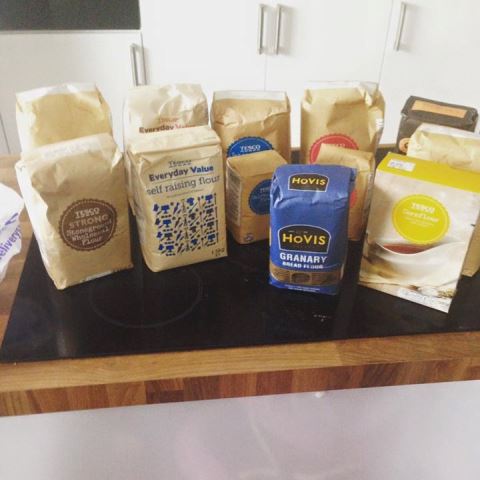 Article Name
Welshman Delivers Flours For His Girlfriend!
Author
Description
To surprise his girlfriend, Paige-Ellen Williams, Richard Selway had 12 bags of flours for his girlfriend delivered! And they say romance is dead! :P