Seeking inspiration for a proposal? Well, the World Wide Wed … err … Web is filled with countless ideas – from simple, earthy, and understated proposals to the most zany, outrageous, and over-the-top ones! But you know where I am going to take you? I am going to take you down the rabbit hole to the fantastical world of literature for some mush-inspiration for marriage proposals.
Unlike the YouTube-geared proposals which propagate an engagement arms race, the lanes of literature are rife with romantic marriage proposals that render the fancy of love as a true feeling emanating from the words on the pages as a symphony that does well to sync with the reverb of your heartbeats! And given that I have always maintained how art is a reflection of life whilst life draws its inspiration from art, it just seems fitting that I visit lit-ville to list the best marriage proposals ever!
---
Suggested read: Top 13 movie proposals for inspiration
---
So, without further ado, here are the top ten best marriage proposals to have adorned the canon:
1. Beatrice and Benedick in Much Ado About Nothing
I think it is fitting that we start with the playwright who has given us immortal lovers – star-crossed or not, who we still look up to as nonpareils! Plus, considering how besotted we humans are with the love-hate dynamic, we almost inevitably gravitate toward a story wherein sworn enemies become passionate lovers, crazy in love. Find their adorable exchange here:
BENEDICK: They swore that you were almost sick for me.
BEATRICE: They swore that you were well-nigh dead for me.
BENEDICK: 'Tis no such matter. Then you do not love me?
BEATRICE: No, truly, but in friendly recompense.
[Their friends bring out two love poems that each has written about the other.]
BENEDICK: A miracle! Here's our own hands against our hearts.
Come, I will have thee; but, by this light, I take
thee for pity.
BEATRICE: I would not deny you; but, by this good day, I yield
upon great persuasion; and partly to save your life,
for I was told you were in a consumption.
BENEDICK: Peace! I will stop your mouth.
Kissing her
2. Levin and Kitty in Anna Karenina
One of my favorites ever, this rather charming piece of professing one's unwavering commitment to one's beloved is an incredibly delightful page of LOVE. If you have ever found a friend you could love and be your best possible self with, you'd know. Read this one to believe in the magical spell it cast upon me:
"Well, read this. I'll tell you what I should like–should like so much!" she wrote the initial letters, i, y, c, f, a, f, w, h. This meant, "If you could forget and forgive what happened."
He snatched the chalk with nervous, trembling fingers, and breaking it, wrote the initial letters of the following phrase, "I have nothing to forget and to forgive; I have never ceased to love you."
She glanced at him with a smile that did not waver.
"I understand," she said in a whisper.
He sat down and wrote a long phrase. She understood it all, and without asking him, "Is it this?" took the chalk and at once answered.
For a long while he could not understand what she had written, and often looked into her eyes. He was stupefied with happiness. He could not supply the word she had meant; but in her charming eyes, beaming with happiness, he saw all he needed to know. And he wrote three letters. But he had hardly finished writing when she read them over her arm, and herself finished and wrote the answer, "Yes."
"You're playing secretaire?" said the old prince. "But we must really be getting along if you want to be in time at the theater."
Levin got up and escorted Kitty to the door.
In their conversation everything had been said; it had been said that she loved him, and that she would tell her father and mother that he would come tomorrow morning.
---
Suggested read: Essential love lessons from 90s movies
---
3. Marius and Cosette in Les Miserables
There aren't any words befitting to describe this one. A literary piece that weaves love onto the fabric of life with such poignant threads as 'Ye who suffer because ye love, love yet more. To die of love, is to live in it' needs no elaboration than the words that hold it together. Here is the ever-tender, ever-special proposal:
He grasped her, she fell, he took her in his arms, he pressed her close, without knowing what he was doing. He supported her, though he was tottering himself. It was as though his brain were full of smoke; lightnings darted between his lips; his ideas vanished; it seemed to him that he was accomplishing some religious act, and that he was committing a profanation. Moreover, he had not the least passion for this lovely woman whose force he felt against his breast. He was beside himself with love.
She took his hand and laid it on her heart. He felt the paper there, he stammered:–
"Then – you love me?"
She replied in a voice so low that it was no longer anything more than a barely audible breath:–
"Of course! You know I do!"
And she hid her blushing face on the breast of the superb and intoxicated young man.
He fell upon the bench, and she beside him. They had no words more. The stars were beginning to gleam. How did it come to pass that their lips met? How comes it to pass that the birds sing, that snow melts, that the rose unfolds, that May expands, that the dawn grows white behind the black trees on the shivering crest of the hills?
A kiss, and that was all.
4. Thornton and Margaret in North and South
This one did not have a happy ending but it is one of those rare occasions in literature when you couldn't help but feel empathy for both parties at the same time! Don't believe me – I have a visual treat for you here:
5. Florentino and Fermina in Love In The Time Of Cholera
Marquez plays his best game here. Leaving us in wonder about Florentino's exact words in the letter, he leaves us with Fermina's one-line response. And well, when I was reading it first, I paused and took down notes!
Fermina Daza, however, was so confused that she asked for some time to think it over. First she asked for a month, then two, then three, and when the fourth month had ended and she had still not replied, she received a white camellia again, not alone in the envelope as on other occasions but with the peremptory notification that this was the last one: it was now or never. Then that same afternoon it was Florentino Ariza who saw the face of death when he received an envelope containing a strip of paper, torn from the margin of a school notebook, on which a one-line answer was written in pencil: 'Very well, I will marry you if you promise not to make me eat eggplant.'
And hon, if you are reading, which I know you are, I will marry you if you promise not to make me eat anything I cook! 😛
6. Knightley and Emma in Emma
Image source: Google, copyright-free image under Creative Commons License
One of the most real proposals (if that) in lit-scape, this one clearly delineates the human element in all of us – with our jealousies, inconsistencies, and all that. In a speech that is self-admittedly 'poor,' Knightley is accepting of his shortcomings and asks for Emma's love in return, if she will have him, in spite of his flaws! A gem of a piece, this one is as REAL as it gets:
"I cannot make speeches, Emma," he soon resumed; and in a tone of such sincere, decided, intelligible tenderness as was tolerably convincing.—"If I loved you less, I might be able to talk about it more. But you know what I am.—You hear nothing but truth from me.—I have blamed you, and lectured you, and you have borne it as no other woman in England would have borne it.—Bear with the truths I would tell you now, dearest Emma, as well as you have borne with them. The manner, perhaps, may have as little to recommend them. God knows, I have been a very indifferent lover.—But you understand me.—Yes, you see, you understand my feelings—and will return them if you can.
What did she say?—Just what she ought, of course. A lady always does.—She said enough to shew there need not be despair—and to invite him to say more himself. He had found her agitated and low.—Frank Churchill was a villain.— He heard her declare that she had never loved him. Frank Churchill's character was not desperate.—She was his own Emma, by hand and word, when they returned into the house; and if he could have thought of Frank Churchill then, he might have deemed him a very good sort of fellow.
---
Suggested read: Why Wuthering Heights shall remain the most passionate love story ever
---
7. Heathcliff and Catherine in Wuthering Heights
One of my all-time favorites, this one isn't really a proposal – but it certainly is the beginning of the union of two souls that belong to each other and could only be united by leaving behind the fetters of the world which kept them away.
I'm wearying to escape into that glorious world, and to be always there: not seeing it dimly through tears, and yearning for it through the walls of an aching heart: but really with it, and in it.
Match this with Heathcliff's heartrending agony at Catherine's death and you will know exactly what I am hinting at:
Be with me always – take any form – drive me mad! Only do not leave me in this abyss, where I cannot find you! Oh, God! It is unutterable! I can not live without my life! I can not live without my soul!
Maddening and all-consuming ardor, passion, and wildness – well, LOVE!
8. Professor Bhaer and Jo in Little Women
Of course, this might cause quite some stir, as it does in literary circles too. But I belong to the faction that finds Professor Bhaer as Jo's complementary half. It is his sweet, patient, and wise approach that Jo needs to even out her wild side. As such, this piece of finding a 'home' in a person is endearing:
"Jo, I haf nothing but much love to gif you. I came to see if you could care for it, and I waited to be sure that I was something more than a friend. Am I? Can you make a little place in your heart for old Fritz?" he added, all in one breath.
"Oh, yes!" said Jo.
It was certainly proposing under difficulties, for even if he had desired to do so, Mr. Bhaer could not go down upon his knees, on account of the mud. Neither could he offer Jo his hand, except figuratively, for both were full. Much less could he indulge in tender remonstrations in the open street, though he was near it. So the only way in which he could express his rapture was to look at her, with an expression which glorified his face to such a degree that there actually seemed to be little rainbows in the drops that sparkled on his beard.
"Ah! Thou gifest me such hope and courage, and I haf nothing to gif back but a full heart and these empty hands," cried the Professor, quite overcome.
Jo never, never would learn to be proper, for when he said that as they stood upon the steps, she just put both hands into his, whispering tenderly, "Not empty now," and stooping down, kissed her Friedrich under the umbrella … Though it came in such a very simple guise, that was the crowning moment of both their lives, when, turning from the night and storm and loneliness to the household light and warmth and peace waiting to receive them, with a glad "Welcome home!" Jo led her lover in, and shut the door.
9. Rhett Butler and Scarlett O'Hara in Gone With The Wind
This one isn't a run-of-the-mill proposal. And for a heroine that flouts the conventional definition of 'heroine' and a hero that isn't nearly a 'hero,' in the traditional sense of the term either, this isn't surprising. True to the quirks of their nature and in keeping with the fiery passion between them, this one is just perfect:
Say you'll marry me when I come back or, before God, I won't go. I'll stay around here and play a guitar under your window every night and sing at the top of my voice and compromise you, so you'll have to marry me to save your reputation.
His cad-like brazen proposal meets a NO. But then he kisses her and she says YES!
10. Wentworth and Anne in Persuasion
Austen knows best to make silences speak. There is no verbatim (or in this case written) declaration of 'will you marry me,' but with what she gives us – there doesn't need to be. Check out one of the most exquisite letters in literature:
I can listen no longer in silence. I must speak to you by such means as are within my reach. You pierce my soul. I am half agony, half hope. Tell me not that I am too late, that such precious feelings are gone for ever. I offer myself to you again with a heart even more your own than when you almost broke it, eight years and a half ago. Dare not say that man forgets sooner than woman, that his love has an earlier death. I have loved none but you. Unjust I may have been, weak and resentful I have been, but never inconstant. You alone have brought me to Bath. For you alone, I think and plan. Have you not seen this? Can you fail to have understood my wishes? I had not waited even these ten days, could I have read your feelings, as I think you must have penetrated mine. I can hardly write. I am every instant hearing something which overpowers me. You sink your voice, but I can distinguish the tones of that voice when they would be lost on others. Too good, too excellent creature! You do us justice, indeed. You do believe that there is true attachment and constancy among men. Believe it to be most fervent, most undeviating, in me. F. W.
If only words could sing and the spaces betwixt them lend some music, these would! These WOULD!
Of course, these are my favorites. If there are any that have your heartbeats revving more, feel free to type away in the comments box below.
Summary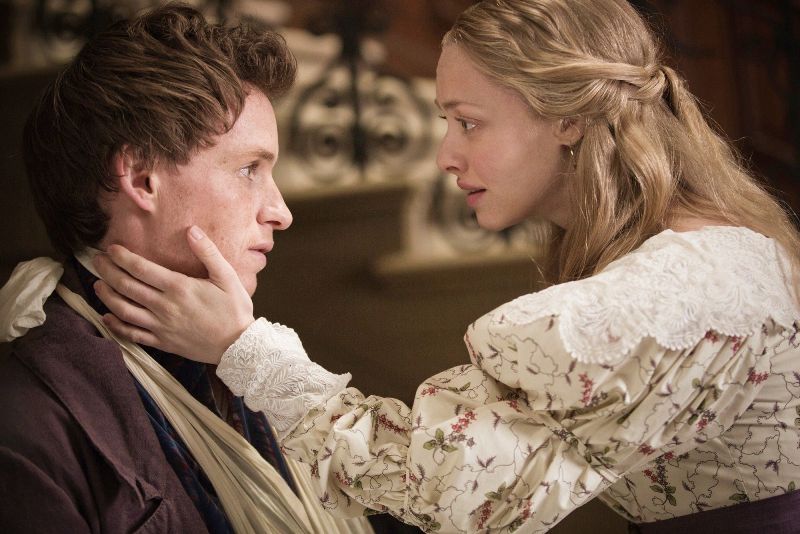 Article Name
10 Best Marriage Proposals In Literature
Author
Description
We dished out the best movie proposals a few days back and now it is time to look at the best marriage proposals from the pages of literature. Check it out.