They say your marriage is the rosiest during the honeymoon period. Those jibes and comments about how the honeymoon period will soon be over and you will have to give in to the role of the regular wife is all too common. Before thinking over these, why not spend all your efforts into planning the best honeymoon you could possibly have as a couple?
In terms of honeymoon clothes and fashion too, you need to plan stuff carefully. It is easy to carry something too sexy and then find it unwearable. Then again, there could be an overload of conservative clothes that will barely add spice to your honeymoon.
---
Suggested read: 15 most dazzling honeymoon suites that will leave your mouths hanging open!
---
So here's a guide to help you pack a variety of outfits for your honeymoon that suit any kind of occasion:
1. Combine and contrast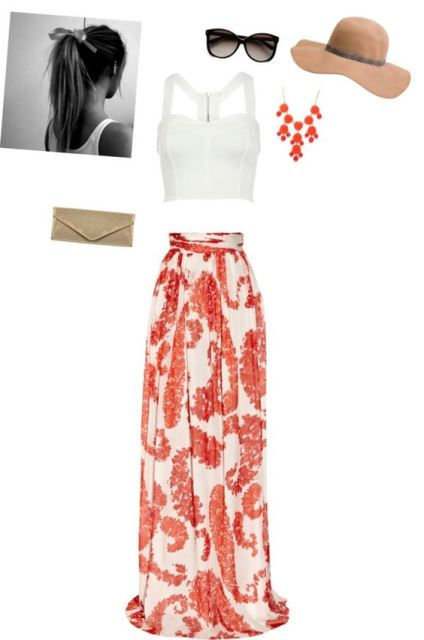 Image source: Pinterest
There is no point going out specially to buy honeymoon clothes. In fact,  styling your current clothes into clever combos does the job too. Try loading up capris with a crop top. Only make sure your crop top is tied up in a knot at its bust line. Another hack to follow if you are going honeymooning on a beach is to get a maxi dress with some side slits done on it from the thigh area all the way down to the heels.
2. Trim trim trim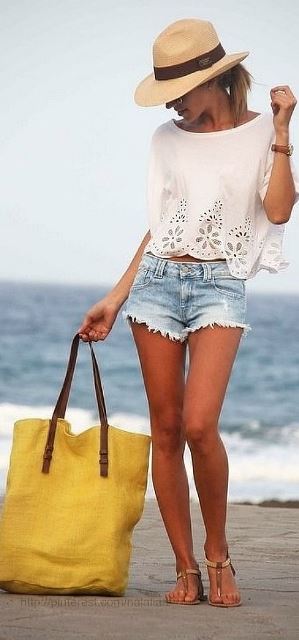 Image source: Pinterest
Got a pair of old but well-fitted jeans lying around? Well then, before you leave for your honeymoon, trim the ends and make this a ready to go shorts or even hot pants. What you can also do is take an old pair of denim shorts, add sequined embellishments and also wrap a sarong over it. This honeymoon clothes hack will look like a million bucks. Also, you will look every bit the blushing bride out on a fashion parade.
3. Shrug all the way

Image source: Pinterest
Revealing clothes are hot but hotter still is a fashion statement that makes your partner look forward to admiring you. Play peek-a-boo cleverly as you throw a sheer shrug over a tube top or bustier. Team this with a short skirt of peplum midi skirt. With honeymoon clothes hack such as this at hand, there never will be a dull moment during your honeymoon.
4. Button down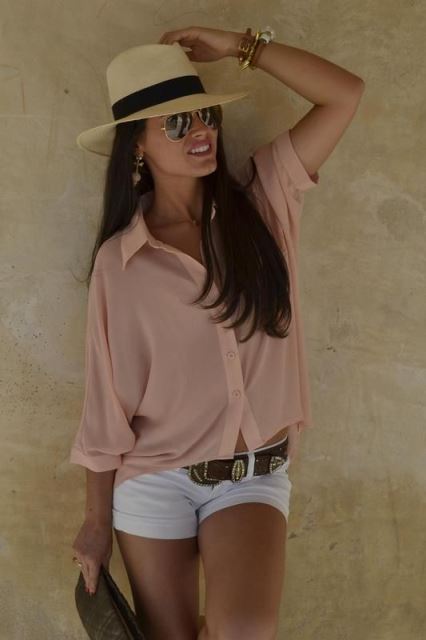 Image source: Pinterest
Why waste time and money buying an all too deep top that you can barely carry off? While your honeymoon period is just starting, you also need to establish your fashion game. After all, those candid clicks will be in place forever. Get a translucent shirt and leave the first four buttons undone. Make sure you wear a sports bra in pop color underneath. This hack will make you look every bit the blushing bride and a diva – all at the same time.
5. Use monochrome to your advantage
Image source: Pinterest
Yes, while this is least expected, you need to get at least one outfit in monochrome among your pile of honeymoon dresses. Honeymoon fashion hacks for making you look the blushing bride will mean that you have to add sass to the usual stuff. Get a fitted shift dress and ensure that it comes with a deep cut back. This is where the magic begins. While you look every bit the uptown girl from the front, the back makes you a blushing bride ready for some serious honeymoon fun.
6. Flaunt your wedding band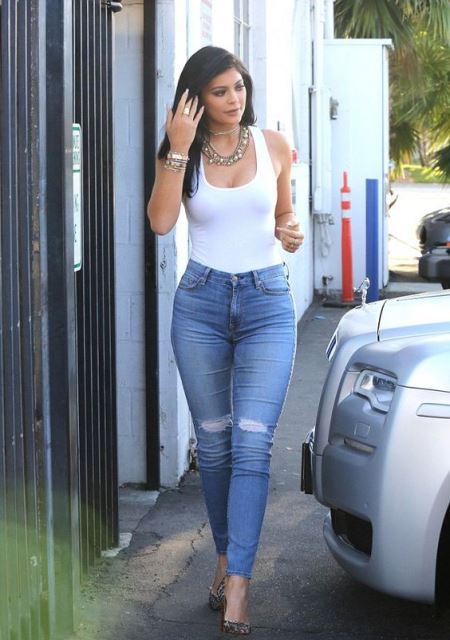 Image source: Pinterest
However you choose to flaunt the sign of your vows – be it a wedding band, a chain, or a bracelet – ensure to make it a part if your outfit always. This looks sexier than you ever imagined. Those clicks could actually come alive when these are spotted among everything else. Cheers to your marriage vows!
7. Go for low back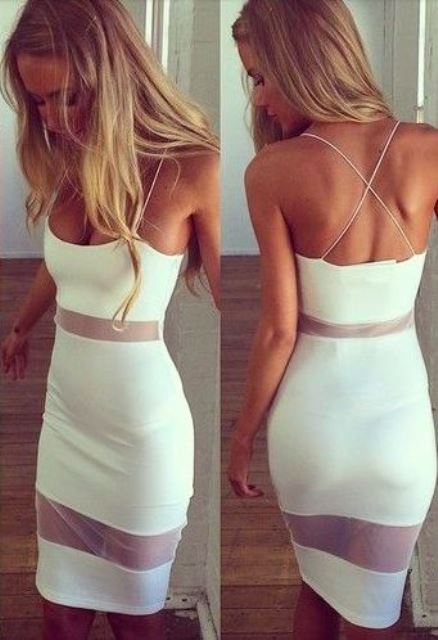 Image source: Pinterest
This is one awesome honeymoon clothes hack that we swear could give great results. Be slightly edgy and go for low backs, halters or racerbacks. These actually help you look sexier and very newlywed. With such cuts, you can flaunt those curves without the worry of looking too exposed.
8. Choose perky lingerie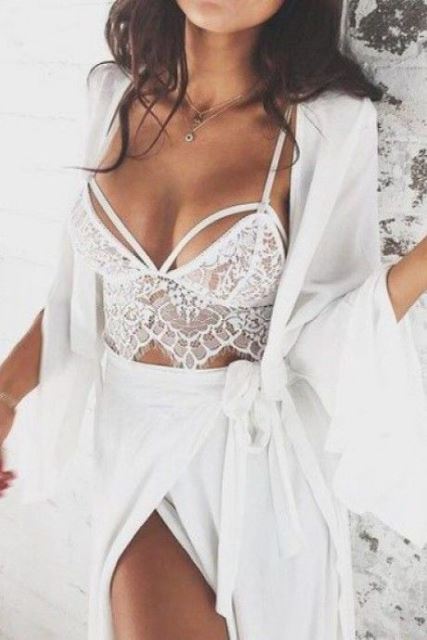 Image source: Pinterest
Lingerie is an all-important part of your honeymoon bag. Make sure you invest in these carefully. There is no need to go too lacy or too flimsy. Choose lingerie that is sheer but naughty. Try experimenting with dresses in a way that your bra straps are visible. Embellished straps are another alternative you could try. While some honeymoon destinations are cool, some are more conservative. Therefore, always know where to draw the line.
9. No heavy stuff please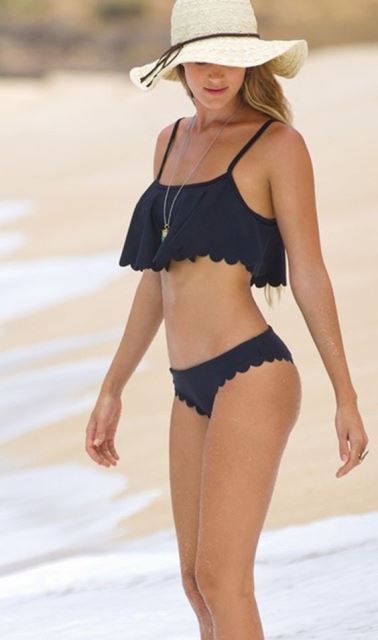 Image source: Pinterest
Leave such too-zingy stuff that come with bling or glitter for those social gatherings back home. On your honeymoon, these are a strict no-no if you want to look the bubbly and blushing new bride. Honeymoon dresses to honeymoon clothes and fashion is about making sexy but clever choices. Therefore, think out of the box.
---
Suggested read: 10 winter honeymoon destinations you can consider
---
10. Use bright prints and colors

Image source: Pinterest
This is a given since your honeymoon is supposed to be all colorful and happy. Therefore, be conscious of what you wear in terms of color and print palette. However, you need to make sure that you do not go over the top since honeymoon fashion has to be zingy, toned yet seductive.
With these top honeymoon dressing tips, we surely believe you could make your partner go head over heels for you. Go ahead and get packing now!
Summary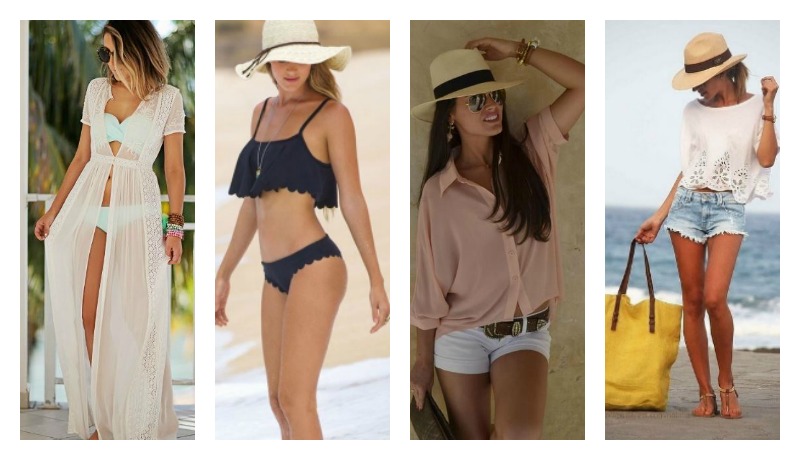 Article Name
10 Honeymoon Clothes Hacks You Definitely Want To Know
Author
Description
All set to jet off on your honeymoon with your husband? Check your luggage for these hacks on honeymoon clothes to ensure a happy and fashionable time!