While we are living in the present, we constantly wonder about the future, and how we can make the now remember-able. Every year, certain things happen which go down in history, whether they are good bad, and it is important to make a comprehensive compilation of them at the end of the year. Today, I have compiled for you a list of historical events 2017 edition, so that you can look back fondly (or not) at this past year. Here are some of the historical events 2017 can boast of, so that when we are talking about them in the future, we know2017 was the year it all went down.
---
Suggested read: 8 Times Women Owned 2017
---
1. Inauguration of Trump to the White House
2017 started off with an event that left the world shook. President Trump was elected to the White House after comments of him objectifying and sexualizing women emerged. On the day of his inauguration to the White House, people refused to turn up at the ceremony, and the following day saw the largest protest movement in U.S. history, when over 4 million women all over the country decided to march for feminism and against the decision to have Trump at the White House. It sparked a worldwide movement for feminism and the rights of women, and the effects of the event are not likely to fade for a while.
2. The #MeToo Campaign
The New York Times released a massive story about Hollywood big-shot Harvey Weinstein, accusing him of raping and sexually assaulting several women during his tenure as powerful producer in the industry. In response to this, one of Weinstein's biggest critics, actress Alyssa Milano asked women to tweet out #MeToo if they too have been victims of sexual assault.
This opened the floodgates for women all over the world, including actresses like Gweneth Paltrow and Aneglina Jolie, who shared their stories of sexual assault at the hands of someone in power. Women all over the world shared stories of their ordeal, and the extent and gravitas of the problem that is sexual violence finally became a "trending" topic of conversation in the world. This was the first time this many women have spoken out about their ordeal, which triggered several cases of penalization against the perpetrators, something that sadly, didn't happen before.
3. The United States withdrew from UNESCO
In October this year, the Trump administration decided to withdraw the United States from UNESCO, which is the cultural, educational and social organization of the United Nations. This came as no surprise, as the United States had been planning to do something of the like for a long while. The reason they decided to withdraw was because the administration thought UNESCO was operating with an "anti-Israeli bias" and had pending arrears amounting to over $550 million, which the Trump administration didn't know whether they wanted to pay or not.
This decision, despite being lauded by the Israeli president, comes as a big blow to the organization in terms of financial backing as well as focus-goals. UNESCO will continue to operate inside U.S.A.
4. U.N. declared war in the Middle-East as the deadliest war after World War II
After the death of his father, Bashar-al-Assad came into power of the Syrian administration in 2010. In March 2011, an anti-regime faction declared war against Assad's government, and since then, the entire Middle-East has spiraled into conflict and civil war. In 2017, the United Nations declared the Syrian Crisis as the worst war the world has seen since World War II, with a death toll estimated to be at 600,000, and more than 10 million people displaced and seeking refuge in other countries. It has also led to a worldwide refugee crisis, with people fleeing the Middle-East to seek shelter in other countries, which has led to a whole other political and ethical war.
---
Suggested read: 10 Celebrities Who Broke Up In 2017 And Proved Love Is Dead
---
5. Australia legalized gay marriage
Prime Minister Malcolm Turnbull decided to create history this year by legalizing gay marriage in Australia. For a country which has promoted its conservative stance for a long while now, this came as an overwhelmingly emotional news for the citizens of Australia, who had previously passed a national referendum outlining how the population was all in support of gay marriage.
The bill to move this referendum in Parliament and turn it into a law received just 4 negative votes, making it a unanimous and wonderfully permanent law that got the LGBTQIA community in Australia one step closer to the equality they deserve.
6. Emmanuel Macron was elected President of France
While the world was still reeling from the election of American President Donald Trump, the election of French President Emmanuel Macron came as what critics called "a wave of suppressed populism" after the series of political disaster that preceded it. The reason this particular election created history is because he is the youngest French President ever, and he was completely unknown to the political scene, even three years ago. Since his election, he has decided to take a number of drastic political measures, all with the aim of uniting a fragile and fragmented France.
However, these were all important, serious, political historical events, and whether you like it or not, pop culture has also become a huge part of history, and 2017 saw a number of important pop culture events taking place that we are definitely going to be talking about for years to come. Here is what happened in 2017.
7. Prince Harry got engaged to Meghan Markle
The bad boy of the otherwise prim and proper royal family of England and actress from the famous TV series Suits announced their engagement in late 2017, and the world collectively lost their cool. The two, who have been super secretive about their one-year old relationship came out with the announcement, and since then have been spotted everywhere.
The wedding of Prince Harry with an American actress who is also a divorcee is historical in the sense that it shows the ever-evolving nature of the royal family, and how bending the rules isn't as big of a deal anymore.
8. La La Land was declared Best Picture at the Oscars by accident
The Oscars are never without their own share of drama, and every year, something or the other that is noteworthy happens. This year however, the drama topped every other year, when presenters Warren Beatty and Faye Dunway announced La La Land as Best Picture. While the entire cast and crew were in the middle of their speeches, one of the producers of the film, Jordan Horowitz, was handed an envelope containing the actual name of the winner, which was Moonlight.
The fact that Moonlight won and created history in the process was totally overshadowed by the uncomfortable amount of awkwardness that ensued once Horowitz called out the cast and crew of Moonlight from stage and said "You guys won" while the members of La La Land stood confused on stage. Needless to say, this definitely upstaged the Miss Universe mix-up.
9. Wonder Woman was released worldwide
2017 was the year that made box office history when Wonder Woman came out. Directed by Patty Jenkins and starring  the incredible Gal Gadot and Chris Pine, this movie not only became one of the highest grossing movies ever, but also stood out amongst other superhero movies, considering how the genre has always been dominated by men all this while.
The movie won several awards, made millions at the box office, and the mainstream feminism that the film imbibed left everyone awestruck and inspired. Nothing since has been able to match up to it, and it is unlikely that the winning streak of Wonder Woman in the world of celluloid comic book cinema will be trumped anytime soon!
---
Suggested read: #WomenWeLove Celebrating The Achievement And Resilience Of Powerful Women In History And Women Today
---
10. Everyone had babies
This might seem like a strange piece of news that made history, but what surprised me about 2017 was how fertile everyone seemed to be this year. Case in point, I have compiled a list of celebs who either got pregnant or had babies this year:
Beyonce and Jay-Z had twins whom they named Sir and Rumi, individuals who were more famous before their birth, than I will ever be in this lifetime.
Kim Kardashian and Kanye West are expecting their third child via surrogate (spoiler: it's a girl)
Khloe Kardashian is expecting her first baby with boyfriend Tristan Thompson
Mindy Kaling had a baby girl called Katherine
Serena Williams also had a baby girl this year
Mark Zuckerberg welcomed his second daughter- August with his wife Priscilla Chan
Kylie Jenner is reportedly pregnant with Travis Scott's baby
Chrissy Teigen is definitely pregnant with John Legend's baby
Kate Middleton and Prince William are expecting a third sibling to join Charlotte and George sometime next year
The list, to be honest, is exhaustive. Not only of all the people who got pregnant or had babies in 2017, but also of the list that comprises of noteworthy events from this year. However, when it comes to historical events 2017 has not disappointed at all!
Featured image source: Instagram 
Summary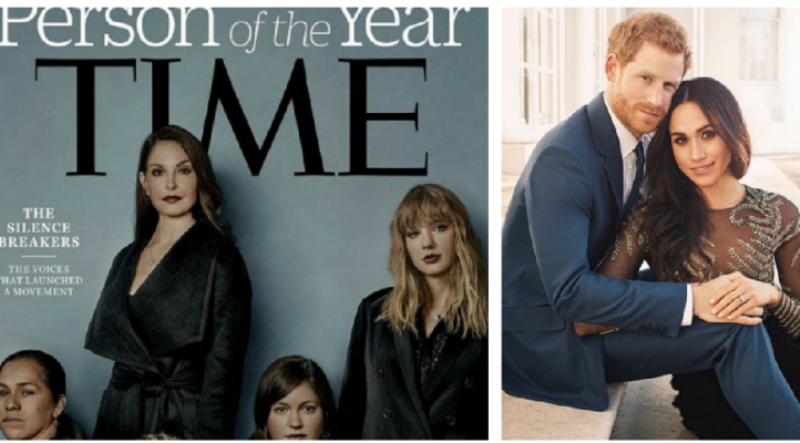 Article Name
10 Historical Events 2017 Will Be Remembered For
Author
Description
This past year saw its fair share of drama in politics and pop culture. Here are all the historical events 2017 will be remembered for.