Yes, the steamy passion of Christian Grey and Anastasia Steele has sent your hands-a-wandering many a time during those late night re-reads of your favorite passages and yet, you still cannot get enough of the duo's irresistibly erotic  chemistry. Fifty Shades Of Grey is going to arrive at a theatre near you soon and we know that you just can't wait to watch how Jamie Dornan and Dakota Johnson do justice to the hottest couple you have ever wanted to piece apart and keep a half for yourself! 😉 Yes, I know that far too many are waiting to see the wrist cuffs, the silver grey tie, the tampon flinging, the silver balls, and the ohh-so-hot spanking and more brought alive by the characters who got you breathing hard and heavy merely (barely?) through the 'words on the page.' And therefore, we couldn't help but compile the top ten breathtakingly 'naughty' picks that we are waiting to see rendered alive on the visual medium.
Here are the ten scenes from Fifty Shades Of Grey we just cannot wait to watch:
1. The erotic dance of the tongues
This has to be one of the most delicious scenes in the movie. The 'I-want-you-now' urgency of Christian Grey to lock his lips with Anastasia for a phenomenal first kiss that shall be the start of many more to come is steamy, sensuous and sizzling. Add to it the confined space of the elevator and I can only borrow words from Anastasia to describe what my 'inner goddess' is screaming- Holy Cow!! 😉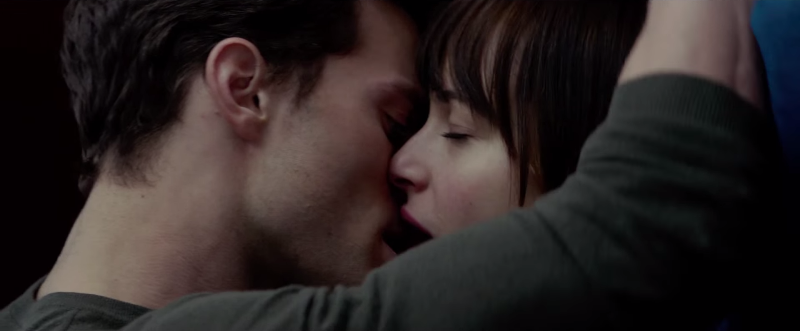 Image source: Youtube
"Before I know it, he's got both of my hands in his viselike grip above my head, and he's pinning me to the wall using his lips … His other hand grabs my hair and yanks down, bringing my face up, and his lips are on mine … My tongue tentatively strokes his and joins his in a slow, erotic dance … His erection is against my belly."
2. Holy Cow
That first time anticipation of Anastasia and her reaction is one of the most natural and organically yummy elements of the book. The 'Oh no…Will it?…How?' reaction to Christian's man meat and the nervous, yet tingling anticipation of dropping her V-card is a scene that I just can't seem to wait for.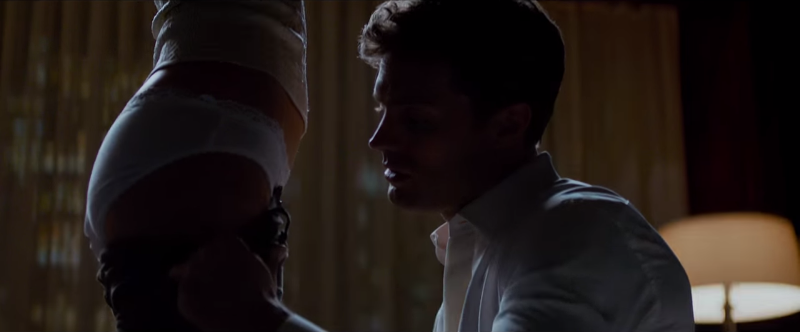 Image source: Youtube
"Suddenly, he sits up and tugs my panties off and throws them on the floor. Pulling off his boxer briefs, his erection springs free. Holy cow! … He kneels up and pulls a condom onto his considerable length. Oh no … Will it? How?"
3. 'again and again..' and again
An overwhelmingly sexy moment in the book, this one burned the tips of my fingers resting on the page!! 😉 I cannot wait to watch how Christian simulates an erotic experience that shall make Ana come again and again..and again!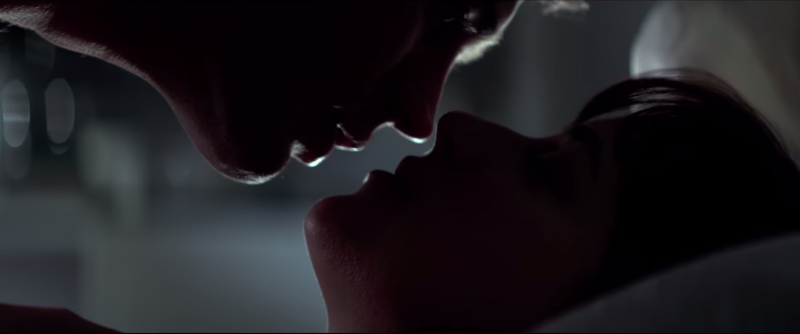 Image source: Youtube
"He leans down and kisses me, his fingers still moving rhythmically inside me, his thumb circling and pressing. His other hand scoops my hair off my head and holds my head in place. His tongue mirrors the actions of his fingers, claiming me. My legs begin to stiffen as I push against his hand. He gentles his hand, so I'm brought back from the brink … I come instantly again and again, falling apart beneath him … then I'm building again … I climax anew, calling out his name."
---
Suggested read: A big fan of the Fifty Shades trilogy? Here are 10 more books to titillate your senses
---
4. Of a spanking start to the banging part
Spanking may not be everyone's heart-food but when Christian Grey is grazing your naked behind – fondling, stroking, and pleasing until it gets downright kinky, you cannot help but experience a primal hunger you have never had gnawing on your insides before. This one is a sheer delight just for the feeling it incites.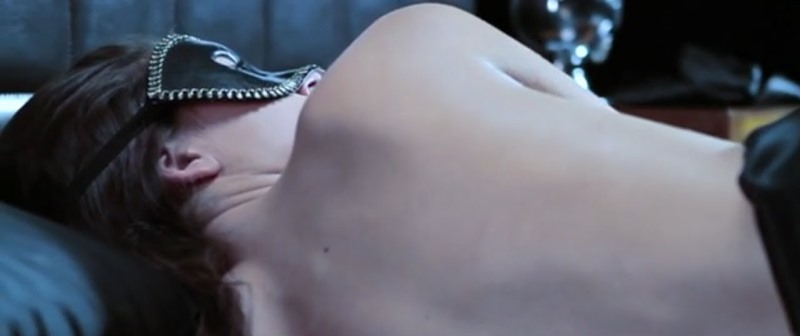 Image source: Youtube
"Suddenly he grabs me, tipping me across his lap. With one smooth movement, he angles his body so my torso is resting on the bed beside him. He throws his right leg over both mine and plants his left forearm on the small of my back, holding me down so I cannot move … He places his hand on my naked behind, softly fondling me, stroking around and around with his flat palm. And then his hand is no longer there … and he hits me—hard." 
5. Of silver balls that enthrall
This one is by far the most 'bizarrely arousing' thing I've ever experienced off a page. Sexy, sexy and sexy, this one can make any woman 'needy…needy for sex!'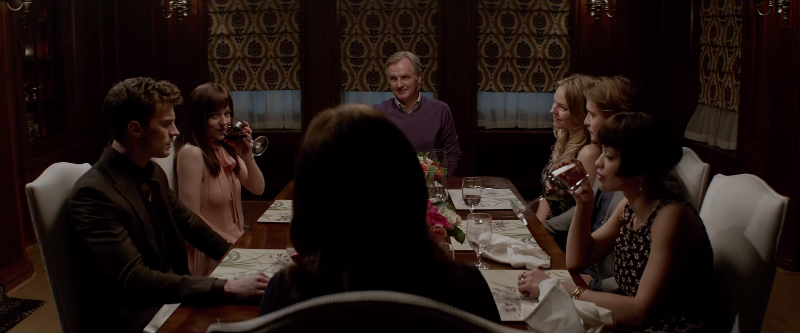 Image source: Youtube
"He holds out his hand, and in his palm are two shiny silver balls linked with a thick black thread … Inside me! I gasp, and all the muscles deep in my belly clench. My inner goddess is doing the dance of the seven veils … Oh my … It's a curious feeling. Once they're inside me, I can't really feel them—but then again I know they're there … Oh my … I may have to keep these. They make me needy, needy for sex."
Summary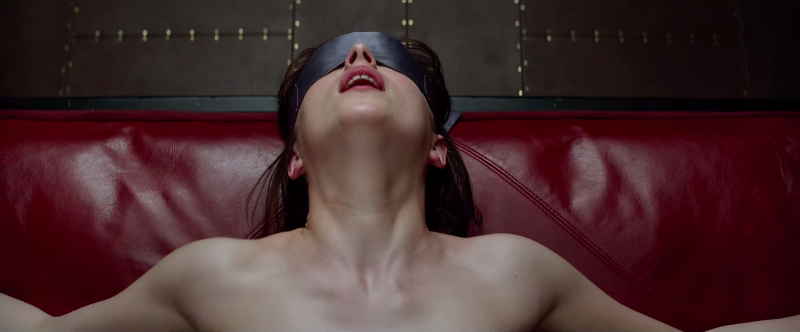 Article Name
10 hottest scenes from the movie Fifty Shades of Grey
Author
Description
Fifty Shades of Grey is in the cinemas this weekend & we can't wait to watch it! Here are 10 hottest scenes from Fifty Shades of Grey movie to wait for.
Read the rest of the article:
Next