Yes, Christian Grey is coming to town. And you can sit there, forgetting all about the popcorn tub while you devour every inch of him as he renders every one of your fantasies real on the big screen. Of course, you'd be envying Anastasia but you've done that whilst you read those books too! Nothing new there! 😉
So, what do you do while you wait for this delicious treat to arrive in theatres near you and wonder if Jamie Dornan and Dakota Johnson will do justice to the incredibly 'gettin' hot-in-here' experience you'd had when you devoured the books!! Yes, you guessed it right – treat yourself to some likewise visual delights that shall get you 'hot and heavy' for the 'hottt' release!
Here's our pick of the ten must-watch movies that'd get you right where you need to be when you settle in your seat to ravish the raunchy romance that is Fifty Shades of Grey:
1. Secretary
James Spader, Maggie Gyllenhaal, and Jeremy Davies come deliciously enveloped in a tale of mental illness, sexual boundaries, and sadomasochism. When Gyllenhaal gets released from the hospital, she takes up the job of a secretary under boss James Spader. However, this professional relationship soon turns into an interesting and riveting tale of pleasure and play. Of course, one need not forget that Spader toys tactfully between pleasure, pain, and professionalism while his naughty secretary with her shocking spanking and other devious gestures paves the path for the more 'strange' moments of this rather unusual love story.
2. Basic Instinct
This one needs no introduction. I guess most people of my generation began to unearth more of sexuality because of the unrestricted, uninhibited, and raw libidinal energy that this film exuded. Ohhh yes, Sharon Stone's uncrossing of her legs …Enough said!! 😉
3. Unfaithful
Realistic and unadulterated, this is one of those rare movies that reinforce the fact that feelings need no reason. When people say that 'the heart has its own reasons,' they rarely discount 'behavior' on the same principle and yet, this movie unravels a tale of straying outside a happy marriage, without any proffered explanations and unapologetically so. Illicit passion is the central premise on which the movie works and works its way beautifully around its focal interest with the intensity of an all-consuming ardor that nevertheless defies logic and yet is comprehensible to those involved. As such, the movie is quite bold for its unapologetic act of 'following one's heart' and offers a subtle and sensuous subtext of discovering the pleasure of sex through tender moments.
4. 9 ½ Weeks
Highly erotic and yet thought-provokingly powerful, this film is all about carnal carpe diem. If seizing the moment for satiating one's primal hunger flowed so naturally, it would be one hell of an ecstatic ride! Kim Basinger and Mickey Rourke make the movie a delight to watch. Not only does the movie cover vital aspects of a bizarre sexual relationship and the dynamic thereof, but it also distinguishes between the boundaries of playful erotic games and those that tend to trap one within the sexual revel-dom of another. Once that boundary is crossed, we see Elizabeth (Kim's character) rebel, refuse to plunge into self-debasement, and opt for independence and self-respect over what was not plain role-play but a sickness. The sadomasochistic element is not made blatant but one can see the characteristics throughout the couple's chemistry.
5. The Piano Teacher
Dark, perverse and yet intensely pleasurable, this BAFTA nominated film by Michael Haneke is a splendid rendition of forbidden love and the pleasures therein. Starring Isabelle Huppert and Benoit Magimel as the piano teacher and student respectively, the movie unravels an absorbing journey into the life and 'secret wound' of Erika Kohut who invites her student in on her fantasies. There is a relatable element about the closed, repressed, yet extremely self-assured and sexually aware and alert 40-ish lady that Isabelle plays. The movie depicts the 'rite of passage' of a young man into his innate wildness when he deciphers that the tutelage is a byproduct of an inherent madness. The movie comes off as highly charged because it subtly strips off the 'elegant' veneer in which it comes wrapped in. Dark and ominous, it carries a special message: Being careful about someone who has asked for you!!
Summary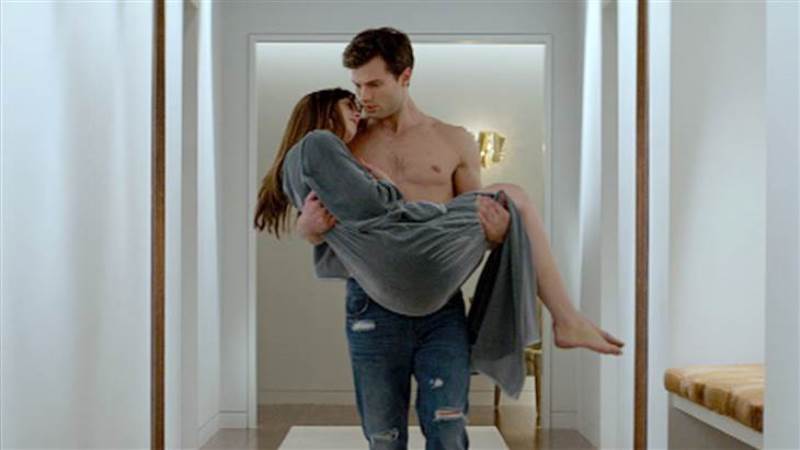 Article Name
10 movies to watch to get you in the mood for Fifty Shades of Grey
Author
Description
A hot treat for the final hotttt treat. Ten movies that will get you in the mood for Fifty Shades of Grey!! Watch'em all.
Read the rest of the article:
Next