Since forever till forever more, there's no number of dresses that can be 'enough' for us, can there? 😉 No matter how fast trends change, we will always find a way to keep apace. And just so you know, here are the top 10 NLT-picks to keep you in the running:  
1. Fall of floral with black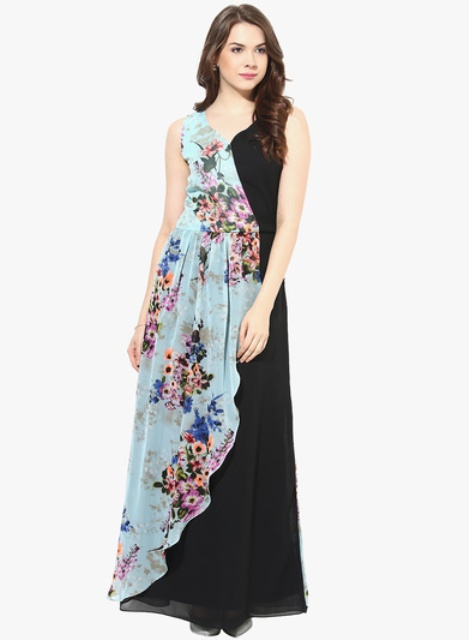 This beautifully designed sleeveless maxi-dress brings the spring alive with its delightful combo of black and print. You'll just love how its asymmetric neck balances the feminine and bold side of you together. If you compliment the flawless drape of Athena with the super-cute curls of your hair, I bet it'll make the throbbing hearts of your admirers skip a beat or two.
---
Suggested read: Shoe shopping in budget for the festive season
---
2. Party-perfect girl on fire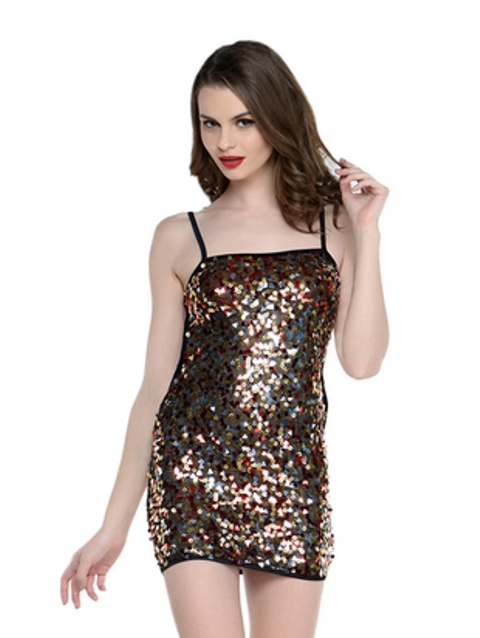 This daring sparkling and shiny mini is just to die for! The hot sequence of multicolor and gold makes it the perfect bombshell get-up for cocktails and club parties. And yet, for all its sexiness quotient, this dress is a cozy wear with its comfortable fabric and adjustable straps. 33 inches in length, it will give you just the right dollop of oomph you need to steal the show.
3. Glam up your formals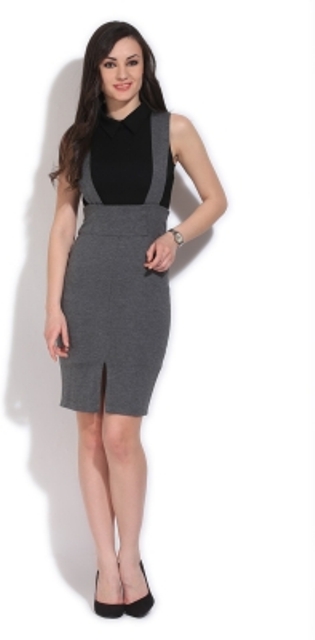 Vero Moda brings to you yet another gorgeous grey mélange sheath dress. It's a perfect formal wear with a blend of sophisticated style and a cautious just-above-the-knee hemline. Its knee-length design, catchy but subtle panel cut, and interesting slit at the front only adds up more charm to this phenomenal outfit. Just add a pair of heels, hair secured in a bun, your confident smile and hey honey, you're invincible!
4. Pretty in pink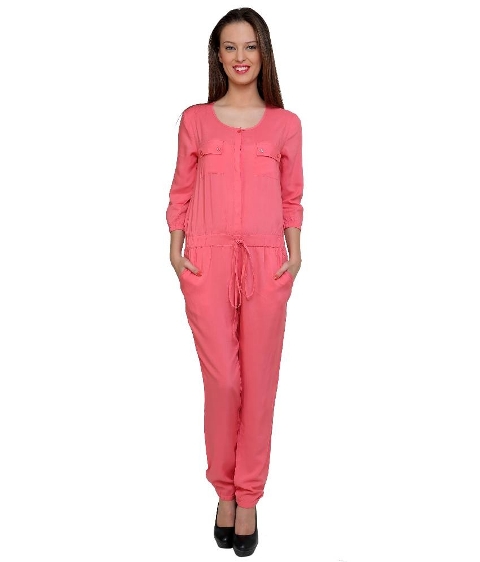 Oh it simply can't be black all the time. There are times when a girl's just gotta get her bright side up and this pink jumpsuit is just the awesome choice for that. You can simply slip in and forget the fuss of managing your dress. You can carry it with a little slingy or pair it up with cutesie hair pins and this'll be the perfect easy-to-go outfit to brighten your everyday look with the softness that only pink can bring!
5. The monochrome magic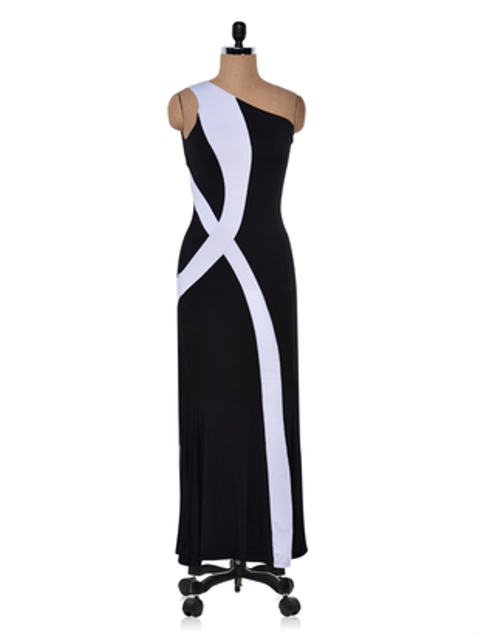 Here we have a full-length polyester gown with a flowing tease of monochrome. The classic combination of black and white in this beautiful one-shoulder makes it a great all-occasion pick. It fits you closely in a comfortable and sensual feel-soft wrap. If you're planning to relish your tall frame, wear this dress with just your silky fluid hair and see the magic!
6. Behold the beauty in black

If you wish to be the walking magnate of admiration, this Black beauty A-line, figure-flattering dress is sure to do the trick. The design of this high-neck dress has attractive delicate lace patterns highlighting both your front and back. You can always carry this stylish sleeveless dress with a bold smoky look and elegant shoes for the best effect.
7. Floral paradise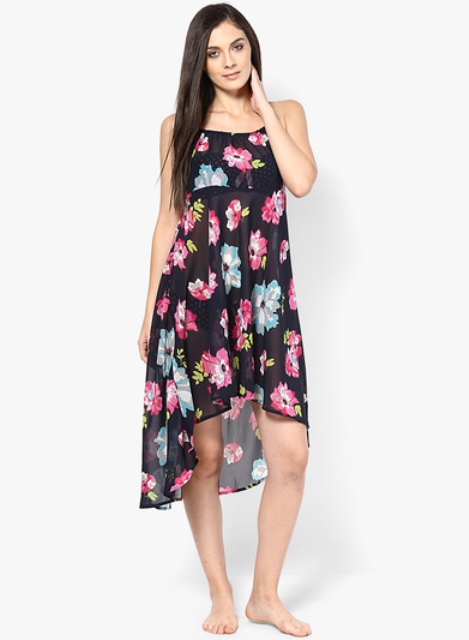 Well, a fun girl's closet is never complete without some floral magic. You'll enjoy how this halter neck asymmetrical dress adds a lovely charisma to your personality with its chic appeal. The fabric is soft, the fit quite comfy and the georgette of this dress flirts sweetly with the breeze. So just, slip on a comfortable flat and pin a lovely flower in your hair and here's the perfect beach look all ready for you!
8. Classic hot red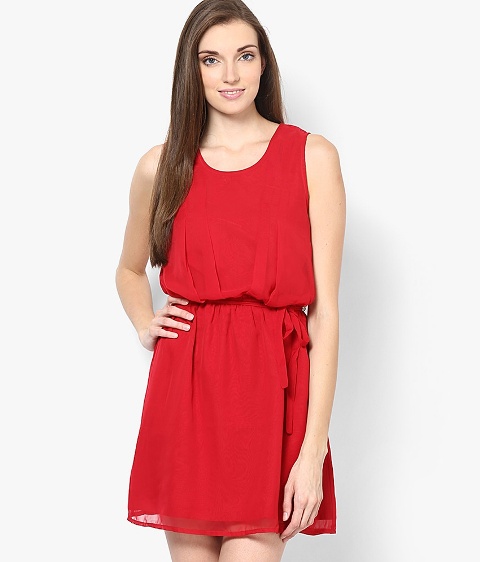 This evergreen red madness is a wardrobe basic for all you hotties! This solid bold hot red casual blouson dress from Vero Moda can kick start your love stories any day.  Its round neck and sleeveless free-falling design accentuates the flawlessness of your skin and let you show off your natural beauty. Add a little funky clutch, a sexy pair of strap-ons and you're all set for an ultimate romantic experience, love.
9. Black elegance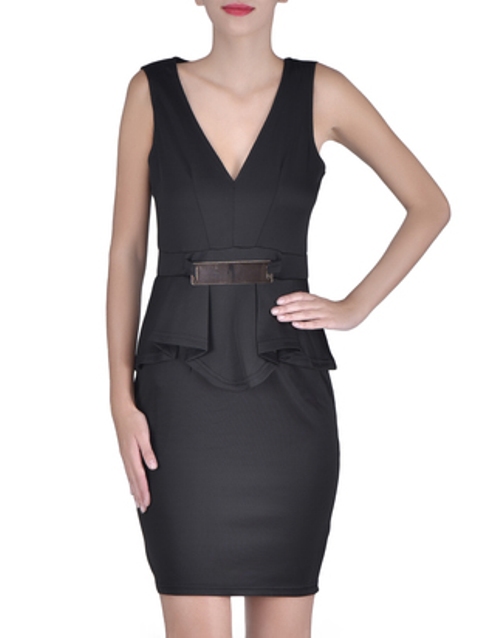 It is an exquisite body-hugging peplum dress best for business and formal parties. The sleek fit of this dress is big on style and accentuates your perfectly sculpted silhouette like no other. Don't forget to turn your lips hot red. Club this with a glamorous pair of heels and a high hairdo and the evening will be yours forever.
---
Suggested read: A dress for every occasion under INR 1500/-
---
10. Bold with print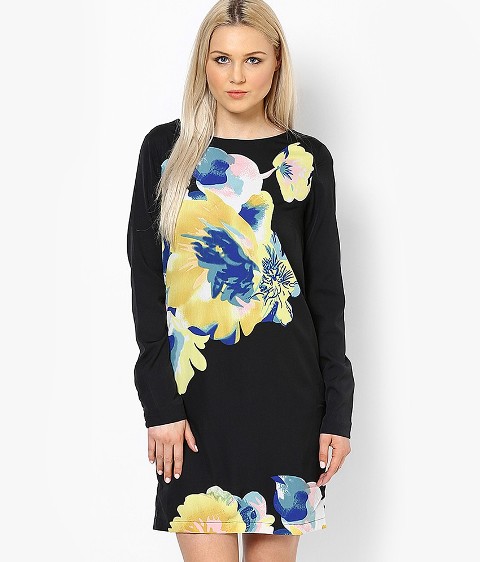 Now this is a fine artistic choice to go for. A bold brilliant pattern on a classic black Vero Moda design perfects it for a casual wear. If you pull this look right with cool shades and a chin held high, there's no way people would be able to keep their eyes off you. The strong visual touch and the soft feel of the fabric makes this shift dress a must-have for your best day-outs.
Summary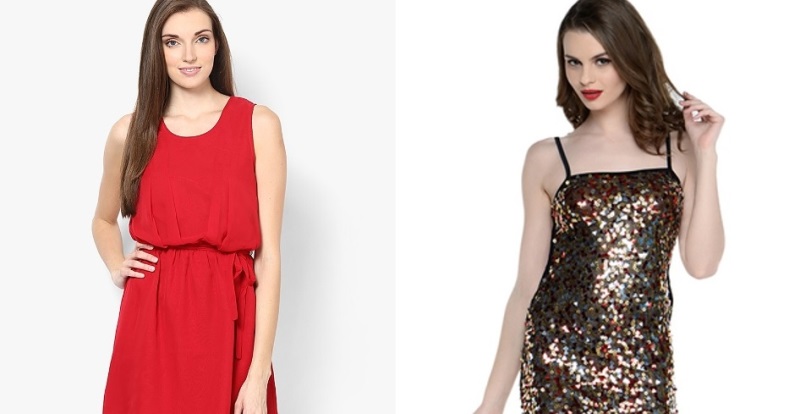 Article Name
Dressed To Impress: 10 Must-have Dresses For Every Girl
Author
Description
Coz no girl can have too many dresses EVER!