I think all us have faced gender inequality at some point in our lives. Most of us are told to ignore it under the garb of 'chalta hai.' Well, I am here to tell you 'nahi chalta hai, nahi chalega!' And don't let anyone tell you otherwise! Bollywood thinks the same! Check out what these bold actresses have to say on gender inequality in the society.
1. Anushka Sharma
This feisty actress called out sexism boldly, without giving a damn about what people had to say about it. We say you go girl!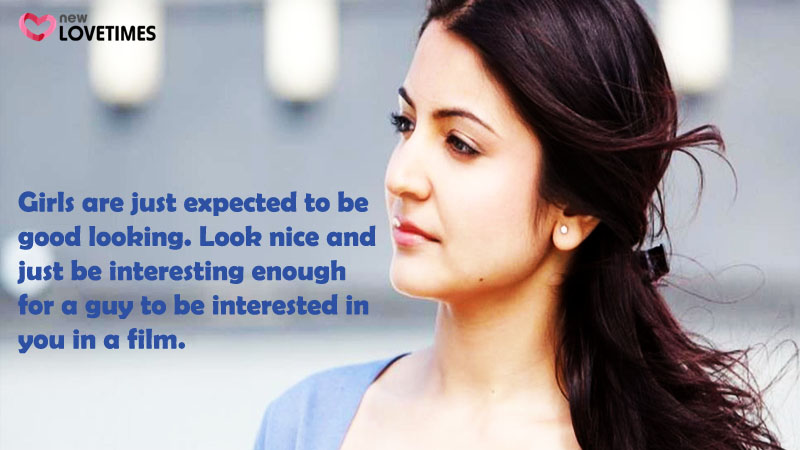 "Girls are just expected to be good looking. Look nice and just be interesting enough for a guy to be interested in you in a film."
Touché.
---
Suggested read: Top 10 kickass feminist moments of 2015
---
2. Aditi Rao Hydari
Girl just proved that she is more than just a pretty face here. After all, wage gap is no laughing matter. Why not get paid equal as men for equal work?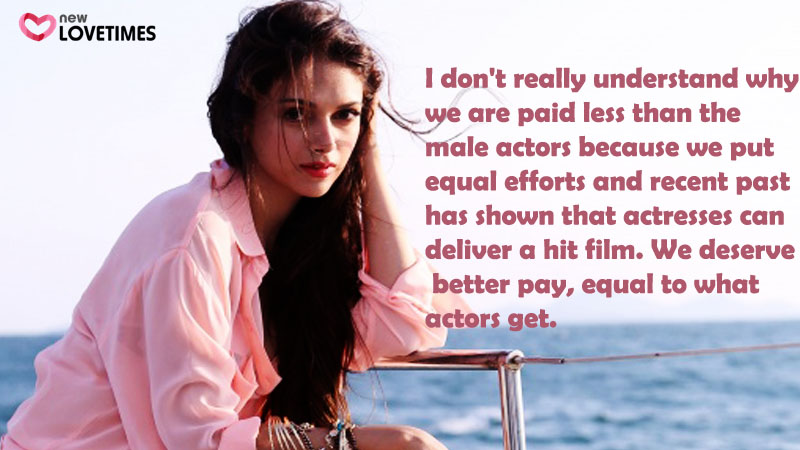 "I don't really understand why we are paid less than the male actors because we put equal efforts and recent past has shown that actresses can deliver a hit film. We deserve better pay, equal to what actors get."
3. Kareena Kapoor
Kareena does it again. She's let out her spirited inner goddess and spoken up for all in the industry.
"It's always between three or four Khans or other male actors. I guess female actors are there for dancing with them. We have to stand behind Shah Rukh and Salman (Khan) and say, 'Hey! I'm here too, give me something to do.' And the pay checks… what Salman gets and what I get… let's not even get there. But I do believe that god has been kind. Somewhere my hard work has been recognised, and I am also glad that there's been a stellar performance by Vidya Balan and she proved to be the hero with The Dirty Picture."
4. Kangana Ranaut
When this resolute young lady told us what it was like to be at the receiving end of patriarchy, and how she's risen above it.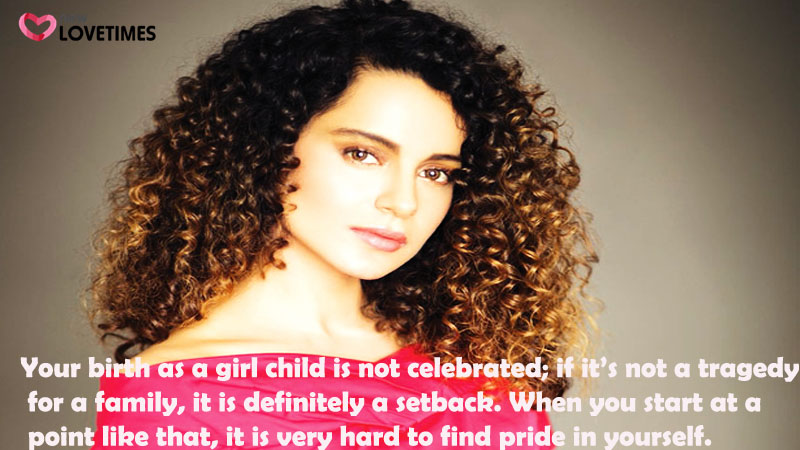 "Your birth as a girl child is not celebrated; if it's not a tragedy for a family, it is definitely a setback. When you start at a point like that, it is very hard to find pride in yourself."
5. Priyanka Chopra
Priyanka knows what she is talking about.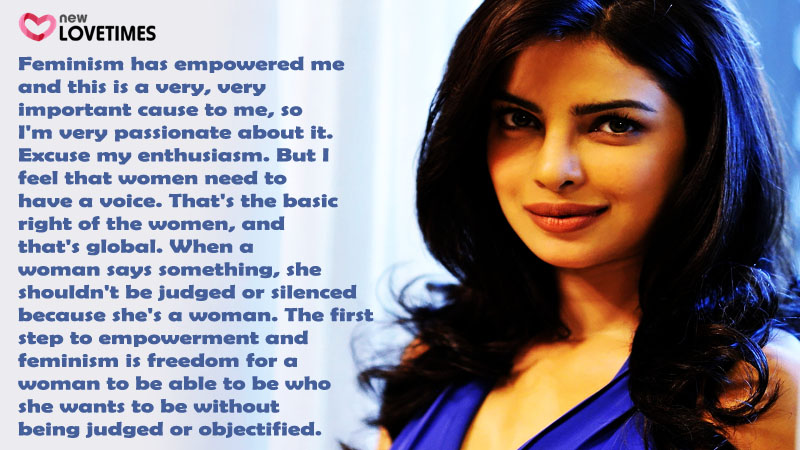 "Feminism has empowered me and this is a very, very important cause to me, so I'm very passionate about it. Excuse my enthusiasm. But I feel that women need to have a voice. That's the basic right of the women, and that's global. When a woman says something, she shouldn't be judged or silenced because she's a woman. The first step to empowerment and feminism is freedom for a woman to be able to be who she wants to be without being judged or objectified. For centuries, women have always been told to be a certain way or behave a certain way, and it's time women decide what they want themselves individually."
Another one of her gems – truly pertinent sits right here.
"A lot of people have said that girls wear provocative clothes or go out at night and drink, which prompts men to take advantage of them. Some even hold Bollywood songs responsible for it. But the only thing responsible for a woman getting raped is a man's mindset. There is no other reason for it. I could be walking naked, but you still don't have the right to rape me."
And isn't it true – Isn't the fight for equality an issue for all, irrespective of sex? Isn't the right to my body and what I put on it mine?
6. Kalki Koechlin
She's been the foremost feminist who's spoken up about issues that women have to face in society on a daily basis. Her words ring a bell and make YOU want to bring a change in society, in yourself. Isn't she amazing?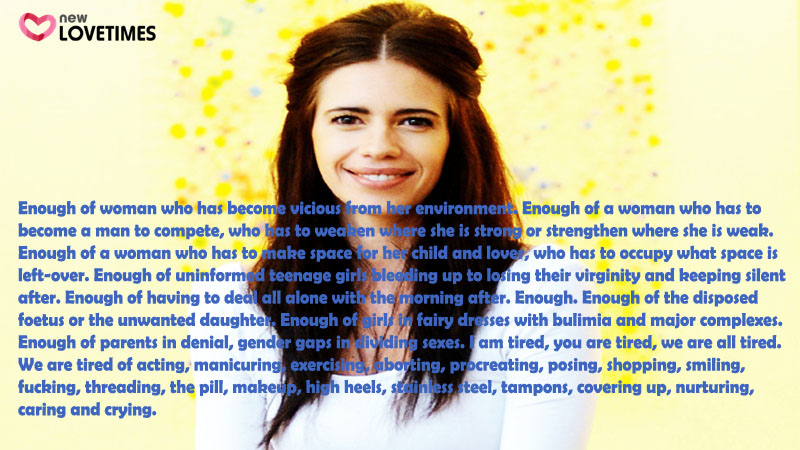 "Enough of woman who has become vicious from her environment. Enough of a woman who has to become a man to compete, who has to weaken where she is strong or strengthen where she is weak. Enough of a woman who has to make space for her child and lover, who has to occupy what space is left-over. Enough of uninformed teenage girls bleeding up to losing their virginity and keeping silent after. Enough of having to deal all alone with the morning after. Enough. Enough of the disposed foetus or the unwanted daughter. Enough of girls in fairy dresses with bulimia and major complexes. Enough of parents in denial, gender gaps in dividing sexes. I am tired, you are tired, we are all tired. We are tired of acting, manicuring, exercising, aborting, procreating, posing, shopping, smiling, fucking, threading, the pill, makeup, high heels, stainless steel, tampons, covering up, nurturing, caring and crying."
*goose bumps*
7. Deepika Padukone
Isn't she perfect in every aspect?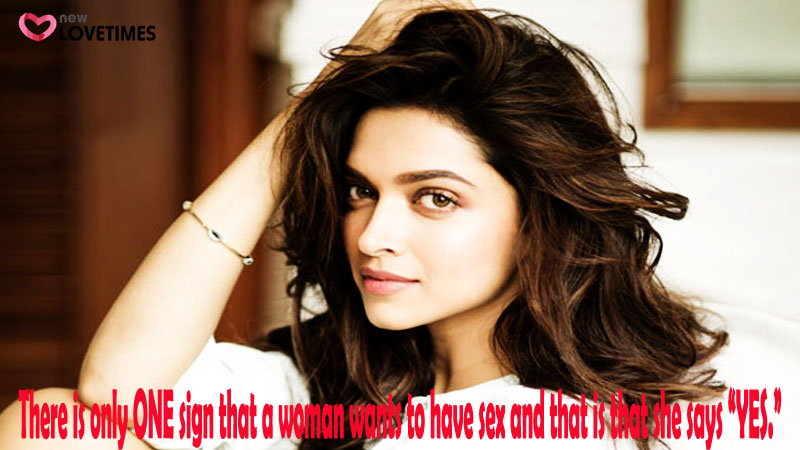 "There is only ONE sign that a woman wants to have sex and that is that she says "YES.""
Let's just say to give consent MY CHOICE. To deny consent MY CHOICE. To retract given consent MY CHOICE.
8. Aishwarya Rai Bachchan
She's the ultimate super mom/diva. When she talks, you better listen!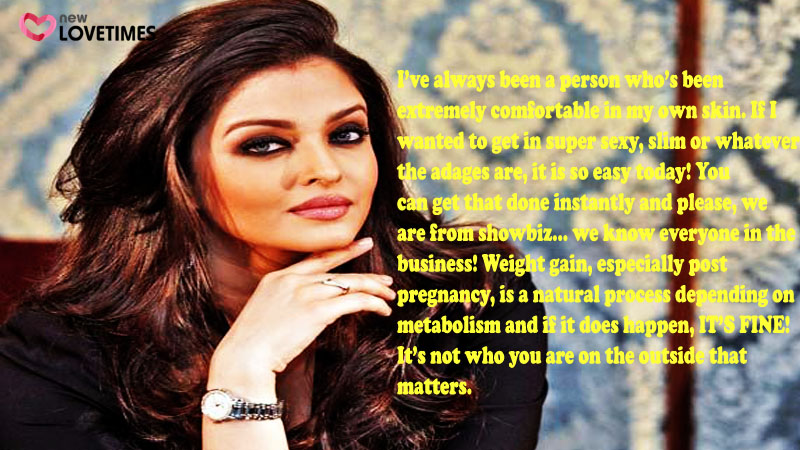 "I've always been a person who's been extremely comfortable in my own skin. If I wanted to get in super sexy, slim or whatever the adages are, it is so easy today! You can get that done instantly and please, we are from showbiz… we know everyone in the business! Weight gain, especially post pregnancy, is a natural process depending on metabolism and if it does happen, IT'S FINE! It's not who you are on the outside that matters."
Word.
9. Sonam Kapoor
When Sonam Kapoor finally came on board with feminists, and stated what everyone was thinking.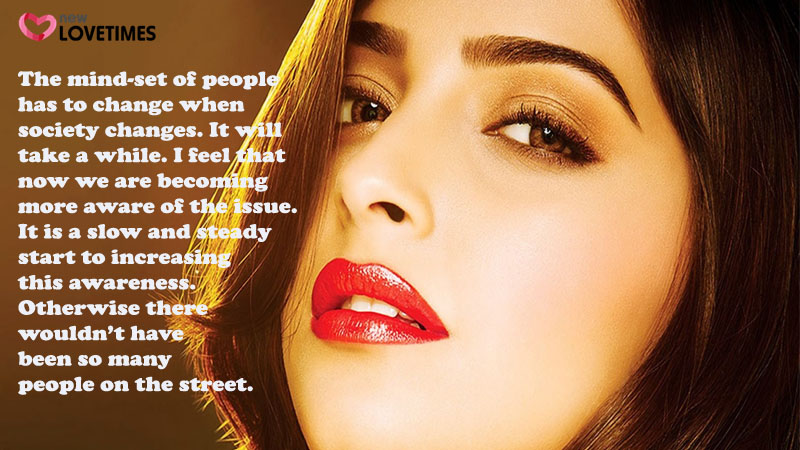 "The mindset of people has to change when society changes. It will take a while. I feel that now we are becoming more aware of the issue. It is a slow and steady start to increasing this awareness. Otherwise there wouldn't have been so many people on the street."
---
Suggested read: Top 10 kickass feminist moments of 2015 (International)
---
10. Sushmita Sen
She's so awesome. She defied the laws of society and adopted two beautiful children. And look what she has to say…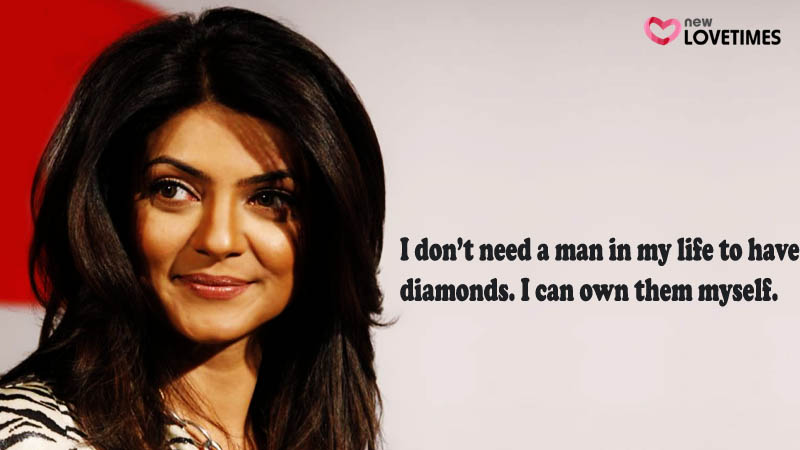 "I don't need a man in my life to have diamonds. I can own them myself."
Hell YES!!!
Here's to strong women.
May we know them.
May we be them.
Summary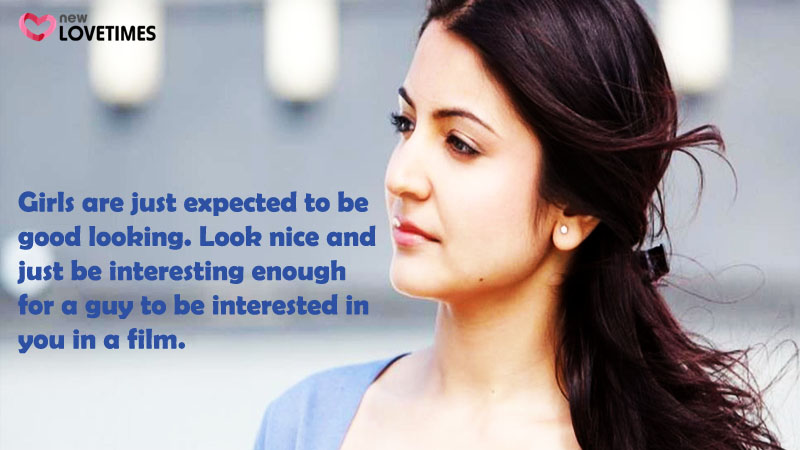 Article Name
10 Times Bollywood Actresses Called Out Gender Inequality In Society
Author
Description
These Bollywood actresses prove 'picture sahi mein baaki hai, mere dost!'