Nude shoes are some of the most universally adored accessories because despite looking super fashionable, they are economical as well, since you can wear them with pretty much anything you want. Another discreet benefit of nude shoes is that the shade that is generally considered nude is also suitable to almost all skin types, making them a great buy even if the shoe doesn't blend with your feet (which would frankly be slightly weird).
Here are 11 stunning pairs of nude shoes for women that are definitely going to arouse the shoe enthusiast in you.
1. These stenciled nude sandal heels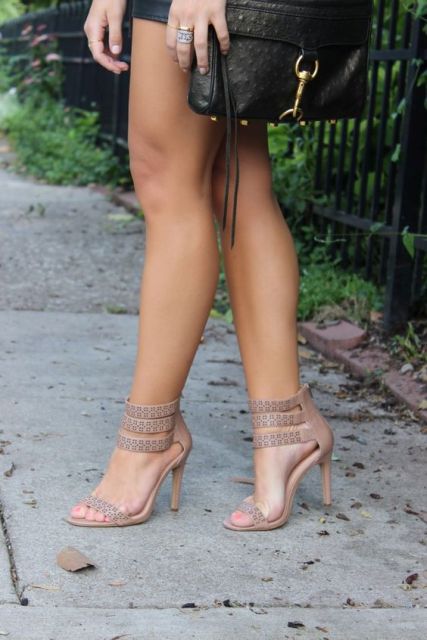 Image source: Pinterest
Sandal heels make your feet look dainty with the right amount of exposure through their strappiness, and when they come with little cut-outs on a nude body, they become an inevitable addition to your closet.
2. Tan peep-toes for your fun days out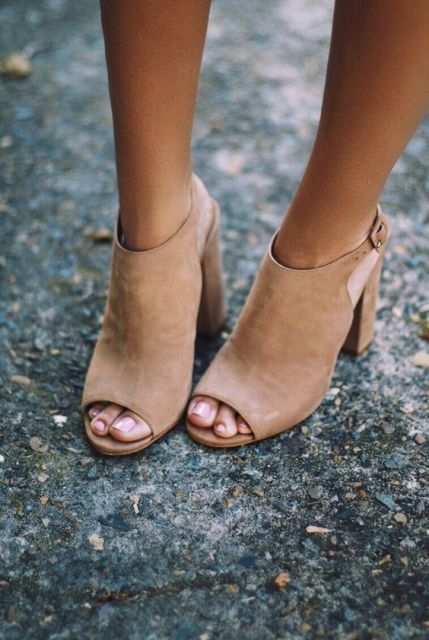 Image source: Pinterest
These Steve Madden tan peep-toe heels are gorgeous because they come in an almost matte nude color which is on the covered shoe as well as the heel, giving it a gorgeous tan finish to your feet.
3. Louboutin's ultimate nude pumps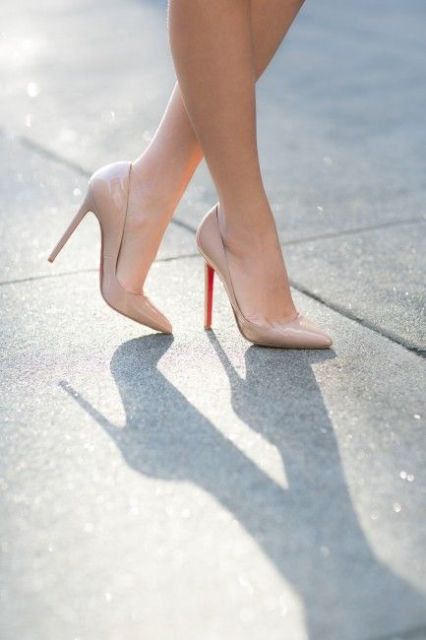 Image source: Pinterest
Nude pumps are all the rage among celebrities and this is the reason why- these stunning Louboutins in glossy nude with just a hint of the signature red sole peeking through is what all of us need in our lives.
4. Dark nude wedges in cork heels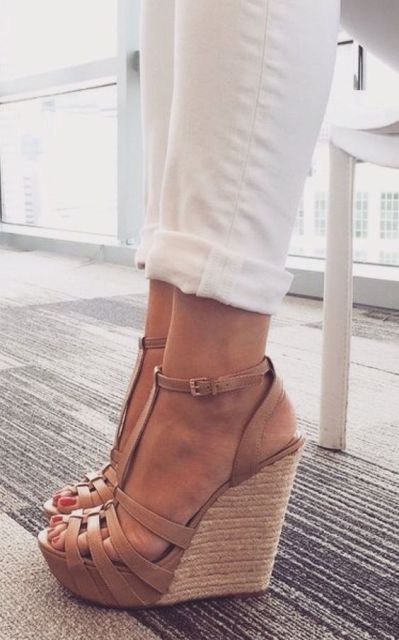 Image source: Pinterest
In my opinion, cork heels look best when they come in nude shades because it goes well with the natural colour of cork. Also, bonus points for comfort.
5. Peep-toe platform pumps in nude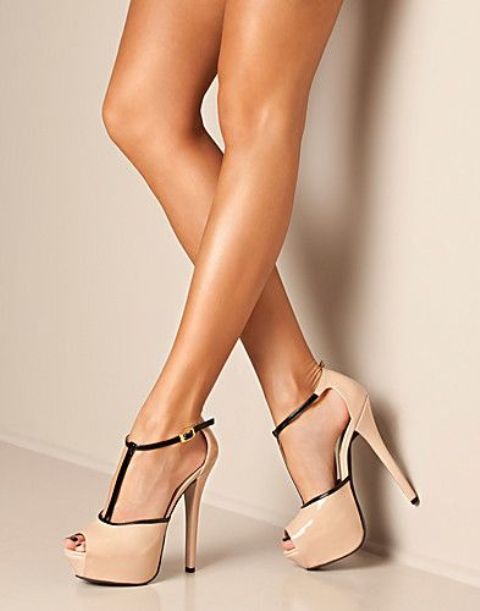 Image source: Pinterest
Nude pumps are also a great way to go when you are looking for something that you can wear with everything and look equally gorgeous. The black strap detail on the peep-toe adds extra character to the shoes.
---
Suggested read: The ultimate guide on different types of heels, and how to wear them
---
6. Dainty chic lace up sandal heels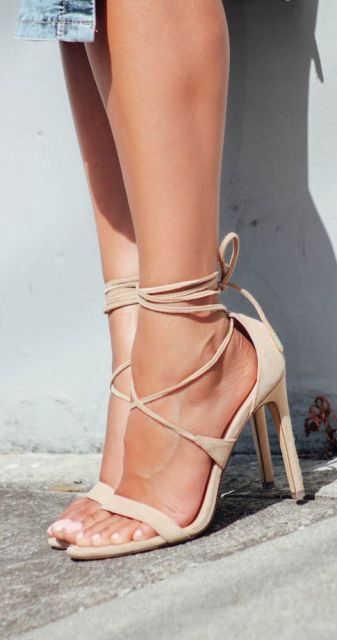 Image source: Pinterest
Sandal heels are of course some of the most common shoes people own, and these usually come in pop colours, which is you need to know how amazing nude lace up sandals actually look. It complements your complexion like no other.
7. Structured leather and fabric nude creation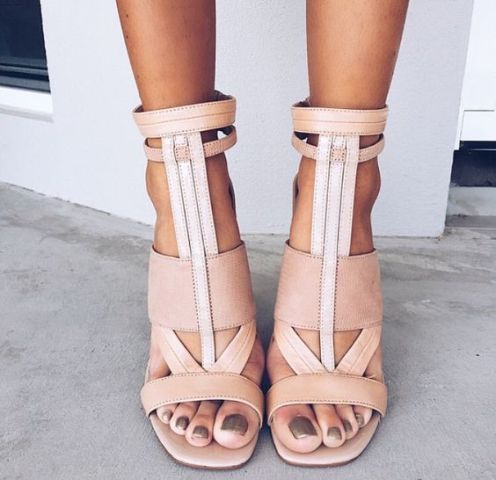 Image source: Pinterest
The simple way in which leather and fabric have come together and constructed an almost gladiator-shoe like effect on these heels is what makes them so appealing. Also, these belong to the lighter shades of nude, which almost looks like you are wearing structured white shoes, only cooler.
8. Studded nude pumps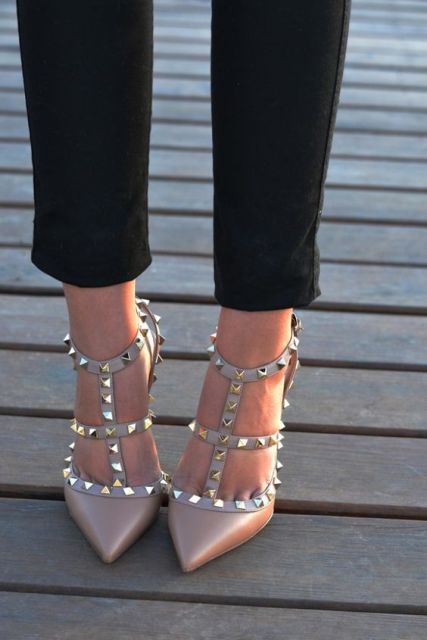 Image source: Pinterest
When you are absolutely ready to slay your street style, you can check out these studded beauties which would have been a simple pair of gorgeous nude pumps, had it not been for the metallic studded detail, which takes your shoe game to a whole new badass level.
9. Another elegant stunner in nude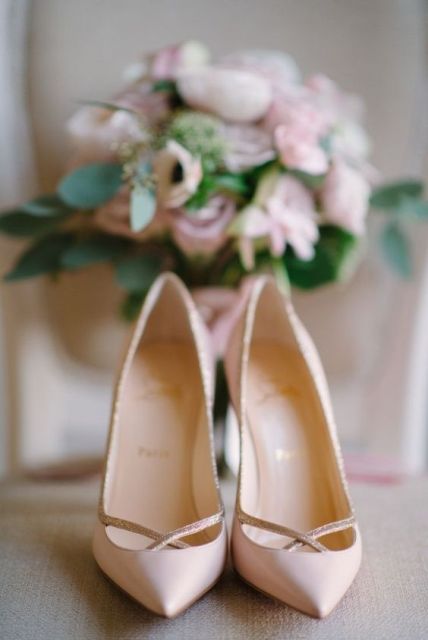 Image source: Pinterest
Here is Louboutin breaking your heart again with the stunning beauty of their shoes. What makes these pumps pop is the addition of the small straps near the toes in a muted shimmery nude, and the comfortable height ensures that you can wear these shoes practically anywhere and look like an authority on fashion.
10. High heeled shoes in blushing nudes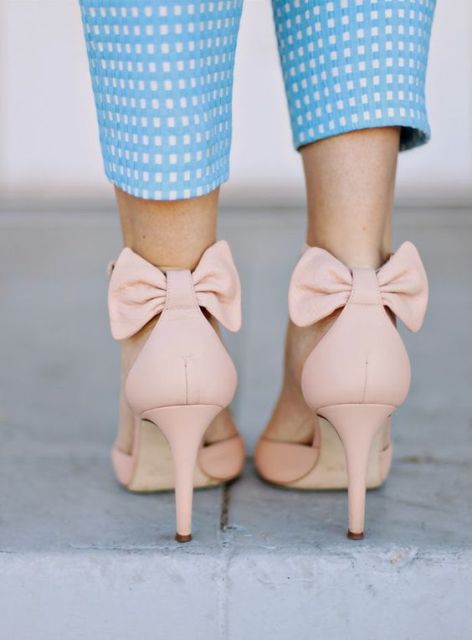 Image source: Pinterest
These cute shoes are going to give you major wedding vibes with the adorable bow detail near the heel to add extra dimension to an otherwise gorgeous pair of heels.
11. Nude and gold is a combination made in heaven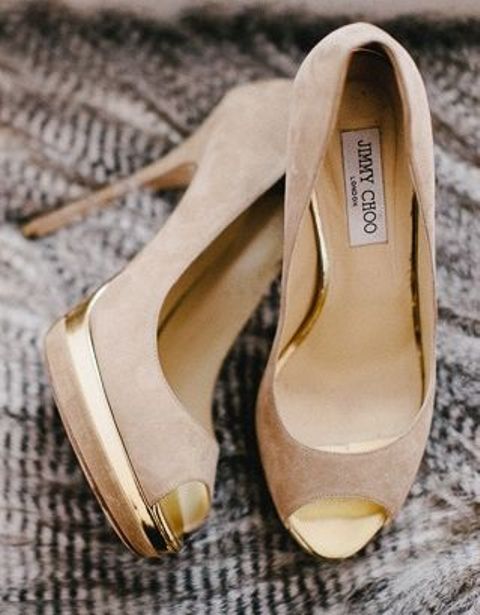 Image source: Pinterest
If you come to think of it, gold is just nude gone wild, which is why when you line a pair of muted nude heels with a golden sole, you have a pair that is absolutely to die for.
Which of these nude shoes for women caught your eye?
Featured image source: theguardian
Summary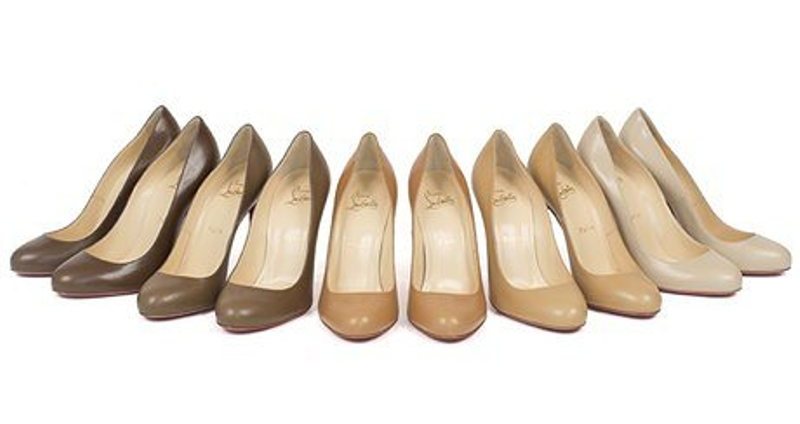 Article Name
11 Nude Shoes For Women Who Take Shoe Porn Really Seriously
Author
Description
THAT we love shoes is no revelation but THAT our love in its raw, naked form turns to nude shoes might be. Check these stunning nude shoes for women!