If you take your fashion seriously, there is no way that you can ignore one of the most vital part of your attire every time you dress up – your shoes. However, surprisingly, a lot of people are pretty clueless when it comes to picking out the right kind of shoe for themselves, especially because they don't even know the various different types of heels that exist.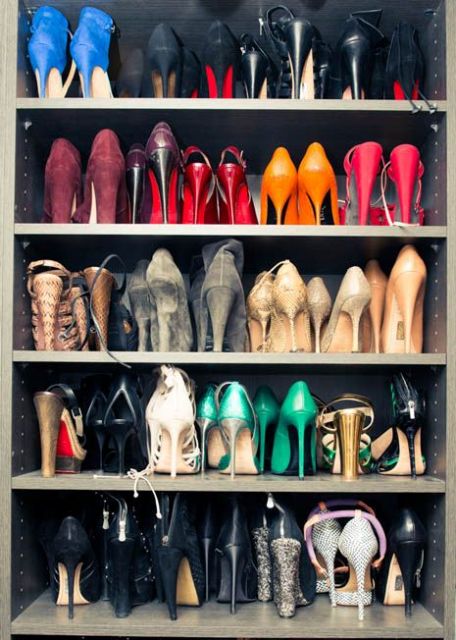 Image source: Pinterest
The whole point of wearing is heels is not to make you taller, because frankly people above 5'9'' don't need to look any taller. The point is to boost your confidence and make you look sexy as hell, which is why you need to know all about the different types of heels and what you can wear them with, to look your best.
---
Suggested read: 24 amazing suede ankle boots we are dying to wear
---
1. Wedge heels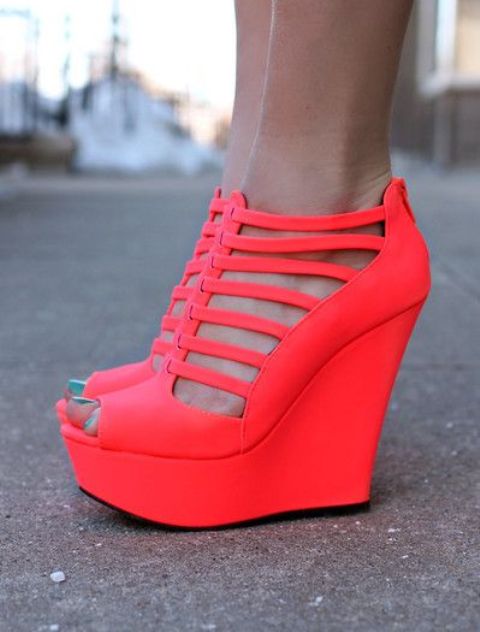 Image source: Pinterest
Wedge heels are some of the most comfortable heels around, because there is a stable solid mass that prevents you from tottering, unlike some of the other, sharper heels. There is no space between the toe area and the heels of the shoe. They go great with sporty dresses.
2. Stiletto heels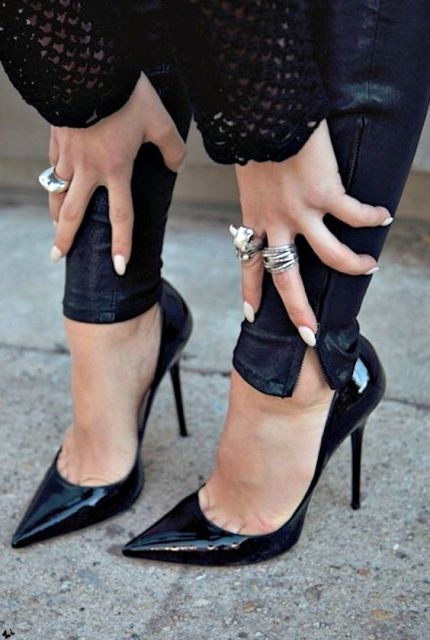 Image source: Pinterest
Stilettos are some of the most good looking but also some of the tallest shoes around, with heels that can rise up to 8 inches, which can give you quite a foot-ache is you are not careful or used to wearing it. They are defined by long, sharp heels. Shoes like these are perfect for a formal party.
3. Kitten heels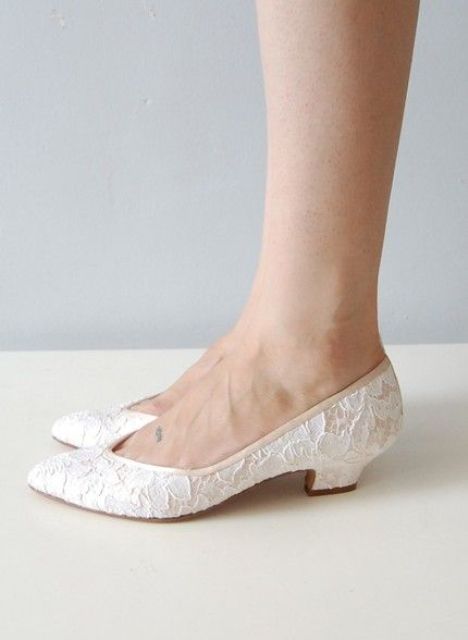 Image source: Pinterest
For those of you who like to wear heels but can't because you can't really walk around in them for hours and hours, kitten heels were made to come to your rescue. These are small, comfortable heels, which admirably blend style and comfort. These are perfect for your work formals, and even casual outings.
4. Ankle strap heels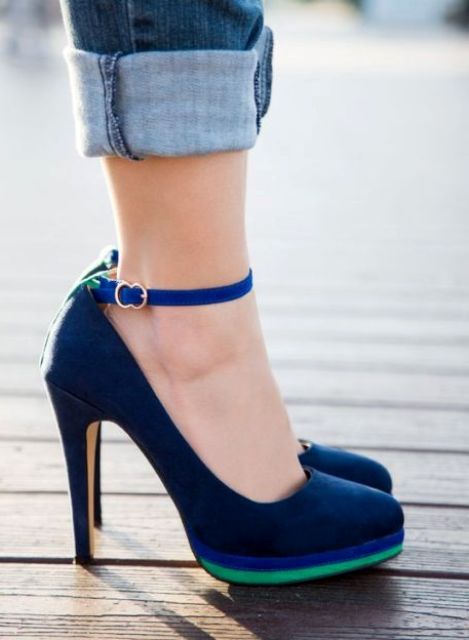 Image source: Pinterest
If you like wearing tall heels, but you would kill for some relief on the pressure on your feet, then behold the ankle strap heels, which can be as tall as you want them, but they should have a strap running across your ankles, which gives your feet the much-needed support. You can rock these shoes with a pair of denims and a dressy shirt.
5. Pumps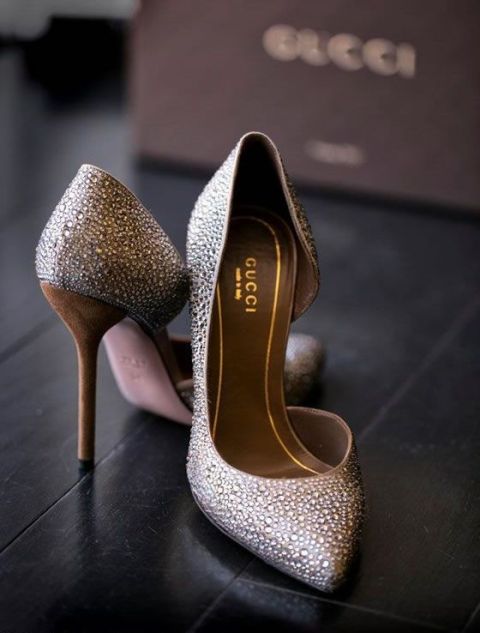 Image source: Pinterest
Of the different types of heels, pumps are the ones which are mostly synonymous with heels. However, even though they come with endless variety, they are not taller than 2-3 inches, and are cut super low around the toes. They literally go with any outfit that you may choose.
6. Sandal heels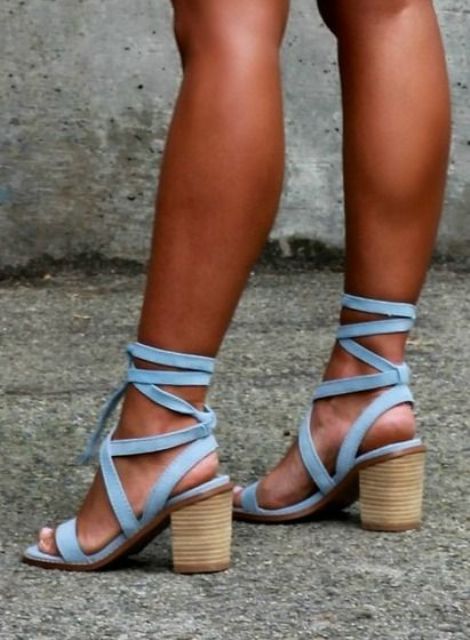 Image source: Pinterest
Sandal heels are like slip-on or lace-up sandals, but with an additional heel of any kind, whether it is stacked, or stiletto. You can wear them with anything you would conventionally wear sandals with, such as casual clothes, or even semi-formals.
7. Sling back heels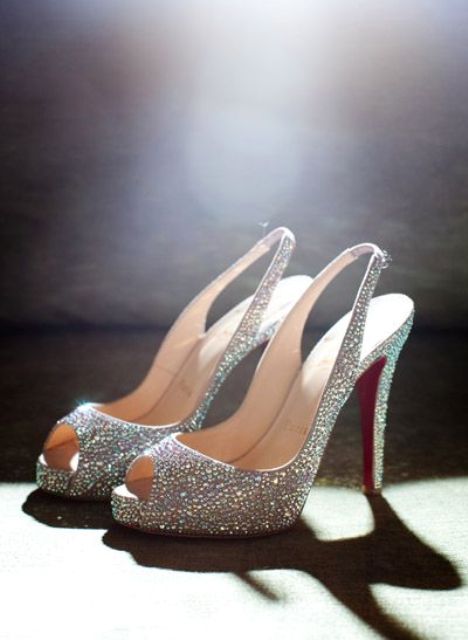 Image source: Pinterest
Just like the ankle strap heel gives you support from the front, the sling back heel gives you support with a strap that goes around the back of your heels, allowing you to walk around in these beauties in style, especially when you pair them with midi dresses and flared skirts.
8. Wedge sandal heels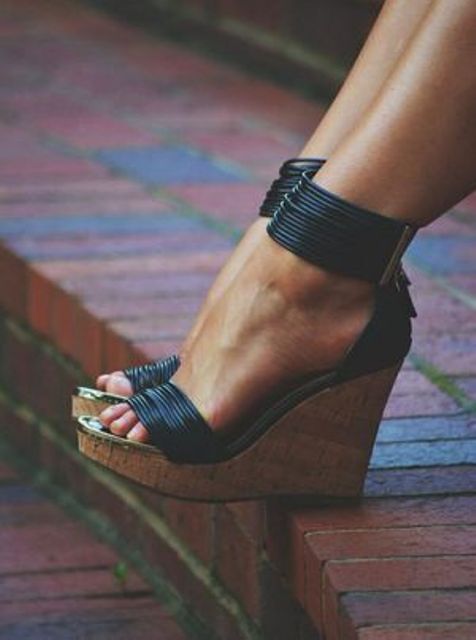 Image source: Pinterest
Wedge shoes are of two types – heels and sandals. Wedge sandals have block wedge heels with no gap, but the upper portion is that of a sandal-like structure. Wedge sandals can be very retro chic and you can wear them with flared pants and pleated skirts and matching accessories.
9. Platform heels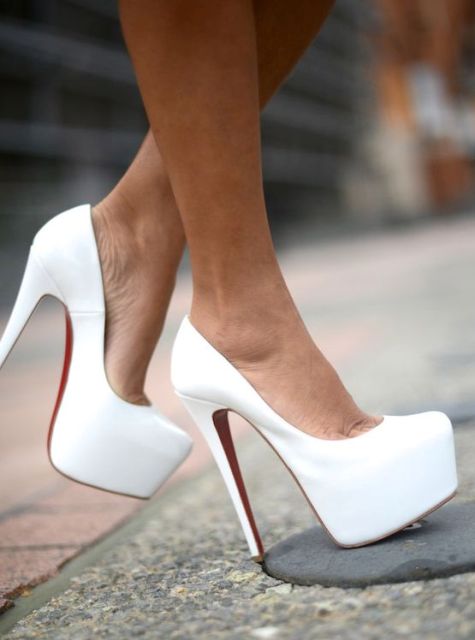 Image source: Pinterest
What makes these shoes different from other types of heels is that there is a little platform under the sole section of these shoes, which elevates it a little away from the ground, making them a more comfortable wear because of less difference between the top of the heel and the bottom of the sole. Shoes like this are best worn with classy dresses and fitted suits.
10. Cone heels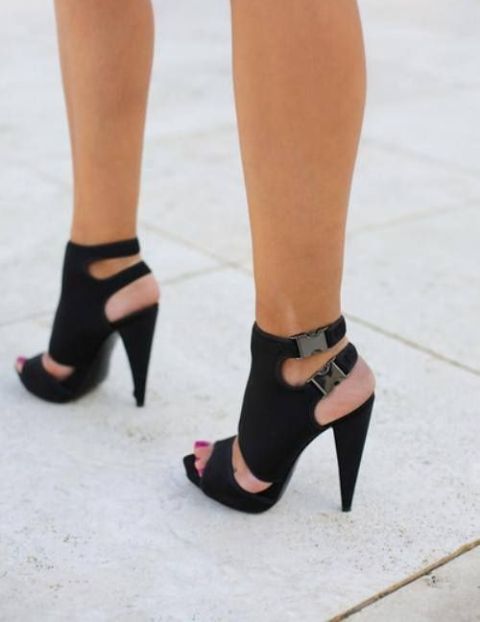 Image source: Pinterest
Cone heels also give you some amount of stability, because the heel tapers towards the bottom, while they start out pretty broad near the heel. They look great with your work formals and even with sporty dresses like a racer back top with a mini skirt.
11. Spool heel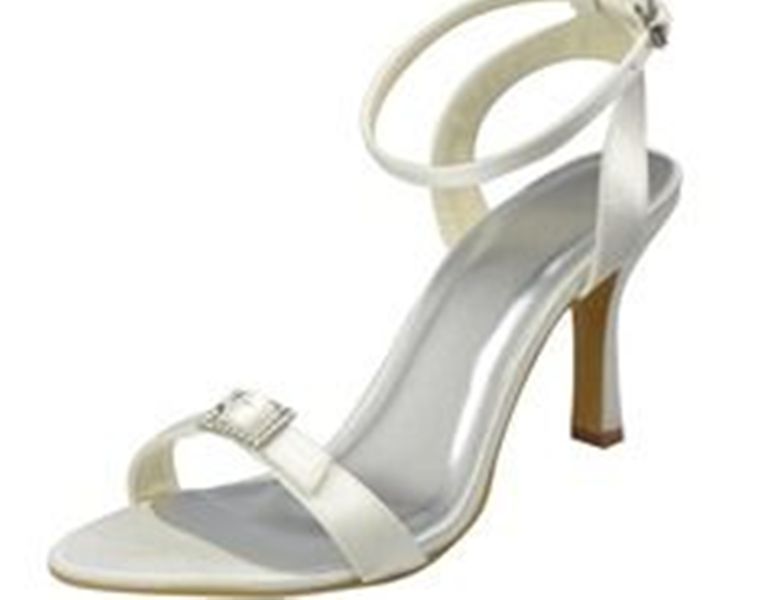 Image source: Pinterest
A spool heel tapers near the middle and is broader near the sole and the ground. This gives the shoe greater balance, and comfort for your feet. These shoes can be worn with flowy trousers and a shirt, or casual dresses.
12. High heeled boots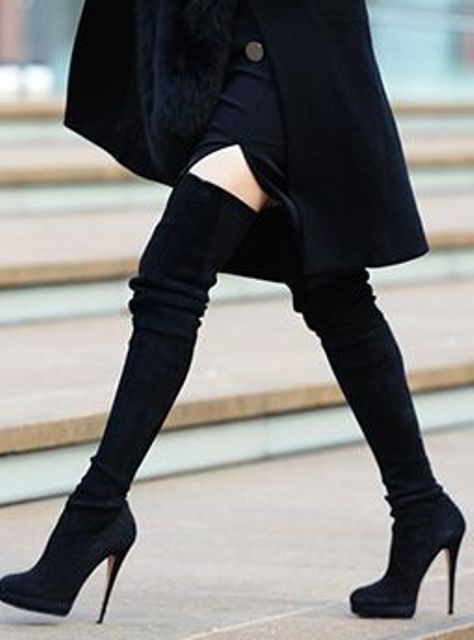 Image source: Pinterest
High heeled boots are some of the sexiest shoes out there, which are basically boots with a great heel, and which go up to your knees. These shoes are best worn with your jeans tucked into them, for the full effect.
---
Suggested read: 14 dos and don'ts of party shoes you MUST know
---
13. Peep-toe heels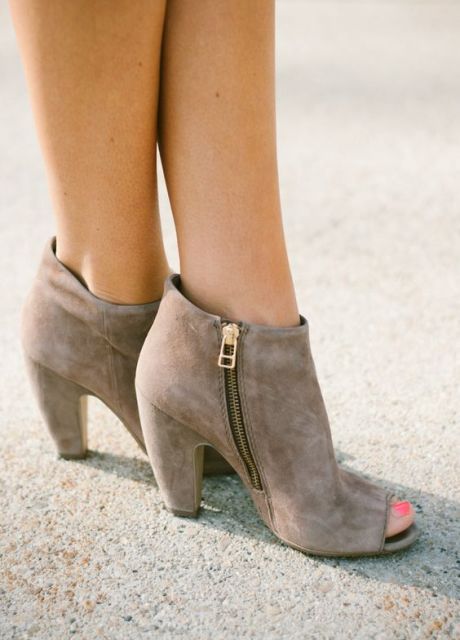 Image source: Pinterest
These are the heels you need to get your hands on when your fabulous pedicure and nail polish are in the mood to play peek-a-boo. Peep-toes come in all sorts of styles, but what sets them apart is the little gap left near the toe, enough to reveal a couple of toes. Peep-toes look great with skirts and leather outfits.
14. Ankle booties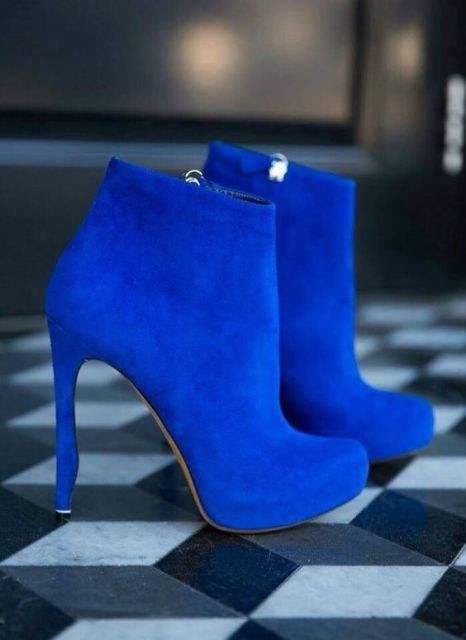 Image source: Pinterest
Ankle booties are the shorter siblings of the high heeled boots, and you can totally wear them with your summer dress or your tank top and shorts when the season doesn't allow you to go for the full knee-length version.
15. Cork heels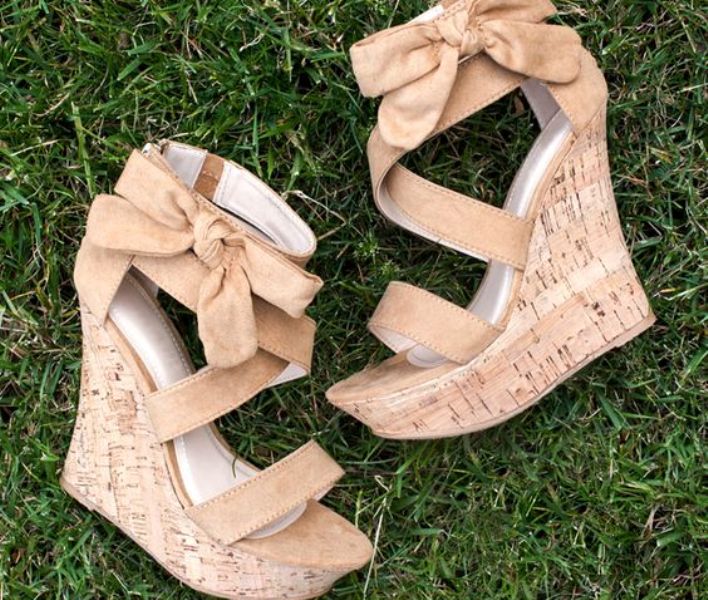 Image source: Pinterest
The reason these shoes are called cork heels are because the heels are made of cork. Legit, that simple. The purpose is to ensure that there is less pressure on the soles of your feet, as the cork absorbs most of it. Depending on the style of the heel, you can pair your outfit accordingly.
16. The Pompadour heel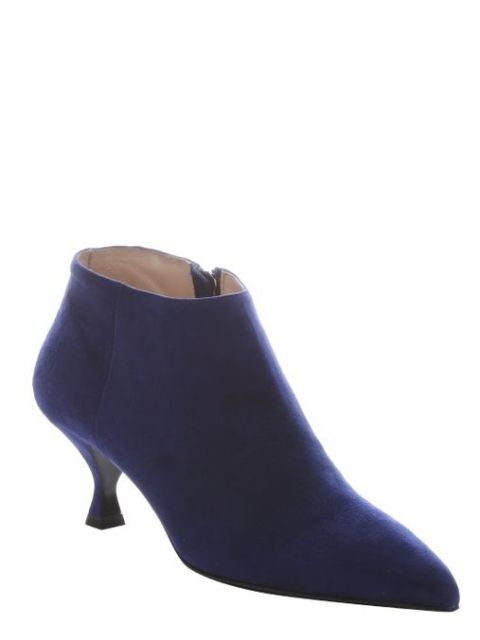 Image source: Pinterest
The pompadour is also known as the French heel that was popularized by King Louis of France. It looks almost exactly like the spool heel, but is much shorter in height. These are worn best with midi-skirts and large button down shirts.
17. Cut out heels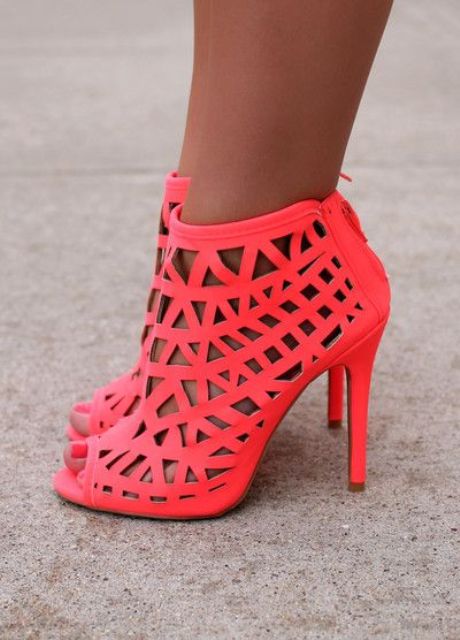 Image source: Pinterest
Cut out heels are all the rage now, because they look gorgeous and are high on fashion as well. Cut out heels can be of any kind, and what sets them apart is a portion of the upper part is cut out, either in sections, or in patterns. Cut out shoes look amazing with all kinds of outfits.
18. Mule heels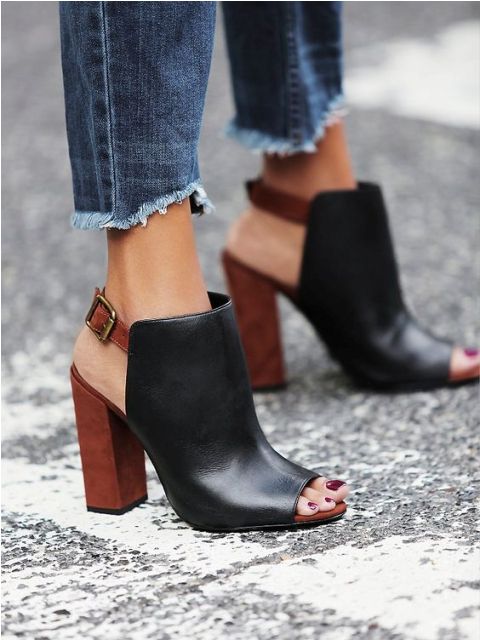 Image source: Pinterest
Mule heels can take the shape of any heel, except the only difference is, the upper part rises high on the foot whereas the ankle and heel area remain exposed, making the shoe a partially covered stunner. In order to showcase the effect of the shoe, it is best worn with folded jeans or skirts.
19. Lace up corset heels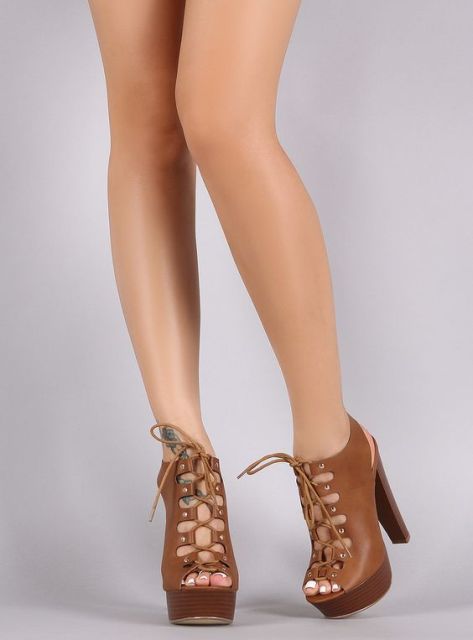 Image source: Pinterest
Corset heels are usually shoes in which the upper part is divided into two halves, which are tied together like a normal corset. These shoes are best worn with a shirt and rolled trousers or shorts.
20. Ballroom heels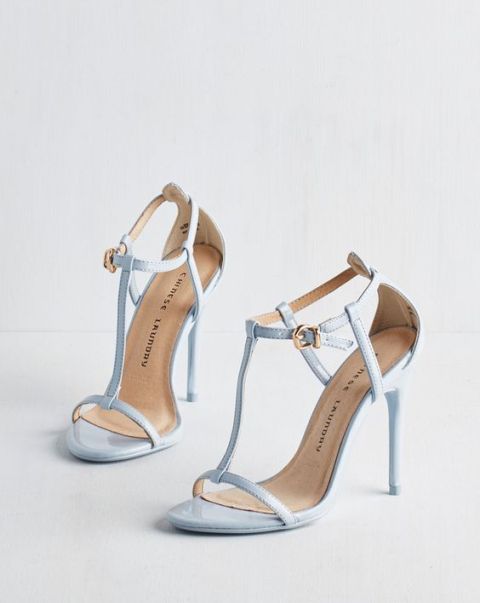 Image source: Pinterest
Ballroom shoes are conventionally covered in the heel area, with an ankle strap, and straps near the toes for support. These heels are usually reserved for weddings, proms, and other special occasions.
21. Espadrille heels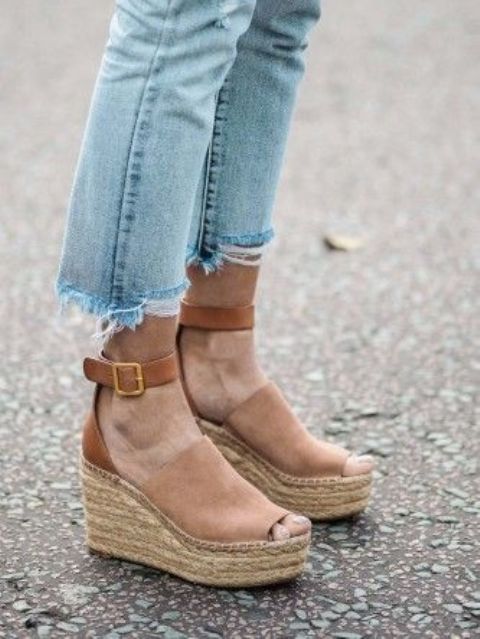 Image source: Pinterest
These beauties, which are new on the fashion scene, are made of an upper part of fabric or canvas, whereas the lower part is made of fibre, making them super comfortable. Thus, these are perfect for casual clothing.
22. Oxford heels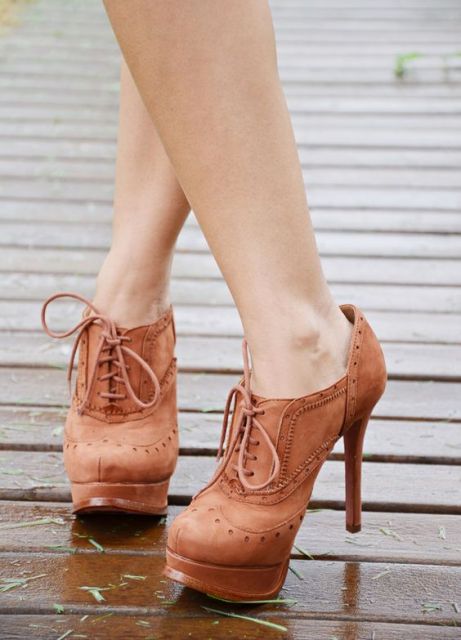 Image source: Pinterest
The traditional Oxfords are given a wonderful twist with the addition of heels in varying heights. Oxford heels look amazing with a pair of well-fitting leggings, a skirt and a button down shirt.
23. Comma heels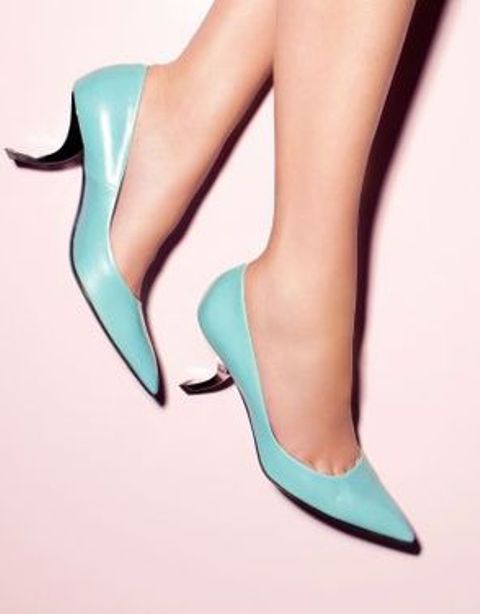 Image source: Pinterest
Strange as it may sound, these heels exist and are very popular. The heel is in the shape of a comma while the top is cut out like a ballerina. A favorite on the runways, the comma heel looks amazing with midi skirts and full-sleeved shirts.
24. Stacked heel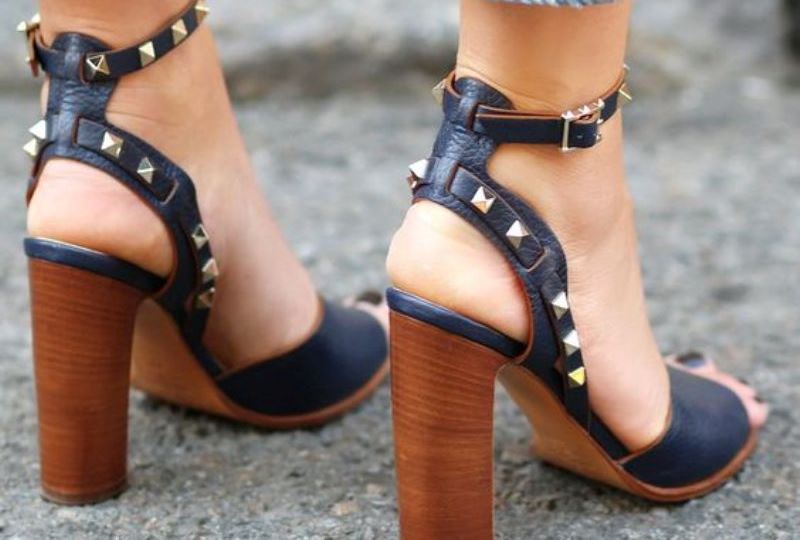 Image source: Pinterest
The stacked heel looks like thin strips of canvas or wood has been piled one on top of another to create the effect, and is best worn with simple denims and casual shirts.
25. The chunky heel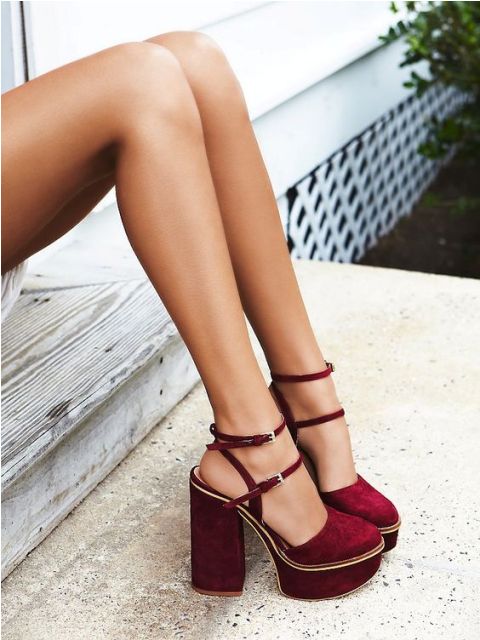 Image source: Pinterest
This is similar to the stacked heel, without the layer effect. Traditionally, the base of the heel is square, giving the wearer greater stability. Chunky heels look sexy in everything, especially with chic formal clothing in which you have to stand around a lot.
---
Suggested read: 10 must-have shoes in every girl's closet
---
26. The abstract heels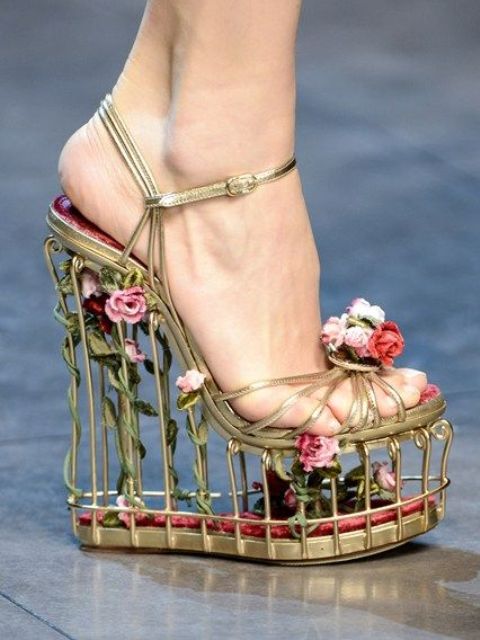 Image source: Pinterest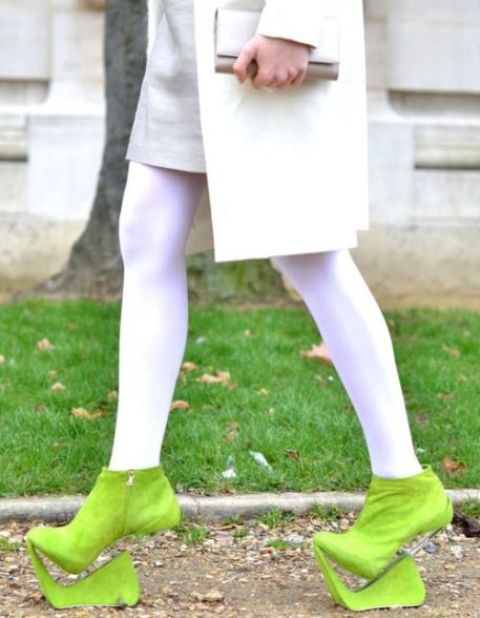 Image source: Pinterest
These belong to a group where the heels can look like the strangest object, whether it is an animal, an abstract design or a flower cage, and still manage to serve the purpose of walking. Unless you are a supermodel on a popular runway, you might want to re-evaluate your decision to wear these.
Therefore, you are now 26 steps closer to choosing the right pair of heels for you when you go shoe-shopping the next time around. Of course, one must never forget what they say – "Keep your heels and your standards high."
Summary
Article Name
26 Different Types Of Heels Every Fashionista NEEDS To Know About
Author
Description
If you're a fashionista, then you NEED to know these different types of heels and what outfit they go with.