If you went to see Sonam Kapoor's character Princess Maithili in Prem Ratan Dhan Payo, oh wait, you didn't watch the movie??!!! Now, you now only have a 30% chance of becoming a sanskari superwoman!
If you did watch PRDP you may already know how to be the perfect Indian nari, but if you didn't and you still are keen on transforming into one, read along. Here are 11 super-easy steps to become the sundar, susheel, sanskari superwoman, courtesy Bollywood lessons:
1. Crane your neck at a 45 degree angle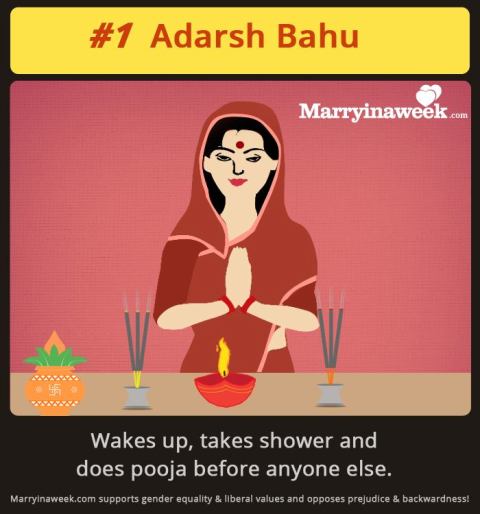 Image source: marryinaweek
Downwards! You are not allowed to look up missy; Indian women don't dare look into anyone's eyes ever. And also, it helps for your 'pallu' to stay on top of your head! Of course, the pallu is basic; never step out of confinement without a pallu, even in front of your husband.
---
Suggested read: The types of mothers-in-law everyone has…
---
2. Makeup 101
So you figured makeup is only for those special occasions? Oh you silly! You always have to have your makeup on, you can never even let your husband see your true colors or should we say skin? The brighter the lipstick the better, because after all we are not trying to get attention, are we?! You sleep after the entire household to take the makeup off and wake up before them so you have the makeup game on point.
3. Play dress up
You knew this was coming didn't you? Good, you are catching up. You are the pride of the family and you definitely have no business going around looking like a hobo. Checking out the latest style guides (Indian wear) and 'going shopping' should be your hobby. Showing off your waist in a sheer sari is fine as long as it's not a crop top! The more glitter the better.
4. Cook up a storm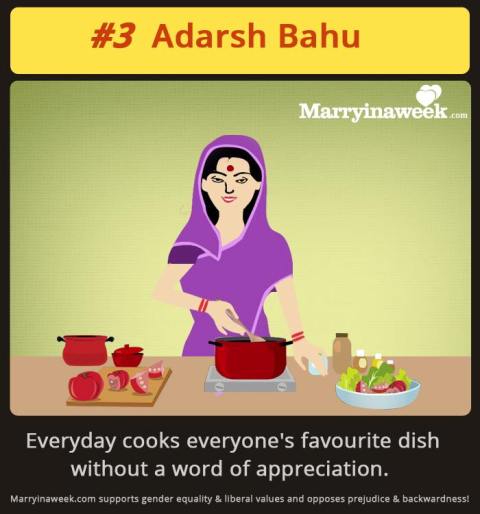 Image source: marryinaweek
Even if you didn't grow up cooking, you need to know your masalas right because you have to be a Michelin star chef to be sanskari. 'I don't like cooking' is not an option, and God forbid you mention 'hiring a cook!' Your husband and his family need to eat 'ghar ka khana' and no, he will not lend a hand with the vegetables, because then, what kind of a superwoman would you be?
5. Aim for a womanly career
If your husband earns well you really don't need to step outside home because he provides for you and you just should shut up and wait for him at home at the end of the day. If you are too insistent, then maybe you can have those 'flexible' jobs where you just need to work from home while you can prepare for dinner or step out for just a couple of hours so grocery shopping becomes your duty too!
6. Romance sho-mance
Learn to flutter your eyelids wildly and giggle coyly when meeting your husband for the first time, or even every time, because that's how awesome he is! His touch burns you and you need to jump in excitement every time he runs his hand over your body or simply run away to the other end of the room. If you get tired then, lie down on the bed so he can do whatever he pleases, because Bollywood hasn't heard of 'women on top' yet. Not the 'sanskari' Bollywood, anyway!
7. Rituals and festivals
Festivals bring the entire family and neighborhoods together, haven't you seen enough Bollywood movies? Be it a family wedding or a festival, you need to be on your toes. Running around making yummy treats for the family, decorating the house, greetings guests, making them comfortable and making chai for a zillion relatives, here is where your superwoman comes out!
8. Maiden Family, what's that?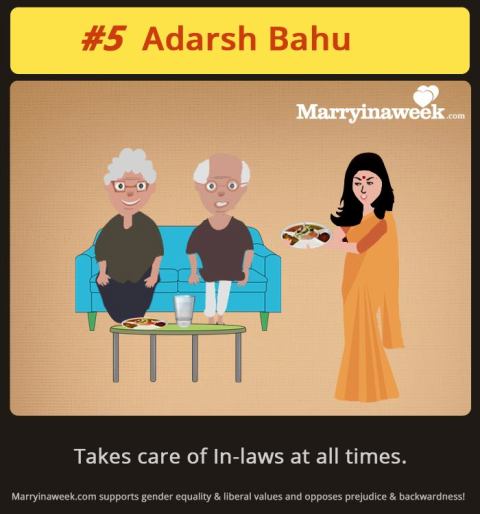 Image source: marryinaweek
You love your parents a lot, do you? Well, they are in your past now! You will henceforth only be a bahu not a beti, yeah, we know that sucks but hey sanskari super women only love their in laws. You will care for your sisters in law like your own, you will feed your brother in law and don't forget to give your mother in law a head massage, and you can very well forget those loving oil massages your mom used to give you!
9. Children are your universe
Once you have a kid, that's it, you stop being anything else except a mother. You somehow need to develop a sixth sense where you can spout dialogues like 'Mere bête ayenge' or you must immediately know your child is in trouble just through some motherly superwoman powers. You cannot ignore them and your life must revolve around them.
---
Suggested read: How to impress your mother-in-law, the foolproof guide…
---
10. What are hobbies?
You love reading, watching documentaries and meeting friends? Haha! You don't anymore. A sanskari woman has no friends, except to dance at sangeet functions. Your hobbies are to keep a spick and span home, take care of you family and maybe if you do have the time enjoy your daily soaps.
11. Your home is your world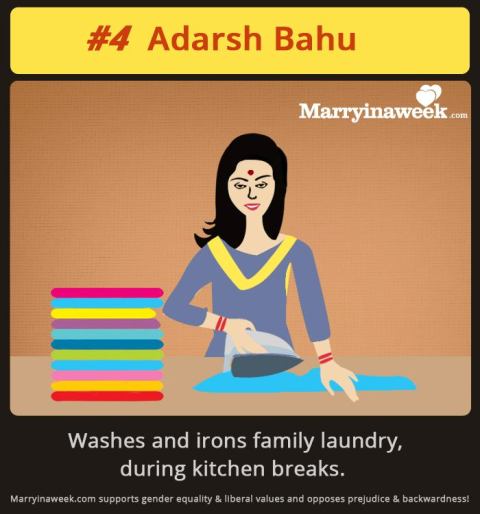 Image source: marryinaweek
Ready to give your views on Donald Trump and ISIS? Shut up right there! You have no interest in worldly affairs and prefer your world to be your home. You are happy to leave your husband to watch the news while you make nice round rotis in the kitchen!
Do you think you can follow these super easy steps to become a sanskari superwoman? Tell us in the comments.
Featured image source: marryinaweek
Summary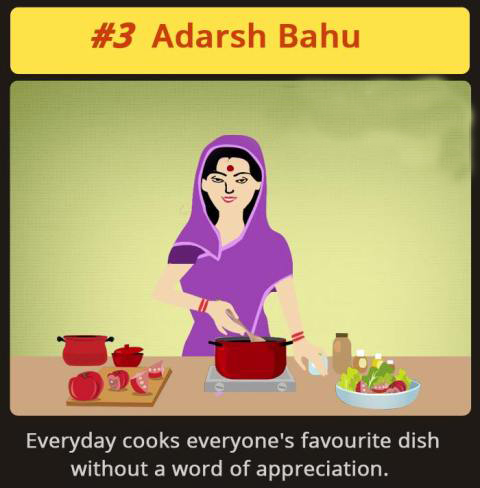 Article Name
11 Steps To Become The Sundar, Susheel, Sanskari Superwoman Courtesy Bollywood Lessons
Author
Description
Yes, you can become the sanskari superwoman- just follow these simple steps!