Mother-in-law – like they say naam hi kaafi hai. Almost every subordinate to 'saas' knows the scare that the mere mention of this hideous designation evokes, none have managed to escape.
So, if you're looking to impress your saasu maa with your umadta hua pyaar, here are 20 awesome ways to nail it (or not).. 😛
1. 5 O'clock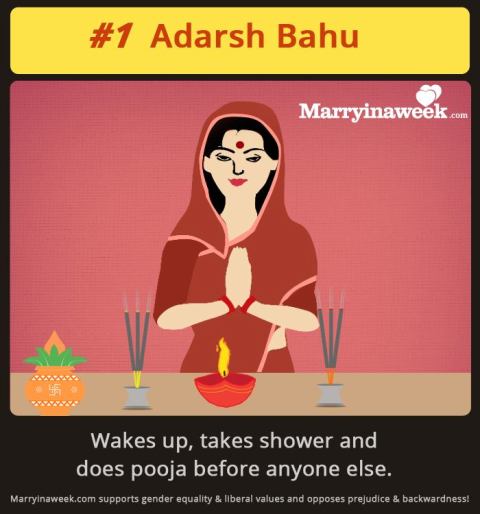 Image source: marryinaweek
What? Still sleeping? Of course not, impress your mother-in-law by waking up before the hen goes cuckdoo koo. *rolls eye so hard*
2. Jeans, not in my genes
Of course, no wearing jeans. They're so non-bahu-ish. Six yards of elegance is so cool and of course SANSKAARI.
3. The sar ka pallu
Oh you thought that was old school! Well flash news – your mother-in-law is old school too. I know, f**k your luck
---
Suggested read: How to act on an 'arranged date' – tips for Indian men
---
4. Gossip? Yes, Please… conditions apply…
The journey to her good books begins at ditching gossip. Can you? *NO* Hey, you can always gossip about other families, just don't gossip about your mother-in-law and she will be giving you a hi-five.
5. Dishes- so cool…
Do the dishes, every freaking day, every frigging time. Cool eh? No work to do? Let's do the dishes!
6. Item pe item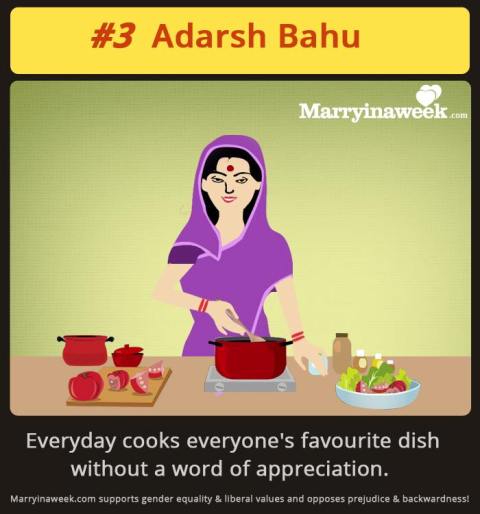 Image source: marryinaweek
Hey, I am talking about cooking, What were you thinking? Cook delicious *items*
7. Ji hazur
Answer in 'yes' to whatsoever your mother-in-law says- no exceptions..
MIL: Isn't yellow so red?
You: Yes
*Job successful*
8. *MAA*
The jackpot step. Become a maa, pop a baby and voila, you're the queen bahu whoosh! Brownie points, if you pop a baby boy!
9. Don't own her son
Always remember he is her son and then your husband. Priorities, people. Don't claim baggage which are not yours. Manners, you see. 😛
10. The jagrataas
Don't forget to host a few and she will love you. *Of course, make sure she is given all credits for the awesome planning.*
11. The unpaid maid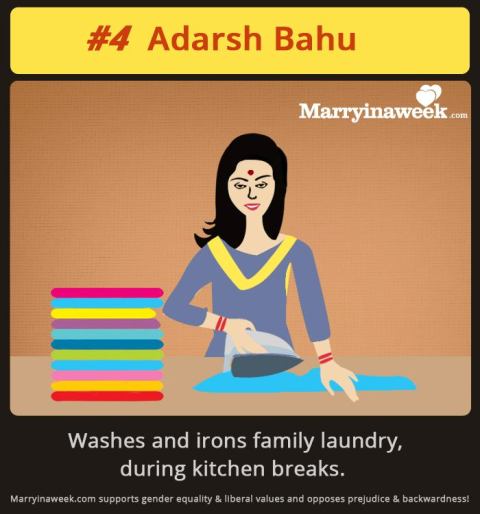 Image source: marryinaweek
This should top your résumé.
Does all household work for free? Yes..
Housewife job – HIRED.
12. Shopping- NO!
Don't you dare think of the malls, shopping means strictly the regular grocery shopping and dare not forget the free vala dhaniya. FML
13. The ghar ka khaana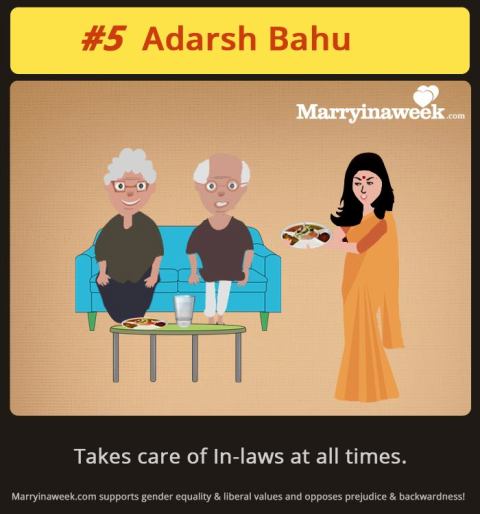 Image source: marryinaweek
Never suggest heading to Domino's or Pizza Hut. Always hit for home made food. Of course, you must cook it!
14. Axe the ex
Aadarsh bahus never talk about their ex. Heck they don't have an ex. *buries all memories of the hot ex*
15. Watch all the daily soaps there are
Don't judge her if she watches the repeat telecast of Ekta Kapoor's tacky serial three times a day. Better still, give her company. Even watch Sasural Simar Ka. Bonus point for watching this pure brilliance of raw s**t.
16. Root for your mother-in-law
No matter how ugly she is and how conniving, a mother-in-law is always right, even in the daily soaps.
---
Suggested read: How to act on an 'arranged date' – tips for Indian women
---
17. No saazish
Don't think of planning any of those saazish-es you see in the serials. She is a step ahead of you, it won't get you anywhere! *sobs hysterically*
18. The perfect smile
Pretend how much you love being the bahu you're. Always wear the smile that shall have HappyDent ad makers consider roping you in. *Make sure to give the ad money to your mother-in-law. She is also the CFO of the home*
19. Yes boss
Always remember she is the boss and she will be happy to remember you're a teeny weenie part of the house. SIGH.
20. The aadarsh bahu
Of course, what else will get you into her good diary? Be the aadarsh bahu. Need pointers for this? Apni simar hai naa. * turns on the TV set and bangs my own head*
Disclaimer: Try these antics at your own risk. 😛 Caution is advised.
Featured image source: marryinaweek
Summary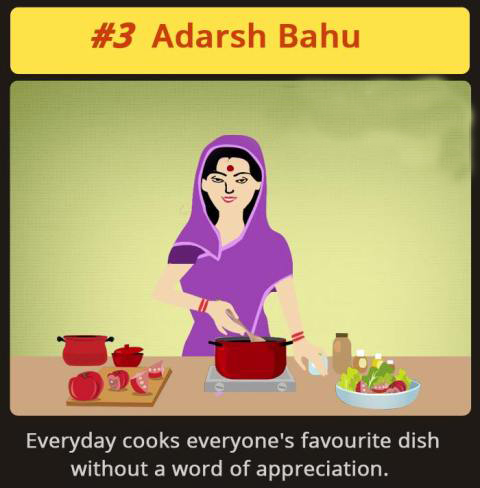 Article Name
20 Simple Ways To Impress Your Mother-in-law
Author
Description
Looking to impress your mother-in-law? We have some failproof tips! ;)