What better a way to welcome happy times in your life than by looking your fabulous-most self. Especially so- when the purest of hues is your go-to color. So, without further ado, here are 11 breathtaking white dresses that can steal the show, any which day…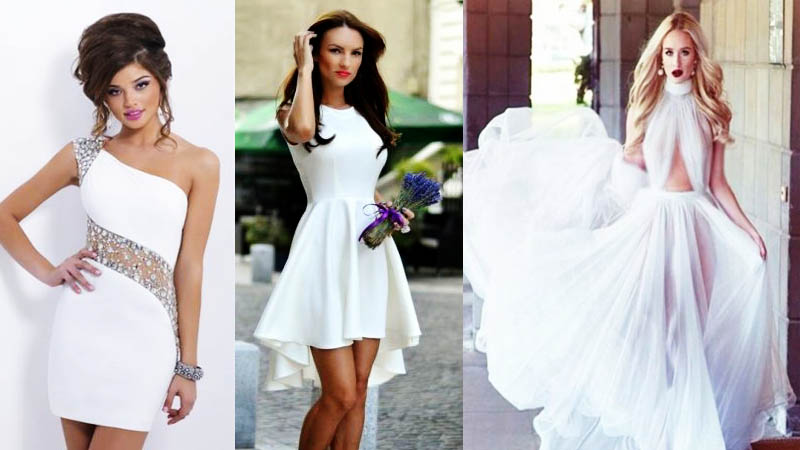 To white dresses…
1. The matchless grace of a backless high slit maxi dress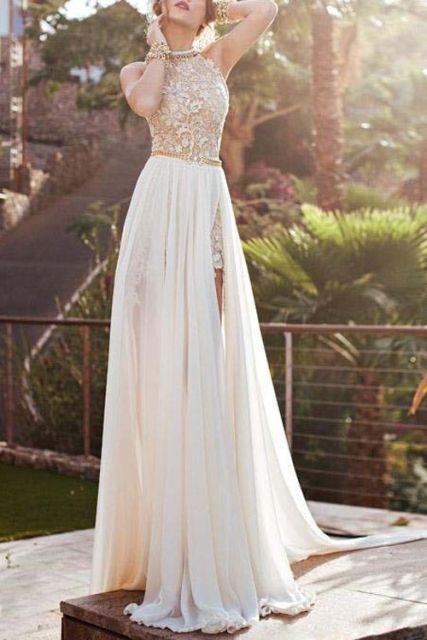 Image source: Pinterest
WOW is the word for this truly dreamy outfit. It's plain outlandish how gracefully it adds up to your tall and sleek figure! It would be simply marvelous when you wear it with gorgeous heels and a high hairdo… MAGIC…
2. Nail the evening with a square neck peplum bodycon dress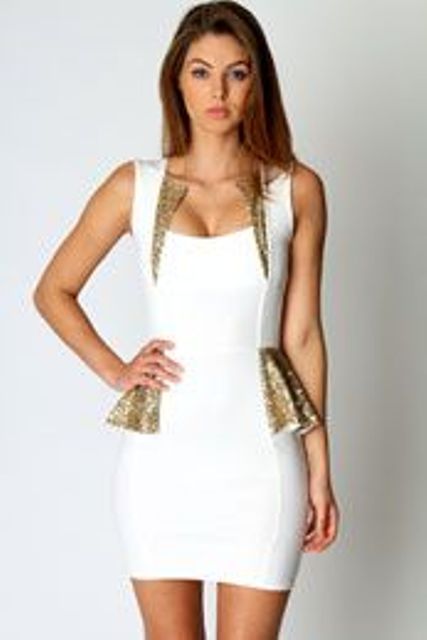 Image source: Pinterest
Hot, glamorous, and celebration perfect, you can trust this outfit to make you the magnate of all praises and adoring eyes. An astounding pair of heels should do just fine to set your confidence and attitude for the festivity mood.
3. Show your elegance with a perfect two-piece lace knee-length dress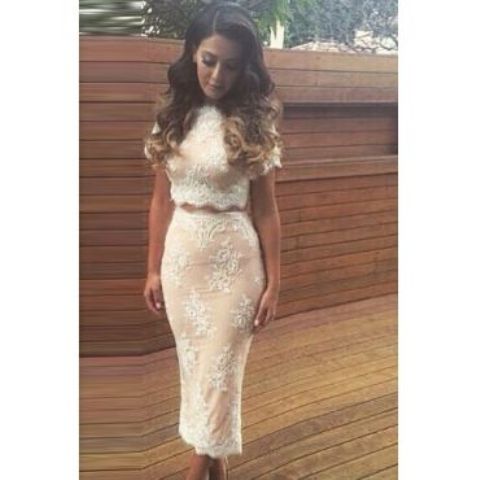 Image source: Pinterest
A super-comfortable wear yet unparalleled in beauty, this is the very dress to highlight the prettiness of your ladylike demeanor.
4. Jump into the fabulous length of white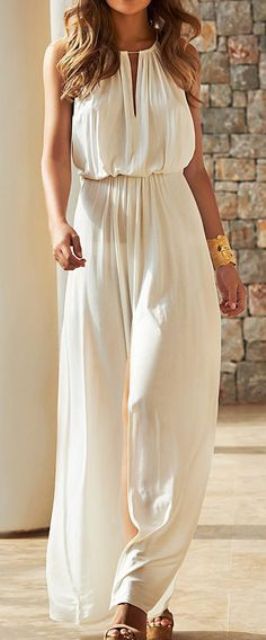 Image source: Pinterest
Graceful and Greek goddess-ly in the making (if that's a permissible phrase), this dress has to be THE choice to welcome happy times in your life. Doesn't a nice accessory on your wrist look simply wonderful?
5. Celebrate your beauty with a pencil short mini bodycon dress

Image source: Pinterest
Be it adding a little glamour to your awesome office getups or making your get together a little special, this is one fine dress to wear. Make sure you pick the contrasting color of the heels just right and a magnificent hairdo- so it's perfect.
---
Suggested read: 16 ways to rock the crop top this season
---
6. The prettiest lace and chiffon dress to get party-ready

Image source: Pinterest
A subtle masterpiece of beauty and sexy design, this dress is going to be your favorite pick for your special parties in no time. A befitting choice to make you the center of attraction, this dress assures you great comfort when paired with nicely flowing hair and easygoing footwear like these.
7. The sizzle of a one-shoulder beaded dress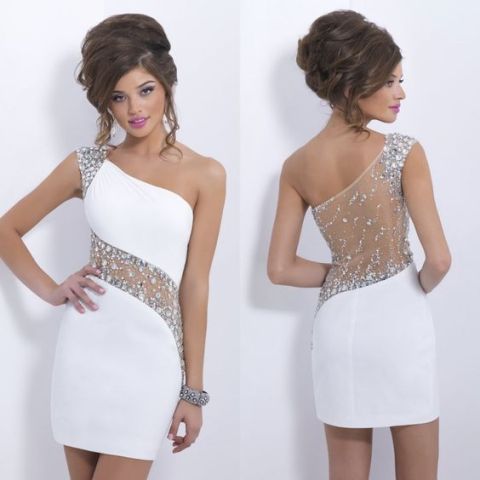 Image source: Pinterest
I can't even express how hot you'll look in this number. It accentuates your elegant build, letting your beyond-perfect curves peek from it's perfectly beaded sheerness. Dress in this white beauty with an epic high hairdo and you will steal the hearts of everyone around.
8. Reign with pride in a two-piece magnificent off shoulder dress

Image source: Pinterest
The ruffles of the skirt in this dress sway in a graceful pride down to the ground. A show stopper for any celebration, this dress is definitely a must-have. If you wear it with a fine neckpiece and a complementing hairdo, you'll be the gem for all spectators for sure.
9. Flaunt the sheer gorgeousness of the evening party gown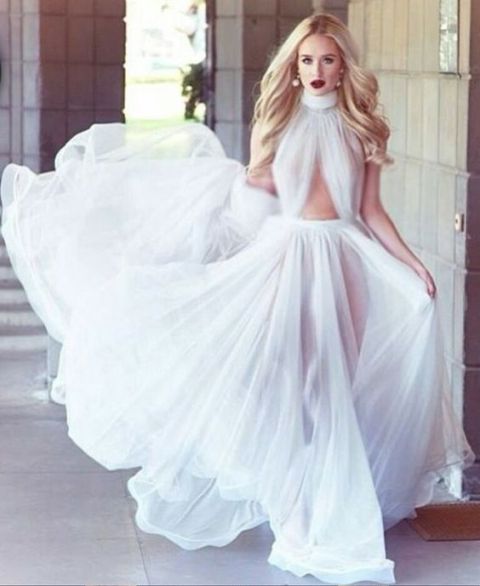 Image source: Pinterest
Elegant in every inch of its length, you will look nothing less than a princess coming to life from a beloved fairytale. It needs no jewels or accessories, just your dreamy eyes smiling with your perfect red pout, and you're ready.
10. Let your feminine elegance show through a sleeveless hollow flare dress

Image source: Pinterest
Unbeatable when it comes to making the most of your lovely frame, a snow white hollow flare is the best way to look your best. When you step in the party with your unique style topped with a wonderful hairstyle, no one would be able to take his eyes off you.
11. The happy sunny side of an all afternoon dress
Image source: Pinterest
Who needs any occasion to celebrate the exquisite beauty you are? This strappy dress is not only a perfect choice for any day date but also a remarkable party-perfection when paired with one of your fabulous heels. Play it high, and you're going to be invincible! After all, Bollybeauties have given us enough reason to don lace cut-outs this season!
To white dresses, yet again!
Summary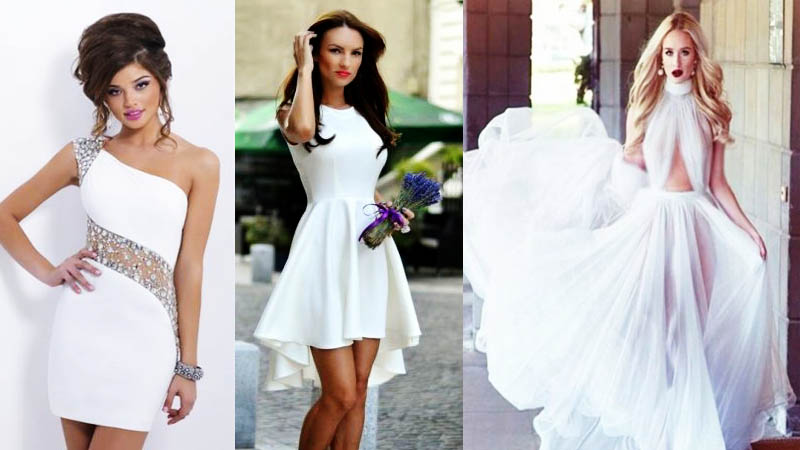 Article Name
Wearing White: 11 Stylish White Dresses Perfect For Happy Times
Author
Description
Because white dresses are pure magic!