2015 was a year when street style took on a whole new meaning with people stepping out in some of the most fashionably put-together ensembles. There were a lot of individual items and accessories which made recurrent appearances throughout the year when it came to street style, but there were some individual outfits, which took the cake.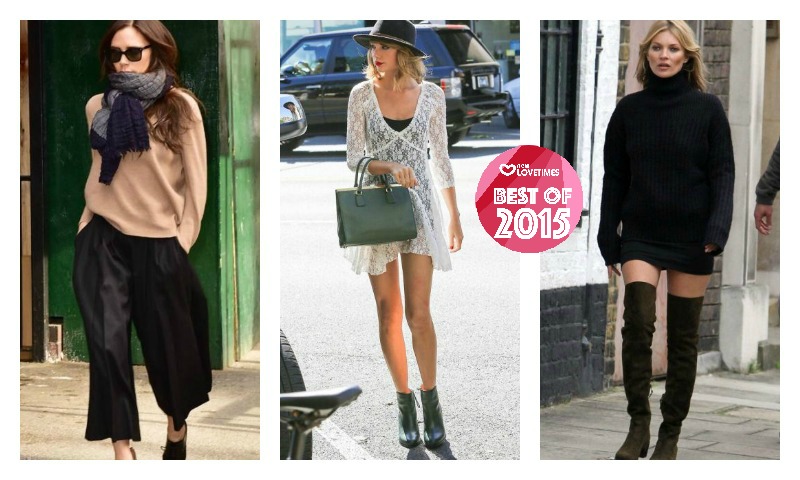 Here are 17 street outfits and trends which absolutely wowed us this past year.
1. Maxi dress, shades, and leather jacket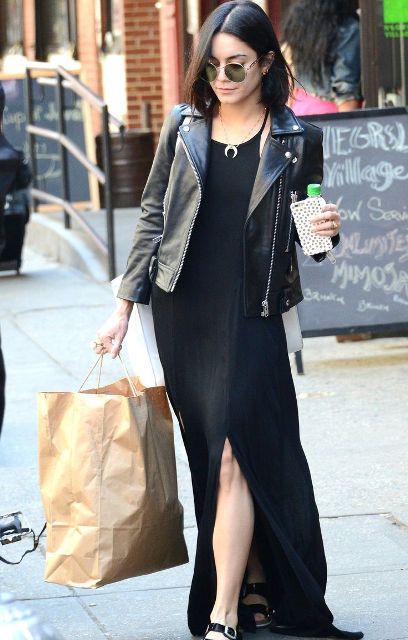 Image source: Pinterest
Vanessa Hudgens shows us how to mix and match and layer in style. This long flowy sheer black maxi dress paired with a leather jacket, strappy flats and chunky accessories make this one of the street styles to look out for in 2016 as well.
2. The year of crisp suits on power women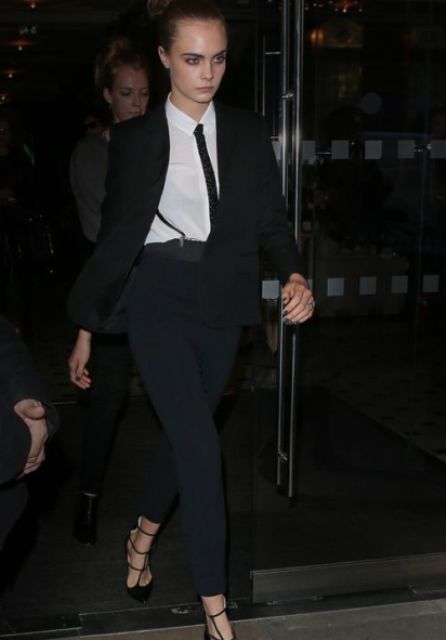 Image source: Pinterest
Another street style that caught our eye was the increasing frequency of women choosing to sport suits, not only for high-brow events or fashion weeks, but even on streets. Cara Delevingne shows off her crisp black suit, fitted trousers, and heels in this ensemble.
---
Suggested read: Top 10 female fashion trends of 2015
---
3. Sharp Mexican casuals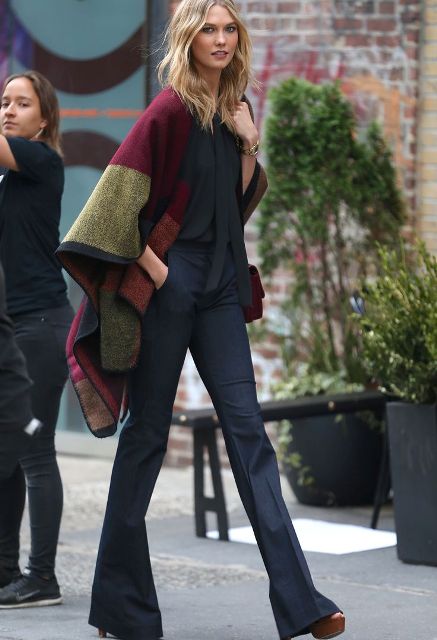 Image source: Pinterest
Karlie Kloss stepped out in an all-black outfit with flared pants, with only the muted but stylish poncho adding all the class and elegance and excitement this all-black ensemble needs.
4. Statement clothing in pop colors
Image source: Pinterest
Rosie Huntington Whitley's super rad street outfit is actually pretty casual if you scrutinize it, with the simple T-shirt and classic blue ripped jeans. What makes it extraordinary is the statement coat (or even a large sweater would do), which makes you look immediately like a fashionista.
5. Distinct 70s vibe with the oversized fur coat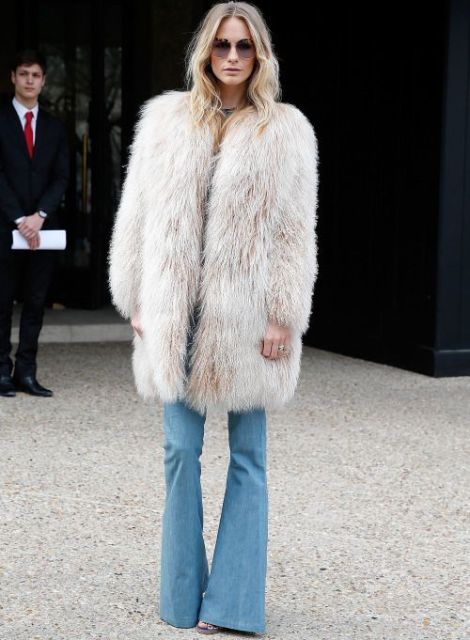 Image source: Pinterest
Poppy Delevingne appeared at Paris Fashion Week, and she basically brought back 70s street style during the hippie movement in the classic fur and denim combination. Gone are the days when people judge you for wearing bell-bottoms.
6. Lace floral mini dress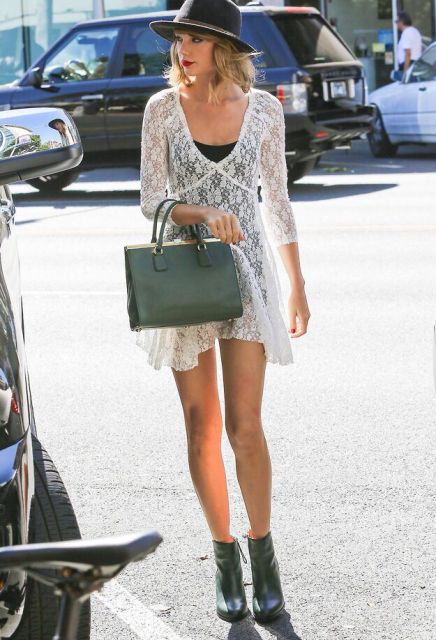 Image source: Pinterest
It is imperative to include the queen of street style this past year, Taylor Swift. She left pedestrians (and us) awestruck when she stepped out in this sheer lace mini dress and boots combo with that wide-brimmed fedora.
7. Beige and black winter street style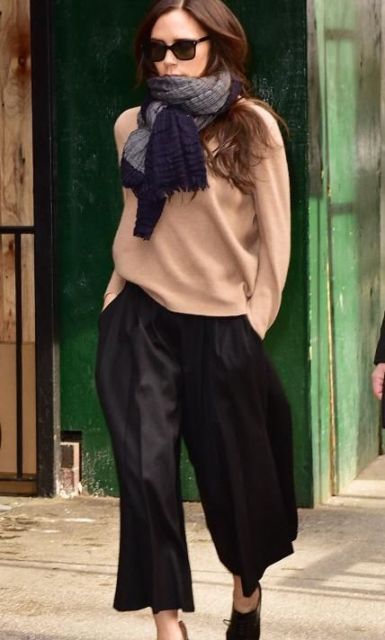 Image source: Pinterest
Infinity scarves, baggy pants, full pastel-colored sweaters defined casual chic street style, as demonstrated by none other than Posh Beckham herself.
8.  Black overalls with floral motifs
Image source: Pinterest
One style that caught our attention was black overalls, and all-black outfits, which seemed to impress celebs as well. However, this street style stands out because of the refreshing white and yellow floral motif, such as on this chic Miu Miu coat as seen on Miroslava Duma in Paris.
9. Monochrome dress/schoolgirl look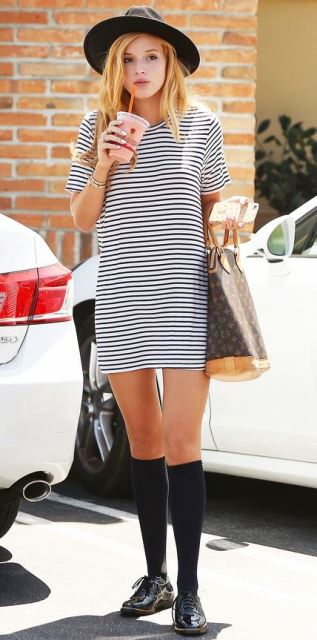 Image source: Pinterest
Bella Thorne showed us how it's done when she stepped out in this black and white striped shift dress paired with a wide-brimmed fedora and knee-high schoolgirl socks, giving off strong Madeline vibes, with a touch of adult elegance.
10. Shorts and lace with jacket combination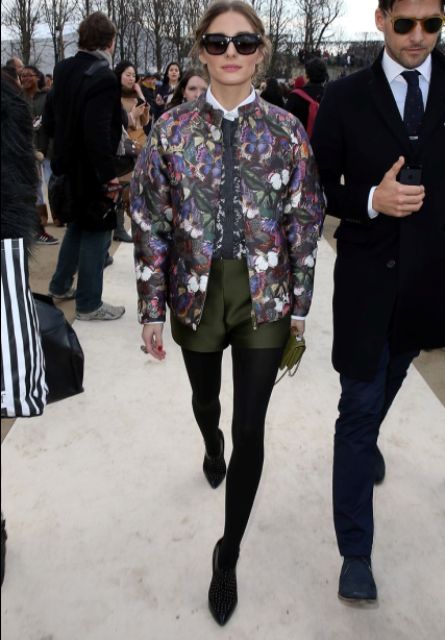 Image source: Pinterest
Printed jackets were the 'in' thing this year in the couture fashion industry, and shorts and tight and pointy heels were the go-to outfit in terms of street fashion. Olivia Palermo in her Valentino outfit sported a trendy printed jacket with a lace top and silky olive green shorts.
11. Lampshading street style for the minimalist fashionista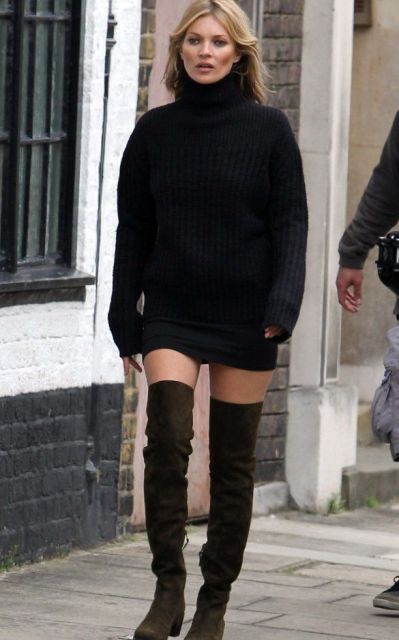 Image source: Pinterest
One of the predominant styles that was spotted on the streets was lampshading, which is essentially a sweatshirt, or a sweater, worn as a dress. Pioneers of this style this year was of course Kate Moss (in picture), and the Kardashian sisters, especially Kylie and Kourtney.
12. Oversized jackets with high waist skirts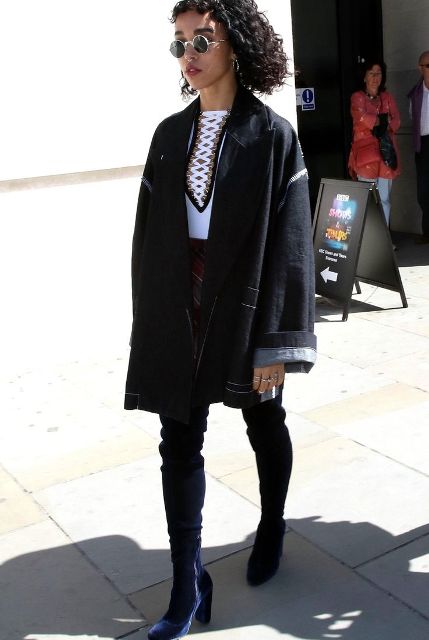 Image source: Pinterest
FKA Twigs stepped out in this Givenchy number, which represented one of our favorite street styles this year, which was an oversized jacket, with massive collars, high waist skirts, and thigh-high boots. The overall look is edgy, sharp, and casual at the same time.
13. Youth fashion in denim and hoodie
Image source: Pinterest
Ripped denims and a hoodie have been quintessential street fashion for the common man, but Zendaya shows you how to make simple things stylish with high waist ripped denim shorts and a cropped sweatshirt.
14. Summer street fashion with color blocking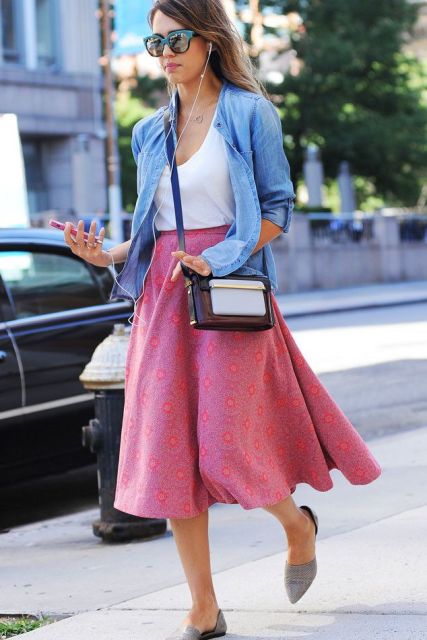 Image source: Pinterest
Midi skirts in bright colors were paired with pleasantly contrasting shorts and top, and Jessica Alba ups her style game by layering like a pro, along with her pair of sunnies and gray flats.
15. Street smart fashion with suede skirts and casual top
Image source: Pinterest
Patricia Manfield looks pretty normal and casual in her crumpled thin denim top that is fashionably oversized. However, the style factor figures in with the dark red suede skirt and edgy aviators, which take this street style to a whole new level.
---
Suggested read: Top 10 on-point nail trends of 2015
---
16. Bling and print street fashion
Image source: Pinterest
Who thought nerdy pattern sweaters and blingy skirts would become a thing, right? Natasha Goldenberg makes a simple street style statement with this ensemble, and please, please don't miss the hooves shoes. So trendy!
17. Bold prints and sneakers for the ultimate vintage chic look
Image source: Pinterest
Reminiscent of the eccentric gypsy fashion, large bold prints, sneakers, cropped jeans and the like saw many appearances on the streets this past year. Coupled with the monochrome rustic jacket, this style is both casual and fashionable.
Summary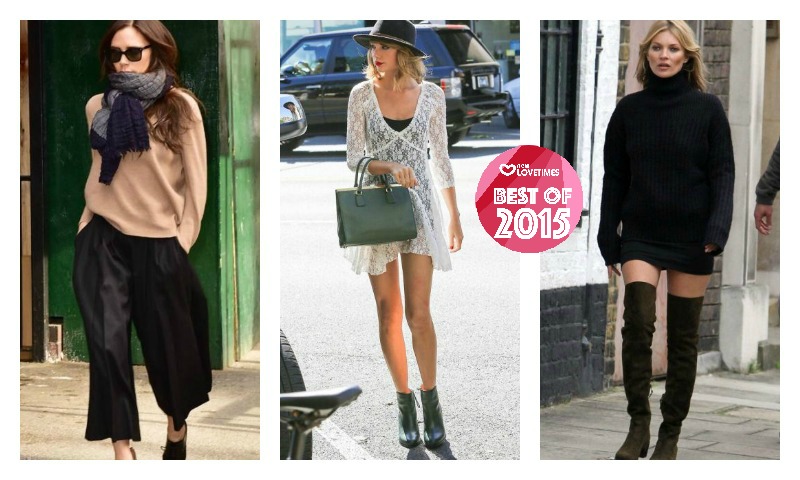 Article Name
#BestOf2015 17 Fashionable Street Styles Of 2015
Author
Description
Here are the best of street styles of 2015...