As if anybody needed a reason for this quintessential classic to belong to our wardrobes- but even so, there are times that we need to claim this fashion essential in surprising ways. Yep, the white button down often needs to rove outside the lanes of the perpetually-in look and take a good shot at the trends that it can, like a blank slate, add an additional stylish dimension to. Wondering what I am getting at?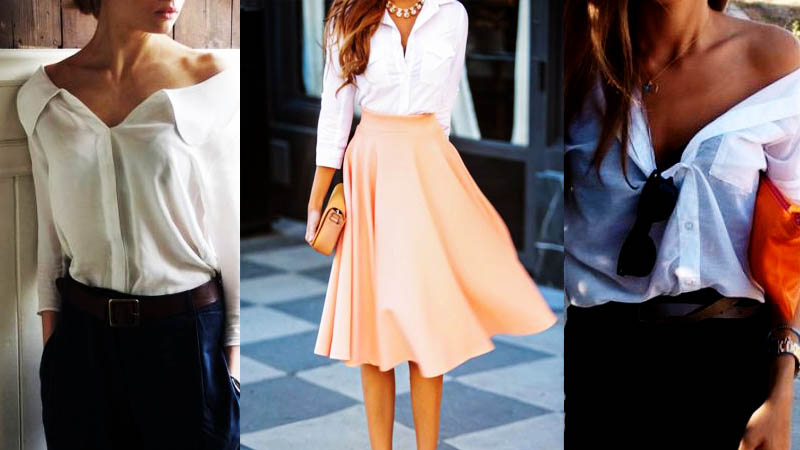 Just that a classic white button down is so versatile- it can be dressed up or down, knotted or tucked in, styled with your go-to sneakers or simply teamed with a voluminous maxi skirt! Anything you want- and therefore, these styling options for your classic white button down:
1. The long and short story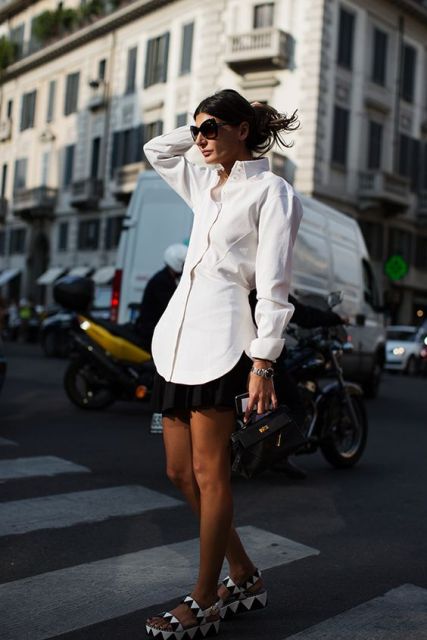 Image source: Pinterest
A classic white button down on the long side NOT tucked in over a short mini is a surefire way to set the temperatures soaring, don't you think?
2.  The classic cowboy craze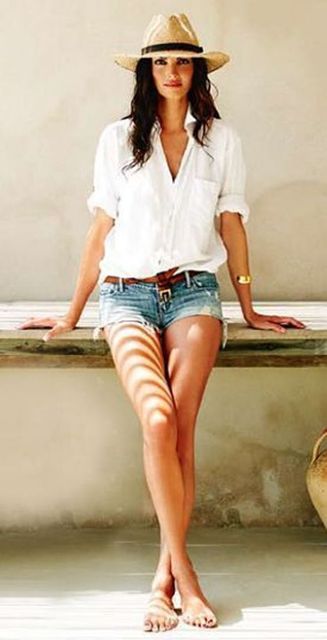 Image source: Pinterest
Denims and classic white button downs have always been a versatile combo. Just add to the sizzle by going for those denim shorts, throwing on that hat and adding a pair of boots that will make people think of a lot more… 😉
---
Suggested read: 8 essential tips to style yourself for a winter date
---
3. The pretty party perfection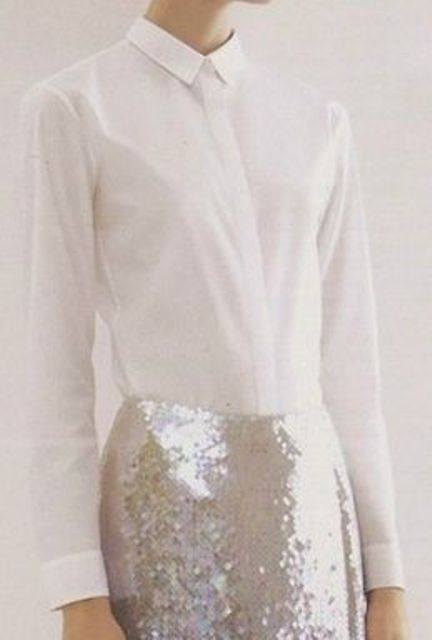 Image source: Pinterest
Wearing your thoroughly buttoned neat white wonder on a tiny sparkly skirt can make you party ready. What makes it party-perfect is your breathtaking hairdo and piercing heels.
4. The formal dope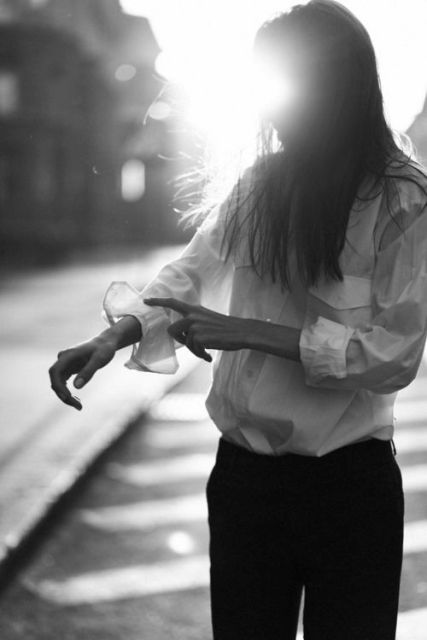 Image source: Pinterest
Just roll up your sleeves and let down your hair. A glamorous touch of some tempting heels and you'll be the heartthrob in formals in the blink of an eye.
5. Fall-perfect and winter-ready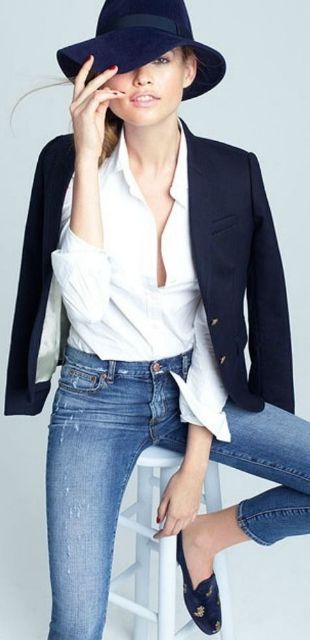 Image source: Pinterest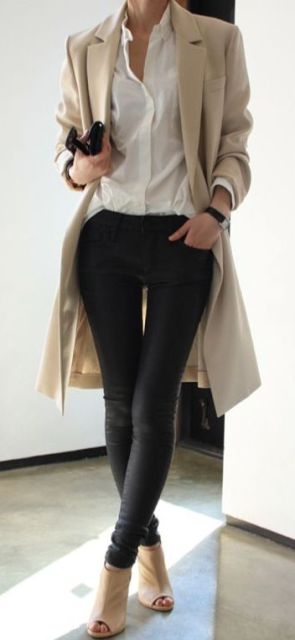 Image source: Pinterest
A little trick like layering your tucked in white beauty and sleek pants with the elegance of a nice long coat will make their hearts skip a beat for you. FYI: just a light fabric and the look is perfected for summers as well!
6. Golden tinkles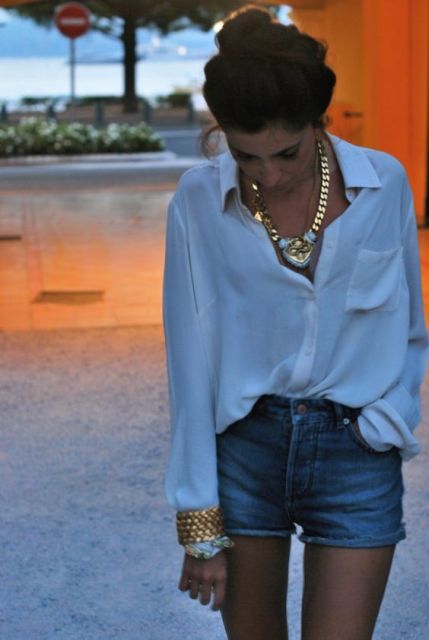 Image source: Pinterest
Decorating your girl next door look of shorts and classic white with some chunky golden accessory can glam-up your getup like magic. Just keep it simple and you'll be super-stylish.
7. The length of cool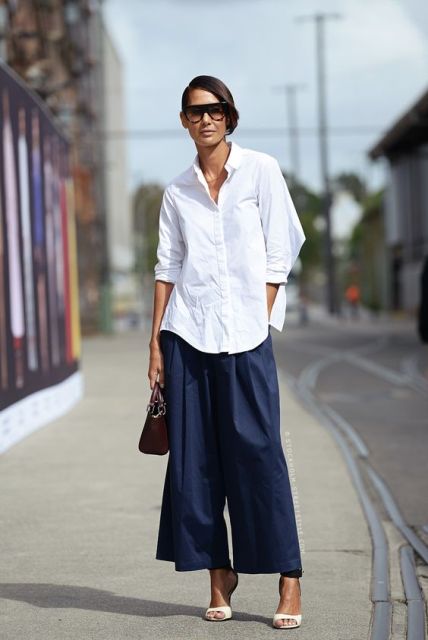 Image source: Pinterest
Wearing your white beauty over the blue stylish expanse of a palazzo could make you the diva walking on those heels.
8. The rogue shoulder fad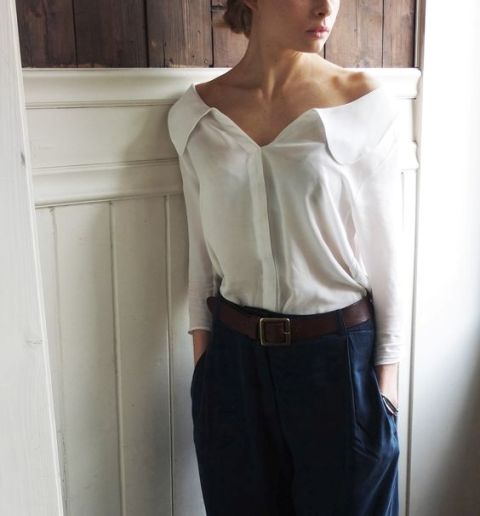 Image source: Pinterest
All you need to do is unbutton your white beauty and let those spectacular collarbones breathe free to take the breath away for most.
9. The street-smart you!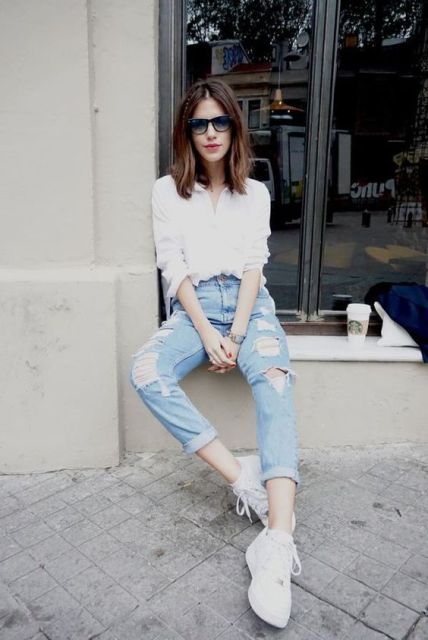 Image source: Pinterest
The timeless tattered and worn-off jeans can switch your classic formal look of white to the coolest style on the streets. Just top with the rolled-up ankles and the attitude of awesome, and we're done.
10. Flirty off-shoulder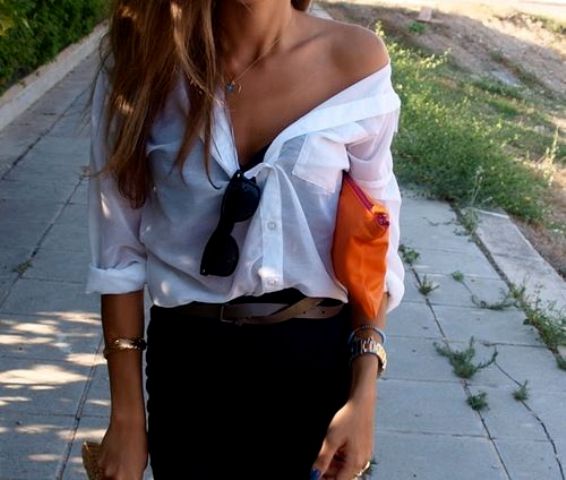 Image source: Pinterest
A little naughtiness can add oodles of sizzle to your plain classic white button down when paired aptly with a fine skirt. Can you see through the mischief of the glares?
11. The lavish love of leather

Image source: Pinterest
A simple shirt like your white button down, when worn along with the luxury of leather can get your look levels up to the coolest one in sight. Thank heavens for that sizzling sandal!
12. The high-waist wonders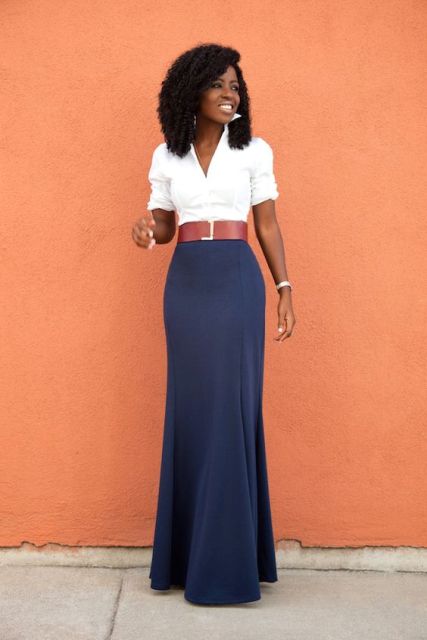 Image source: Pinterest
Nothing compliments your style better than the pair of shirt and skirt. Keep the skirt high-waist and the color in the right contrast for perfection.
13. The simply sexy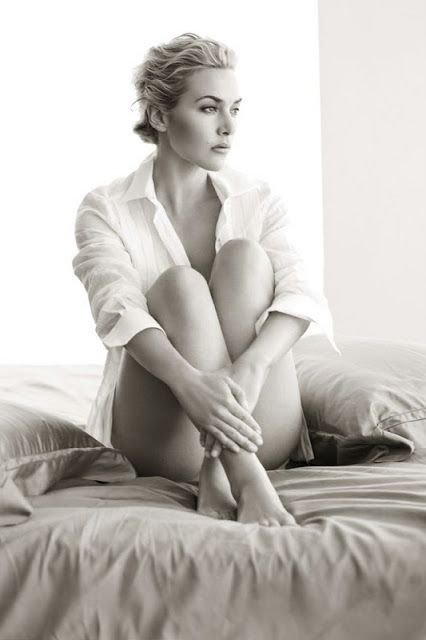 Image source: Pinterest
Wearing only that shirt of yours can make you unbelievably hot in an instant. The key is confidence!
14. The sweetness borrowed – Taylor Swift style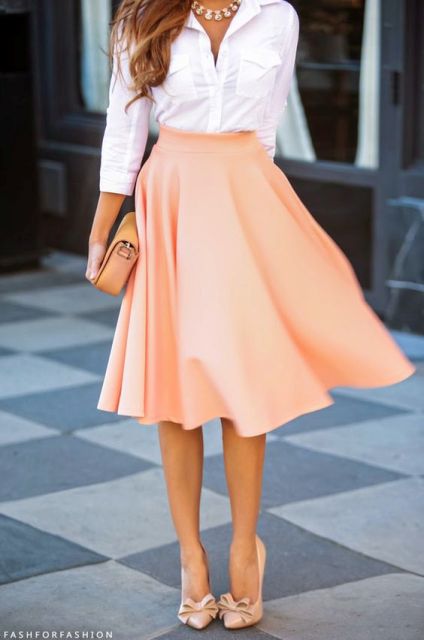 Image source: Fashforfashion
Just a high-waist knee-length skirt with a tucked in white will cast unbreakable spells if you keep the color contrast right.
---
Suggested read: 12 gorgeous ways to style the hair scarf
---
15. Sexy and you know it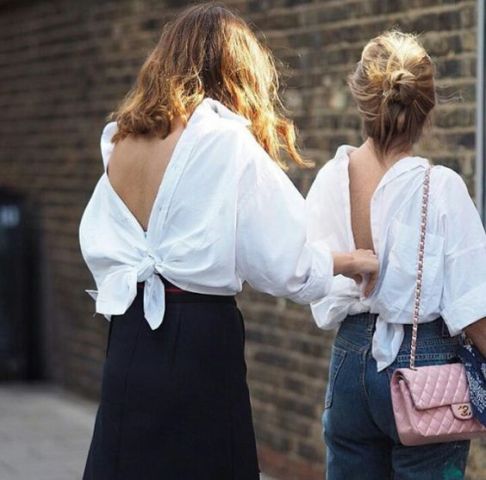 Image source: Pinterest
Wearing your plain classic white backward in not such an unbuttoned manner could be the sexiest sizzle. Just don't forget the knot, love!
16. Princess in all white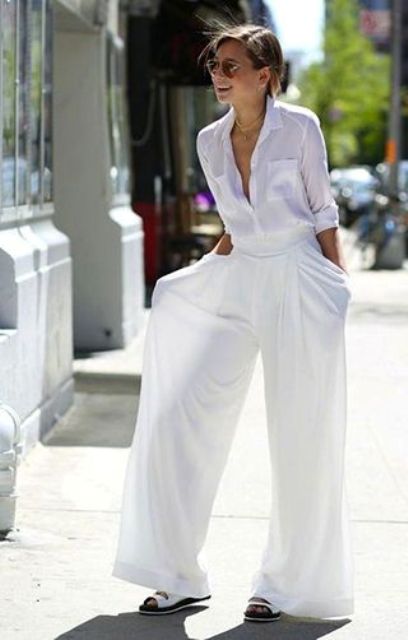 Image source: Pinterest
Nothing compares the pure splendor of white on white. Flaunt it with perfect shoes and you'll look invincible.
17. The glamour in white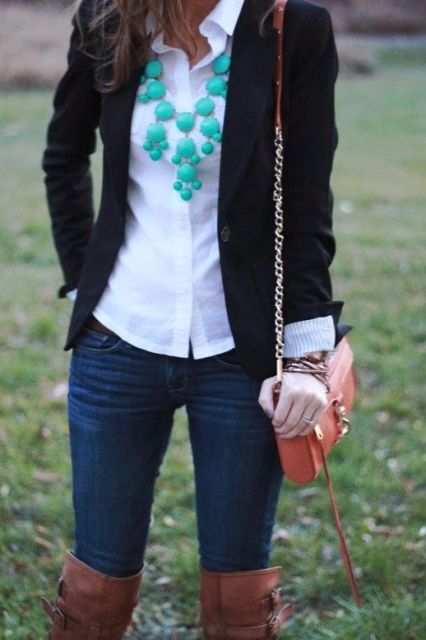 Image source: Pinterest
A perfect button down + that brilliant jacket + the matchless perfection of accessories = the finest look to doll up in…
18. The wintry wonder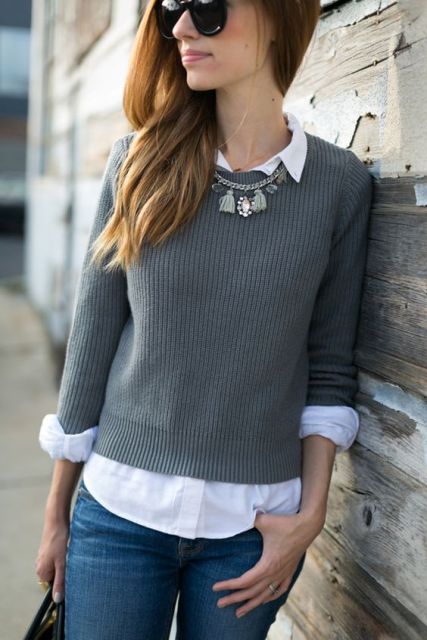 Image source: Pinterest
A classic white button down with a J-crew sweater and ripped denims- teamed with some chic statement accessories is always the IT-thing…
Now go bring your white button down out…
Summary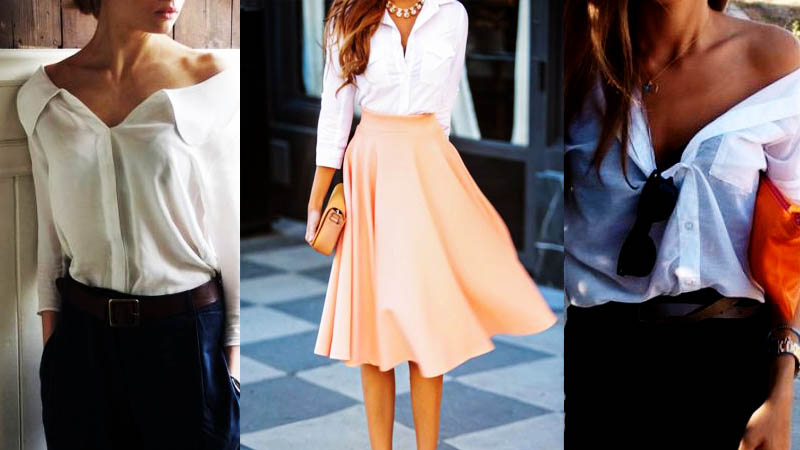 Article Name
18 Smart Ways To Wear That Classic White Button Down
Author
Description
For the love of our white button down!