Being a 90s kid, I have grown up on packs of drama, drama, and then some more drama! While devouring those oversized packs of drama from the 90s movies had been some real fun at the time (hey, I was just a kid, and dare anybody tell me that those Shahrukh Khan dialogues were lame!), I have realized what a truckload of crap we've been fed through the years. Don't get me wrong – being a drama queen myself, there is no sleepover with my buds that goes by without playing those cheesy, corny dance numbers of the 90s (remember 'Chura Ke Dil Mera?'). But yep, everything that these 90s movies have taught us about love … is … aww, you think? Nope, bizarre, to say the least!
Don't believe me? Well, here I have some of the most obvious love lessons from the choicest of 90s movies (they are all iconic and smash hits, by the way – and I am, in no way, saying I don't like them – just have the necessary equipment to dissect 'em 😉 😛 ). Here are 10 love lessons we learned from the best 90s movies:
---
Suggested read: Love lessons that Phoebe Buffay from FRIENDS taught us
---
1. Kuch Kuch Hota Hai taught us that love is friendship, if it comes in a saree
Image Source: Google, copyright-free image under Creative Commons License
Your best friend may not be able to hold a fight with the 'tomboy' you for more than two hours, but he shall fall in love with you only when he sees you in a saree! Coz 'pyaar dosti … err … saree hai!' 😛
2. Maine Pyar Kiya taught us that true love never ever gives up, when motivated by pigeons and pelvic thrusts
Image Source: Google, copyright-free image under Creative Commons License
Your beloved shall travel for miles to convince your father (who is evidently against your match) about his love for you. And then shall come the GREAT challenge of 'do waqt ki roti.' And for him to get those or the money for those, you will have to do the infamous 'pelvic thrust' moves of 'yeh pagla hai, samjhaane se samjhe na.' I am sure Michael Jackson is groaning in his grave!
3. Chachi 420 taught us that you can win back the love of your wife and child, by cross-dressing
Image Source: Google, copyright-free image under Creative Commons License
This was as lame as they could get – no really! Imagine getting hit on by your father-in-law! Why do that – a simple apology and some candy for the kid would do – but no, how'd the filmmakers torture us for 180 minutes, then! :/
4. Hum Aapke Hain Koun taught us that your thwarted love story can find its happily-ever-after, if you have an intelligent pet dog
I have so many complaints with this one and most Rajshri movies of the time, you wouldn't believe! First, there is a song every two minutes in the movie, and then, on top of it, the final twist is owing to Madhuri's misunderstanding about the groom – couldn't she just speak up after she tries, but faints, and then, again revives??? No seriously, rely on a dog to do all the hard work! 'Kutte, main tujhse aaj apni love story complete karwaunga….' 😛
5. Saajan taught us that your beloved will finally uncover all the mysteries attached to your identity, no matter your ghostwriting
While we do applaud the filmmakers for stretching this DRAMA for a matter that could be swept clean and dusted in half an hour to three full hours, we only have one tip for our ghostwriter. Never use a pen name, especially when you get full liberty to pass off Sameer's lyrics as your own – coz hey, you could lose out on the talented Mrs. Nene whose moves are to-die-for! Just saying!
6. Aashiqui taught us that you should always value the girl who supports your dreams, no matter your high ego horses (more so if you are Rahul Roy!!)
Enough said!
7. Dil Toh Paagal Hai taught us that 'the one' who is meant for you comes with a sign, most likely a whistle
Image Source: Google, copyright-free image under Creative Commons License
Now this might be good news for those who can whistle! But I just realized I shall always be single, coz I can't. <sob sob> 😛
8. Pardes taught us that you can get hit by the love-dart too when acting Cupid, no, seriously
Image Source: Google, copyright-free image under Creative Commons License
One of the top 90s movies, Pardes was a top earner. You know what I realize, maybe Shahrukh's deluding darts to get Mahima to fall for that dolt were part of the strategy! So, go ahead and lay the game – you might just win the girl in the end. Although, am not offering any guarantees. Maybe Subhash Ghai can! 😉
---
Suggested read: Life lessons for the modern woman, from Veronica Lodge
---
9. Jab Pyaar Kisi Se Hota Hai taught us that one stands the risk of their relationship falling apart if one doesn't recall where their sperm has gone, unless one's Vicky Donor 😛
Sometimes, being the playboy of the season can result in a walking-talking token of your little … err … adventures! Maybe keep track or simply, use protection, huh?!? Make sense-much?
10. Dilwale Dulhania Le Jaayenge taught us that the best way to confirm love is by using the Palat theory
Okay, you are going to kill me for this one. Coz I am about to ruin the most iconic scene of 'em all from one of the best movies of the 90s. But 'Palat palat palat' way of confirming the love of a girl who couldn't bear to see your face until about two days ago?!? <resistance from Q-tip>
Enjoyed it? Let us know if you'd like us to come up with some blatant truths about the 90s songs too – there's a comments section below! 😉
Summary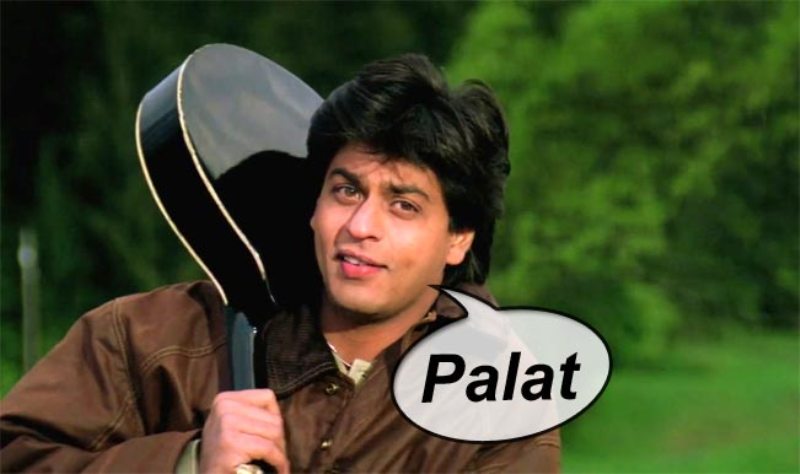 Article Name
10 Love Lessons 90s Movies Of Bollywood Taught Us
Author
Description
Think the 90s movies taught us to love? Pause and think again. Still think the same? Okay, read this and then, let us know! :P