After an excruciating summer season, winter is finally here. Along with Christmas, endless fashion options, perfect opportunities to cuddle under blankets, winter also brings with it some frustrating skin conditions due to the harsher climate, with chapped hands being a major downer. Taking care of our dry, cracked hands is relatively difficult, since our hands are constantly occupied by one thing or another. But that does not mean that hand care is absolutely impossible. You don't need to put in too much effort or spend a lot of money to take care of your chapped hands – in fact, you can find the cure in regular ingredients that are commonly available in your home.
With these 'handy' home remedies, you will achieve perfect hands with flawless skin in no time, courtesy of sugar, oil, salt and every other thing domestic!
---
Suggested read: How to take care of your hands to counter the effects of aging
---
1. Olive oil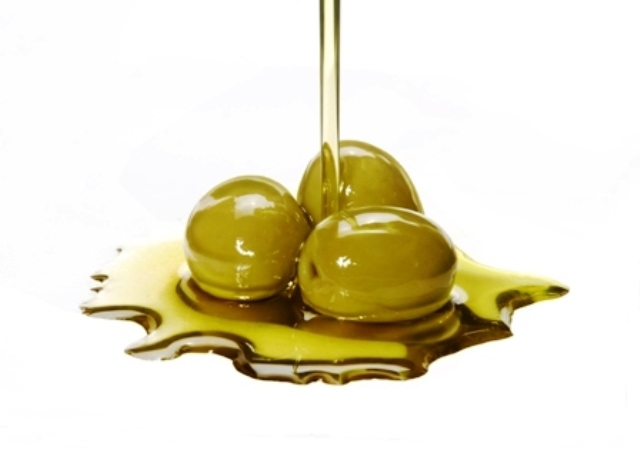 Image source: Google, copyright-free image under Creative Commons License
Did you know that olive oil consists of a lot of fatty acids that are healthy for dry hands? The antioxidants in olive oil help keep your hands soft, moisturized, and really supple. Better still, olive oil also contains other benefits, with anti-aging properties being one of them. You just need to warm some olive oil and massage both of your hands with it for 5 minutes every day.
2. Coconut oil
Again, the fatty acids in coconut oil will work as a miracle for your chapped hands. The additional benefit of coconut oil is that it also cures skin that has been damaged by continuous sun exposure. Just take some coconut oil in your hands and massage it all over your dry hands before you go to sleep. Doing this daily will heal your chapped hands in no time.
3. Oatmeal
We all know that oatmeal is a very nutritious food and is ideal for people who want to lose weight, but the interesting thing about oats is that they also work as a great cure for dry hands. It will naturally cleanse your hands and will also work as a great exfoliating agent at the same time. Additionally, the protein in oatmeal keeps the skin from losing its moisture and water. Make a smooth mixture of two tablespoons of oatmeal and one teaspoon of honey. Then add water as needed to make a proper paste. Rub the mixture all over your hands and wash it off with some lukewarm water after 10 minutes.
4. Aloe vera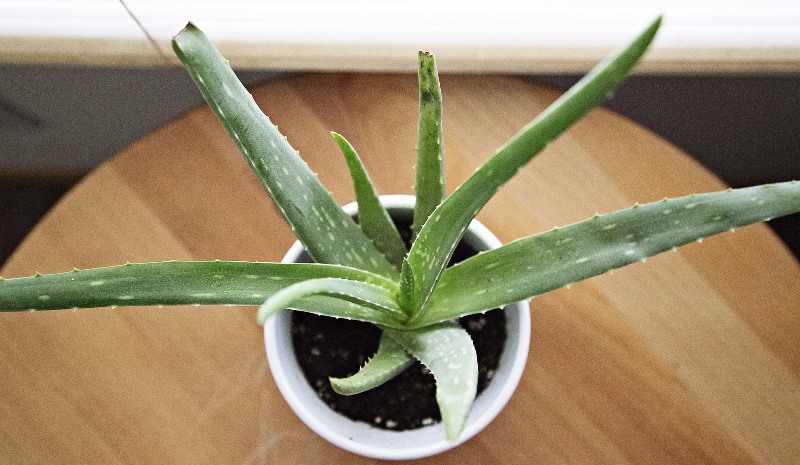 Image source: Pixabay, under Creative Commons License
Aloe vera is particularly helpful if you have very dry and sensitive skin that needs continuous moisturizing, making it an excellent remedy for dry hands. Moreover, the unique thing about aloe vera is that it constructs a layer on the skin that eventually helps in improving the tone of your skin considerably. Cut the tip of an aloe vera leaf and then squeeze out some of the gel-like substance it excretes. After massaging this substance all over your hands for a minute or two, leave it on your hands for about 15 minutes, and then wash it off with lukewarm water. If you try this home remedy once or twice every day, the skin on your hands will be rejuvenated in no time.
5. Honey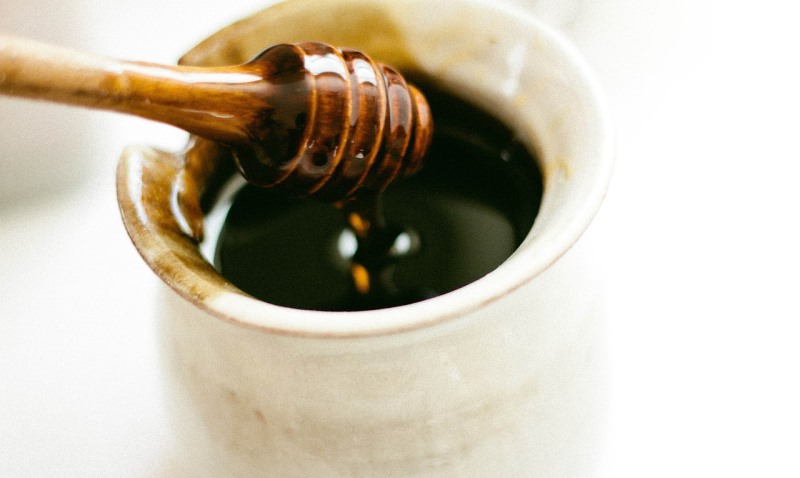 Image source: Pixabay, under Creative Commons License
One of the best cures for dry, cracked hands is honey. It is a natural moisturizer that has a unique set of humectant, antimicrobial, and antioxidant properties. The moisture in honey will stay locked in and will make your hands extra smooth and soft. To use honey for soft hands, just rub a few drops of honey all over your hands and leave it there for at least 10 minutes. After that, wash it off with lukewarm water. You can also create a mixture with equal amounts of glycerin and honey. Rub it all over your hands and leave the mix on for ten minutes. Lastly, gently cleanse it off with warm water. If you repeat this process every day, you will surely have soft, supple hands that will be the cause of everyone's envy!
6. Milk cream
We all know that milk cream is high in fat content, making it a natural moisturizer ideal for using on your hands if they have become excessively rough and chapped. To add to it all, milk cream has a lot of lactic acid that acts as a brilliant exfoliator for dry skin and thus maintains the pH level of the skin. For best results, add two teaspoons of milk cream to two teaspoons of gram flour and then apply the paste all over your hands. Then after about 15 minutes, wash the paste off with warm water. You need to repeat this process for about two to three times per week to get best results.
---
Suggested read: 10 best home remedies to get rid of dry, chapped lips this winter
---
7. Baking soda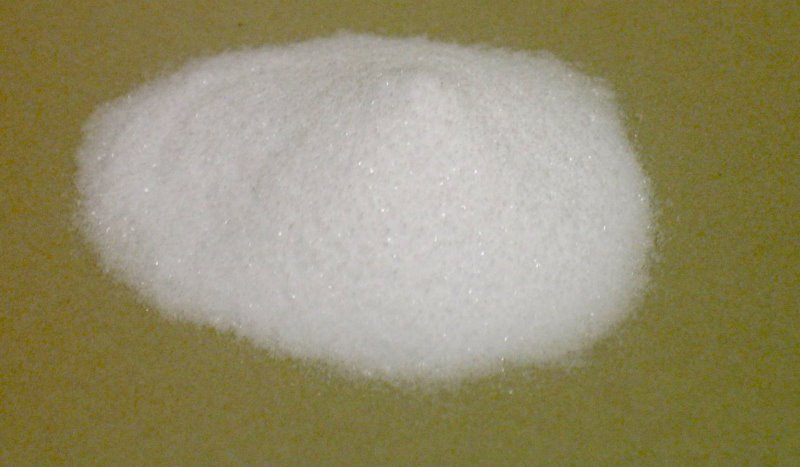 Image source: Google, copyright-free image under Creative Commons License
Sometimes, your hands get rough and dry when constantly exposed to chemicals or harsh soaps. You can prevent this condition easily. Just sprinkle some baking soda on your dishwashing soap and you will be surprised to see the changes. This will prevent your hands from getting excessively rough and keep them extremely soft instead.
8. Vinegar
Vinegar is available in all of our homes. To use it to cure dryness, thoroughly wash your hands and then put vinegar all over your hands. After that, put on a pair of comfortable gloves and keep them on overnight. Regularly doing this will definitely cure your dry hands.
9. Cornstarch
We all know that cornstarch is a great ingredient if you want to make your gravy thicker, but it can also be used for another purpose. Cornstarch can also ease your dry, chapped, and rough hands. You just have to sprinkle some cornstarch in your bathtub and then soak in it for a while. This prevents your hands from getting rough and cures already chapped hands.
10. Salt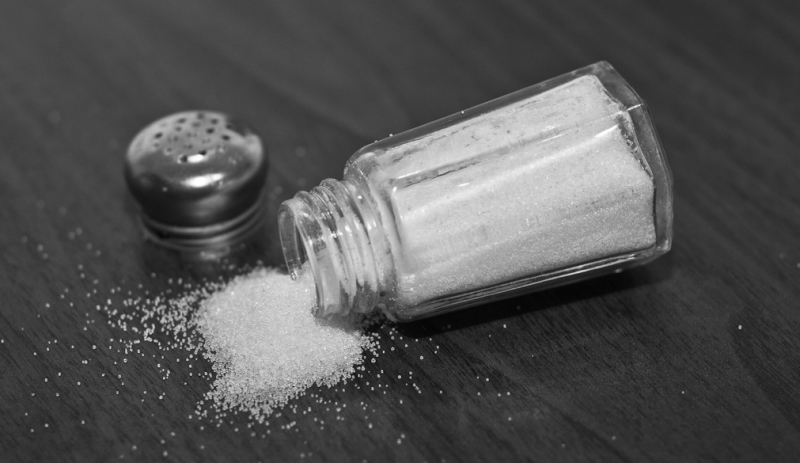 Image source: Google, copyright-free image under Creative Commons License
Now this is probably the easiest way of curing rough and dry hands, because salt is an essential commodity that is usually available in every household. After a shower, just take some salt in your hands and massage it on your hands while they are still wet. Salt is one of the best natural cleansers that perfectly cleans the dead skin from your hands and gives you smooth and soft hands like never before.
11. Vegetable oil
Of all the oils that are good for your skin, vegetable oil is the most easily available and is also an excellent remedy for dry hands. Trust us on this one, your hands will adore you if you pamper them with a few drops of this natural moisturizer.
---
Suggested read: 6 easy home remedies for itchy skin
---
12. Petroleum jelly
We usually use petroleum jelly for cracked heels. However, beauty experts have said that petroleum jelly is also great for curing chapped hands. So, all you have to do is keep your hands wrapped in plastic after applying petroleum jelly liberally all over your hands. When your hands are wrapped this way, it keeps your hands warm, helping your skin absorb the petroleum jelly faster and easier. If this process makes you feel uncomfortable, then you can also rub a lot of petroleum jelly all over your hands and leave it like that through the night.
Cracked and chapped hands not only look gruesome, but also are more susceptible to infections and diseases. Just choose whichever natural remedy is easy for you and suits you, and make sure to follow it regularly for a week or so. Just a little patience and regularity will ultimately make you fall in love with your soft and healed hands.
Featured image source: Google, copyright-free image under Creative Commons License
Summary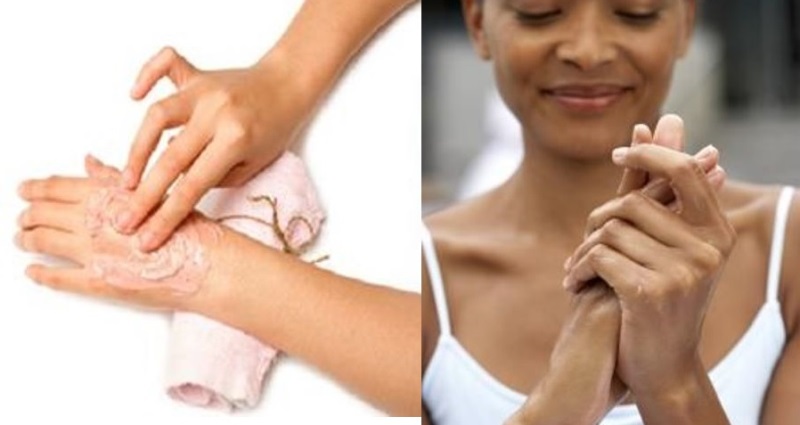 Article Name
12 Best Home Remedies For Dry, Chapped Hands
Author
Description
Winter brings with it the problem of chapped hands, not to mention dry, cracked ones too. Ugh! So painful! So this winter go for these easy home remedies.