There's something extremely appealing about distressed jeans which makes them a wardrobe essential in my opinion. Besides the various looks you can create with distressed or torn denims, what works the most for me is the laid back yet chic look that it gives to your overall appearance.
While distressed denims aren't the most traditional choice of clothes to wear to work, you'll be surprised by how formal it can look with the right accessories. Transform any look from normal to super fun by using distressed denims instead of normal pants or shorts.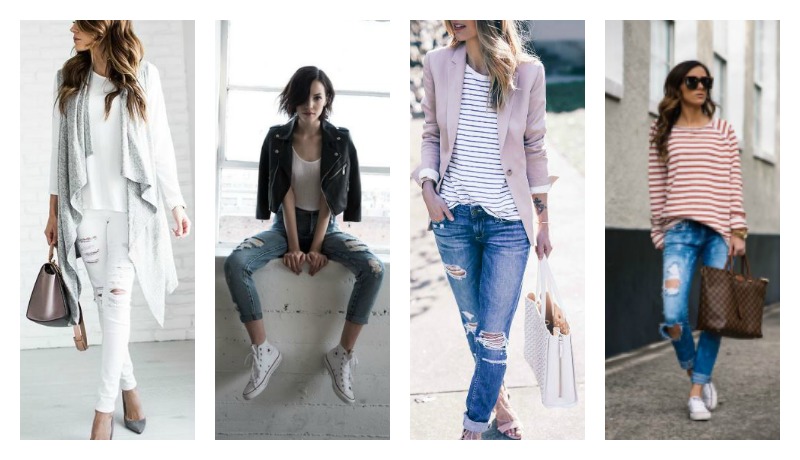 Apart from distressed denims, ripped shorts and skirts look adorable and downright fabulous too. Once you get used to distressed denims, you'll want to own this trend in every way possible. That's a guarantee!
---
Suggested read: 20 summer hats we are dying to try
---
One more thing that makes this my favorite trend is how amazing it looks on people of all sizes. Show me one person who looks bad in distressed denims, I dare you! It's just not possible. Wear it in different ways and create multiple looks.
Here's how you can create 12 different looks with distressed jeans!
1. Leather jacket and ripped jeans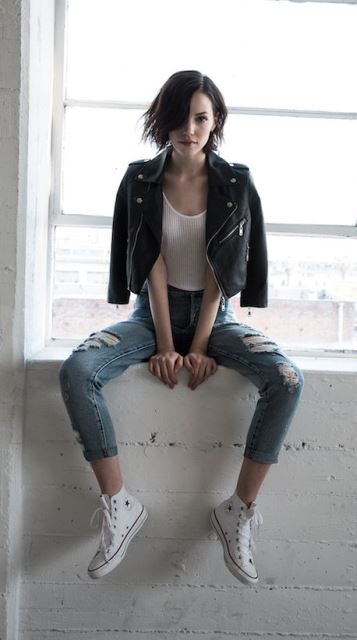 Image source: Pinterest
Oh my! Nothing looks more badass than a classic leather jacket and distressed denims. Depending on how comfortable you are, you can pair this look with a tank top and sneakers, and fold your distressed denims to make them look more casual.
2. Put on a blazer to wear it to work

Image source: Pinterest
If there was one thing I could wear to work every day, distressed denims would be it. Put on a blazer, some minimal jewelry, understated heels and there you have your work outfit ready! Light colored blazers look great with distressed denims, and balance your overall look too. Do something simple with your hair or leave it as is.
3. Wear it with a button down shirt

Image source: Pinterest
Think of this! A summer evening spent in the mall with a high bun, ripped jeans, and a comfy shirt. Just tuck your shirt in from the front and let it hang loose from the corner. Throw in a bucket bag or a clutch, and you're set for the evening ahead. I love to add some red lipstick to this look; it makes this outfit look a lot edgier.
4. Pair it with an off shoulder top

Image source: Pinterest
When trends like these come together, you know it for a fact that nothing can go wrong with your outfit. Fold your ripped jeans and pair them up with nude wedges for a subtle but feminine look. An off shoulder top is so chic in itself, it doesn't quite need anything else to enhance your look. Pair it with ripped jeans and opt for a pretty braid, some kohl and a peach pout.
5. Add a coat or a kimono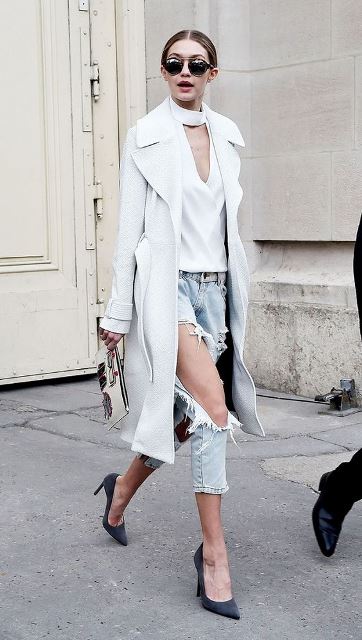 Image source: Pinterest
Depending on where you live, pair your distressed denims with a light-colored coat or a colorful kimono. Both of these look way better when paired with torn pants. Add a good pair of sunglasses and heels, and you're all set for a power packed Monday at work! While kimonos give a more relaxed vibe, they're perfect for Friday at work or an evening out with your friends.
6. Oversized sweaters for a relaxed vibe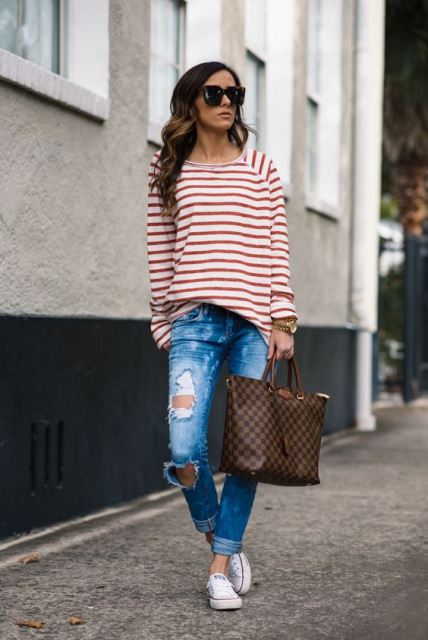 Image source: Pinterest
I love showing up for movies in a comfy sweater or a thick full-sleeved t-shirt paired with ripped jeans and a tote. If I had to pick an ideal outfit for a movie, this would be it! Oversized sweaters look great with ripped jeans, just tuck them in if they're a little long, and you're good to go. This one makes for a great airport look too! Comfort and style – two things you look for in a travel outfit. This one fits the bill perfectly.
7. White sneakers with distressed jeans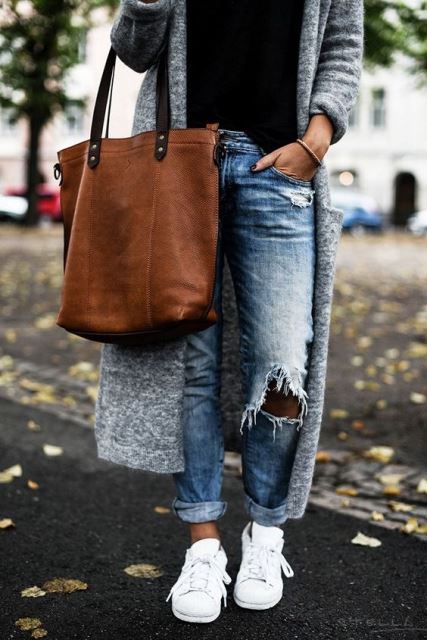 Image source: Pinterest
It's not for nothing that white sneakers have been called the IT shoes this season! Right from Adidas Originals to your basic white sneakers, pair distressed denims with any white sneakers of your choice and a basic tee. This understated look actually makes heads turn! Don't believe me? Try it out for yourself!
8. Layer it up

Image source: Pinterest
White distressed denims, a white tank top, and a thin waterfall sweater or a vest, you just found your perfect winter outfit, girls! Adding layers keeps you warm and happy during the winter, and comfortably chic too when you pair it all with ripped jeans.
9. Boots to the rescue

Image source: Pinterest
Sometimes a good pair of boots is all you need to complete your look. The key is to keep it simple though. Don't overdo it with the boots and go for a basic color like nude, black or tan. There's something magical about jeans and boots which make them just so hot, don't you think?
10. Oversized clutch

Image source: Pinterest
Minimalist is the new IT thing, and the less you carry the hotter you look. Say no to your backpacks and totes for a while, and opt for an oversized clutch instead. They look so fancy and there's nothing else you need to worry about. Add a pair of flats and a shirt or casual tee of your choice to pair with your distressed denims. Voila!
11. Fringe bags

Image source: Pinterest
The point of wearing distressed denims is to have fun and experiment with your appearance. Fringe bags define fun, what with all the fringes! Pair your ripped jeans with a fringe bag in any color, and that's all you need to get dressed for the day!
---
Suggested read: 15 Hollywood celebs show us how to work layers in style
---
12. Embroidered/crotcheted crop top

Image source: Pinterest
Embroidered tops in beige, blue, cream, gold, or silver look great when paired with distressed denims, even better if they're crop tops. Pair this look with a pair of pumps, a dark red pout, and cat eyes for an evening look. Minimalist earrings like studs and a watch are all you need to complete your look. Don't forget to fold your jeans till it's 3 inches above your ankle.
The key to rocking distressed jeans is to wear ones that fit you perfectly, even better if it fits you like it's made just for you! Wear it like you own the look, and you can nail each one of these
Summary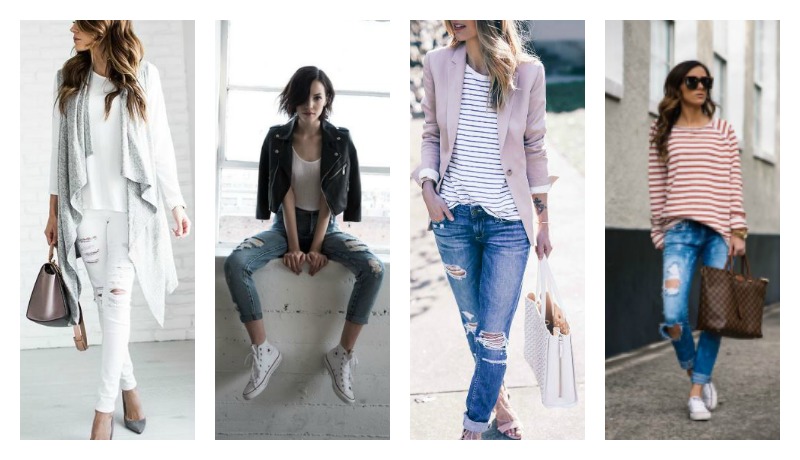 Article Name
12 Stunning Ways To Wear Distressed Jeans
Author
Description
Check out 12 stunningly stylish ways to don the beloved distressed jeans - be it to a party or an evening out with friends, or even to work!