Denim jackets have made a huge fashion comeback recently. They've become a staple in every fashionista's closet and have been styled about a billion different ways. The best thing about denim jackets is they're super versatile and they suit every single body type. If you're a sporty girl with a knack for fashion, there's a denim jacket for you. If your style is more feminine, then there's a denim jacket for you. From the low-maintenance casual-chic girl, to the high-fashion designer-label-wearing diva, there's a denim jacket for everybody.
---
Suggested read: 12 stunning ways to wear distressed jeans that will up your style quotient
---
And here are 20 tips on how to wear denim jackets stylishly.
1. Denim on denim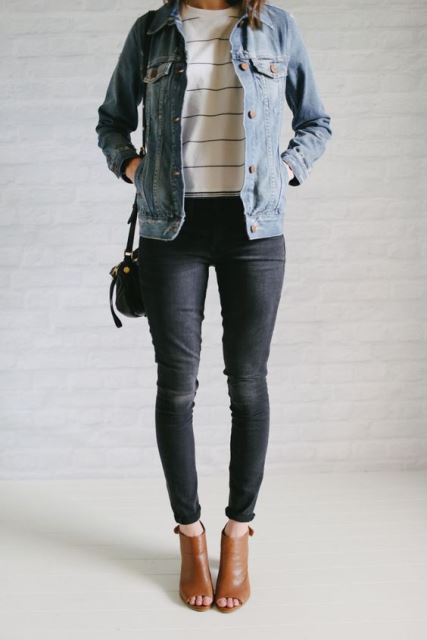 Image source: Pinterest
Just make sure you wear different washes, like in this picture, to pull off this pretty daring trend with minimal risk. This is a very casual chic look that is surprisingly easy to pull off! You can experiment with different styles of tops and shoes, till you find a combination that suits you.
2. Contrasting textures
Image source: Pinterest
Pair a light wash denim jacket (or, if you're daring enough, an acid wash one) with a sexy pair of leather or faux leather pants for some extra badassery. The contrast between the denim and the leather is what makes this ensemble so stylish. Of course, remember to add a buffer, like a neutral colored t-shirt, to balance the look.
3. Pair it with a cute skirt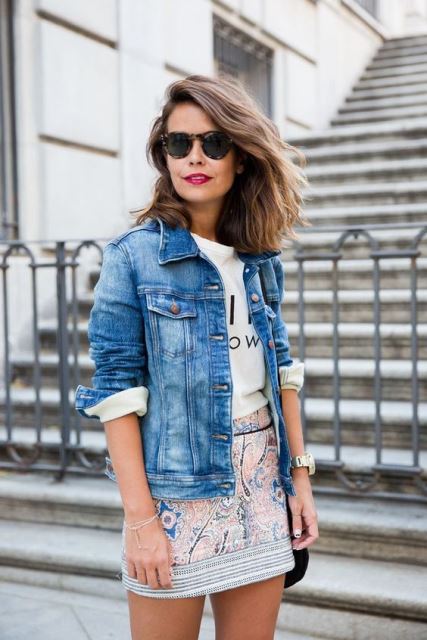 Image source: Pinterest
Pair your denim jacket with a cute little skirt for a day out with friends or a coffee date. The skirt can be the actual center of attention, while the denim jacket perfectly complements it, while also giving an "Oh I just threw this on" feel to the entire look. If the skirt is an eye-catching piece itself, then wear minimal accessories. If you want to look a bit more glam, accessorize the look with a pair of strappy heels and a few minimalistic rings.
4. All black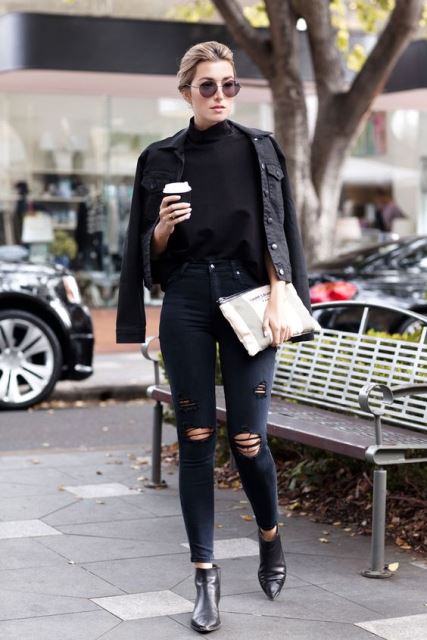 Image source: Pinterest
You can't really go wrong with all black. Black is slimming, and stylish, but super low maintenance. If you're clumsy and are worried about ruining your clothes in your attempt to look stylish, an all-black ensemble is the way to go! If you couldn't bother deciding what color to pair with what and what patterns are in style, just throw on your black distressed denims, a cute little (or baggy and grunge) black top, and your black denim jacket to elevate the look from "Bleh" to "Oh my God! I look like a supermodel ninja!"
5. All white
Image source: Pinterest
If black isn't your color, then go for a high fashion alternative with an all-white ensemble. White is a verrrrryyy chic color, and if you can pull off an all-white ensemble then you are a force to be reckoned with, a superior being, an overall a$$-kicking-name-taking goddess who is NOT to be messed with. Pair your all-white ensemble with absolutely anything you want because if you can pull off a pure white denim jacket with white pants and a white shirt, you've basically won at life.
6. Use it as a safety net
Image source: Pinterest
It's okay if you're not up for an all-white or an all-black look. Break it up with a light or dark wash blue denim jacket for a more casual look. Instead of heels, you could also wear a cute pair of booties or a pair of distressed (read old and dirty) Converses, for a more laid back look.
7. Pair it with khaki trousers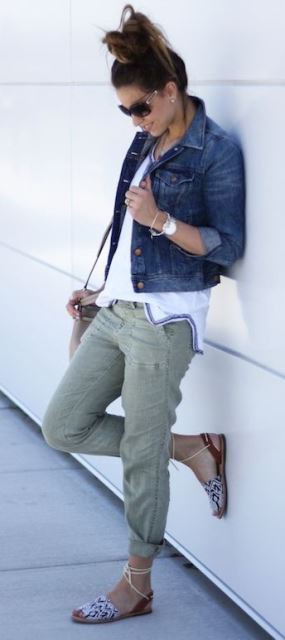 Image source: Pinterest
Khaki trousers and espadrilles have become summer staples in the last couple of years. Pair a chic pair of beige or khaki linen pants with a short, dark wash denim jacket for an excellent low maintenance day to evening outfit.
8. Embroidered jacket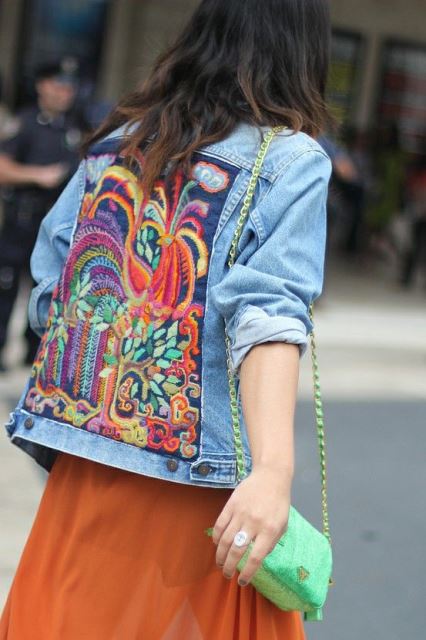 Image source: Pinterest
Denim jackets need not always be a secondary element of your outfit. Go bold with a beautifully embroidered jacket like the one above. The embroidery adds some vibrancy to the look and lets the world know that you know your fashion trends and are brave enough to try them out.
9. Colored denim jacket
Image source: Pinterest
Look at that wine-colored jacket. LOOK at how gorgeous that color is!! The color is a refreshing change from neutral colored denim jackets. Pair it with a quirky top and a pair of basic black leggings, and you are good to go! If you want to go a step further, throw on a pair of chunky boots, a pair of brow-bar sunnies, and put your hair up in a messy bun and you have mastered the art of street style.
---
Suggested read: 15 stunning tips and tricks to wear boyfriend jeans with panache
---
10. Quirk it up
Image source: Pinterest
Simple denim jackets too mainstream for you? Why not try something a bit more quirky like this embroidered jacket with woolen sleeves from Desigual? Pair this with a pair of simple black slacks, or even a pair of beige chinos if you're really feeling it. Play it safe with a crisp white shirt or a well-fitted white tee so as to not look over the top.
11. Patches and badges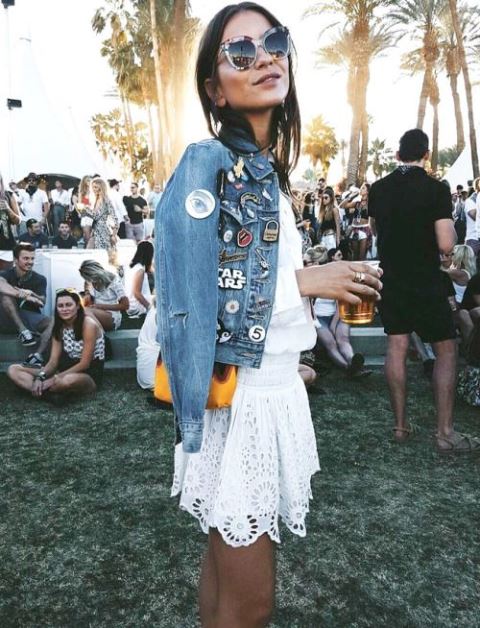 Image source: Pinterest
Switch it up with a grunge frayed denim jacket with patches and badges, like this gorgeous jacket. If you're a part of any particular fandom or a die-hard fan of any band, then show off your luuurve with a patchwork denim jacket. This can be an excellent DIY opportunity where you can customize the jacket to suit your needs and make it truly one of a kind. Wear it over your shoulders for this very chic and high fashion vibe.
12. Short jacket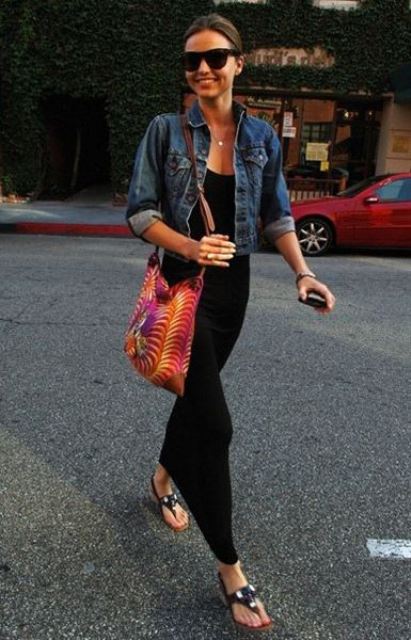 Image source: Pinterest
One of the most failproof tips on how to wear denim jackets stylishly is to pair a short denim jacket with a maxi and quirky accessories. Take notes from street style queen Miranda Kerr who paired her short dark wash denim jacket with a plain black maxi and added a pop of color with her gorgeous sunset-colored bag. Ditch the cloth bag and sandals for a quilted side-sling bag and a pair of nude ballet flats for a less casual look.
13. Chore coat
Image source: Pinterest
Opt for a grunge but cute look with this over-sized denim chore coat from Urban Outfitters. Accentuate your petite features in this by wearing a cute romper or dungarees underneath. We love the artsy vibe of this jacket!
14. Katy Perry
Image source: Pinterest
Channel your inner Katy Perry in this Moschino patchwork denim jacket with golden patches. Pair it with an all-black ensemble for a risk-free option or if you're feeling particularly brave, wear it with a golden bralette and high-waist trousers.
15. Class it up
Image source: Pinterest
Wear your denim jacket to work in this work-chic look with a well-fitted skirt (a pencil skirt would look super sexy too) and a crisp white or baby blue shirt. You can switch the high heels for a pair of sensible loafers or block heels for a more comfortable but stylish option.
16. Long coat
Image source: asos
Who said denim jackets must all be short? Wear this long denim jacket from Warehouse with a pair of mom-jeans and a basic top, or dress it up with a pretty floral skater dress. Let the long denim jacket be a casual summer alternative to the classic trench coat.
17. Oversized jacket
Image source: Pinterest
Wear an oversized denim jacket over a woolen dress or a knitted jumper for flawless winter fashion. Roll up the sleeves, pop the collar, and sport a pair of knee-high boots and go ahead and slay, you diva!!
18. Embellished jackets
Image source: Pinterest
Embellished jackets are just the coolest things ever. It's a bit of bling bling and a lot of comfort. Jazz up your staple look with an embellished jacket. Go DIY crazy and stitch pearls to the shoulders or stick studs along the hem and collar. Customize it to be as unique as you are!!
19. Pair it with a cute dress
Image source: Pinterest
Wear your favorite sundress on a cold evening with a chic yet comfortable denim jacket. It helps with an easy breezy transition from a cutesy day dress to a casual-chic evening dress for a night out on the town or just drinks with friends.
---
Suggested read: 15 stunningly stylish ways to wear thigh high leather boots
---
20. The best kind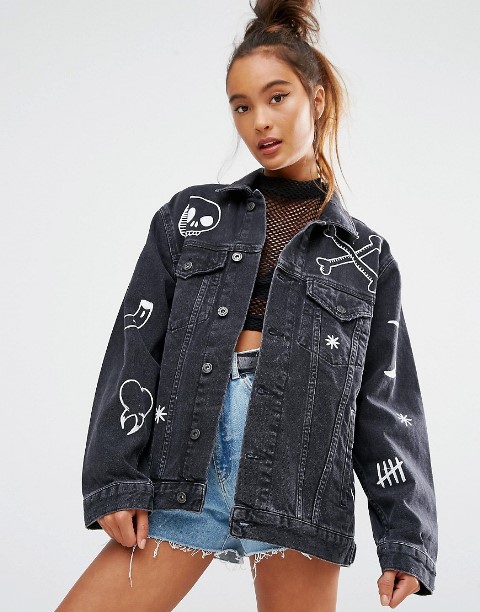 Image source: asos
The best kind of denim jacket is the oversized one you steal from your significant other. It'll be ten times warmer and more comfortable than any jacket that you might buy for yourself. Let the ginormous cloud of happiness and warmth engulf you but don't forget to wear a quirky bralette underneath it because you're a high-fashion diva!
Denim jackets are a fashion staple and there can be a billion different tips on how to wear denim jackets stylishly. But nothing works as well as trying it out yourself and knowing what looks best on you. The best thing about them is that you honestly can nevvvver go wrong with denim jackets!
Summary
Article Name
20 Cues On How To Wear Denim Jackets Stylishly
Author
Description
These cues on how to wear denim jackets will up your style quotient significantly! We promise!