The style bells are ringing high as all the secrets of rocking ripped jeans from the celebs of 'H' town you love so much are chipped in under the NLT roof! Enjoy the ripped jeans binge:
1. Jennifer Lawrence out on the NYC streets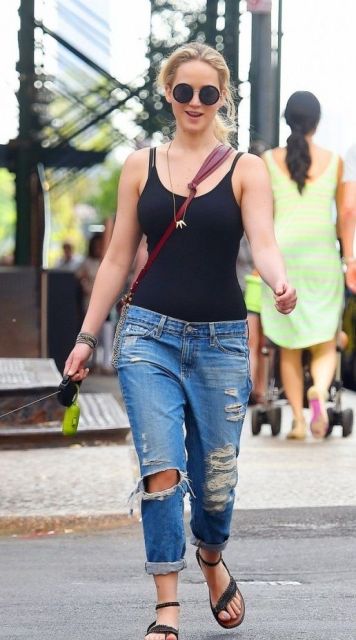 Image source: Pinterest
And this is exactly how you should nail the ripped jeans look as well – out on the streets, with the best of your shades on. Walking in slippers as comfortable as those, you can have a great walk with your dog.
2. Kanye West on the red carpet with sequined jacket and suede boots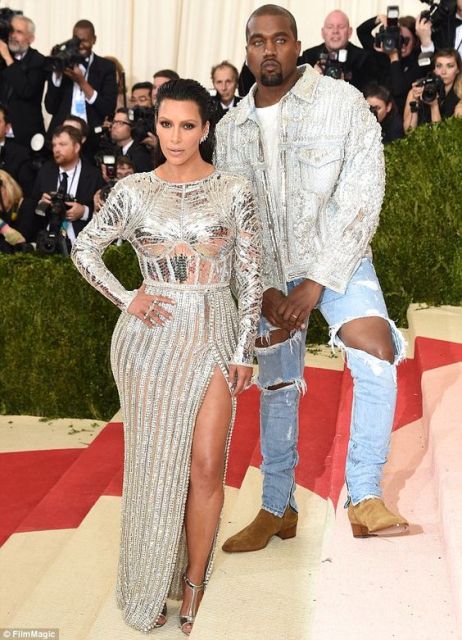 Image source: filmmagic
This is a man who knows how to stand out. Just look at the effortless combination of a red carpet perfect glittering jacket with his awesome ripped denim – he's killing it and you know it.
3. Gigi Hadid – get your vogue on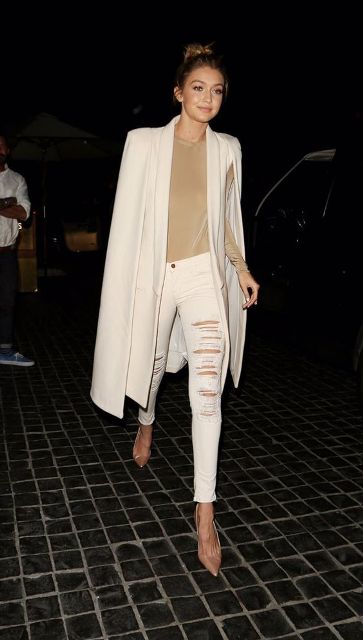 Image source: Pinterest
The doll you look up to for all the fashion mantras, Hadid never fails in teaching you how to turn even the simplest outfits in epic ones – all it took was a long white jacket, a pair of nude color, and there, you have the most sophisticated look for your ripped whites.
4. Selena Gomez – you can flaunt your jeans anywhere!

Image source: Pinterest
Ah, she is a beauty who can magically flaunt any outfit anywhere. (And ripped jeans seem to be one of her favorites!) Wearing them with amazing colors, her hair let down, and that perfect smile, she's teaching you to steal hearts again.
5. Channing  Tatum with an equally ripped body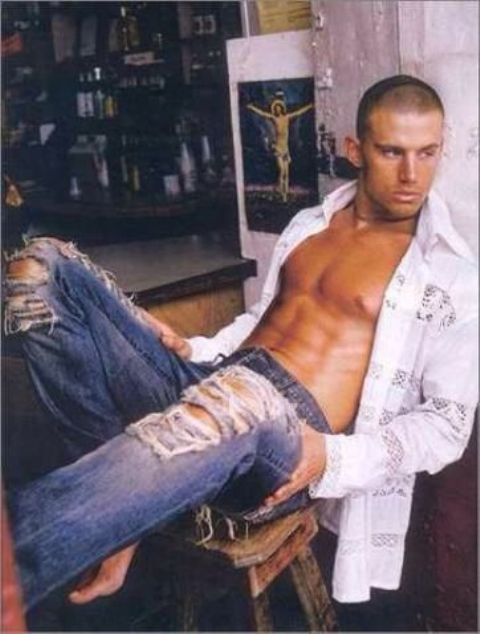 Image source: Pinterest
Guys, this is your best bet to nail those ripped jeans of yours – all you need is a jaw-dropping ripped body like Tatum's and show it off with a shirt unbuttoned on purpose with your jeans on and that's it.
6. JLo in her famous derriere in skintight white jeans

Image source: Pinterest
If you wish to dress in the classic JLo fabulous, grab your close fit tight whites, put on a stunning turtle neck, and step in those sky-high heels, the magic of your wonderful curves will perfect this look for you.
---
Suggested read: 12 stunning ways to wear distressed jeans that will up your style quotient
---
7. With a sparkly crop top Rihanna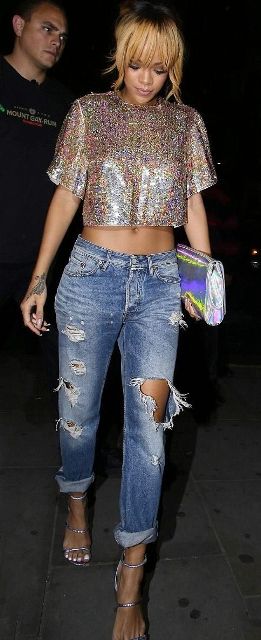 Image source: Pinterest
The fashion diva you all follow, here's yet another zinger from your girl – the timeless blue ripped denim with a sparkly top to top the rock star look. If you have the confidence for it, you can spellbind your spectators without even noticing.
8. Harry Styles kicking the trend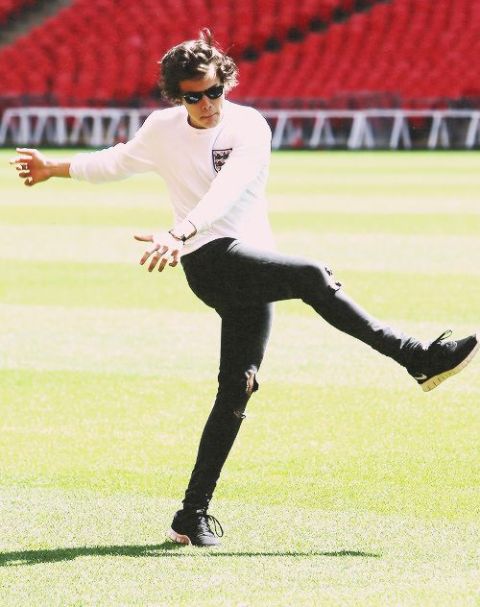 Image source: Pinterest
There's no style trend that Harry Styles couldn't kick start. The recipe he teaches you is – flaunt simple with ripped and don't forget to put your shades on! Oh yes, just a simple t-shirt and jeans ripped right on the knees – worship!
9. Beyonce with Jay Z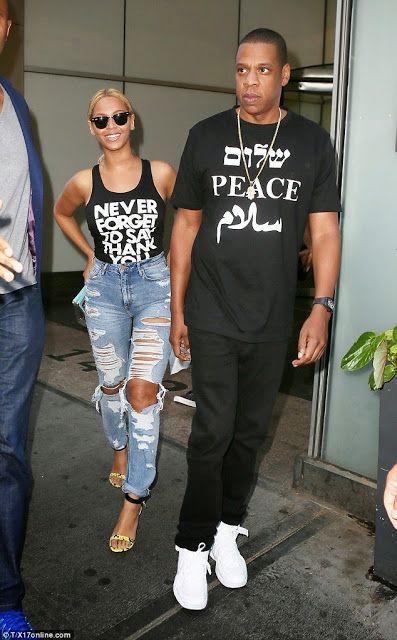 Image source: x17online
If the international stars like them can rule the regular ripped with such an ease, why can't you? This look is a must-try in every sense and I suggest you ruffle your jeans a bit to match this look.
10. Justin Bieber rocking the ripped jeans on the stage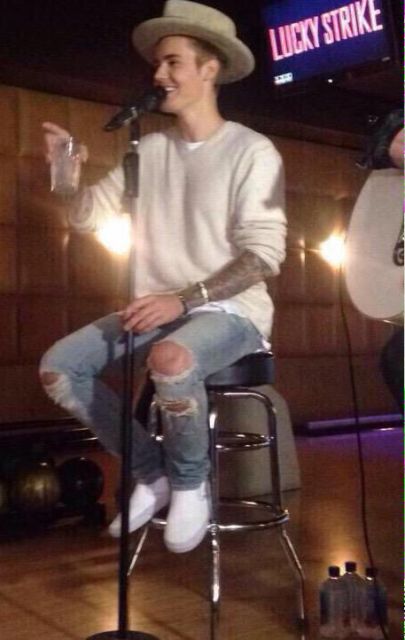 Image source: Pinterest
Asking you to believe again, the star of your hearts is teaching you how to leave your unmistakable mark with the ripped jeans even with the spotlights on! Just get your confidence (and the haircut) right – and you'll rock.
11. Miley Cyrus in her album
Image source: Pinterest
Follow her steps and you can totally promote your freaking album with a pair of brilliant white ripped jeans and a sexy crop top. Don't you forget to pose your best and the look will be unbeatable!
12. Taylor Swift wearing it street smart

Image source: Pinterest
And this is a look (surprisingly from the English doll of the day) that's going to be your favorite with the looks of it – wear your ripped jeans with a badass black leather hood and paint your lips right, of course (Viola!)
With these exciting style tips from Hollywood celebs, you're all ready to rock ripped jeans, aren't you?
Featured image source: Pinterest
Summary
Article Name
12 Times Hollywood Celebs Taught Us How To Rock Ripped Jeans
Author
Description
Let's do the ripped jeans in Hollywood style!