Summer is here, and she is here to stay for a while. So if you are struggling real hard, hunting down the perfect accessories and teaming up your ensemble with the perfect zapattos, you need to keep one thing in mind: Classics will never go out of style! From boyfriend jeans to slip dresses, and from gladiators to aviators, summer will go without you breaking a single sweat over what to wear! To give you a hand with the timeless summer outfits and their combos, we are here! Skim through these 17 ensembles, which are not just easy-breezy but also hot-as-heck!
1. The off-shoulder!
  You can stretch these from spring to summer, and no one will even bat an eye! Rather, you are sure to leave some jaws dropped! And in case, you are thinking off shoulder tops too (I like you already!), team it up with A-line skirts for perfection!
2. White wear with boho ballerinas!
Taking chic to a whole new level!
3. Summer laces and plimsolls!
And when you thought it couldn't get better! Running shoes help keep things zesty and young. C'mon you get to be young only once! 😉
4. Noodles and boyfriend jeans
I say rip them up with careless abandon! Roll them up a little, showing off that ankle above the fly-high peep toes, and you are dressed to kill!
5. Denim shorts
Undoubtedly, one of the many reasons we crave for the summers! Think: Nude blouse or a tunic, and a pair of quirky shoes of the same hue. Now add that everyday satchel. Make sure your shoulder bag is a pop neon to add the perkiness!
6. Retro jumpsuits
This is the all-in-one ensemble for all busy women out there! Let me just give you some cues and then you can cook it up according to your taste! So, cinch the waistline with a belt that's not super basic, and stick to a scheme of hues when it comes to accessories.
7. Tee & not-so-torn jeans
Since this is one of the basic summer outfits, make a statement with the plimsolls you slip into. Go color-bloc-ing! Neon should be a safe bet too.
---
Suggested read: 15 stunningly stylish ways to wear thigh high leather boots
---
8. High-waisted shorts and Converse
The first thing you think of when one says summer outfits is a pair of high-waisted shorts! Easiest way of fashioning it? A plain tank top, boho flat sandals, and shell-earrings from the sea. Being a minimalist when it comes to fashion is always the best thing!
9. Separates
To build a dawn to dusk look, all you need to do is go wide-legged trousers or A-line skirts and a well-fitted sequin top! Do not forget metallic shoes, woman! Cue: Effing classy!
10. The LBD
Pair it with a tot, and we should be good to go! Think LWD too, this summer!
11. Denim jacket
When you say class summer outfits, you use denim jackets as its synonym! Button up your jacket over a half-tucked print blouse, and club in black cuffed skinnies. Back to the 90s!
12. Slip dress
With a fringed kimono, you can flaunt that slip dress without feeling under-dressed, coz that becomes a bummer otherwise!
13. Midi skirt
A lace midi can come to your rescue, when you are trying to conjure up an understated yet tasteful look.
14. Crop tops
A pair of tailored shorts with a crisp pastel crop top, I call that ideal summer fashion!
15. Summer jackets
Also consider a short summer jacket over a tunic!
16. Beach wear
Straw hats and summers go hand-in-hand!
17. Ethnic palazzos
Pastels are your best bets and patterns lend your ensemble a head-turning visual, to say the least! Think of something other than floral. I think we did that enough!
That's a wrap from us on summer outfits. For more news on fashion and chic living, subscribe to our daily newsletter today! ☺

Featured image source: glamour
Summary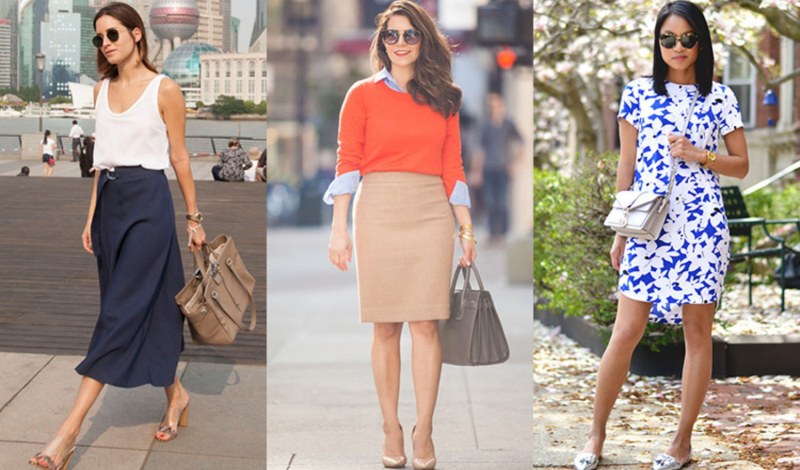 Article Name
17 Summer Outfits That Will Never Go Out Of Style
Author
Description
It is time for some of the best summer outfits to turn the sun green with envy!