Did anyone ever think that there would come a day when people would waltz straight to their offices wearing gym wear?! This dernier cri called athleisure, which in its initial days was judged as a major fashion faux pas, has stormed the fashion circles today, with everyone going gaga over it! You may dub it as gym wear, yoga gear or a workout outfit, metamorphosing athletic dressing and all-day informal wear into a fashion statement that everyone is trying to get a hold on. This craze was in vogue, ruling the fashion avenues the previous year, and with celebs rejecting to do away with it, it will continue to rock 2016!
---
Suggested read: 15 versatile looks that will cover all kinds of weekend plans you may have
---
Legend holds that the athleisure trend (athletic+leisure!!) was started by those awful people who like to hit the gym before work and end up in office dressed in an off-balance getup that is part workout gear and part work attire! That's when someone had a revelation: "Hey! That's actually super cool. Why not make that a style statement?!!" and so the trend stuck. As simple as that! 😉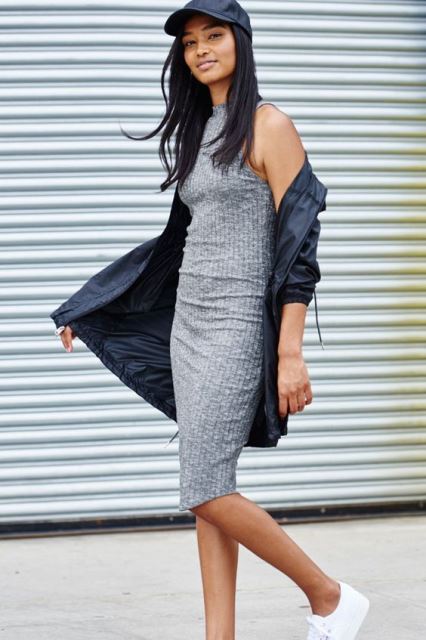 Image source: Pinterest
Now, to slip on the athleisure wear it does not matter if you actually play any sports or not. Even if you quasi-hibernate while watching a soap, this is equally your thing as anyone else's!! If you are sure you're smart enough to carry it off, it is your baby! The sports element in this ensemble is pretty much textbook but nonetheless, it is taking the sportswear market to a new high. Reports confirm that last year, the athleisure market was worth approximately $35 billion and that it now adds up to 17 per cent of total American clothing market! Now, that's really impressive!
As Daniel Sandison, who is a Hypebeast contributor, says:
"Traditional 'fashion people' have long had a problem with sportswear and made sure it wasn't taken seriously on a grand, global scale. In the past couple of decades however, what we wear – and ultimately what appears on catwalks – has started to be influenced more and more by pop and street culture, and less and less by elderly people behind big mahogany desks in Paris. Our heroes in music, sport and film all wear sportswear, so that's how we want to look."
And moreover, it is dead comfy, so what's the problem?!
Yet, it is not all hunky-dory. It can turn into a minefield if you have no clue how to do it! One incorrect choice and your outfit will be laughed at, at the bar or the airport or the subway, wherever you find yourself! So here we are, giving you a breakdown on what should be done and what MUST be avoided when it comes to stupefying everyone with your sportswear!
So what the heck is athleisure?!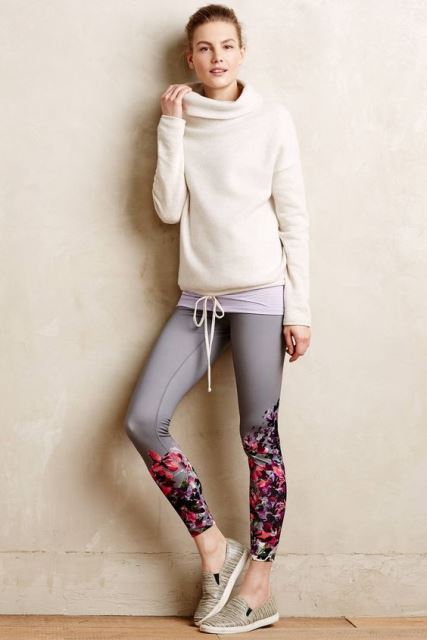 Image source: Pinterest
It is called that when one teams their
Sports bras with a leather jacket or
Slouchy track pants with a hip cropped top or
Bright tank tops with an overcoat thrown on them or
Cosy sweatshirts with slim fit denims or
Neutral or nude leggings with biker booties,
to a place other than the gymnasium! It is everything one does by taking a hint from athletic dressing and transforms it into something chic, trendy, and streetwear!
This trend was popularized by supermodels such as Gigi Hadid, Kendall Jenner, Cara Delevingne and others, who last year started sporting different combinations of this fashion to the casual coffee outing and also at the airport. The baton was carried forward by celebs like Rihanna, Kim Kardashian, and Kristen Stewart!
If you still haven't tried your hand at this trend, it is high time you show a green flag to this gym-to-office statement, and get going with it!
But before you do take the plunge and flaunt the athletic side to your personality, there are some things you must always keep in mind when it comes to styling this look. Read on to find out.
1. Mixing
How you compliment your sportswear with something that is casual and everyday-ish will play a significant role in deciding how well the final look will be welcomed. Layering is a darling and you should in no way kill it in this case! Slip on a long coat over the neon sports bra so you don't feel or look out of keeping on the streets! You can contrast your floral leggings with a leather jacket. You can even go all in for a biker look with leather boots below a slouchy pair of sweatpants.
2. Colors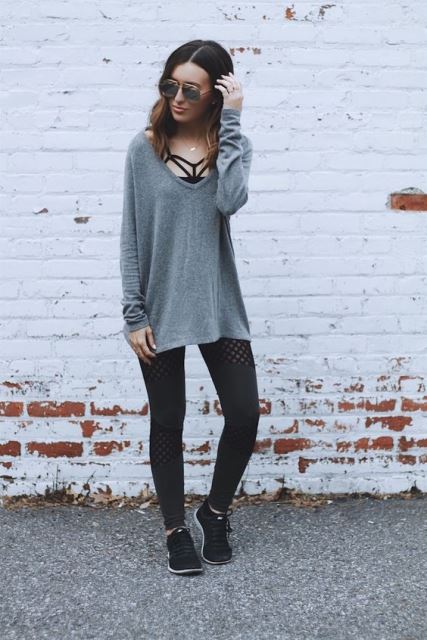 Image source: Pinterest
Celebs are mostly seen flaunting sports apparels which are neutral. We suggest that you stick to a single color tone, a monochrome. This trend is seen to work best with black, nude, and like we said, monochromatic tones.
3. Occasion 
Dressing up means you are doing it for an occasion, though that could be walking your dog to the park. This trend goes very well throughout the day but you have to draw a line somewhere!!
It is okay for you to sport this look at a brunch outing, on a date with ze gals, running around to the grocery, or even when you are stepping out to bring your kids home from school. It is a popular choice even at airports and stations. However, avoid it completely when on a formal date or party.
Ever since this movement gained some momentum, everyone's been trying to don the look anywhere and everywhere. But that's not how it was meant to be! Since it is an integration of gym wear into our day-to-day dressing, it treads the line between sportswear and acceptable streetwear. Most importantly, the purpose of this dressing is comfort.
Here are four different combinations you can try at different occasions where this trend works extremely well. From dressy events to weekend luncheons, this list will help you get away with wearing sweatshirts in public and yet look super chic in it! Here's to a comfy weekend!
A. Family dinner
Balance the casual slouchy pair of drawstring joggers and a crisp buttoned white shirt! Improve the look further with a luxe sweatshirt or a pair of pumps. Make sure the sweatpants cinch at the ankles. This will allow you to show off the pair of killer heels!
B. Travel
Image source: Pinterest
Got a late flight to catch and can't bother dressing up? Here is your elixir! We can ensure you a smooth, chaos-free journey with cosy pieces that include track pants and easy slip-ons. I hope you already get it that passing through the airport security will be easy-peasy for you!
C. Friday shopping spree or a weekend brunch
Hit the sales in the mall next door or step out for a brunch or coffee date in a snug cotton-jersey dress and a pair of chic black and white plimsolls aka athleisure shoes! Or you could throw on your tights and add a hint of layer with a knitted pullover. You may even top it off with a beanie during winters.
D. The Gym
Yes, finally! Gym action is highly recommended if you want to rock this look! Give your work out wardrobe a modish spin with some metallic shine and graphic panels and a little pop of hues. Brownie point: It is sleek and rad enough to wear while running errands later on!
4. Accessorize
Yes, the trend is all about the comfort factor but you can accessorize it to give the look an edge. Stick to colorful scarfs, head scarfs, simple booties, chunky bangles or bracelets, head accessories, etc., Please avoid stilettoes, wedges or designer jackets with your workout outfit!
---
Suggested read: 10 must-haves from international ramps from Spring Fashion 2016
---
5. Timing
Don't eat, sleep, or basically, live in your athleisure ensemble! People usually get into this habit. If you want to make a strong style statement, we suggest you wear it only once in a while. Wearing it all the time 24 X 7 X 365 days will only make you look plain languid and drab!
Here are 9 prima donnas who we thought swayed the look like no one else!
1. Gigi Hadid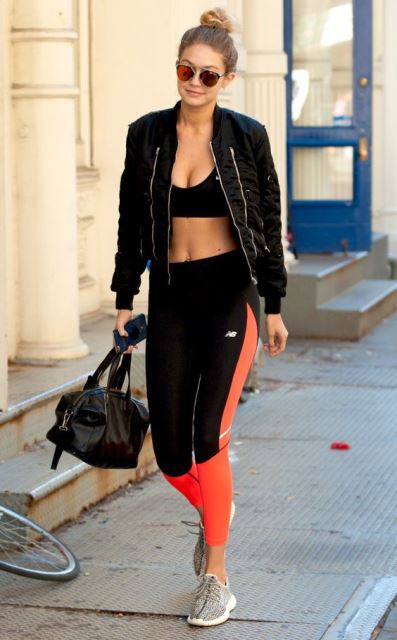 Image source: Pinterest
If you thought, leggings as pants were a no-no, it's high time you get yourself a paradigm shift! Uggs are not goners and they have certainly made their way back home into celebrity closets!
2. Kendall Jenner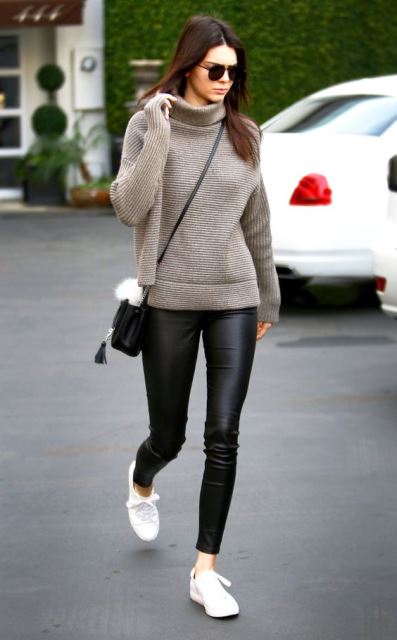 Image source: Pinterest
Jenner mixes the basic gym leggings with a pullover to look ah-mazing! Don't forget to wear your shades; think lighter tones of cobalt!
3. Olivia Palermo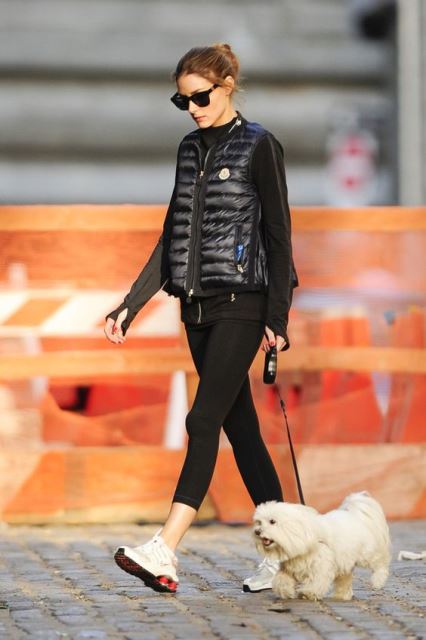 Image source: Pinterest
Olivia Palermo walks Mr. Butler while flaunting her athletic avatar. A pair of plimsolls with make up?? Sounds like an unusual mashup, eh? But how about a hint of it with a nude lipstick and dramatic eyes?!! Now we are talking!
4. Selena Gomez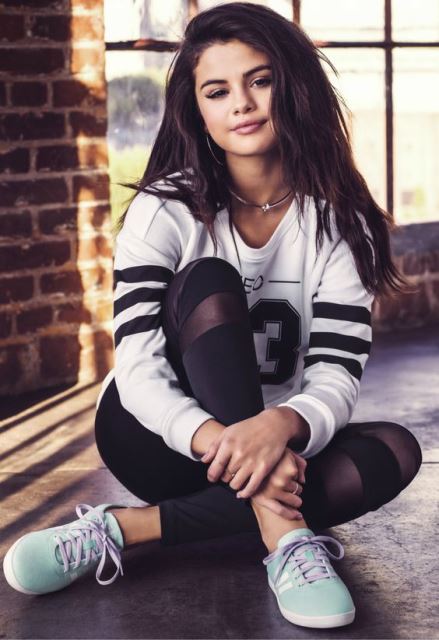 Image source: Pinterest
Gomez's endorsement? A swipe of neon bold lip color (think cream lipstick!) to take the outfit from Zumba class-ready to Friday night-out worthy!
5. Ashley Madekwe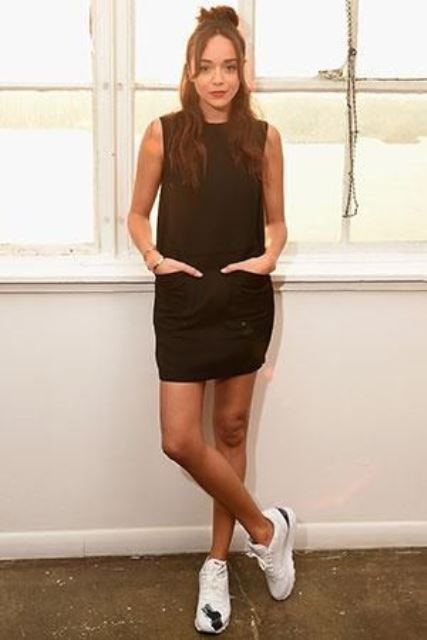 Image source: Pinterest
Well, the diva has something to say about the trend. In her own words, "I'm a baby of the 80s and I grew up wearing Reebok classics. Then when I got older, I worked in a sneaker shop. I would always get dressed for work in a cute way. I would wear my sneakers with a cute dress and a red lip, so the collaboration of kicks and lips made perfect sense to me."
6. Victoria Beckham

Image source: Pinterest
Cutler and Gross high neck and those Adidas shoes. Ready to kick! 😉
7. Sandra Bullock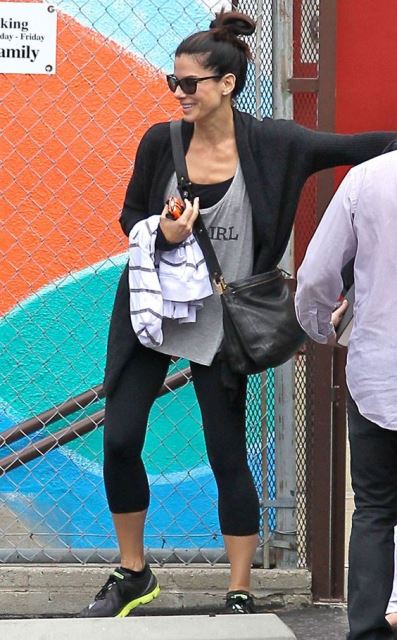 Image source: Pinterest
That's Bullock after dropping her son at school! See what I mean?
8. Anne Hathaway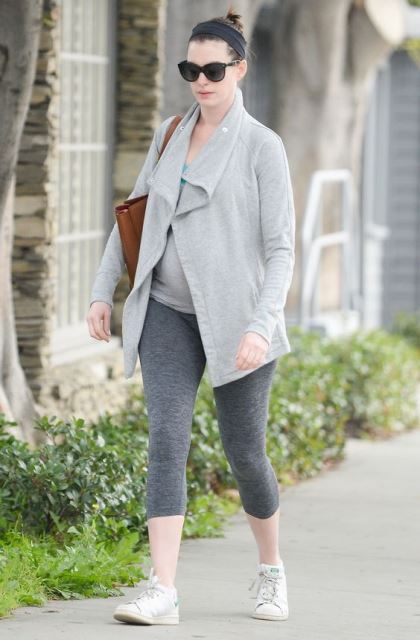 Image source: Pinterest
The trend is preggie-friendly. What else does one want?
---
Suggested read: Move over LBD, we are now smitten with LRD, the little red dress
---
9. Vanessa Hudgens
Image source: Pinterest
Animal print? Well, why not? Cue: Ditzy hair! 😉
If you still have some doubts about the trend and want to discuss outfit combinations with us, the comment section looks forward to you! 😉
Stay fit. Stay beautiful!
Summary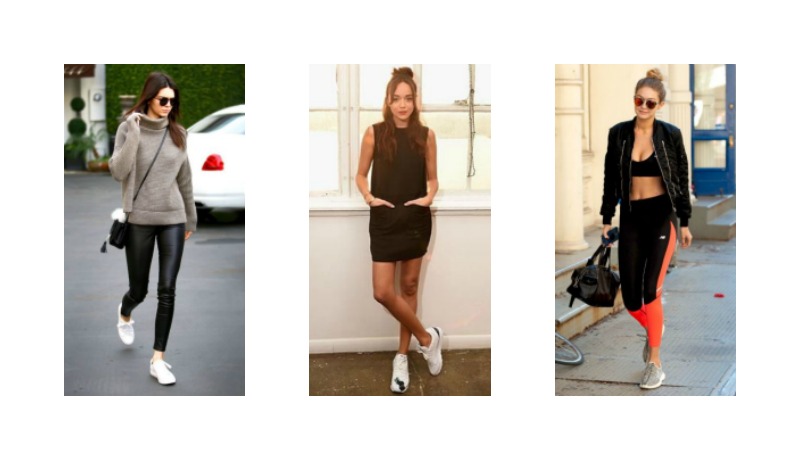 Article Name
Athleisure Trend: Are You Ready To Rock The Latest Fashion IT-thing?
Author
Description
What is athleisure? And why is everyone and their aunt is keen on hopping on the athleisure trend? Find out what it is and how to rock the latest trend!