Las Vegas is one of the most popular destinations to get married in the United States. Did you know that upwards of 80,000 couples say 'I do' in Vegas every year? Of course, you didn't! You just knew that it was easy as heck to get married in Vegas, aka the Sin City – all you need is a marriage license, apart from the fact that both the bride and the groom need to be adults, that is! Shell out $60 to the county clerk's office in cash for the marriage license and you're good to go!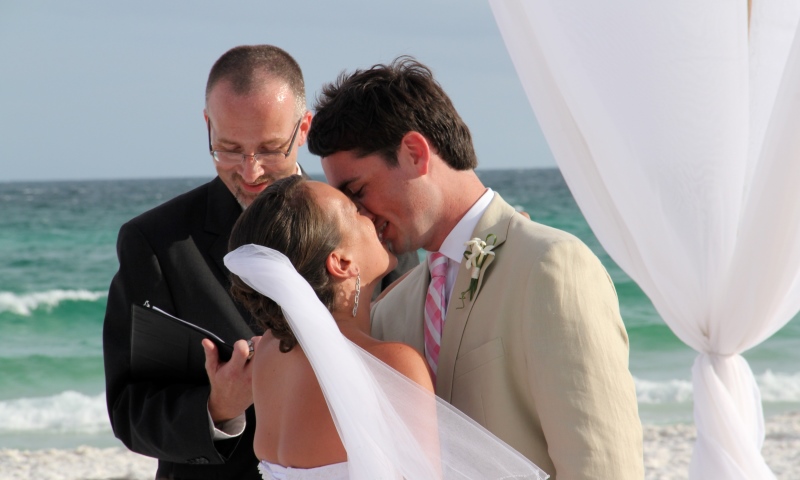 Image source: Google, copyright-free image under Creative Commons License
That is all well and good. But a wedding is a once in a lifetime (hopefully) occurrence. So you need it to be memorable and something worthy of telling your kids one day – in the distant future. You've come to the right place if you're looking for that offbeat Vegas wedding, cause it's Vegas, baby!
Check out the 12 most decidedly non-traditional ways of getting married in Las Vegas, that satisfies the unconventional bride/groom in you:
---
Suggested read: Does your wedding dress reflect your personality?
---
1. The Mob Museum
If you're a big fan of the cult classic The Godfather, then this option will definitely appeal to you. What could be more fun than a Mafioso-themed wedding at The Mob Museum, located in downtown Las Vegas! The building that houses the museum is a historic artifact in itself – it was 'the stage for the biggest mob hearing in history.' The building, built in 1933, was a former federal courthouse and US Post Office. At present, the ceremonies are usually conducted in the courtroom on the second floor, where the famous Kefauver Committee hearings happened from 1950 to 1951.
The museum offers several different wedding packages from Daytime Quick Wedding to An Affair To Remember to The Big Italian Wedding, featuring stylish fedoras for the bride and groom, Italian-themed buffet, The Mob Museum bottle of cabernet, and last but not least, a souvenir wedding certificate signed by Oscar Goodman, who is a former mob lawyer and a mayor.
2. The Neon Museum
What better way to get hitched to the love of your life than to say 'I do' under the neon signs of The Neon Museum! The Neon Museum offers a unique blend of vintage style and a touch of modern flair for that unforgettable Vegas wedding. Couples can put together their own wedding packages either in the North Gallery or the Neon Boneyard, both of which are perfect for couples looking for an intimate yet out-there wedding experience.
The North Gallery is where a couple can tie the knot under the distinct glow of dozens of vintage neon signs, while the Neon Boneyard houses more than 150 historically and artistically important neon signs like the Moulin Rouge sign whose dismantled letters spell out 'in love.'
3. Las Vegas Wedding Wagon
With wedding packages starting from as low as $129, Las Vegas Wedding Wagon is exactly as it sounds – the wedding party, including an officiant, a photographer, a witness (if you're in need of one), and any help filing your legal paperwork – arrive at the venue of your choice. Whether you want to get hitched by walking down the aisle at the old West chapel on the grounds of Bonnie Springs Ranch or tie the knot with your pinball-fan sweetheart at the Pinball Hall of Fame, you name it and the Wedding Wagon will make it happen. Or, there's another fun option of loading all your wedding guests onto an open-top London-style red bus for a hop-on, hop-off wedding ride through the whole of Las Vegas for a truly memorable wedding. If you go for this option, your guests are sure to be talking about this one for a long time to come!
4. The Saltwater Aquarium at Silverton Casino
The Silverton's Underwater Wedding package is truly one of a kind. The package offers couples a chance to get hitched in the resort's 117,000-gallon saltwater aquarium, with stingrays, sharks, and 4,000 other colorful fish playing guests! One rider though – couples need to be at least pre-certified in scuba diving if they do choose this option. The package includes all the protective gear, including a full safety team and a couple of bridesmaids … er … mermaids to accompany the bride. And if the couple wants to tie the knot in their traditional ensemble underwater, that can be arranged too, by weighting down the groom's jacket and the bride's dress and veil.
---
Suggested read: What does your wedding veil say about your personality?
---
5. The Graceland Wedding Chapel
For those couples looking for an out of the way wedding ceremony, head to the Graceland Wedding Chapel to get married in the presence of The King aka Elvis! The Vegas Graceland Chapel is inspired by Elvis' digs back in Tennessee. You could even ask Elvis to walk you down the aisle if your dad isn't around to give you away. Plus, it'll be one heck of a wedding reception with The King himself serenading the newlywed couple, from anywhere between three to five songs! What's more, you could even choose whether your Elvis will wear a sequined jumpsuit with a cape or black leather or a neon pink jumpsuit – take your pick!
Elvis wedding packages start as low as $199 and go up to $799, with various perks included, like a rose boutonniere for the groom, a copy of Elvis and Priscilla's marriage certificate, Elvis-themed sunglasses for the bride and groom, and even two Elvis impersonators performing for the pleasure of the couple.
6. Skydive Las Vegas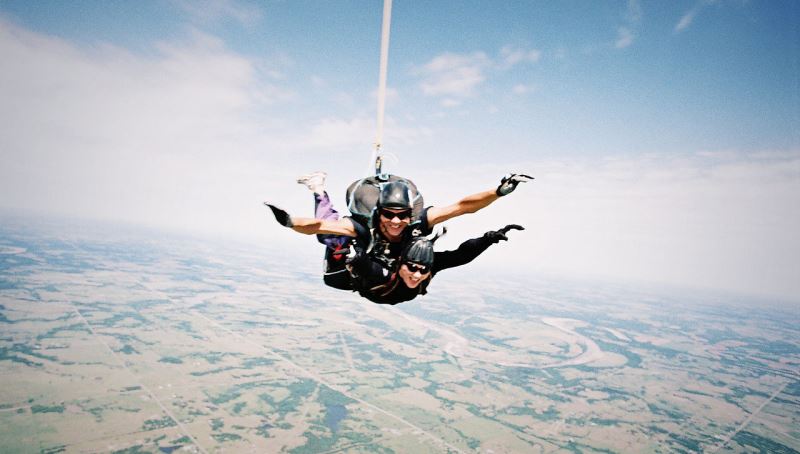 Image source: Google, copyright-free image under Creative Commons License
If you've always been fascinated with heights and are quite the daredevil couple, saying 'I do' 15,000 feet above the ground would be right up your alley! Freefalling from an airplane at 120 to 140 mph, you can get hitched to your daredevil sweetheart, all the while enjoying the incredible views of Hoover Dam, Lake Mead, the Colorado River, the entire Las Vegas Strip, Red Rock Canyon, and Mt. Charleston. That would make for an awesome backdrop for your wedding pictures, isn't it? Of course, you'll be attached to a tandem instructor the whole time, so you don't have to worry too much about falling to your death on your wedding day! 😛
7. Wedding in the sky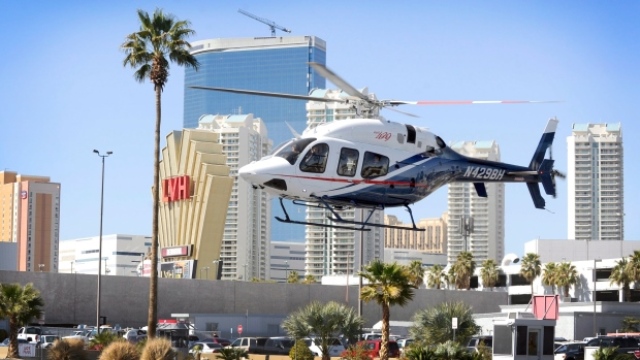 Image source: Google, copyright-free image under Creative Commons License
If the skydiving option seems a bit extreme for your taste, this option of getting hitched onboard a helicopter whilst enjoying the aerial view of the entire Las Vegas Strip. Saying your vows as you take a 22-mile helicopter ride seems too romantic, doesn't it? The trip, which starts at sunset, includes a bridal bouquet, a matching boutonniere for the groom, digital pictures, transportation, and of course, champagne.
8. The Little White Chapel 'Tunnel of Love'
After noticing a disabled couple having difficulty getting out of their car and into the chapel for their wedding in 1991, Charlotte Richards had the idea of opening up a drive-thru wedding window. The drive-thru wedding window became so popular that it now includes a romantic ceiling with cherubs and sparkling starlights that make it seem surreal. Called the 'Tunnel of Love,' The Little White Chapel maintains a 24-hour drive-up wedding window, where couples get married in all kinds of vehicles from motorcycles to their beat up cars to limos. This may be an unusual option to get married, but it's also one of the most-talked about ways to get married in Vegas.
9. KISS Monster Mini Golf
For a rock and roll loving couple, this is the perfect way to get married in Vegas. Plus, your wedding guests can relax and enjoy themselves with a game of mini golf after the wedding! Perfect combo, eh? The KISS Monster Mini Golf is located across from the Hard Rock Hotel & Casino and is home to the Hotter Than Hell Wedding Chapel. The chapel is complete with a big stage replicated from the KISS' album cover for 'Love Gun,' theatrical lights, sound, fake fog from a fog machine, and your very own 'tour manager,' who oversees all the details so that your dream rock and roll wedding goes off without a hitch. What's more, wedding invites are designed to look like concert tickets, which you can send out to your wedding guests. One more de-lightful detail – you can pick a minister of your choice – a regular one or The 'Sinister Minister,' who is a Gene Simmons-look alike, or Pastor 'Chippen Paul Stanley' or, a truly 'mini'ster who is also a Gene Simmons look alike!
The prices for the chapel and the minister are separate; so plan according to your budget. The chapel packages start from $249 to $575, which includes a chapel ceremony, a professional photographer, a video of the ceremony, 'Hotter Than Hell' wedding chapel lanyards, and 'Hotter Than Hell' wedding chapel certificate. The prices for the minister's services start from $100 to $500. Everything from cakes to the invitations to the flowers are considered add-ons and cost extra.
10. In the Grand Canyon
If you're tired of the neon lights of Vegas, then getting married in the Grand Canyon might sound like music to your ears, right? Papillon tours is ready to whisk you and your fiancée to the Grand Canyon on a helicopter for an outdoor ceremony in the biggest hole in the ground in the US. What's more, you can even get hitched atop the Tower Butte, a 5,000 ft rock formation that can only be reached via a helicopter. Sounds savvy, eh?
---
Suggested read: Pick the perfect wedding dress that suits your Zodiac sign
---
11. The Gun Store
The Gun Store in Vegas performs Shotgun Weddings at their state-of-the-art indoor gun range, following which you can shoot at the range with a plethora of firearms – domestic and exotic – provided by the store. This is the perfect way to get married in Vegas for the trigger-happy couple, looking to spice up their wedding day!
The wedding packages start as low as $370 called Mr & Mrs Smith & Wesson package and go up to $500, that include the couple's choice of any 6 guns, gift bags, a private VIP range, shots on a shotgun, custom Gun Store hats for the bride and groom, commemorative certificate, and even signature Gun Store shirts for the couple. Limo service, flowers, and photographs are all add-on services.
12. In a gondola at The Venetian
Image source: Google, copyright-free image under Creative Commons License
What if you don't have enough to get married in Venice, Italy? You can always get married in the next best option available – on a gondola at The Venetian in Las Vegas! While the gondola drifts through the Grand Canal Shoppes and into the Palazzo next door, you and your sweetheart can exchange vows and promise to be there for each other for all eternity! Oh, the romance of it all!
Well, that's all the ways of getting married in Las Vegas that we found interesting and exciting to write about. Which one would you choose among these to get married in Vegas? Tell us in the comments below!
Featured image source: Google, copyright-free image under Creative Commons License
Summary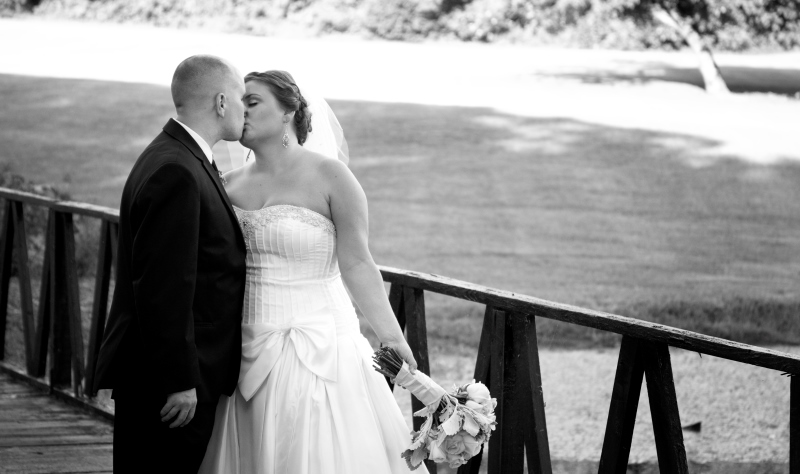 Article Name
12 Super Fun Ways To Get Married In Vegas
Author
Description
Want to know fun, unconventional, non-traditional ways to get married in Vegas? Worry not, for here we have compiled a list 12 super fun ways do just that!