If you have spent months scouring through websites, magazines, inspiration boards, planning guides and more for picking up every single item that goes into building your dreamy picture perfect wedding, why limit your vows within the walls of a standard function hotel room or chapel? Your perfect wedding calls for the perfect wedding venue and we have just the list of amazing wedding venues for you to take your pick from.
After all, we know why wedding venues make an 'I do' more special – whether by evoking seraphims riding the white wave steeds at a breathtaking beach in Greece or by calling out to the wind in a mid-air ceremony to send your vows resounding far and wide. Which is why we do not think that any wedding venue is too 'out-of-the-box' for one of the most special days of your life deserves all the 'ooh-ing ahh-ing' pleasure you can collect! So, get that passport ready for we have booked you an inspiring tour of the most amazing wedding venues from across the globe to immortalize your wedding vows in.
---
Suggested read: How to choose the perfect wedding venue
---
With a lot of love, the NLT-compiled list of the most breathtaking wedding venues ever:
1. Haiku Mill, Maui, Hawaii
If destination weddings allure you but sandy beaches aren't your idea of them, you should seal the venue decision with Haiku Mill. This picturesque sugar plantation in Hawaii is a perfect blend of old world charm and a modish elegance with jasmine and gardenia blossoms entwined about its ornate chambers and adding to its romantic appeal. And just when you thought you might be bound within the grounds, you see the courtyard opening up to the beautiful Hawaiian island – so you never lose touch with nature. If magic is on your checklist for wedding venues, this is the spot to say I do.
2. Treehouse Point, Issaquah, Washington
Treehouses have a fairytale element to them. Sure, they aren't a castle but they are no less. Amazingly charming, unique, and romantic, these beautiful wedding venues offer a one-of-a-kind experience, best suited for one of the biggest days of your lives. Nestled in the lap of nature and cradled by trees, the house is brimming with the beauty of beautiful verdant green all around and what's more, not only do you say 'I do' in the lush surroundings, you wake up in the arms of your beloved in the treehouse too!
3. International Balloon Fiesta, Albuquerque, New Mexico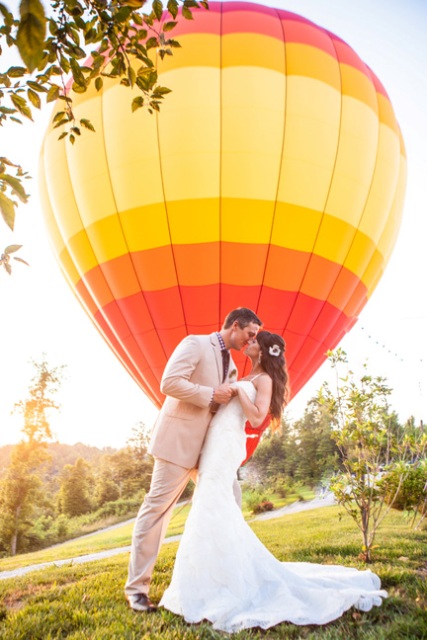 This one is my personal favorite, for I have been dreaming of it for years! It doesn't get better than being married mid-air. Getting hitched while soaring up in the clouds is a literal rendition of 'being on cloud nine.' And it couldn't be any more romantic. To be up in the air for the ceremony surrounded by balloon baskets that can carry about twelve people or so, so that your loved ones are all around is the perfect way to get love in the air and let the wind take care of the rest!
---
Suggested read: The secret to clicking those memorable wedding pictures!
---
4. Sodo Park, Seattle, Washington
Image source: Pinterest
If industrial settings get your ball rolling, SoDo district is where you should be heading. This historic place blends the old-world architectural delights with modern, sophisticated textural elements, thereby, lending the space a rich, ornate feel, perfect for any wedding.
5. Beaulieu Garden, Rutherford, California
Image source: Pinterest
For those of you who came to the list looking for garden wedding venues, well, here you are. We have something of delight for everybody. There's nothing prettier than a garden wedding and Beaulieu Garden, true to its name, fits the bill. With a dramatic entrance where one can drive a quarter of a mile on pathways lined with magnificent sycamore trees and an overarching canopy that keeps the guests drooling over the verdant umbrella they have, you will have your wedding party raving about your venue pick for years!
6. Union Hill Inn, Sonora, CA
Rustic on the outside and refined on the inside is what sums up this beautiful inn. Not only is the historic location of the inn a plus to booking this inn for a fun weekend nuptial, but the day trip options (Yosemite and Lake Tahoe) make for a charming surprise for wedding guests!
7. Bear Flag Farm, Winters, California
Image source: Pinterest
If a farm wedding venue is what rocks your boat, then this idyllic choice is the one you have been reading so far for. Situated on thirty acres of lavender fields, vegetable crops, and fruit trees, this farm has a novelty factor attached to it and takes in only about a handful of weddings each year. So, if your heart has already gone out to the place (like ours), you better be making your inquiries early!
8. Big Daddy's Antiques, San Francisco and LA, California
Image source: Pinterest
Ever thought of getting married in an antiques shop? No, I am not crazy. Originally, a one-of-a-kind retail outlet for antiques from the European, Asian, and American markets, they have quickly escalated to being one of the most sought-after wedding venues in SF and LA. And trust me, looking at the grandeur of the weddings they arrange, we are sold!
9. Dunfillan Ruins at Kunde Estate in Kenwood, California
Image source: Pinterest
Cradled in the Sonoma Valley, this 1800's architectural delight is now a favorite place for many couples to seal their nuptials. Not only is saying 'I do' within the historic stone walls of this beautiful place on Kunde estate a unique experience, the drama is extended over to the dining experience in the interior of the ruins, the dine alfresco for the reception in the stunning meadows, and of course, the dancing mid-site!
---
Suggested read: What you NEED to know about hiring a wedding planner
---
10. The Artist's Bridge, Newry, Maine
The Artist's Bridge in Maine which spans the Sunday river doubles up as a holy spot. Not only is the wedding venue the stuff of legends, any wedding ceremony taking place on the bridge built in 1872 is bound to be epic. This is largely owing to the breathtaking beauty of the bridge and the brook, coupled with the love showered upon the surrounding by the lush green environs. We highly recommend the quiet, serene, Nature-kissed wedding here!
11. Bridal Cave, Ozarks of Missouri
Image source: Pinterest
The name is enough to convince you 'tis meant for weddings! Not only do you get to adorn your wedding pictures with stalactites but you will be a part of a legacy that we are the first one to tell you about. Native American legend has it that a couple first married here in the early 1800s. More than 2,500 couples have done so since then. And why not you next?
12. Pearson's Pond Inn, Juneau, Alaska
Image source: Pinterest
Okay, this one isn't for the faint of heart. But for those lovers who aren't afraid to walk on thin ice (quite literally), this wedding in a glacier is their cup of tea! Pearson's Pond Inn, in Juneau, Alaska, helps couples arrange this ethereal, otherworldly experience on the glacier, by dressing the brides in a beautiful, long flowing cape, fur jacket, and hats while the rest of the wedding party (not too many) is required to be in really warm clothes with big, clunky boots with crampons (spikes at the bottom) to prevent slipping! We bet you will capture some amazing pictures!
13. Volcanoes National Park, Hawaii
Image source: Pinterest
This one's for the bold brides! Getting married in this ancient landscape, with plumes of lava flaring against the sky is like capturing your hot passion for each other live! Plus, for Kilauea Caldera, a landscape that creates and renews itself every day – much like the marriage you are about to begin and build – any other choice for a wedding venue will be nah! Too tame!
14. Stein Eriksen Lodge, Park City, Utah
Nestled in the aspens at Deer Valley Resort's mid-mountain area, Stein Eriksen Lodge is a classic European ski lodge with an extraordinary twist. By blending luxurious modern meeting amenities with secluded old world charm, it brings alive the most surreal of experiences for your events. And when it is a wedding, you needn't even mention that their luxe style with its Norwegian bearings needs to shift and shape into something unique each time!
15. Malibu Rocky Oaks Estate Vineyards, Malibu, California–
Want to get married in the hills of Malibu around a vineyard on a hellipad? How about making your grand entry in a helicopter as the guests wait to chant 'here comes the bride?' Hooked? Well, here's your place! A ceremony with a 360° view of the Santa Monica mountains followed by dinner on long tables by the pool! You will never want to leave the place!
16. Enchantment Resort, Sedona, Arizona
Image source: Pinterest
Nestled within a natural arena of vermillion-colored rock formations, Enchantment captivates guests with the rugged beauty of the Southwest, together with unparalleled service and accommodation. So, if you are looking to have a wedding ceremony here, we have only two words that wil sum up your D-day – Endlessly Unforgettable!
17. Vizcaya Museum And Garden, Miami, Florida
Image source: Youtube
Nothing speaks refined elegance and rich taste more than a deep-rooted interest in culture and history. And when you give your wedding guests a sip, while they are actually enjoying guided tours, during cocktail hour, your wedding is bound to be hit! This museum is the perfect place for your wowing your guests and vowing a forever!
18. The Biltmore Ballroom In Atlanta, Georgia
Image source: Pinterest
Whether you want to dance your first dance as husband and wife at The Imperial Ballroom at Biltmore or The Georgian Ballroom at Biltmore, these fantastic architectural wonders will never fail to make every single moment of your soon to-begin married life as wondrous and magical as the light streaming in through the crystal chandeliers.
19. Biltmore Estate, Asheville, North Carolina
Image source: Youtube
When an 8,000 acre lush spread greets you as you prepare to walk down the aisle and see the love of your life look at you like he has never before – but would vow to forever, there is hardly anything more you'd want, right? But if you do, we bet Biltmore estate will grant it all!
20. Thornewood Castle, Lakewood, Washington
Image source: Pinterest
Another option for a royal-inspired wedding, this one is a beautiful place that seems laid out in verse. Weddings and receptions at Thornewood Castle can take place outdoors in the sunken English garden, inside in the Great Hall and Ballroom, or out on the grounds for a wedding overlooking the lake. Spoilt for choice? Well, that's what royals deserve!
---
Suggested read: Want to make your wedding ceremony meaningful for one and all? Read THIS
---
21. The Crane Estate, Ipswich, Massachusetts
Image source: Pinterest
If you want to let the Northeast spread its warm magic over your wedding, there couldn't be a better venue than this! With its windswept salt marsh, miles of barrier beach, and beautiful hilltop mansion, The Crane Estate is an unforgettable wedding destination! Say 'I do' with sun, surf, and sand in the most spectacular way possible!
22. The George Peabody Library, Baltimore
If you are in love with literature, getting married amidst the shadow of Austen, Dickens, Neruda or even Morrison might inspire you. And well, iconic libraries give you the perfect backdrop for the sophisticated soiree whilst also providing you with a chance to channel a thematic ceremony in Gatsby-style or with some Renaissance-inspiration!
23. Hampton Court/Kensigton Palace, Surrey/South West London
Image source: Google, copyright-free image under Creative Commons License
And here comes the king of'em all. What better way to prove that you deserve the most majestic treatment than by getting married in a palace! You can book these in advance with a capacity for 400 guests at the maximum. Well, we predict some swoonworthy pictures!
24. The Lost Village Of Dode, Kent
Image source: Pinterest
If tradition gets your boat sailing, then it couldn't get better than this 900-year-old building buried in the heart of the Kent countryside. Dating back to the Norman times, this whimsical gem is a charming combination of old world elegance, countryside charm, magical romance, and an incredibly intimate ceremony. Think tapestries, candles, and a heart-picked menu – you will fall in love – all over again!
25. 6. Tunnels Beach, Cornwall
Image source: Pinterest
Barbados is cliché. This idyllic beach, nestled in Cornwall, is a perfect wedding venue with its private paved and bandstand area coupled with breathtaking views of the sea and rockfaces. If a spectacular wedding venue was one on your list, congratulations – you got one!
26. Wookey Hole Caves, Somerset
Ahh – the beauty and romance of an underground cavern. For those adventurous souls who care not to unruffle the traditional feathers a bit, this enchanting setting with its candlelit chambers, clear pools, and dramatic rock formations is a perfect pick. Evening ceremonies are held in the caves and there's a restaurant and hotel to use for everything from sit down meals to buffets and accommodation. What's not to love?
27. Cley Windmill, Norfolk
If you have always pictured your wedding ceremony taking place along the quaint countryside, rolled up in fields of corn with a B&B to round up the perfect rustic and romantic wedding ceremony with an evening of drinking and dancing, Cley Windmill is the place you are looking for! We bet you will get some amazing pictures!
28. Crom Castle, Newtownbutler, Northern Ireland
Set in rolling parkland amidst an archipelago of wooded islands and peninsulae in tranquil Upper Lough Erne, the Crom Estate in County Fermanagh, the historic seat of the Earls of Erne for over 350 years, enjoys an unrivaled location in the heart of Ireland's Lake District. And now the magic of this sublimely beautiful place is available for a small, intimate wedding ceremony all year round. So, if you wanted to arrive in a horse-driven carriage and get married the royal style, here – your castle is waiting!
29. Villa Del Balbianello, Lake Como, Italy
Image source: Pinterest
If you have seen Star Wars and Casino Royale carefully, you will be quick to spot the locale. If you are one of those brides who'd love to sprinkle some movie magic on your wedding platter, this is the place for you. A sophisticated, elegant, and exclusive experience set aside for the most special day of your life, the Italian villa is a beautiful background for those of you looking to say 'I do' amidst the most elegant of surroundings!
30. Il Borro, Tuscany, Italy
This is where legend takes on a life beyond the place and every moment in the place becomes timeless. As will each tick of the clock at your wedding! Reverberating with the unheard stories of a more authentic Tuscany, this lush village of cobbled pavements and stoned alleys is entwined in vineyards, cradled by olive groves, and sheltered by cypress trees. When you pick Il Borro for your wedding, you will be picking a far-away trip to a forever land – where you can seal your forever vows!
31. Shangri-La, Paris, France
I could rave and rave and rave about the place and it would still not suffice. With a customized wedding experience designed by experts for a memorable ceremony, Shangri-La knows just how to weave magic with a perfect flick of its wand!
32. Convento De Las Capuchinas, La Antigua, Guatemala
Image source: Pinterest
For those who'd like their wedding ceremonies to be steeped in culture and tradition, Guatemala's convent is the best place to get married in. One of the favorite places for couples who'd like an old world elegance with religious blessings to nourish their wedding ceremony.
---
Suggested read: Want to make your wedding ceremony the most memorable event ever? Read on
---
33. Deux Belettes, New South Wales, Australia
Image source: Pinterest
Live it like a queen by being the bride who walks down the aisle on a petal-strewn path guarded by tall trees from her abode in a 16th century French chateau. The place is a romantic interlude of sorts with an antique charm yet modish elegance – a Nature's retreat where a tapestry of pebbled pathways and stone walls are cradled in rose beds allowed to run rampant. Romantic, eh? You bet!
34. The One And Only Ocean Club, Paradise Island, Bahamas
Just like the club avers, here bliss is timeless. Graced by white sand beaches and warm turquoise waters, this beautiful club offers the cerulean of the Bahamas sky wrapped in the turquoise of a brimming sea combined with the magic of privileged perfection. What else do you need for your wedding?
35. Ikies Traditional Houses, Santorini, Greece
Image source: Pinterest
Located at the edge of the picturesque village of Oia, Santorini, in the northern part of Santorini Island and with commanding views over it, into the caldera and of the surrounding Cycladic Islands, this one will breathe life into the magical wedding you'd always dreamt of!
Found your own dreamy beautiful backdrop for saying 'I do' from among these amazing wedding venues? Now, smile! <click>
Featured image source: Pinterest
Summary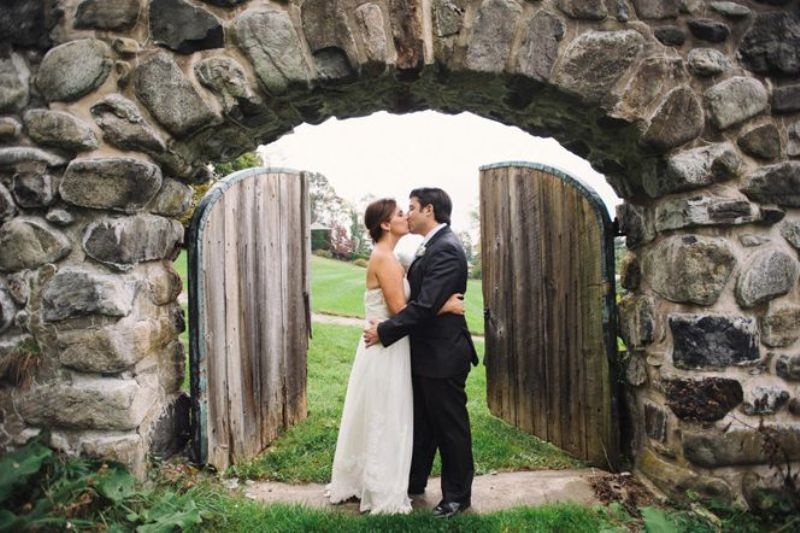 Article Name
35 Amazing Wedding Venues That Are Absolutely Perfect
Author
Description
When it comes to your wedding day, no venue is too out there! Check out the most amazing wedding venues scattered across the planet for a perfect wedding!