Forgot to pick that all-important tune you'd be dancing to, as newlyweds? Do not fret; we know just how nerve-wracking it can be to pick that perfect song to capture your love whilst all eyes are riveted on you as you glide through the wedding hall, looking like one soul, moving in unison..After all, your pick for the just-right first dance wedding songs evinces your ability to translate your promises to each other into sweet-strung music as you nail the first thing you attempt as a team- a married team!
Image source: Google, copyright-free image under Creative Commons License
But don't you begin to break under the pressure of the wedding preparations that have begun to feel like a drill, allow us to take care of the wedding music bit. From tried and tested classics to the more modern hits, we have collated a LOVE-ly set of first dance wedding songs that shall not only end your first dance song-search but also evoke the same tingly feeling whenever you watch it again as Mr. and Mrs.
1. Every Little Thing She Does Is Magic by Sleeping At Last: A perfect fairy-tale rendition of a love story that lets her know she's indeed the magic you've waited to be enchanted by all along!
Why It's Perfect:
Do I have to tell the story
Of a thousand rainy days
Since we first met
It's a big enough umbrella
But it's always me that ends up getting wet
Every little thing she does is magic
Every little thing she does just turns me on
Even though my life before was tragic
Now I know my love for her goes on..
---
Suggested read: 15 song playlist you must have if you are in a long distance relationship
---
2. All I want Is You by U2: And the lyrics say it all!
Why It's Perfect:
You say you want your love to work out right
To last with me through the night
You say you want diamonds on a ring of gold
Your story to remain untold, your love not to grow cold
All the promises we break from the cradle to the grave
When all I want is you…
3. I Will by The Beatles: Coz nothing says 'I love you' better than an eternal promise of love that lasts forever and beyond. Pick this one for your first dance as husband and wife coz there's something magical about making your vows musical!
Why It's Perfect:
Who knows how long I've loved you
You know I love you still
Will I wait a lonely lifetime?
If you ask me to I will
And if I ever saw you
I didn't catch your name
But it doesn't really mattered
I will always stay the same
Love you forever and forever
Love you with all my heart
Love you whenever we're together
Love you when we're apart..
4. As by Stevie Wonder: A classic pick for a first dance wedding song, this one captures the novelty of an emotion that you have to completely give yourself to for a taste of pure bliss- and well, that's what you did when you said 'I do,' right?
Why It's Perfect:
As now can't reveal the mystery of tomorrow
But in passing will grow older every day
Just as all that's born is new
You know what I say is true
That I'll be loving you always
5. Make You Feel My Love by Adele: Coz when someone makes you feel happier than you ever thought you could be, you want to spend the rest of your life making them feel the same way!
Why It's Perfect:
I could make you happy, make your dreams come true.
Nothing that I wouldn't do.
Go to the ends of the Earth for you,
To make you feel my love
To make you feel my love..
6. Our Love Is Here To Stay by Billie Holiday: What more could you ask for in your journey henceforth?
Why It's Perfect:
It's very clear
Our love is here to stay
Not for a year
But ever and a day…
7. The Best Is Yet To Come by Frank Sinatra: This one is my personal favorite. And not just because it is THE PERFECT first dance wedding song, but because it is THE PERFECTTTT first dance wedding song! Well, you have to hold him and dance with him to this one to believe me!
Why It's Perfect:
Come the day you're mine
I'm gonna teach you to fly
We've only tasted the wine
We're gonna drain the cup dry..
---
Suggested read: 15 long distance relationship movies to watch with your boyfriend
---
8. We've Only Just Begun by The Carpenters: Could you say it better than this, as you begin a new journey – the arrival of which isn't quite in sight, but the mile-markers are endearingly welcoming and the companion ever-so-more!
Why It's Perfect:
Sharing horizons that are new to us
Watching the signs along the way
Talkin' it over, just the two of us
Workin' together day to day
Together
Together 
And when the evening comes, we smile
So much of life ahead
We'll find a place where there's room to grow
And yes, we've just begun…
9. You Are So Beautiful By Joe Cocker: When you know that your world is right here, enveloped in your arms!!
Why It's Perfect:
You are so beautiful
To me
You are so beautiful
To me
Can't you see
You're everything I hoped for
You're everything I need
You are so beautiful
To me…
10. Can't Help Falling In Love by Elvis Presley: This just tugs at our heartstrings and makes us go Awwww! To much mush alert!
Why It's Perfect:
Like a river flows surely to the sea
Darling so it goes
some things are meant to be
take my hand, take my whole life too
for I can't help falling in love with you…
11. First Day Of My Life by Bright Eyes: Because soul mates exist, and become home!! Marriage is just the beginning of a wonderful journey, towards that home.
Why It's Perfect:
Yours is the first face that I saw
I think I was blind before I met you
Now I don't know where I am
I don't know where I've been
But I know where I want to go
And so I thought I'd let you know
That these things take forever
I especially am slow
But I realize that I need you
And I wondered if I could come home…
12. La Vie en Rose by Edith Piaf and Louis Armstrong: Ethereal in its simplicity, this one tugs at the heartstrings to create a symphony that your heartbeats would forever resonate in sync to!
Why It's Perfect:
And when you speak, angels sing from above
Everyday words seem to turn into love songs
Give your heart and soul to me
And life will always be la vie en rose…
---
Suggested read: 15 romantic movies to watch with your boyfriend
---
13. A Groovy Kind Of Love by Phil Collins: A pop number, this one tops the list of best first dance wedding songs coz well, "When I'm feeling blue, all I have to do / Is take a look at you, then I'm not so blue.."
Why It's Perfect:
Anytime you want to you can turn me onto
Anything you want to, anytime at all..
14. Wild Horses by The Rolling Stones: Coz all you have is a life to live, laugh, and love!
Why It's Perfect:
I know I've dreamed you, a sin and a lie
I have my freedom but I don't have much time
Faith has been broken, tears must be cried
Let's do some living, after we die
15. Lucky by Colbie Caillat and Jason Mraz: You know you have found love when the place you call 'home' becomes a person! And well, you can then count yourself 'LUCKY.'
Why It's Perfect:
They don't know how long it takes
Waiting for a love like this
Every time we say goodbye
I wish we had one more kiss
I'll wait for you I promise you, I will
Lucky we're in love in every way
Lucky to have stayed where we have stayed
Lucky to be coming home someday
Those are our picks for the best first dance wedding songs to make your special day extra special. If you have a favorite that you think might do well to adorn our heart-picked list, type away in the comments section below..we are listening!!
Featured image source: Google, copyright-free image under Creative Commons License
Summary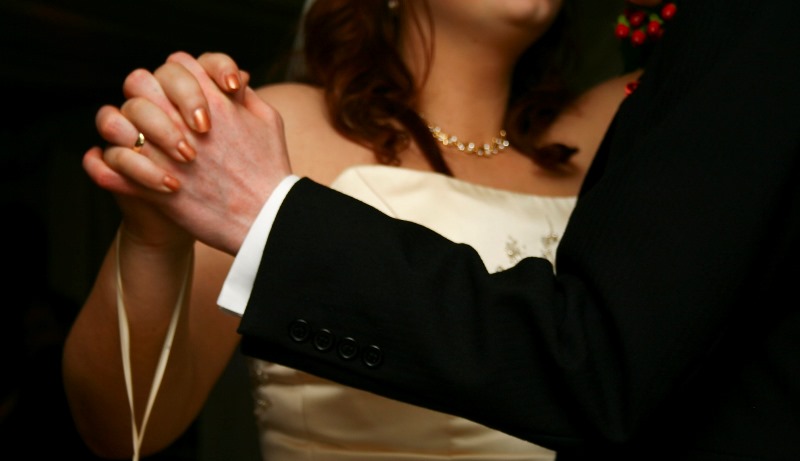 Article Name
Best First Dance Wedding Songs
Author
Description
Having trouble narrowing down from among the list of first dance wedding songs? Worry not, for we have collated 15 best first dance wedding songs for you!