If you pitch your tent someplace cold, here's your bitter truth: For the next two months, at least, the weather's going to bite hard. However, that's no reason that you get in a pothole of fleece boots, turtlenecks and puffer-coats! How about taking a cue from what the spring runway has to offer? It's time to invest and feast on the fringe pieces and mix and match the look! We at NLT, combed through some of the best fringed and tasselled pieces available to get you 13 dashing outfits and their combinations, which you can wear throughout 2016!
Fringe brings you a whole slew of new trends and who cannot be excited about giving them all a try?! Fringe is everywhere at the moment: From skirts and jackets to bags and shoes! The thing about fringe is that it is boho and may look out of place if not styled properly. That is where we step in! A hip affair with fringe is our mantra and will be yours too by the end of the article. 😉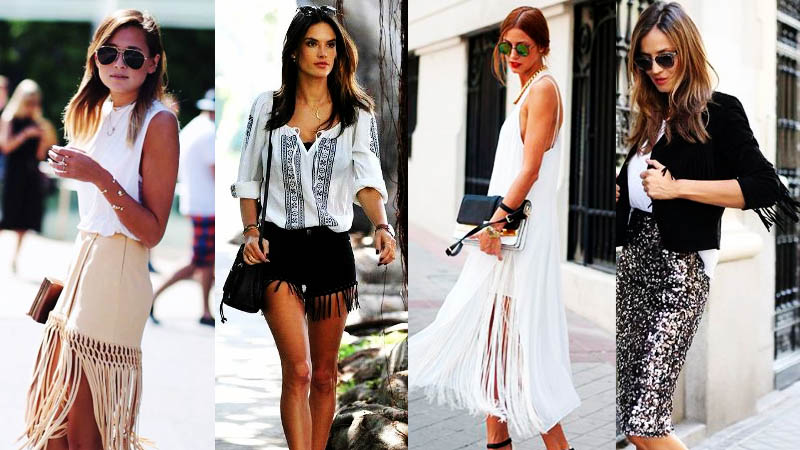 So let's have a look at the 13 fringe outfits we can try this year.
1. Fringe kimono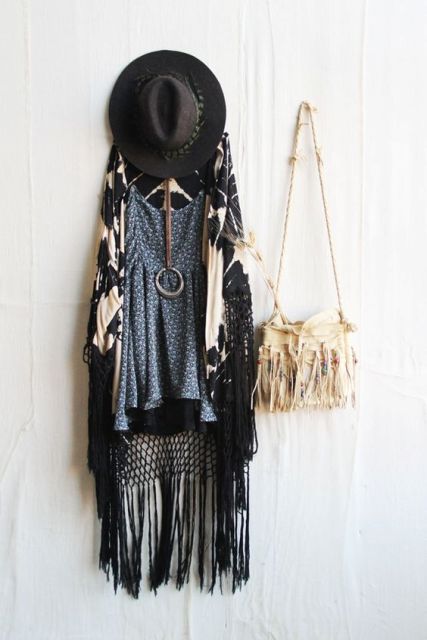 Image source: Pinterest
To go boho crazy all you need to do is team up a fringe kimono with a fringe bag. Top it up with a floppy hat. You can even inspire yourself for a weekend getaway to the desert. Do not forget to pack a black festival hat, a blue prairie print tunic, and a fringe beaded bag and may be a tie dyed kimono. Oh! That makes it two combinations then! ☺
---
Suggested read: NLT-style guide to wearing your hat stylishly
---
2. Fringe suede skirt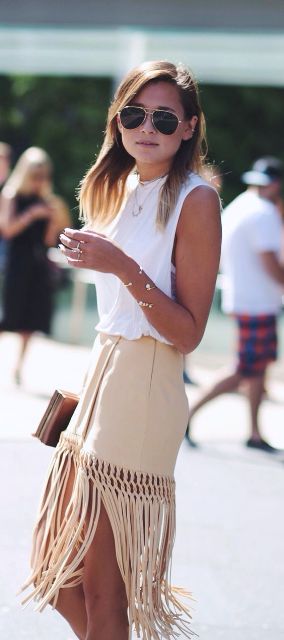 Image source: Pinterest
Fringe suede skirt is the in thing this spring. Pair it up with a white T-shirt and a matched serpent print lace up booty and bag!
3. Leather fringe vest

Image source: Pinterest
For the casual look, wear a white tank top, tucked in your favourite pair of denims. Throw on a leather fringe vest to up the edge! And yes, the animal print shoes are a nice quirky twist! Add them to your list of essentials! ☺
4. Fringe jacket

Image source: Pinterest
For that ultra-chic vacation look, slip on a fringe trimmed jacket with a fitting sequin pencil skirt. If the weather is super chilly, get into a pair of black opaque tights to save your soul without messing up the look.
5. Fringe white dress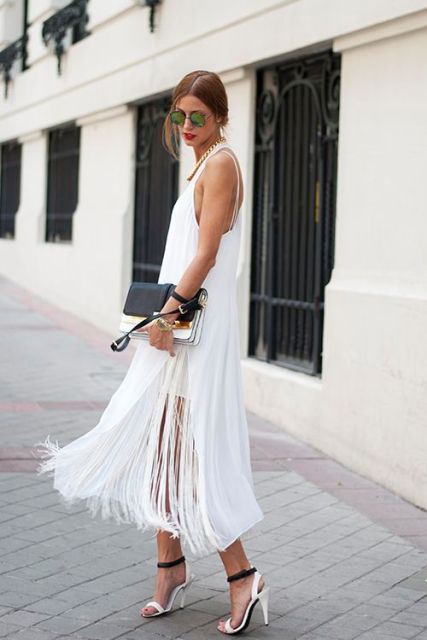 Image source: Pinterest
A white slip fringe dress needs only a pair of neon aviators and a golden collar chain to kill it on the streets!
6. Fringe-hem stripe sweater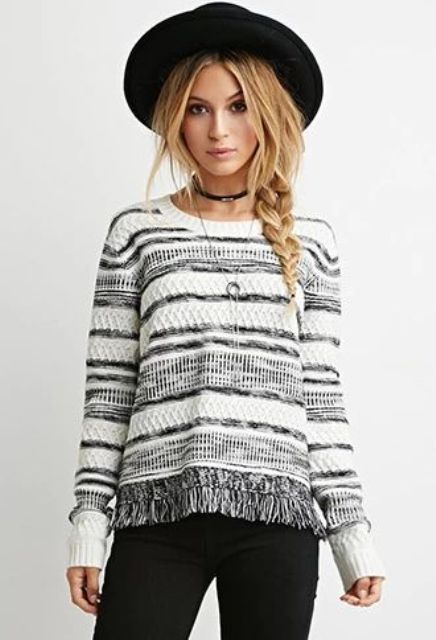 Image source: Pinterest
Stripes are in vogue and so are fringe outfits. How about mixing the trends to produce something phenomenally classy?! Yep, that's the idea here. ☺
7. Fringe tweed sheath dress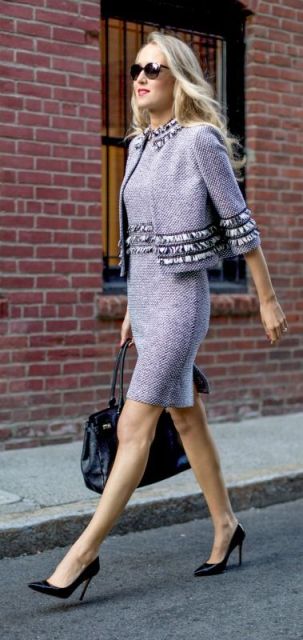 Image source: Pinterest
Since fringe has flooded the runways of late, we thought pairing a fringed tweed sheath dress with its matching cropped jacket. And voila! We got the look we wanted!
8. Denim fringe cut-offs

Image source: Pinterest
A denim fringe cut-off pair and a boho loose white blouse. If Alessandra Ambrosio can do it, so can you!
9. Fringe poncho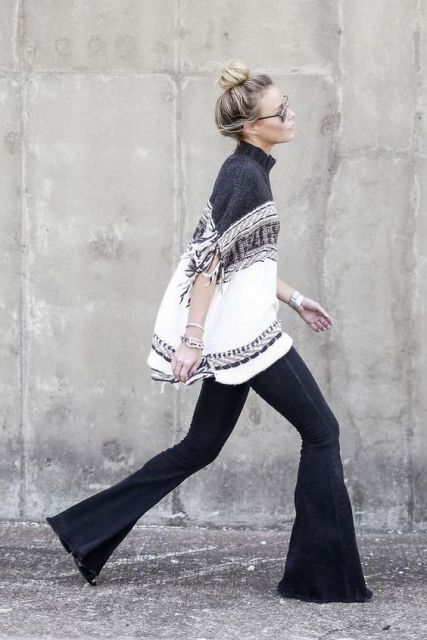 Image source: Pinterest
NLT hearts this look! We're style crushing on flares this season. For the right vibes, couple them with a fringe poncho of a contrasting hue.
10. Fringe crop top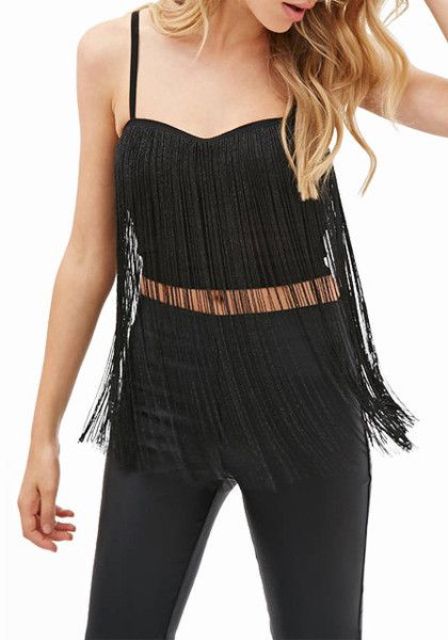 Image source: Pinterest
Become a head turner this season with this silky fringe crop top! This top flaunts a loose tassel, layering the crop top below. It is available with a zipper and a hook for closure at the back. Also, the adjustable shoulder straps make it a must have!
11. Fringe scarf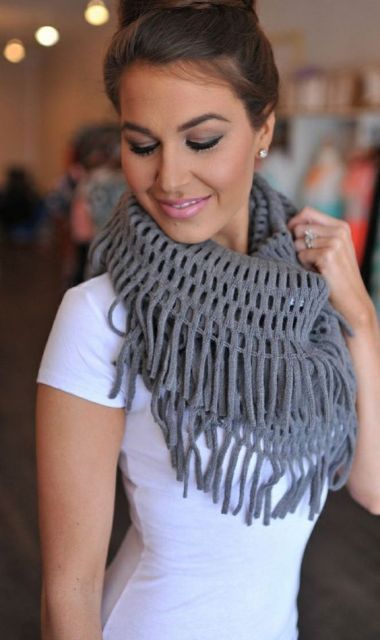 Image source: Pinterest
A fringe scarf goes well with a tee, a maxi or even a tank! Styling it is the only tricky part. A perfect outfit add-on from summer to fall; an accessory, if we may say so! Pair it with a comfortable tee and your fav jacket. You can even slip on a vest for a more put-together look!
12. Fringe tank top

Image source: Pinterest
A leopard maxi dress and a fringe tank top, definitely a fashion goal for 2016!
---
Suggested read: 7 fashion tips that will make you look thinner
---
13. Fringe bikini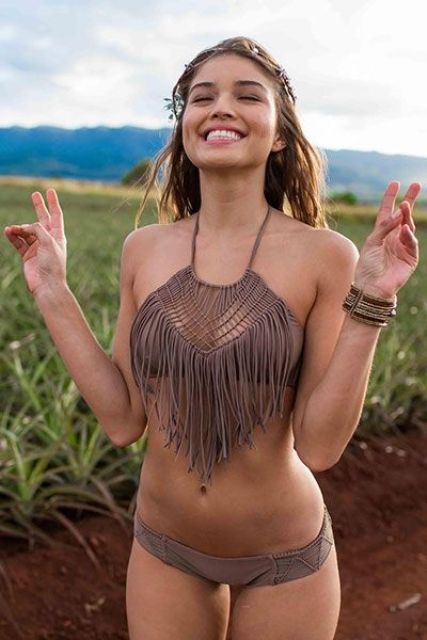 Image source: Pinterest
A list of outfits would be incomplete without a bikini and a fringe bikini- just ups the oomph level to an unprecedented level! Weave it with a fringe bikini this summer by the sea!
For more news on the latest fashion, do sign up to our newsletter! See you until the next trend! ☺
Summary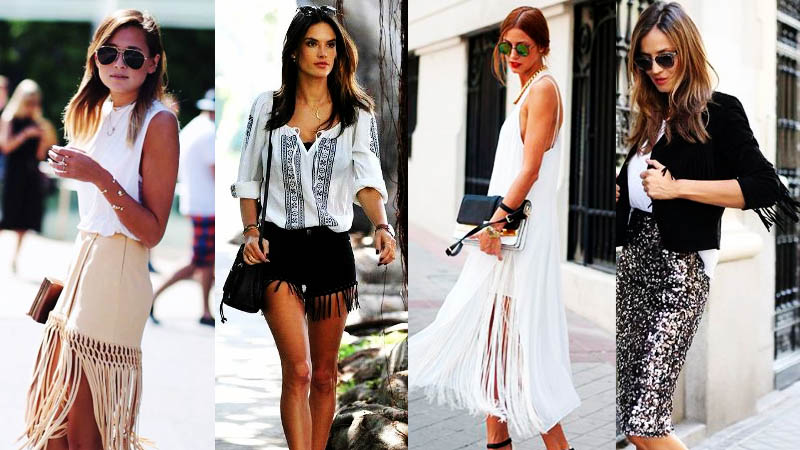 Article Name
Feast On Fringe: 13 Sexy Ways To Wear Fringe Outfits This Year
Author
Description
Coz 'tis the season for fringe! C'mon, fringe outfits!