Trends come and trends go, but leather goes on forever. Excuse the horrifying attempt to be poetic, but apart from that, it is an undeniable fact that leather is one of the most underrated, but ever sought-after material when it comes to clothing of any kind. Here are 13 examples of stellar leather outfits that are going to compel you to head to the mall right about now.
1. Full leather skirt-top combo

Image source: Pinterest
What is the problem with leather on leather? Legit, nothing. When you wear your leather skirt, with a leather blouse and top it off with an impeccable leather jacket, you look like a better version of Lara Croft, frankly!
2. Crop top and leather midi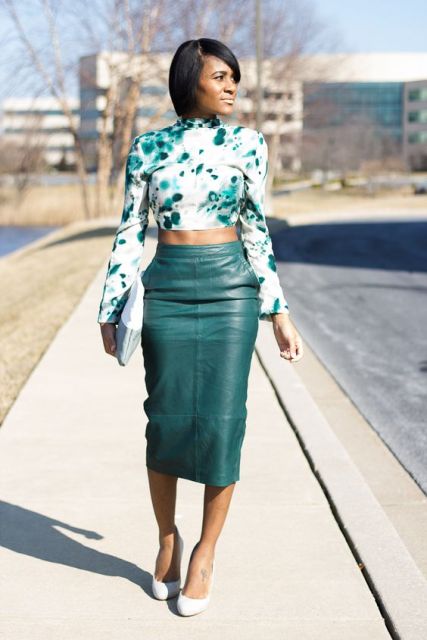 Image source: Pinterest
An outfit like this can only make you say "hell yes" over and over. Who could think that a simple bodycon crop top and a sexy black leather midi skirt in fun colors and prints would look this good? #OutfitGoals
---
Suggested read: How to accessorize right for formal events
---
3. Leather shift dress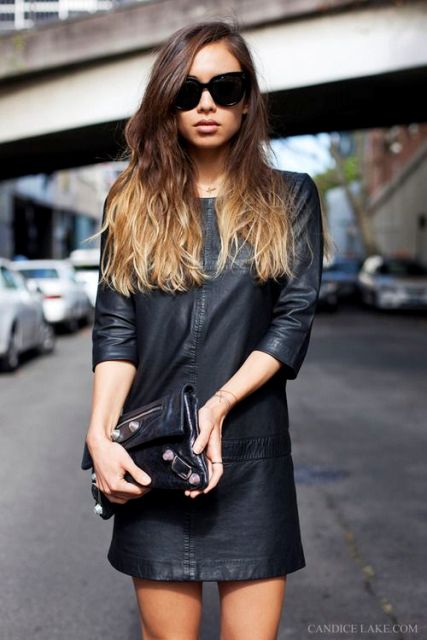 Image source: CandiceLake
A shift dress made of leather? I don't think anything could surprise me any longer. But you have to give credit to the concept because a simple stitched black shift dress, with a great pair of pumps would look stunning. Period.
4. Leather formals in combination suit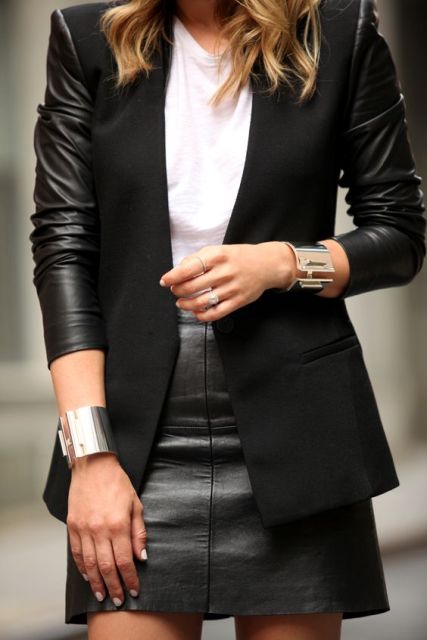 Image source: Pinterest
If you are a lover of leather, then you are sure to miss it when you are putting on your boring formals. However, there exists a suit with the most appealing leather sleeves, stitched onto a regular linen suit, which you can pair with a simple pencil skirt and white button down and black platforms to look fab in formals.
5. Party formals with leather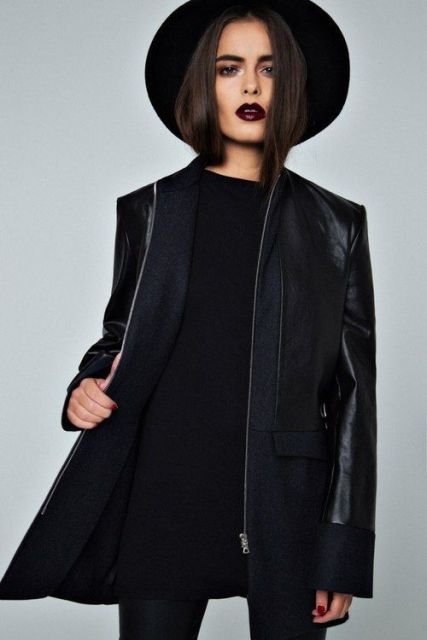 Image source: Pinterest
This is another specimen of how sexy a leather suit can look, no matter what you are dressing for. This is also a great way of spicing up your normal boring leather jacket, which practically everyone has. A shift dress, or a dress+leggings combo or a tank top and high waist pants would do fabulously with this, along with a lot of bold makeup and a fedora for extra brownie points!
6. Oversized trench coat in orange leather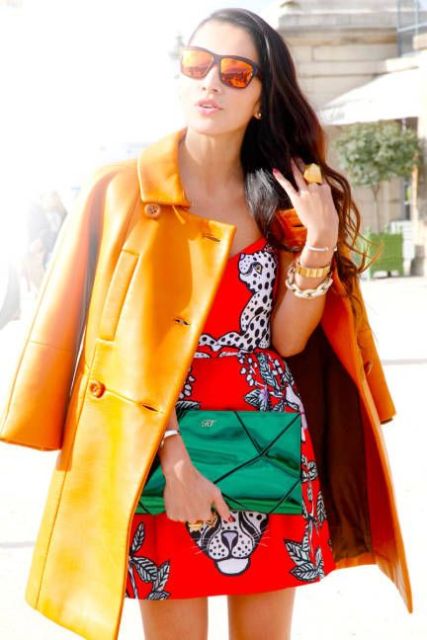 Image source: Pinterest
What could be cooler than a leather trench coat over a colorful printed dress? An orange leather trench coat over a printed dress, of course. Pair your outfit with a pair of oversized sunnies, animal print heels and simple neutral makeup and revolutionize street style.
7. Leather pants for beach style

Image source: Pinterest
If you are heading out to the beach and if you are tired of dressing like the other million people who are going to be there, pair your denim shirt, tired in 70's beach style with your leather leggings or trousers for the coolest beach style or street style ever.
8. Leather shorts, t shirt and a suit

Image source: Pinterest
If I were to take this sub heading out of its context and say this to you, you would probably call me a lunatic. However, this look makes it evident that you can pull of practically anything with leather, including dressing in leather shorts, a strung cotton t-shirt and a boyfriend jacket.
9. Super rad peplum leather jacket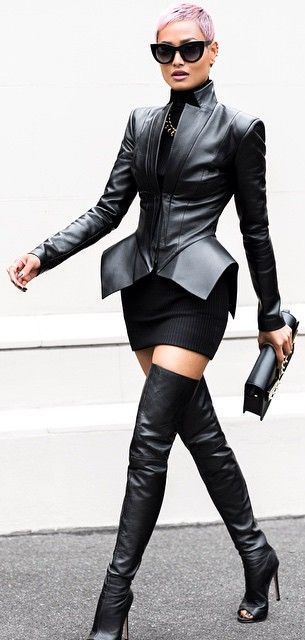 Image source: Pinterest
So you might look like something out of The Matrix if you dress like this, but consider the possibilities you have with your wardrobe now that you have the coolest thing of all- a peplum jacket made of impeccable black leather. Pair it with colorful linen trousers, stiletto heels and a tank top in a neutral color for an incredibly fun look.
10. Leather dungarees for the win
Image source: Pinterest
Thank you, leather, for never ceasing to surprise us. Dungarees have recently sneaked their way back into the trending charts, and have been conquered and made infinitely better by being available in leather. How could you possibly make it look classy? By adding a statement neckpiece, a simple party shirt. And nude heels of course.
11. Ultimate street style in black leather culottes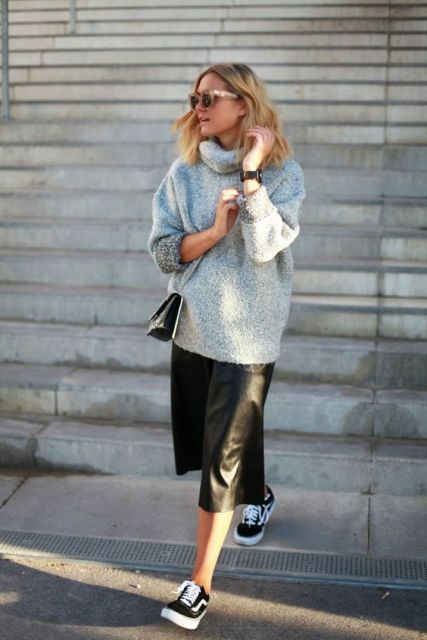 Image source: Pinterest
Whether you want to go grocery shopping, or want to go anywhere else, you can look like a supermodel if you choose to combine a pair of super comfortable culottes in leather with a super comfortable knit sweater, and of course a side sling bag and sneakers. So simple, so chic.
---
Suggested read: 10 must-haves from international ramps from Spring Fashion 2016
---
12. Red leather fall dress by Gucci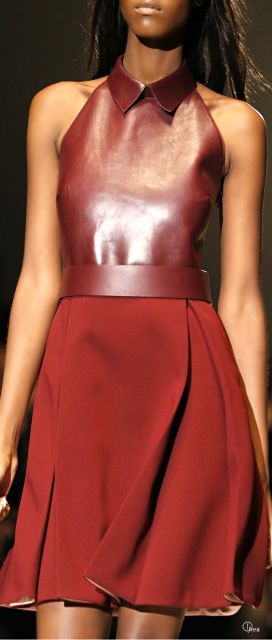 Image source: Pinterest
A peter pan collar on a simple red top is neatly combined with a flare skirt in red itself, which makes this dress swoon-worthy. You know what would make this look perfect? A pair of knee-high leather boots.
13. The classic leather jacket…with a twist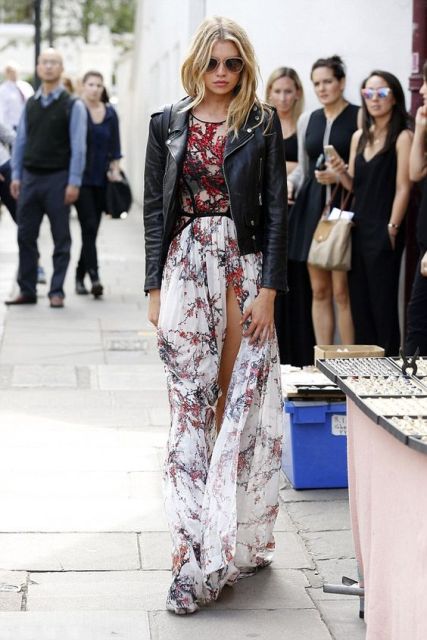 Image source: Pinterest
Your wardrobe is incomplete without your leather jacket, and that is a universal, undisputed truth. However, how do you spice up your simple leather jacket? You do so by wearing it with any dress, no matter how soft and feminine. Bring out those aviators, Boho elements and sandals and you are going to look like a superstar, without doubt.
I hope you have been convinced by the absolute and incomparable amazing-ness of leather, so ideally, you should already be on your way to add some skin to your wardrobe. Happy shopping!
Summary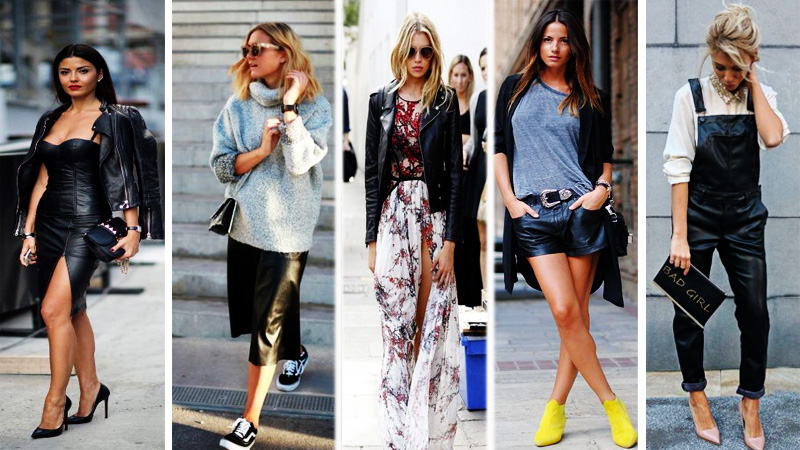 Article Name
13 Leather Outfits We Just Cannot Have Enough Of
Author
Description
Trends come and trends go, but leather goes on forever, and these leather outfits are to die for!