Cold season is here and you can finally wear your beloved boots without feeling like a weirdo. The fashion world has been blessed by the miraculous creation that is chunky heel boots, which are comfortable, practical, and come in some of the coolest, trendiest varieties ever, so that you have no trouble finding the right pair for any outfit that you are in the mood.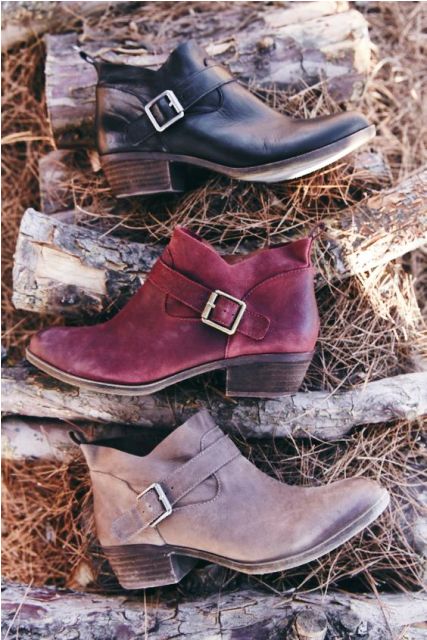 Image source: Pinterest/LuckyBrand
Boots come in all shapes and sizes, but these boots are special because of their chunky, block like heels. This ensures that your footwear is both fashionable as well as practical. They are also the newest trend on the market, so there is no reason why you shouldn't be getting your hands on some of these beauties.
---
Suggested read: 15 stunningly stylish ways to wear thigh high leather boots
---
Here are 15 pairs of chunky boots that is going to make your fall a whole lot trendier.
1. Suede knee-high boots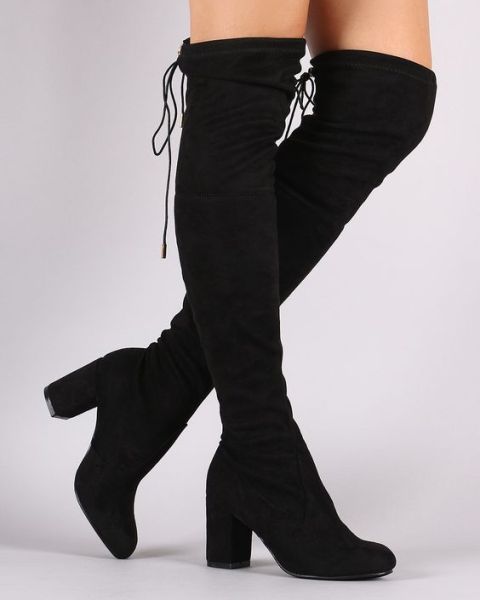 Image source: Pinterest/Marks Urban Wear
Knee high boots can be worn with pretty much anything, including skirts, shorts, jeans, etc. They become even more versatile and good-looking when they come with chunky heels, which make your feet look longer, without throwing you off balance. This beautiful pair of suede boots is just the right amount of sexy and smart.
2. Clear, lace-up booties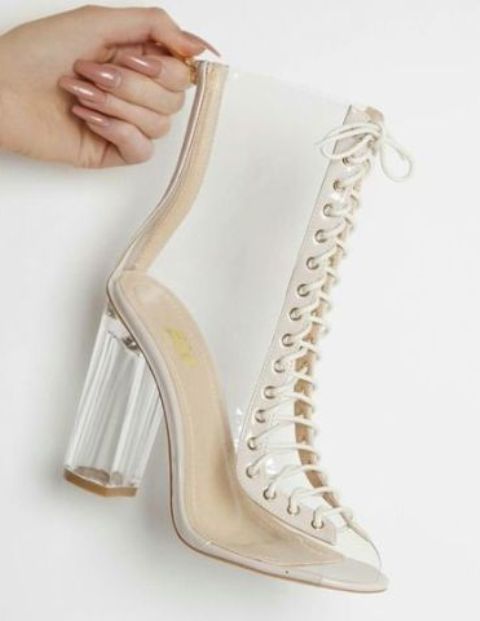 Image source: Pinterest
Boots sometimes can look jaded because of the same bodice on your footwear. These clear pair of beauties can jazz things up a little. Clear boots with laces and clear block heels is the futuristic fashion trend that you were looking for, and you are bound to become a fashion inspiration the moment you step out in these. They are a more contemporary alternative to nude shoes, and these can be worn with pretty much anything.
3. Velvet boots with clear, embroidered heel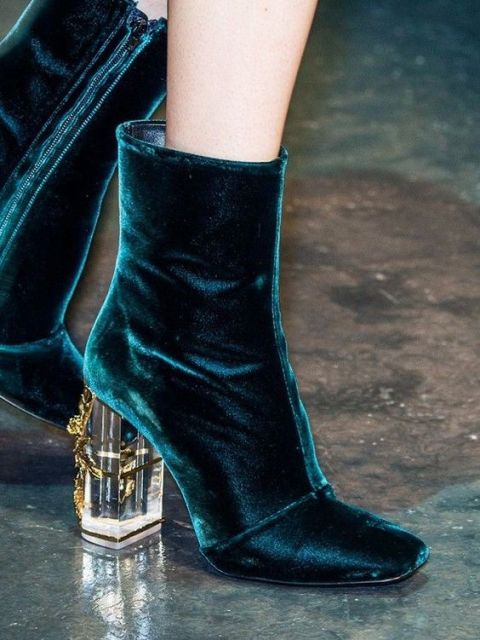 Image source: Pinterest/theyallhateus
This pair of gorgeous emerald beauties was seen on the runway for Versace, and if it is good enough for Versace, then it is most definitely good enough for you. The smooth green velvet of the bodice is offset by the clear block heel, which is embroidered with gold details, making it the sort of revolutionary footwear that you would most definitely want to be caught wearing. Also, is there a better way to sport fall colors this season? I think not.
4. Wool-wrapped boots with stacked heels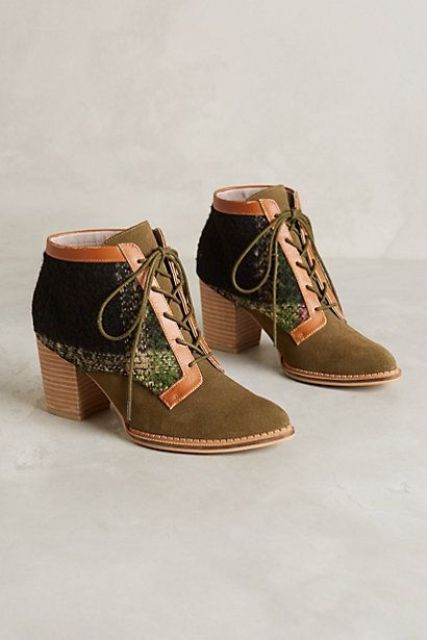 Image source: Pinterest/Anthropologie
If you want to make a bold statement this season, here is a pair of chunky heel boots to satisfy that inner hipster in you. This gorgeous pair is wrapped in patterned wool, which takes it beyond being just a simple pair of lace up booties. It also redefines the concept of stacked heels, because of the contrast in styles in this pair.
5. Boho chic contrasted booties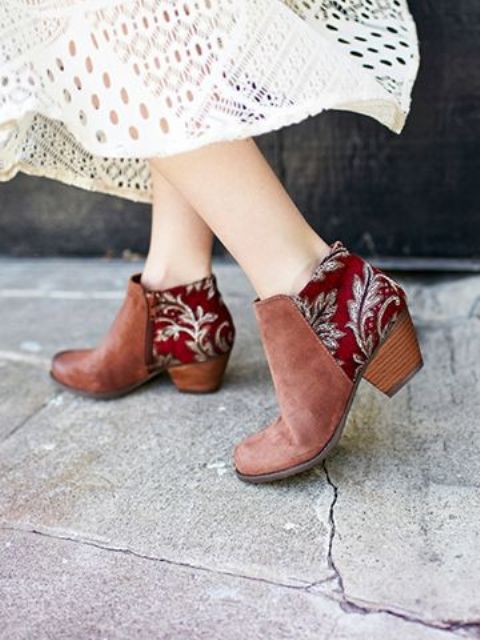 Image source: Pinterest/BCfootwear
Booties are some of the cutest accessories you can wear with your dress, and this one is paired with a midi. If you are looking for trends specifically suited to the season, there is nothing better than this mix-and-match, embroidered number, which is a combination of faux suede and red velvet that has been embroidered with silver details. The stacked heel brings the whole thing together, making it a comfortable and eye-catching pair of boots.
6. Fuchsia velvet boots perfect for fall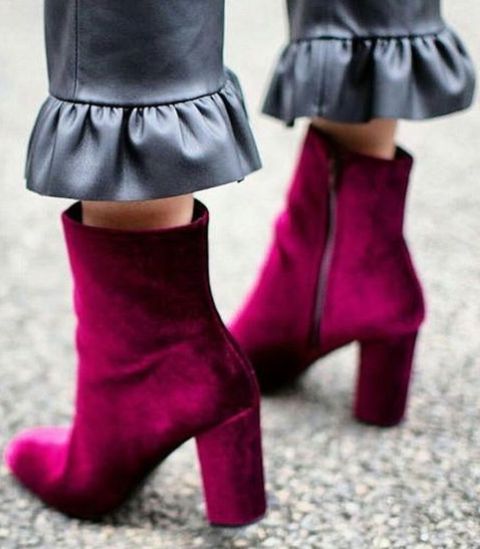 Image source: Pinterest
Again, it is imperative that you celebrate the colors of the fall season when you are stepping out of the house. This is a pair of striking fuchsia velvet ankle boots, with tall chunky heels, which would literally make any outfit look like a million bucks. You can even save this pair for Christmas, because of its striking festive colors and the bold statement that it is bound to make when you pair it with your holiday outfit.
7. Studded rock n' roll boots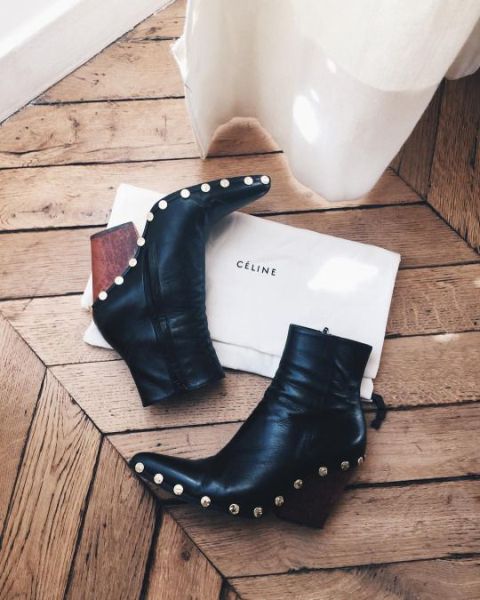 Image source: Tumblr
Cowboy boots are some of the most consistent things on a list of all things fashionable, but there is no rule stating that you can't spice things up by making a few changes here and there, which only seeks to make you look more badass. This pair here, along with having a solid wooden chunky heel, also has metallic studs along the edge of the black leather that comprises the body of the boots. These boots would look pretty great with denims and a leather jacket, but you could rock these shoes with a midi as well.
---
Suggested read: 24 amazing suede ankle boots we are dying to wear
---
8. Electric blue and beige boots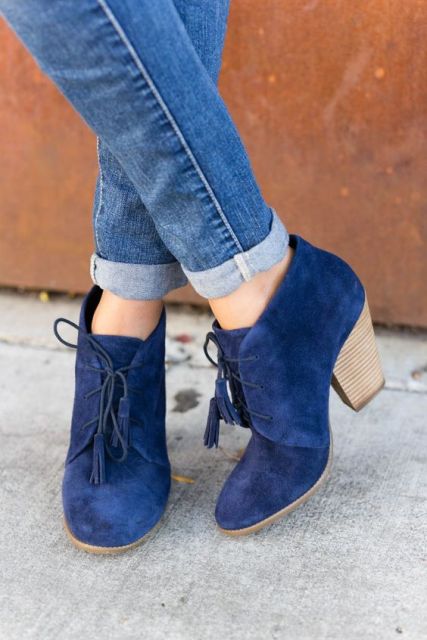 Image source: Pinterest/SoleSociety
As you might have guessed, I am slightly partial to fabulous, eye-catching colors on boots. Electric blue is one of the most adaptable colors and despite being so over-the-top, you can actually wear it with a lot of different outfits. They also add a splash of quirkiness to the more muted colors of fall. This is a pair of electric blue velvet lace up booties, with a chunky heel in a color that adds contrast as well as excitement to the shoes.
9. Oriental printed black ankle boots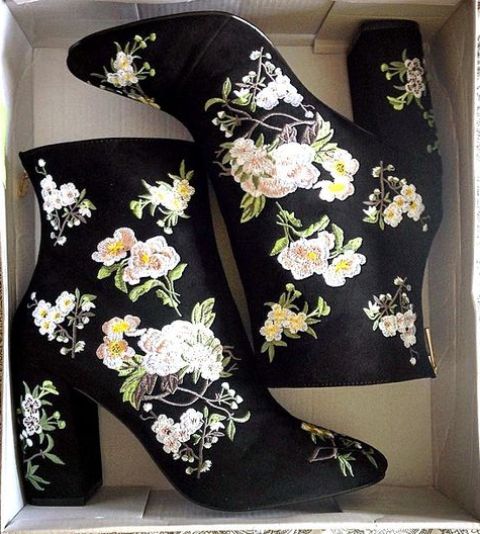 Image source: Pinterest/MissSelfridge
Your shoes could become the highlight of your outfit, if you know which pair to choose. This pair of boots is proof that you could have a beautifully unique pair of chunky heel booties, which can make any outfit look rad. This is a stunning pair of black boots, which is inlaid with beautiful oriental floral print, and the same print goes on to the chunky heels, making it a perfect choice for fall. You can pair these shoes with formals as well as causal outfits, because they are just the right amount of demure and festive.
10. Tassled boots in lavender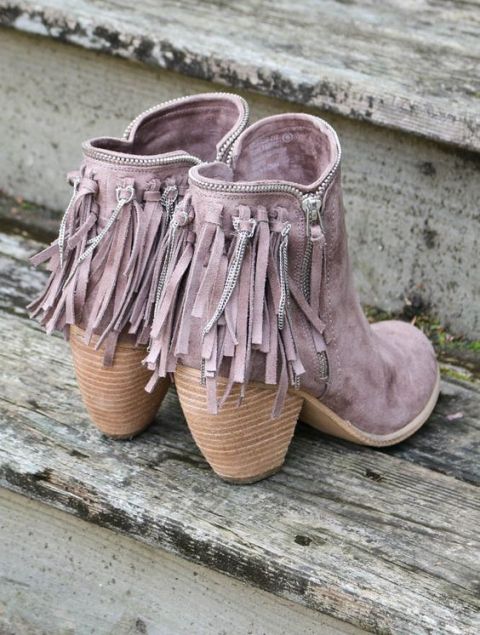 Image source: Pinterest/AmazingLace
Chunky heel boots can become even more exciting when they come with additional elements. This gorgeous pair has everything working for it, starting from the robust stacked heel in beige, to the dusty lavender body. However, the highlight of the shoe is the bunched up tassel, which gives this otherwise elegant pair a rustic twist, making it a wardrobe essential for all your fall outings. It is exactly the kind of look you need for a semi-formal, chic look.
11. Minimalistic boots with faux cut out pattern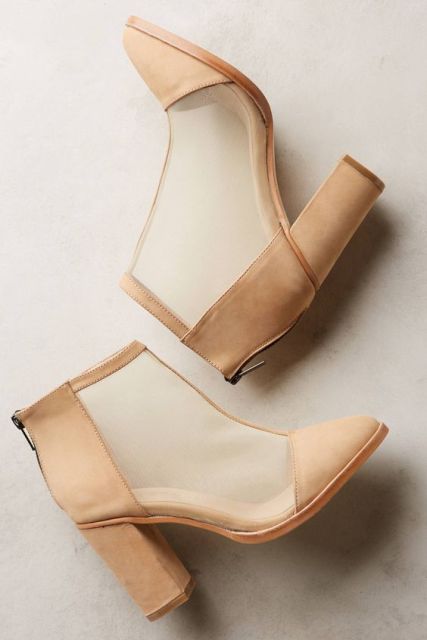 Image source: Pinterest/Anthropologie
You have to admit that this is one of the most gorgeous pair of booties that you have seen in your entire life. It defies everything that boots are supposed to be, but still manages to qualify as one of the most practical yet fashionable choices of footwear ever. This minimalistic design comprises of a beige bodice with large faux cut out in transparent material. The heels of these boots are simplistic and in the same design and texture as the beige part of the boots, with subtle gold lining around the sole. A pair like this would look good with legit, anything.
12. Chic black belted booties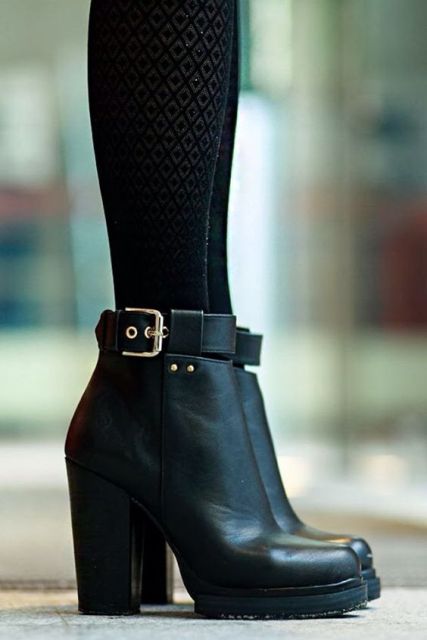 Image source: Pinterest/AcornAccessories
This pair of standard black boots with straight cut heels is perfect for those people who want to make a statement with their ankle booties, but also want to keep it minimalistic and chic. The highlight of these shoes is the subtle addition of the belt, which, like the tassels, adds depth and personality to the shoes. Whether you choose to wear these with leggings or with jeans, they are bound to turn heads, despite being minimalistic.
13. Exquisite textured boots in deep purple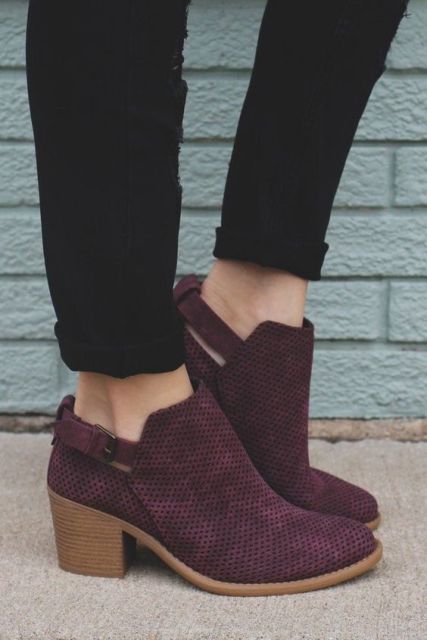 Image source: Pinterest
Textures and deep colors are two things which are not likely to fail in fall, and this pair of boots has both. With a gorgeous body comprising of a lush, velvety lavender material and a dark beige sole to offset it, this is the pair of shoes that you would kill to have in your wardrobe. It would make everything look better, whether it is a skirt, or a pair of jeans.
14. Nude booties for every season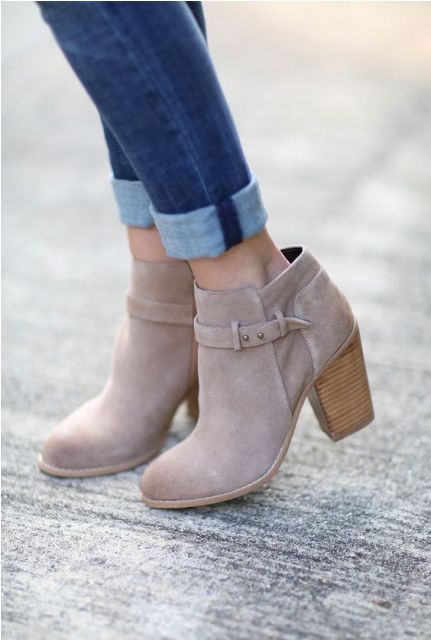 Image source: Pinterest/SoleSociety
This is another minimalistic pair that reminds us all what boots are, and why we love them so much. Nude boots is a concept that not many are comfortable with, but a pair like this is enough to change your mind. The addition of a thin belt makes this pair interesting and it goes well with the quietness of fall fashion, without becoming boring.
---
Suggested read: 15 fashionable tips on how to wear a cardigan and NOT look like an old lady
---
15. Blazing red for fall on your boots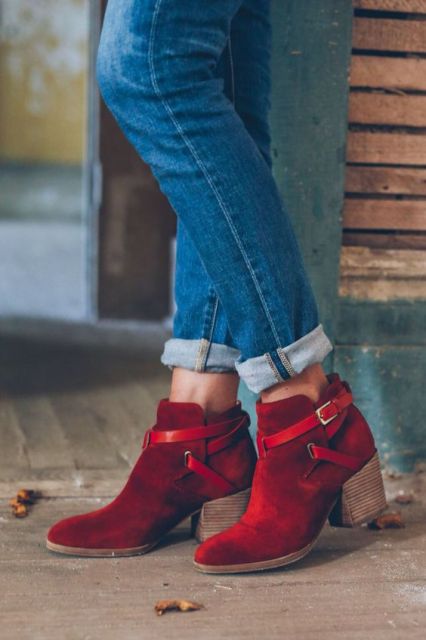 Image source: Pinterest
If quiet and demure is not your thing, go out in a blaze with this pair of fire red boots in dark suede, that come with a stabilizing beige heel. This pair has everything working for it, and it gives you a comfortable enough height without being too edgy. The highlight of this pair is the bold color, which could bring to life any old outfit that you choose to throw on.
Chunky heel boots should be your go-to shoes this fall season, and there is enough evidence to prove that they are truly your one-way ticket to the world of fashionable footwear.
Summary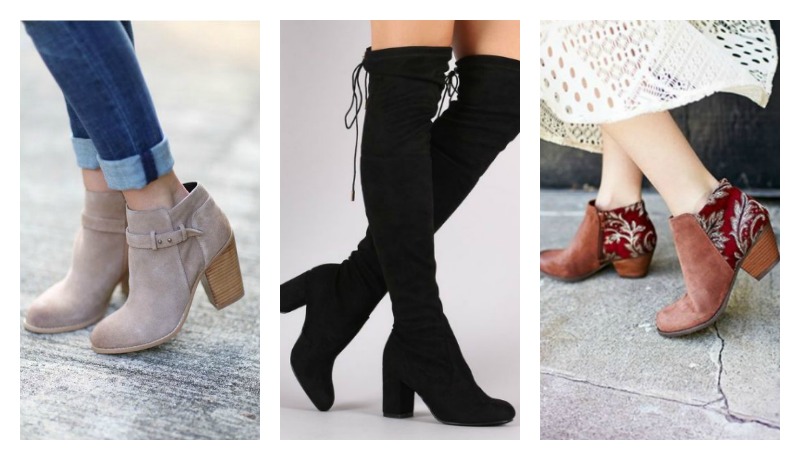 Article Name
15 Pairs Of Chunky Heel Boots To Get You Pumped Up For Fall
Author
Description
The fashion world has been blessed by the miraculous creation that is chunky heel boots, which are comfortable, practical, & come in the coolest varieties!