With the onset of winter, there comes an absolute need to greet the wintry winds hitting your face with a smile. And THAT- you very well can- with these versatile winter outfit inspiration ideas- to welcome the cold with a warm, warm surprise:
1. Score with a scarf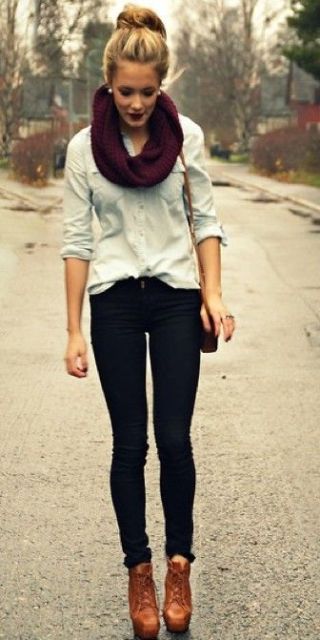 Image source: Pinterest
Coz wrapping that scarf is a timeless treasure for this weather! It will protect you from the chill and also add a wow factor to our look. Throw on a chambray shirt, team it with ripped jeans and leather boots and tie your hair in a high pony and you will be all set to rule the street style.
---
Suggested read: Deepika Padukone, the dazzling diva who always looks flawless
---
2. Style with a sweater

Image source: Pinterest
Go for a chunky sweater on a checkered flannel shirt. Roll up the cuffs of the shirt and bring it onto the sweater sleeves for an even funkier look. Pair it with jeans and biker boots. You can play with your hair any way you like and don't forget to carry a cool backpack.
3. Steamy hot skirt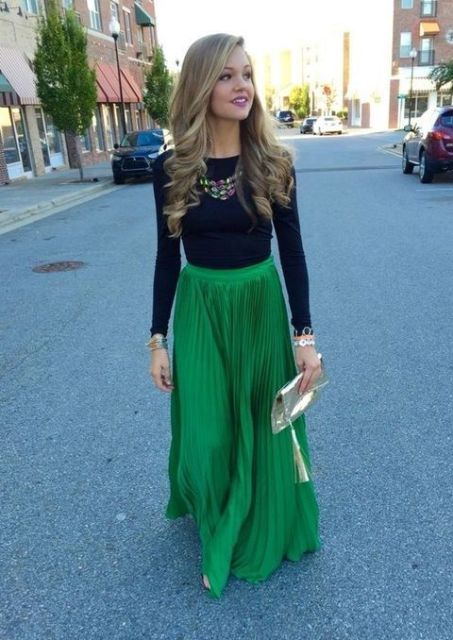 Image source: Pinterest
Because it is essential to look sexy while beating the stubborn cold. Sport this chic maxi skirt teamed with a warm body hugging blouse. Let the skirt play its charm and make it a point to opt for contrasting colors. Throw in some cool accessories, carry an oversized clutch and you are sure to set ablaze the ground you tread.
4. Oh! An overcoat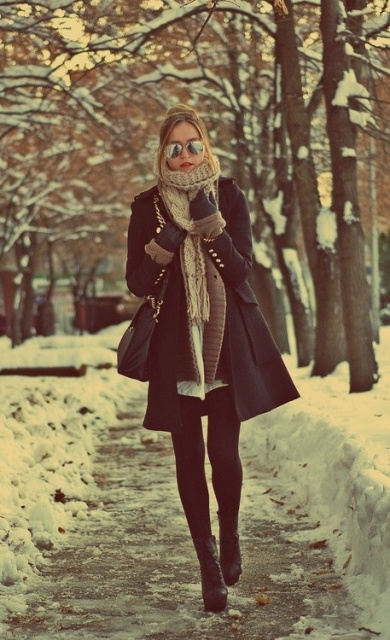 Image source: Pinterest
The first thing that hits your mind while thinking about winter clothing is obviously an overcoat. Pick one in the bold black (it absorbs heat and keeps you warm!) and pull on a black stocking. Wrap a scarf in some subtle shade and you will look no less than a cool, chic fashionista. An elegant handbag and cool shades are all you need to complete the look.
5. Bold in beanie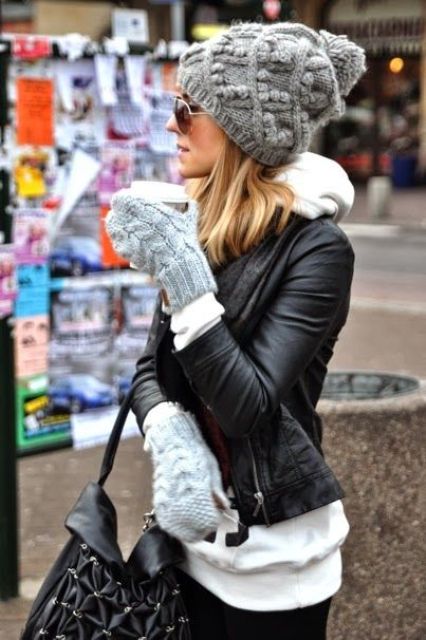 Image source: Pinterest
Beanie is the new cool and clubbed with leather jackets the look simply becomes lethal. Don't forget to pick matching gloves (if the season demands). Again a leather handbag, cool shades and a little flair in the hair is all you need to add the finishing touch!
6. Sexy with a stole

Image source: Pinterest
Flaunt your soft side with a stole in pastel hues. Choose a trouser in the same shade as that of the stole; go for an off white coat and sport the sexiest heel you have in your closet. A touch of nude makeup and voila! Whoever said winters throw style right out- had obviously not read the NLT team dole out winter style advice- right on fleek!
7. Hiding with a hood

Image source: Pinterest
A hooded parka with the touch of faux fur is all you need to look delightfully delicious. Pick up a parka in the olive shade and team it with ripped blue denims. Black boots and a beige handbag will help you nail the killer look!
8. Peppy pullover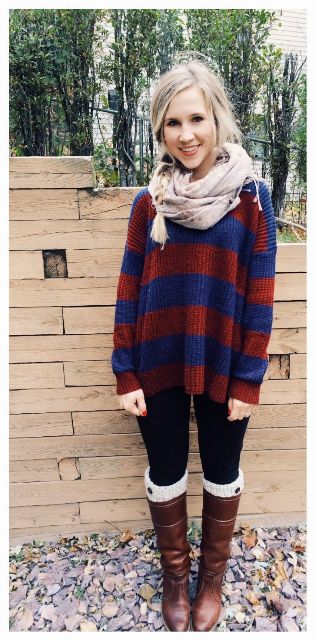 Image source: Pinterest
Add some fun and color to your winter look by opting for this striped pullover in bright contrasting shades of blue and red. Show off your bubbly side by keeping the bottoms in black and choosing brown high leather boots. Flash a smile and you are done.
9. Boom! It's the bomber jacket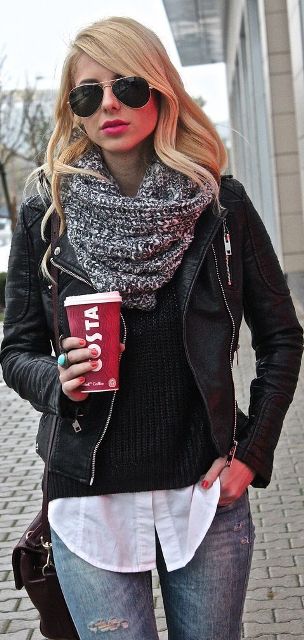 Image source: Pinterest
Want to get a badass look this winter? Go, get a bomber jacket! Wrap a cheesy scarf around your neck, sport black aviators and throw in some junk jewelry. Washed off ripped jeans and a leather sling will add the required xing! Tcha-tching! 😉
10. Cozy in a cardigan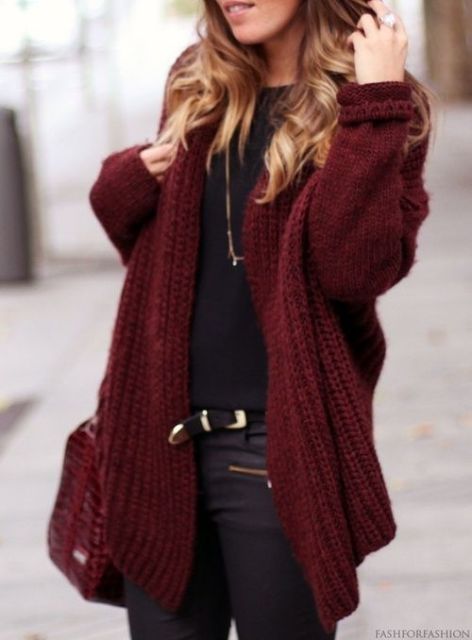 Image source: Pinterest
Yes, it has been ruling the winter outfit inspiration list since ages and can never go out of style. A maroon cardigan coupled with black bottoms and a black tee is the perfect winter flavor. Think black forest with cherry on top- yumm! Throw in some statement accessories and you are all set to rule!
11. The blazer babe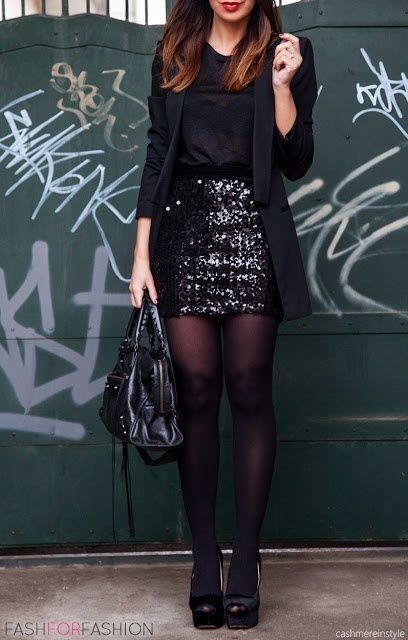 Image source: Pinterest
Shine in the winter party by sporting this hot winter look. A black blazer goes with almost anything but if you are in a mood to accentuate your sex appeal, go for a black sequined mini skirt with stockings to keep you warm. Opt for a black top beneath the blazer and sizzle like the sizzler you will lap up during the meal- coa hey- it's winter.
---
Suggested read: The style evolution of Kangana Ranaut
---
12. The denim dare

Image source: Pinterest
A washed off denim jacket  over a washed off denim shirt paired with destroyed and ripped jeans might so seem like a trip back to the 90's but take the denim dare this winter coz you will win it hands down. No specific hair styling or accessory is needed because denims do the deed- by themselves!
So which of these winter wear styles are you going to flaunt?
Coz hey, if you already didn't know- Winter is coming! 😉
Featured image source: Pinterest
Summary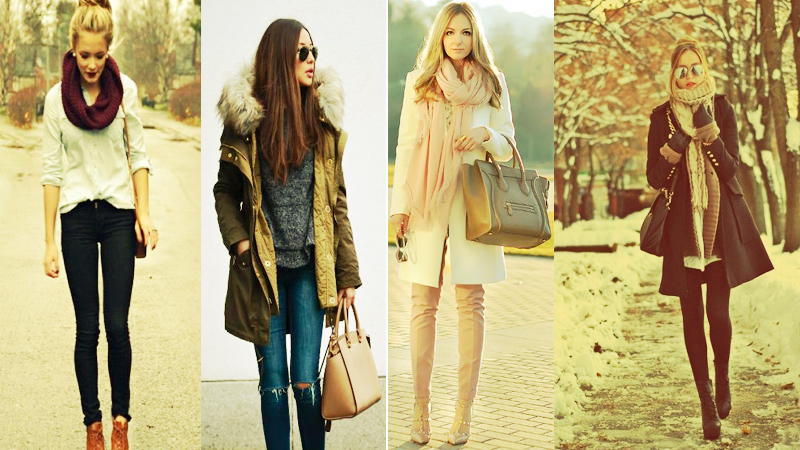 Article Name
Winter Wear: 12 Versatile Winter Outfit Ideas
Author
Description
Winter wear ideas for you, coz winter IS coming! ;)