You are so driven by your passion for work that you hardly give two hoots about what you slip into or on whilst dashing out for work! But we, at NLT, place a helluva lot of premium on looking our best, no matter what the time- don't worry, we have our grungy buns and sweatpants phase too- whilst we type away from home, but moving on 😉 – and so, bring you the very best so you can always put your best foot forward. Especially so, at the workplace so that you shine as bright as your work!
Here are 14 timeless pieces that your work wardrobe must contain:
1. A blazer that makes you stand out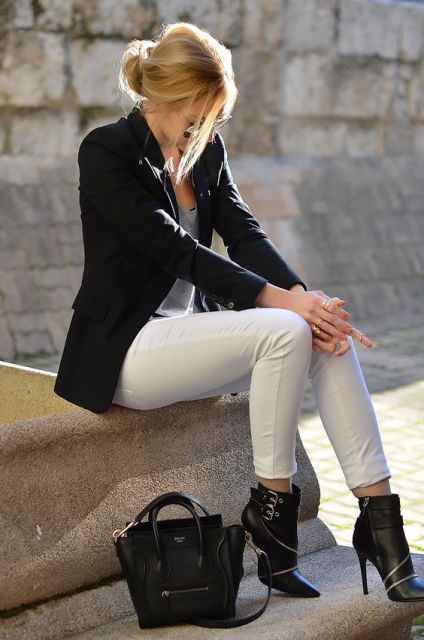 Image source: Pinterest
There's nothing that can replace the timelessness of a beautiful blazer in acing the formal look. Classy, elegant, and corporate, it can make you stand out with its flawless lady-perfect fit.
2. The right heels to rule the world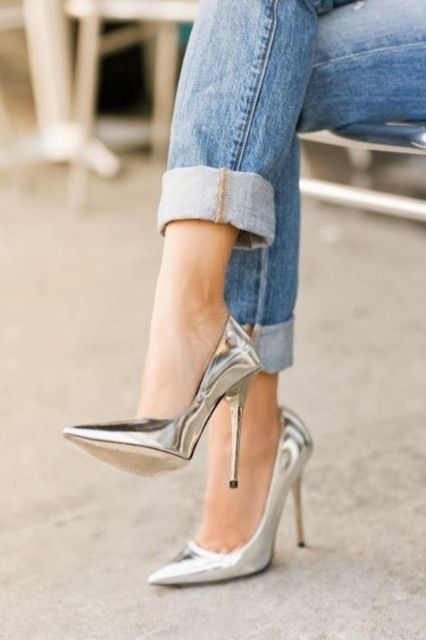 Image source: Pinterest
An apt pair of heels can channel unbeatable confidence into your formal look. Always go for the heels that are breathtaking yet as comfortable as it gets to keep you standing tall all day long!
---
Suggested read: 10 must-haves from international ramps from Spring Fashion 2016
---
3. The perfect pair of pants to walk confidently in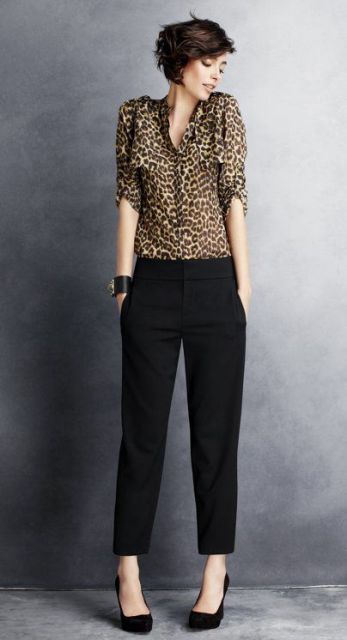 Image source: Pinterest
A great pair of pants can save your day any day at work. Comfortable, classy, and timeless, they are just the apparel to slip into the perfect professional look.
4. A statement dial for your wrist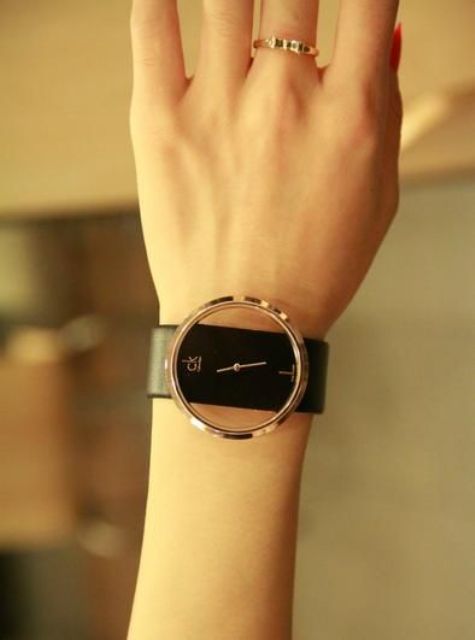 Image source: Pinterest
Wish yourself a good, fruitful, and happy time with a nice, artistic wrist watch. This should not just dial up your work diva mode but also keep count of every tick that you seem to spend dialing up your confidence up and further up! Nothing's a more suited accessory for a woman keeping pace with time.
5. A slim split pencil skirt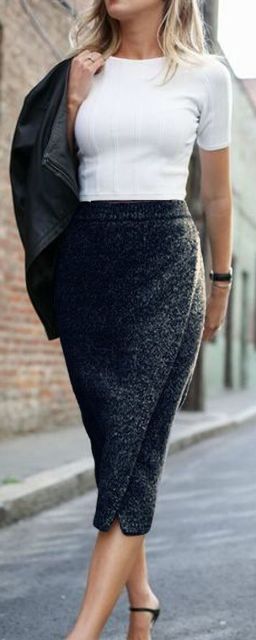 Image source: Pinterest
This is clothing that comes under the 'sizzling picks for work' category but remains a must-have on our list still. Exquisite in its look and magical in appearance – it's the very professional clothing that's made just when you need to pick yourself up for a wonky work schedule after you have rolled one.
6. A great office cardigan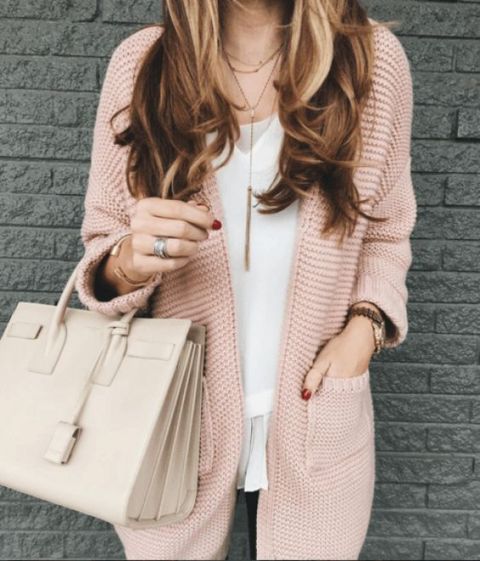 Image source: Pinterest
It's a classic. Perfect for all occasions, sweet and cozy, it's an amazing pick for the times when you want to dress for work fuss-free yet, feminine side up.
7. An office-perfect theory suit

Image source: Pinterest
An outfit that made all working women shout out in cheer the world over, this classic is the perfect blend of sexy minus the NSFW factor and professional! Talk of fashion's feats and this is it!
8. The white button down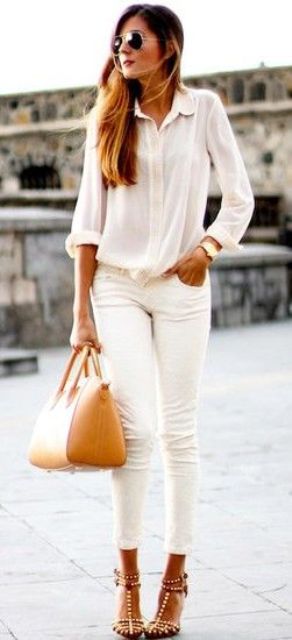 Image source: Pinterest
No need to explain how fashionably functional this pick is! From looking great in everyday office hours to becoming the centre of attraction in the conference – this is all the abracadabra you need!
9. A jewelry collection to flaunt everyday to work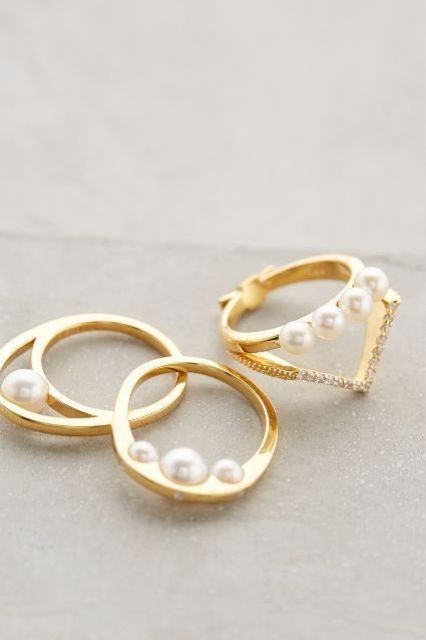 Image source: Pinterest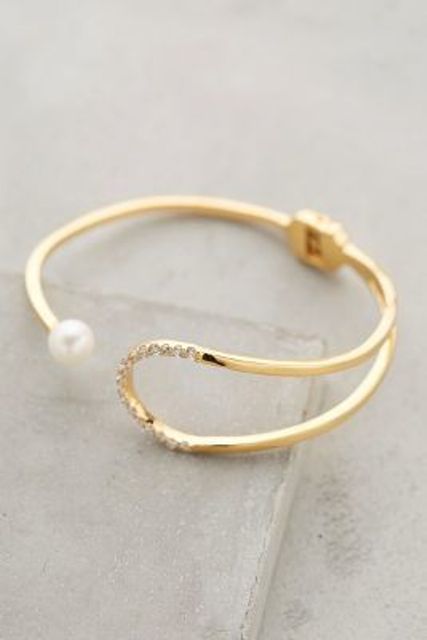 Image source: Pinterest
Go for a selection that's classy, glamorous and yet beyond-compare in the barely-there department- so you can look beautiful and gorgeous all the time.
10. A classic sweater with an all-occasions perfection

Image source: Pinterest
Warm, comfortable, and packed with the unfailing appeal of retro style, the work-perfect sweaters are the knit you just gotta have.
11. The luxury of a leather bag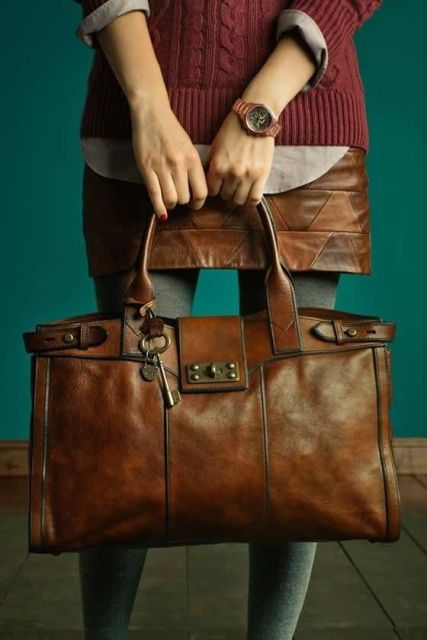 Image source: Pinterest
A true winner when it comes to an out-of-the-world blend of fashion and functionality, I bet an awesome leather bag is already a part of your collection. If not – what are you waiting for! What'd carry all the sh*t you need to carry to get your sh*t done? 😛
12. A cool jumpsuit to stay comfortable

Image source: Pinterest
This is the modern day work-perfection that you just gotta have. Graceful and enchanting, it becomes a must-have with the unparalleled comfort it makes you feel.
---
Suggested read: How to accessorize right for formal events
---
13. The coolest reading glasses ever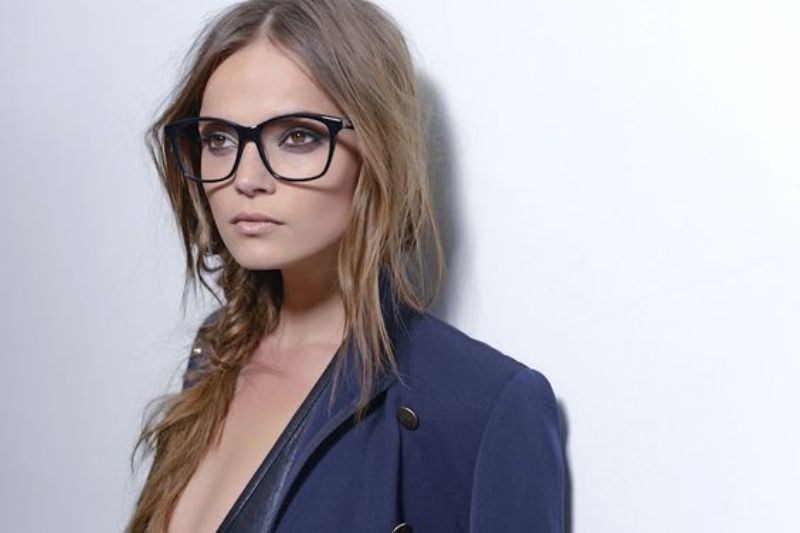 Image source: Pinterest
Ahem, ahem – it's the nerdy going sexy! Nothing beats the formal look of cool reading glasses like these. They protect your eye and make you look… ahem, sexy! We aren't propounding stereotypes here!
14. The timeless wonder of a black and white office outfit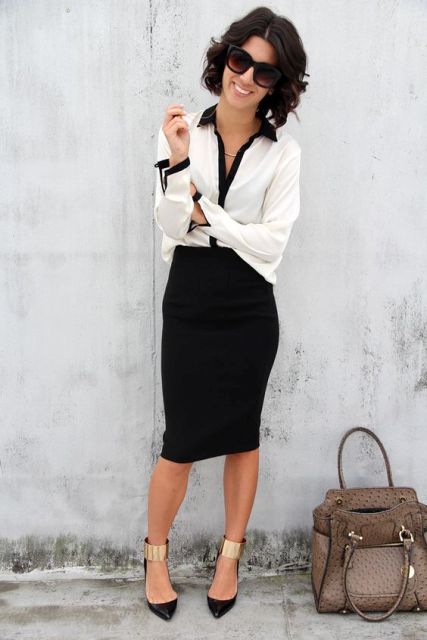 Image source: Pinterest
This is the one style investment that'll pay you back in multifold whenever you're in need of a breathtaking professional get up to stand out and celebrate your passion.
With all these essential work wardrobe picks in the basket, you're ready to shake the work floor a bit with the new gorgeous you!
Happy weekdays to you!
Featured image source: Pinterest
Summary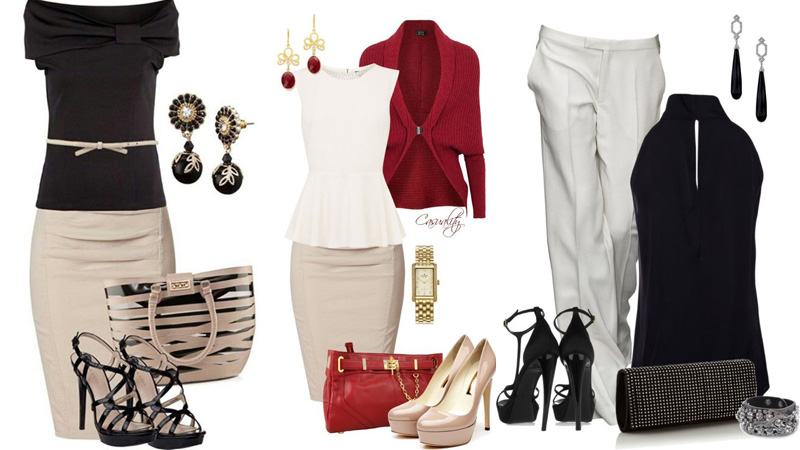 Article Name
14 Must-Have Classics For Your Work Wardrobe
Author
Description
If your work wardrobe doesn't have these, it isn't a work wardrobe!