When it comes to dressing up for work every morning, most of us struggle with picking out an outfit that we haven't worn before. It can get very irritating, not to mention extremely time consuming to pick out something different each day. The only other alternative when you love dressing up is to go shopping and that doesn't help your pocket in the least. Work wear is pretty expensive out there, and buying something every now and then might not be the best way to go about with this. What else can one do? Well, how about indulging in wardrobe essentials and going the mix-and-match way?
Choose work outfits that are comfortable enough to get you through the day. Comfort matters just as much as style when you're going to be wearing that outfit all day long. Not bothering about comfort is the same as wearing an extremely high pair of stilettos – it hurts your feet all day long, but all we do is swallow the pain and walk with our head held high. Worth it? No.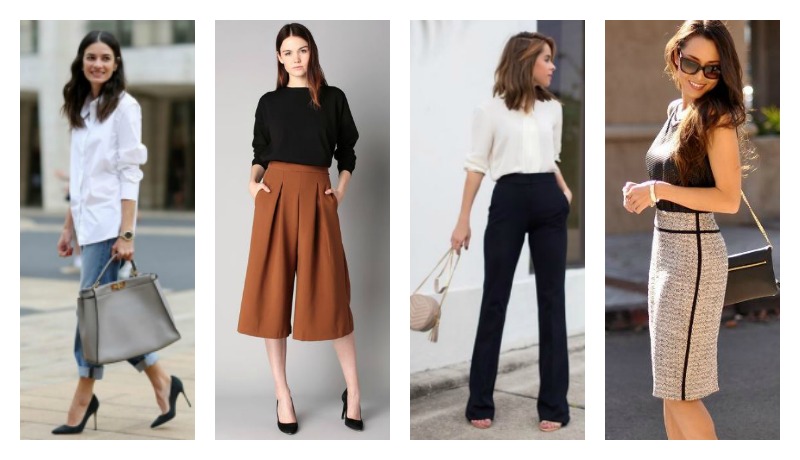 Indulging in work staples is pretty easy once you know what you're looking for. Start with the basics. Your classic white shirt, a well-fitted pencil skirt, distressed jeans for Fridays, for starters. Once you've made a list of your essentials, looking for them shouldn't be a problem, given how easily they're available in most brands.
Whether it's dressing up for work or Friday night parties, it's all about creating a smart wardrobe that you can then repeat without really repeating your outfits. Though dressing up is time-consuming and challenging, you know it's totally worth the effort when you see how you look before you step out for the day.
---
Suggested read: 12 stunning ways to wear distressed jeans that will up your style quotient
---
Here are some work staples you need to indulge in.
1. Classic white shirt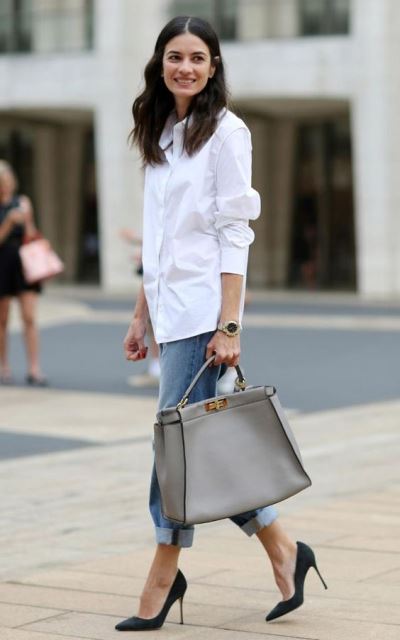 Image source: Pinterest
Make sure you pick a shirt that fits you well. Remember that you need to pair it with multiple things, so stick to basic white without any prints on it. Another tip that can come in handy is picking up a shirt that isn't really translucent. Some white shirts can be pretty see through and depending on how comfortable you are with that, you'd have to wear it with a camisole. It's best to check the fabric before you pick your classic white shirt.
2. Pencil skirt

Image source: Pinterest
A well-fitted pencil skirt looks great, not to mention how much it highlights your curves. You need a skirt that ends right at your knees or below your knees, but not longer than that. Pick it in any color of your choice and pair it with a pretty lace top or your crisp white shirt. Add pumps in the color of your choice, and you're set for the day.
3. Cropped palazzo pants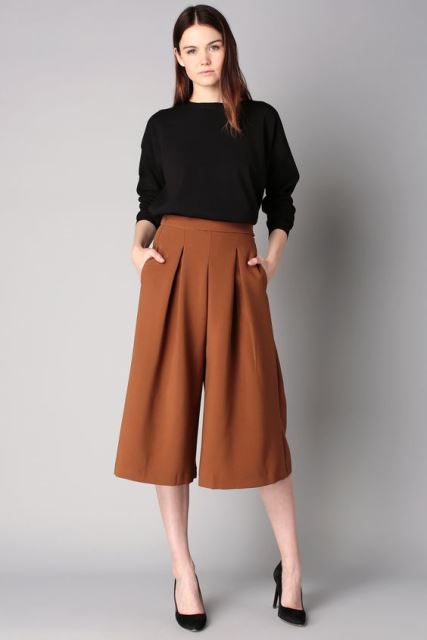 Image source: Pinterest
Don't they look just great? Work outfits too have to have some element of fun to define your personality. Not all work places are flexible with their choice of attire, but cropped palazzo pants are formal enough when worn right, that they fit into a workplace milieu! Pick a shirt to go with cropped palazzo pants, and you have a brand new Monday outfit.
4. Distressed denims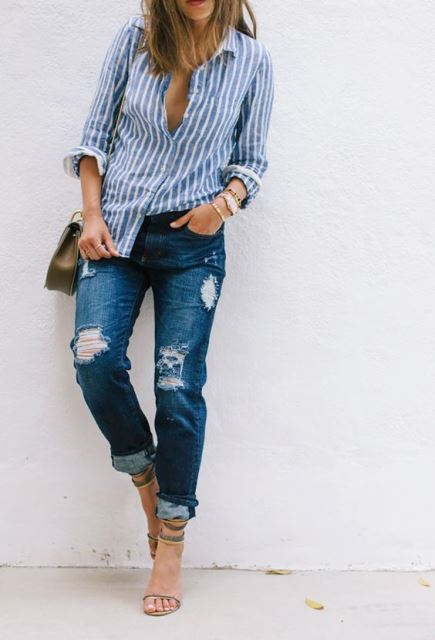 Image source: Pinterest
While this might not work for those of you in the corporate sector, here's a great wardrobe essential you can wear to work as well. Wear your distressed jeans with a formal top, like a Peter Pan collar or a basic lace top and add a pair of flat ballets for your perfect work look. The trick is to highlight the simplicity of the rest of your outfit.
5. Lace top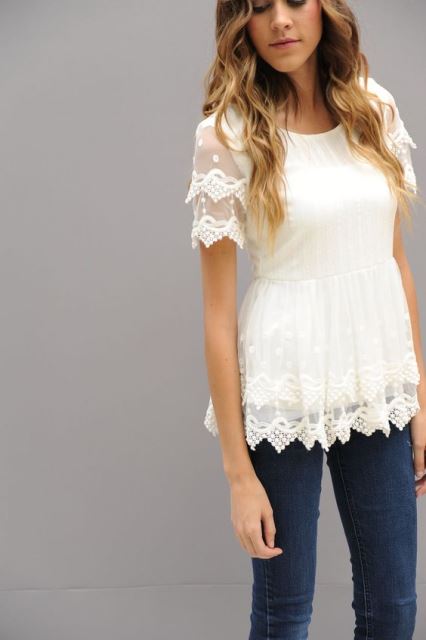 Image source: Pinterest
Every wardrobe needs one of these. Why, you ask? No matter how girly or non girly you are, a lace top in your wardrobe won't hurt anybody. If lace or feminine clothes aren't your deal, buy something with minimal lace and you'll be sorted! If nothing, keep it for days when you're feeling slightly off. You can wear this with your pencil skirt, palazzo pants, torn jeans, or pretty much all kinds of bottoms.
---
Suggested read: Bollywood celebs give us major #MonochromeMadness
---
6. Black pants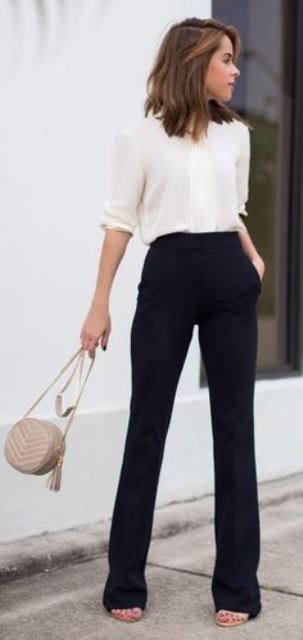 Image source: Pinterest
Talk to anyone about work wardrobe, and the first thing you hear is a pair of black pants. It's for you to decide how formal or casual you want to go with this. Pick a pair of black jeans or a really formal pair; it's absolutely your call. Know that most work outfits are incomplete without black pants. For all you know, you can wear them with a t-shirt on Friday, a glitter shirt when you need some sparkle in your life, to work on Monday with a really formal shirt. See the options these open up?
7. Button down shirt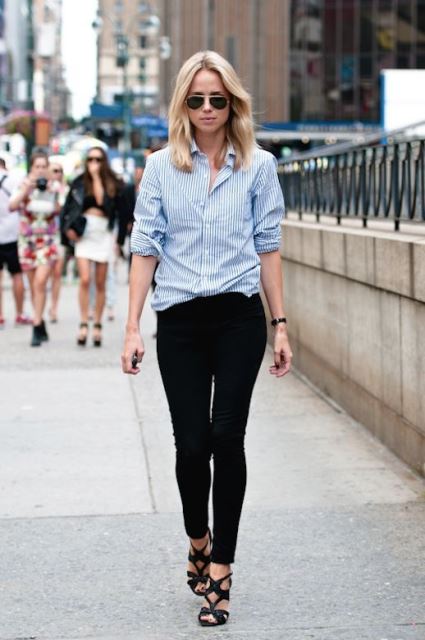 Image source: Pinterest
Invest in a button down shirt with a print and style of your choice. Make sure it doesn't leave a gap between two buttons when you try it on. You don't want your lingerie peeping each time you stretch a little.
8. A-line dress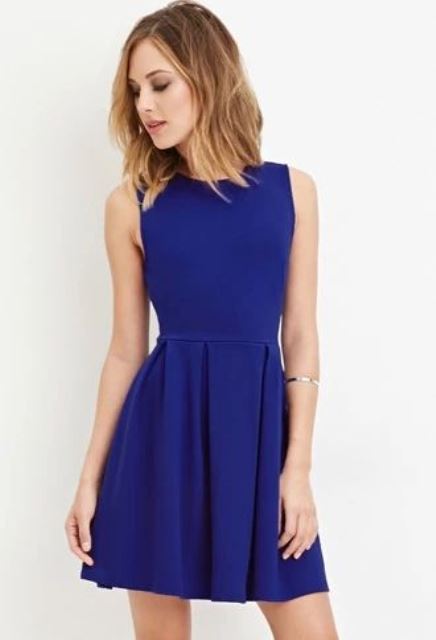 Image source: Pinterest
Every once in a while, it's nice to embrace your femininity and show off those killer legs in an A-line dress. Add a pair of wedges to go with this look and wear your confidence. The only song you'll be singing then will be, 'Who run the world, GIRLS!'
9. A well-fitted blazer

Image source: Pinterest
Choose a blazer in a pastel shade so you don't get bored of it easily. Pick a black one and you might get done with it soon. A bubblegum-colored blazer or sky blue one works so well, not to mention the number of times you can wear it without it appearing as the same. Wear it with a pencil skirt, on top of your A line dress, or pair it with a tank top and your ripped denims. The choice is yours.
10. Silk blouse

Image source: Pinterest
Why? What you need to tell yourself is, why not! Silk blouses look great, regardless of what you wear with it. They speak formal and classy without really saying anything at all. Talk about underrated style! Silk blouses come in various colors; pick one that suits your taste and experiment right away!
11. LBD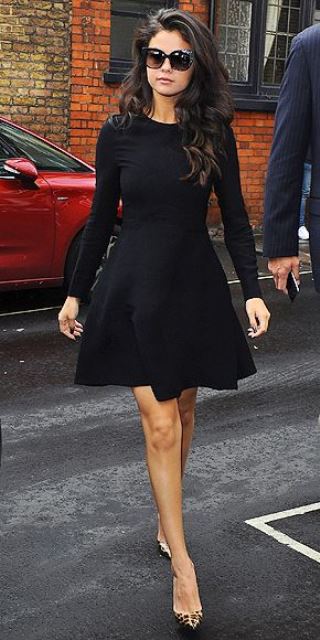 Image source: Pinterest
I've yet to meet a woman who doesn't like black or doesn't own a little black dress. A black dress may just be the thing your wardrobe and your life needs. Take some time off your busy schedule and go shopping for an LBD of your choice. You can create unlimited work outfits with an LBD. What are you waiting for?
12. Midi skirt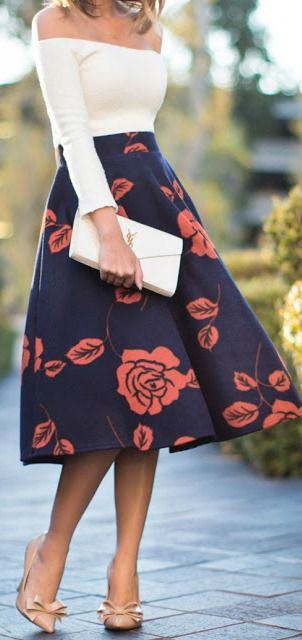 Image source: Pinterest
Midi skirts look great when paired with the right accessories. Pick one in a soft shade so you can wear it a zillion times without feeling like you're wearing the same thing day in and day out. Opt for pretty florals or a solid color, and pair it with a lace top or even a t-shirt to work.
---
Suggested read: 7 fashion trends that might be adverse to your health
---
13. Classic pumps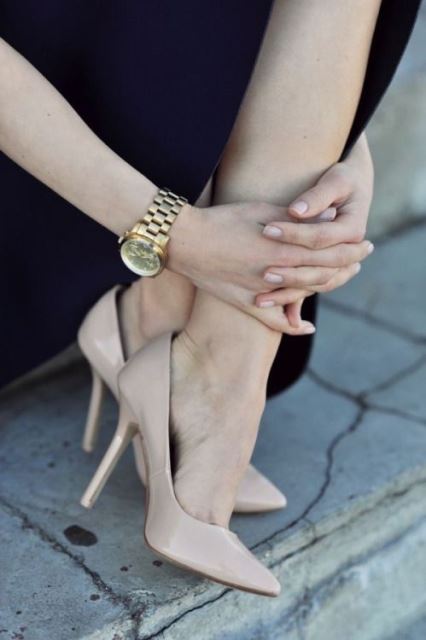 Image source: Pinterest
Work outfits are absolutely incomplete without classic pumps and a red pout, wouldn't you say? Pick a pair of your choice, but make sure you're extremely comfortable in them. Nude and black pumps are the most versatile and you can wear them with practically everything you own.
There you have it. The seemingly endless work outfit options you can create with the essentials already in your closet. So come Monday, create all the work outfits you want and walk in to your workplace confidently.
Summary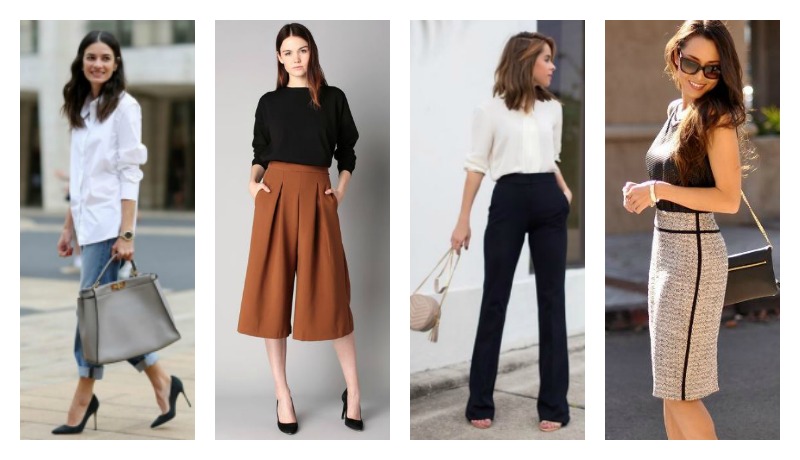 Article Name
How To Create Staple Work Outfits With Fashion Classics
Author
Description
You don't have to splurge on work outfits for every work day of the month. Here's how to create workplace outfits with the essentials in your closet.