Every year, Pantone announces the color of that year, which sets into motion, the first fashion, beauty, and production trends of that annual term. In 2015 it was Marsala, in 2016 it was Rose-quartz, and in 2017 it was Greenery. This year, Pantone has announced that the color of the year 2018 shall be Ultra Violet (18-3838).
It is a bright and provocative shade of purple. According to Pantone, it "communicates originality, ingenuity, and visionary thinking that point us towards the future". It is a brave and vibrant color that is a beautiful expression of the spirit of the social revolution that is occurring all over the world.
---
Suggested read: Milan Fashion Week 2018: Here's What You Can Expect This Year
---
Beyond its sociological significance, this color is hella cute and makes for the most amazing winter-to-spring transition color. Here are some fun ways in which you can wear the Pantone color of 2018, and look like a total fashionista.
1. Shoes
We are obsessed with these gorgeous thigh high Balenciaga boots in the Pantone color of the year 2018. Nothing says BAMF quite like a pair of jaw-dropping purple thigh-high boots. (Anyone else getting some major Scooby Doo gang's Daphne vibes from those shoes? No? Just us? Okay.) We love how the shoes add just a pop of color to an otherwise monotonous outfit. Also, that vinyl coat is something out of a DREAM. This is an excellent way to style this bright color, in case you're not too comfy with taking fashion risks. It adds just a little something extra to a normal outfit.
2. Knitwear
Take a fashion risk and opt for a UV-colored oversize knitted shrug. We love how it adds a youthful pop to a casual, everyday outfit. The disheveled, messy-chic vibe of this outfit is soooo on trend! You can pair up a gorgeous, bright piece of UV-colored knitwear with denim, or with a simple white dress if you're feeling lazy. It's a great look for a casual day out.
3. Polo T-shirt
If you're not much of a risk-taker when it comes to fashion, but still want to be a part of this fun trend, why not go for a simple Polo Shirt/T-shirt in the color of the year? You can pair it with trousers, or pair of denims, for a super casual, everyday look. Or you could take a leaf out of this model's book, and pair it with a color-blocked skirt, or even a badass leather mini-skirt, for an edgy, but fun look. A polo is a closet must-have, so why not take this style classic, and add a trendy twist to it?
4. Kimono
Kimono. Check. Pantone color of 2018. Check. Bicycle. Check.
This lady could not make us love her more if she TRIED. Not only is she riding a bicycle around Paris, in heels, but she's doing it while wearing the purple quilted kimono of our dreams! TBH she pretty much had us at "kimono". Take a contemporary fashion classic, the kimono, and turn it into an edgy, fun, unique piece of fashion-art by wearing it in the color of the year. Bonus points for choosing fun textures, like quilted, crimped, or even pleated kimonos. You can pair it with a cute mini-dress, or a skirt, for a hella chic look.
5. Leather Skirt
Excuse us while we go sit in a corner and obsess over how INSANELY badass that skirt is. This gorgeous Salvatore Ferragamo skirt, with that thigh-high slit, is bound to land you on the best-dressed list of every event you attend. We love how Karlie Kloss paired this avant-garde skirt with a casual white t-shirt from Hanes. This skirt can be worn with a chic blouse for a risqué semi-formal look, or you can follow the footsteps of Karlie Kloss and go for a casual t-shirt for an off-duty-model look instead! Ditch the heels for a pair of Chuck Taylors for an extra-fun twist!
6. Trousers
This spring, add color to your outfit by investing in a stylish yet comfy pair of UV-colored high-waist trousers. You can wear this cute piece with a crisp white shirt and a pair of nude pumps for a stylish formal outfit. Or you could throw on a sheer blouse and replace the pumps for a fun pair of glittery slingbacks, for a night out! Whether you want to wear this with neutral shades for a simple, but chic look, or with bright colors like yellow or pink for a fun, high-fashion look, these pants will always make you look like a total babe.
Summary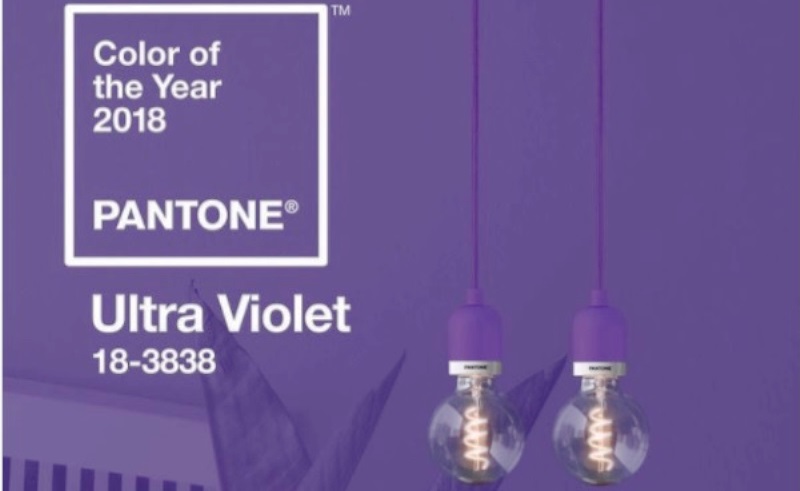 Article Name
14 Ways To Wear Ultra Violet, The Pantone Color Of 2018
Author
Description
Here are some fun ways to wear the Pantone Color Of 2018 and look like a total fashionista.
Read the rest of the article:
Next