7. Trench Coat
Sure you could wear the color of the year, just like everyone else is…OR…you could take it a step further, and wear an UV-colored TRENCH COAT in a magnificent metallic finish. We love this boxy metallic trench coat by Synthesiac. You could pair this with just about anything, and look like a street style goddess from New York! We are digging the androgynous vibes of this coat, and we would like 12 of these, thnx.
---
Suggested read: The Insider's Guide To The Best Gel Nail Polish Of 2018
---
8. Maxi
Who says you can't be hella extra with this color? Take a cue from this fashionista and go for a fabulous textured maxi with asymmetric hemming. We love love loooove her insane color-blocking game. That candy pink oversized hobo jacket is giving us life! If you're not feeling quite as adventurous, then you could wear this dress with a chic white crop jacket or an oversized woolen shawl.
9. UV on UV
Become a fashion legend and mix 3 fashion-trends together for an outfit you will be remembered by. We've got the Pantone color of the year, the teddy bear coat AND a monochrome outfit! We don't know what we love more about this outfit, tbh! We're also digging the little pops of sky blue that just cuts through the richness of the purple! All in all, it's an outfit to truly inspire all fashionistas. So take a risk, and pair UV on UV for a fun, youthful, and trendy outfit, that'll leave everyone talking about you in either awe or sheer envy.
10. Color-blocked Coat
The days of wearing only one bright color at a time, are long gone. In this era of fashion, the more colors you wear, the more on point you look! And we are HERE for it. So, needless to say, we love this color-blocked slouchy coat, worn by Vogue Ukraine's editor, Masha Tsukanova. We love the hobo-chic slouchy silhouette, and the little patches of orange and yellow on the coat. You could wear this coat with a dress and heels, or with jeans and a tee, and you'll look bomb every single time!
11. Nails
You don't always have to incorporate the color into your look, via your outfit. If you're looking for an understated way to incorporate this color into your outfit, why not go for UV-colored nails? We love this bright shade from O.P.I. It's called Do You Lilac It, and it's such a stunning nail polish. Not only is the color vivid and beautiful, but O.P.I is known for the wonderful formula of their nail polishes, and their high-shine finish. This is a fun, budget-friendly way to incorporate the color of the year into your everyday look!
12. Eye Gloss
Butter London has actually collaborated with Pantone, and released an entire collection of makeup in the color UltraViolet. While all the products look hella cute, we really like this gorgeous eye gloss from the collection. Simply take some on a brush or on your finger, and apply it on your eyelids in one swipe, for a gorgeous, high-fashion look! This gloss is pigmented, high-shine, and long-lasting.
13. Lipstick
You have probably heard of this legendary lipstick by MAC. One of their best-selling products, MAC's Heroine is the perfect shade of UV purple! It has a matte finish, and like most MAC lippies, it is pigmented, long-lasting, and glides on like a dream. You can wear it with a simple nude eye-do and dewy skin, for a chic look, or you can wear with rich smokey eyes, for a glam look. This color looks incredible on all skin tones, and wearing it will give you a boost of confidence unlike ever before.
14. Hair
If you really want to commit to this fashion trend, then go for a fun hair makeover, like this ombre look by Marco Gilento. You could go all in and color do a global color (this color boasts of looking amazing on all skin tones), or you could play it safe with just one little-hidden streak of UV purple in your hair. We love this ombre waterfall because it is fun, youthful, and totally on-trend, while also being surprisingly sober.
---
Suggested read: Find Out Which Are The Hottest Sequin Cocktail Dresses Of 2018
---
So, these were our top tips on styling the Pantone color of 2018. This color is versatile and fun and you can style it and personalize it in a way that is unique and…you. We hope that your year will be as bright and fun as this color.
Featured image: Instagram
Summary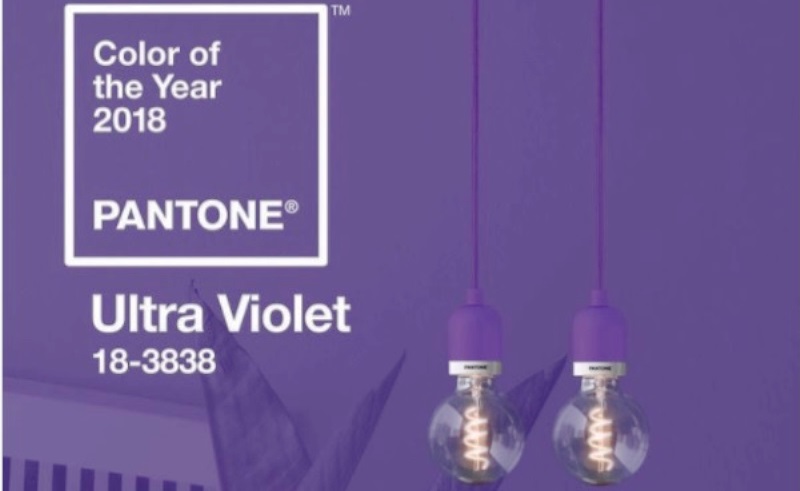 Article Name
14 Ways To Wear Ultra Violet, The Pantone Color Of 2018
Author
Description
Here are some fun ways to wear the Pantone Color Of 2018 and look like a total fashionista.