The annual Cannes Film Festival has always been as much about fashion as it has been about movies. From the most stunning of cuts to the sexiest of silhouettes, the red carpet here has seen it all. Stereotypes have been broken and records have been set. All the years of the past have seen memorable appearances that scored a hit or a miss. However, it never tired us out thanks to the fresh vibe that Cannes infuses every year in each of its looks.
---
Suggested read: The fashion cues we would love to take from Coachella 2016
---
Celebrities such as Kristen Stewart, Sonam Kapoor, Aishwarya Rai, and Taylor Swift have made headlines at Cannes 2016 because of their fashion picks. Julia Roberts stood up for feminism by going barefoot on the carpet that considers stilettoes mandatory. Phew! Cannes 2016 has been huge this year. Why not delve deeper and see how the fashion saga unfurled at the French fest?
As always, the celebrities rocked the red carpet with rare as well as amazing looks. Following are the fifteen looks we have being craving for all the while – for aping, of course! These celebrities can never have a fashion faux pas, we think!
1. Not 'Lively' enough? Get some shimmer on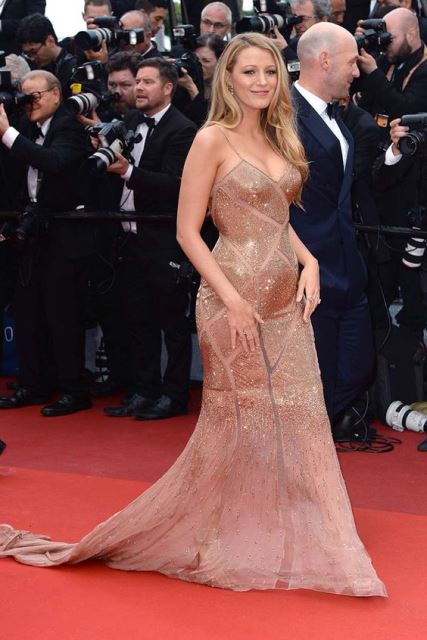 Image source: Pinterest
Blake Lively totally rocked the festival with her exclusive look from Versace. This nude dress surely makes a statement which is sassy yet classic. Not very revealing, this dress surely made an impression on all conservative girls.
2. Bella surely 'had-it'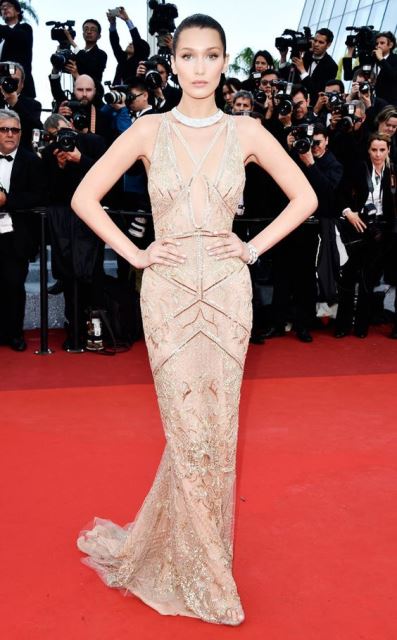 Image source: Pinterest
This first timer surely looked like a million dollars on the red carpet. A gorgeous gown made more amazing with embellishments, was a perfect fit for a tall slender figure. Bella was a treat to look at.
3. What? Naomi!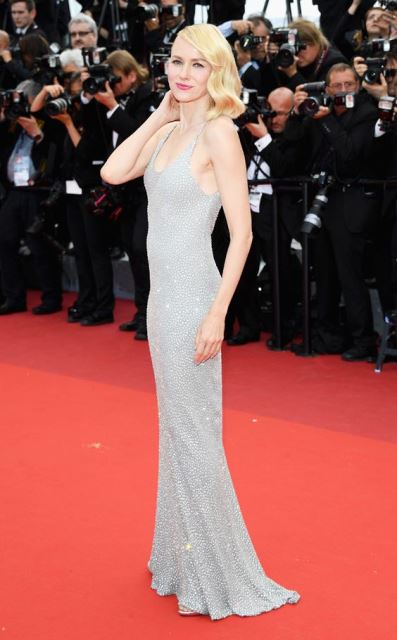 Image source: Pinterest
Naomi Watts surely had all heads turning towards her. She flawlessly carried a slip away silver gown in all her glory. Just Aussie confidence!
4. Dunst at her best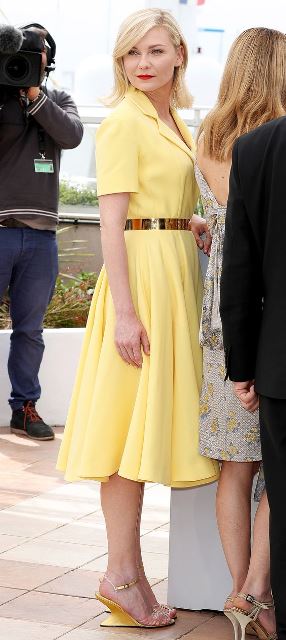 Image source: Pinterest
Who says that yellow is cliché? Kirsten Dunst rocked this look with a shirt dress from Dior, and looked absolutely stunning doing it. She paired it with back bended heels that were a class apart. These Salvatore Ferragamo wedges stole quite a big part of the show when all the cameras were looking at her. Surely, she is as popular as a certain Mary Jane!
5. The Clooneys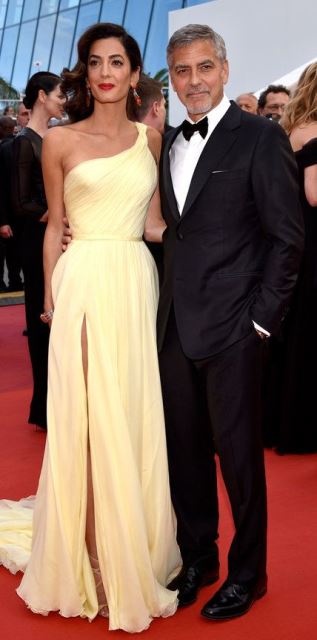 Image source: Pinterest
Amal Clooney surely looked like a queen when she walked hand in hand with handsome husband George Clooney. Amal wore a Versace gown, lemon yellow in color that just suited her complexion. Not for once did the two leave hands! Awww, right? We are so in awe of the style these two create together!
6. The Ralph and Lauren factor

Image source: Pinterest
Ralph and Lauren is a must at the Cannes red carpet. Amanda totally rocked it at the Cannes Film Festival with an embellished flesh-tint neckpiece. She looked like a rose on the red carpet with the intricate designs on her gown.
7. The paradise flowers on a gown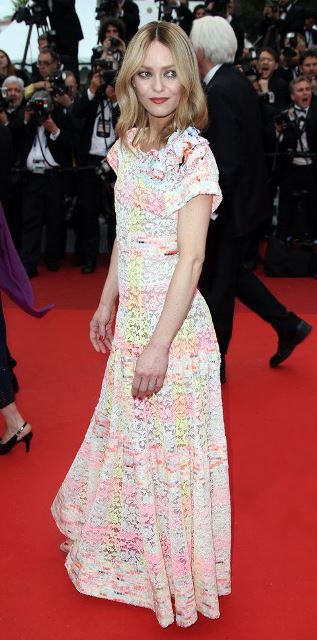 Image source: Pinterest
Vanessa Paradis, actor Johnny Depp's ex, totally rocked it in this flower gown. The easy breezy look added an extra oomph factor to the gown. She walked the red carpet with extraordinary poise even though it was the summer. The pink and blue floral intricate designs make it stand out amidst a thousand glam-up looks.
8. Jessica Chastain shone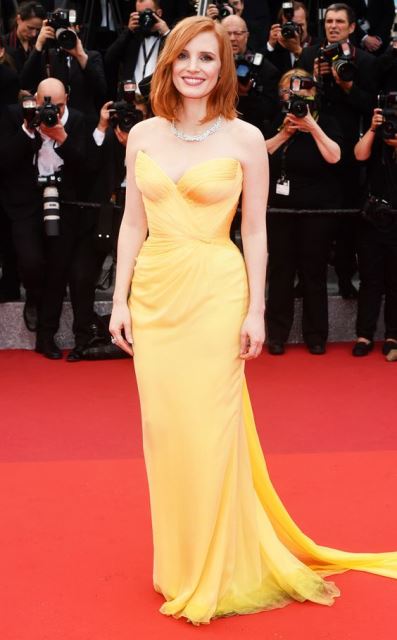 Image source: Pinterest
Maybe Chastain can steal the show with her million dollar smile but her sunshine yellow dress surely caught a lot of eyes. A wreath-shaped ivory necklace added to the simplicity and charm of the look that she carried with elegance. We could not miss the red lips too!
9. Julia Roberts in a barefooted avatar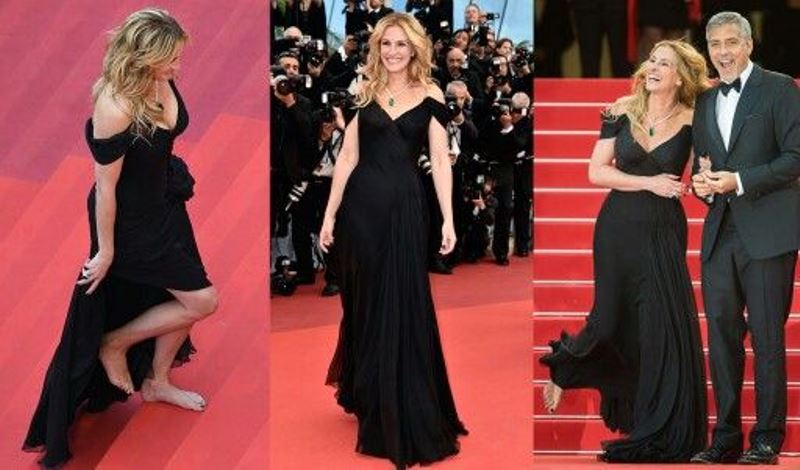 Image source: Pinterest
Julia Roberts rocks all the way, that's for sure. This time, the rock was a little too hard! A gorgeous black dress with a hint of cleavage and an emerald gem necklace gracing her slender neck surely attracted a lot of attention. What was most exciting about the look was that Roberts managed to walk the Cannes Red Carpet barefoot! That sure is the Julia way!
10. The Victoria secret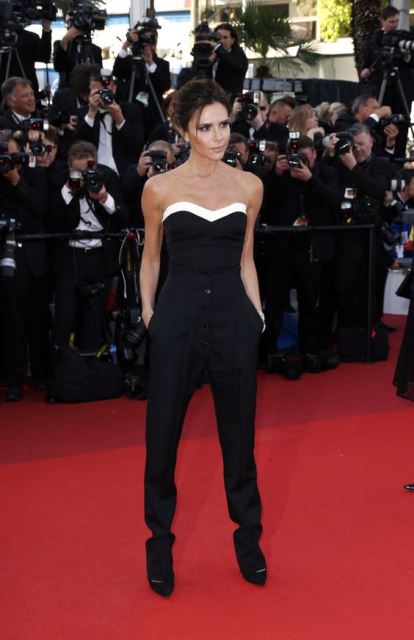 Image source: Pinterest
We all know that Victoria Beckham is known for upping the quirk quotient always. When she walked in a black and white jumpsuit at the Cannes Red Carpet, no one could take their eyes off her. A messed up hairdo and nude lipstick augmented a near flawless look.
11. A throwback needed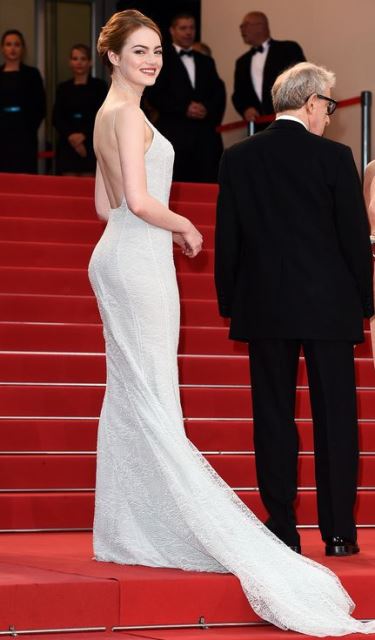 Image source: Pinterest
This Dior gown is surely the one that is better from the back. Not only Emma Stone but also Naomi watts rocked the backless gown this time too. Emma looked pretty much like an angel in this piece that had all the shimmer you will ever need.
12. Naomi strikes back, again!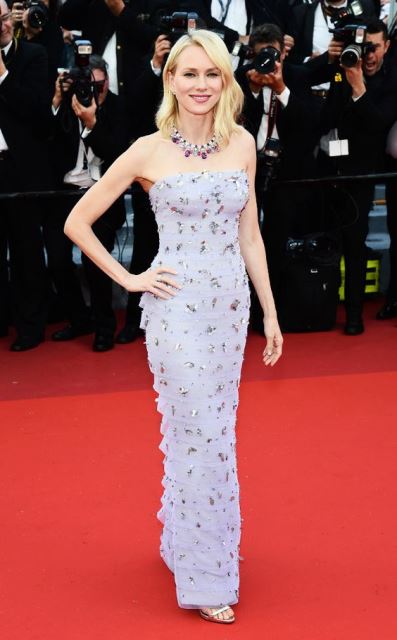 Image source: Pinterest
We so envy the multi-color neckpiece she wore at the third screening at Cannes 2016. The silvery embellished gown had an everlasting feel to it. Her smile increased the depth of her happy aura.
13. Kristen Stewart and her shirt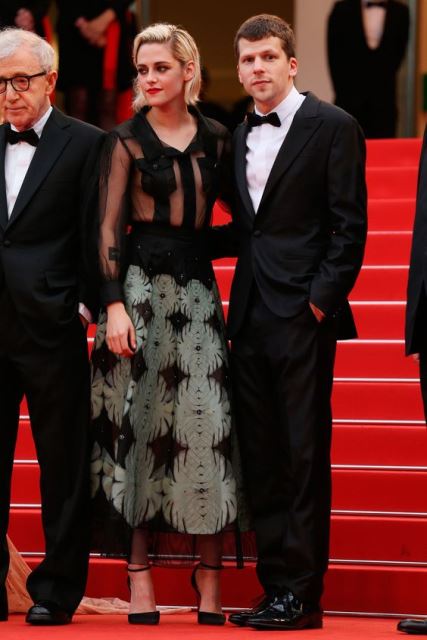 Image source: Pinterest
Kristen Stewart wore a see through shirt to the Cannes Film Festival. She sure is bold but this was at a different level. Seen walking the red carpet hand in hand with Jesse Eisenberg, she sure looked like a different version of herself. Way to go, girl!
14. A flash of yellow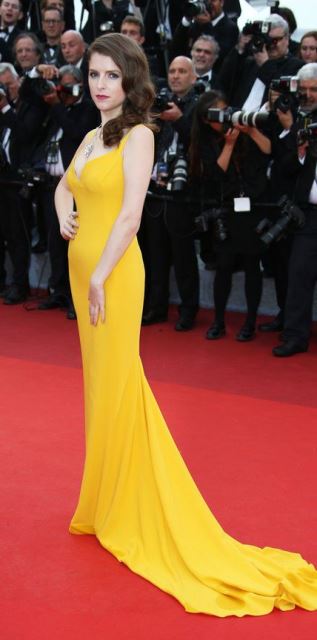 Image source: Pinterest
This time, the floor surely had a lot of yellow dresses, but this one was special. Not only because Anna Kendrick dressed herself up in it but also because it was designed exclusively by Stella McCartney. She wore a gorgeous Bulgari diamond neckpiece to complement it.
---
Suggested read: 15 haute looks from international fashion your inner fashionista will LOVE
---
15. From LBD to fashion festival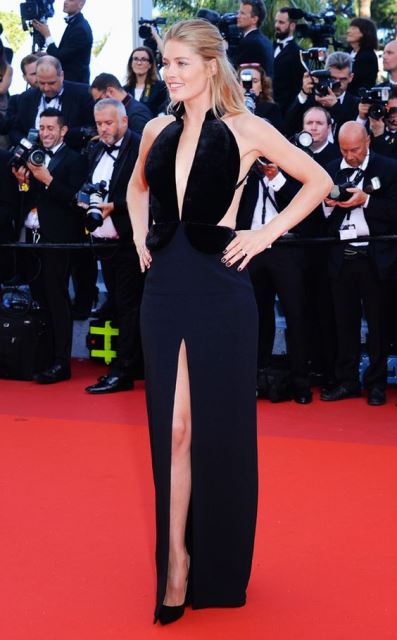 Image source: Pinterest
Her sharp features and tactful style helped Doutzen Kroes stay a step higher than others. This Brandon Maxwell dress colored in dark black gave her complexion an edge over all the other stars. It sure was a fashion festival!
Which of these looks from the Cannes 2016 Film Festival stunned you? Did we miss any from the list? Let us know in the comments below.
Summary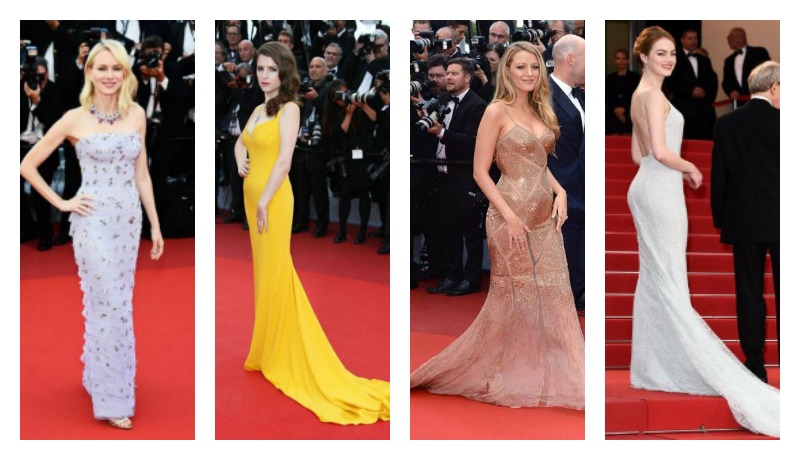 Article Name
15 Amazing Looks From Cannes 2016 That Took Our Breath Away
Author
Description
Cannes 2016 is as much about fashion as it is about the movies. Here are 15 stunning looks from this year's red carpet that stole our breath away!