It's that time of the year again when celebrities and famous personalities from all across the world put their best dressed foot forward. The Cannes Film Festival is as much about the movies and cinematic geniuses as it is about the fashion we witness at the red carpet and the screenings. From the 9th of May to the 19th, the south of France witnessed some of the greatest and most magnificent moments of fashion at the Cannes Film Festival 2018. With celebrities from all across the world heading out to immerse themselves in ten days of celebration, this year's film festival was a star studded affair and delivered some memorable red carpet moments that we won't stop talking about for a long while now.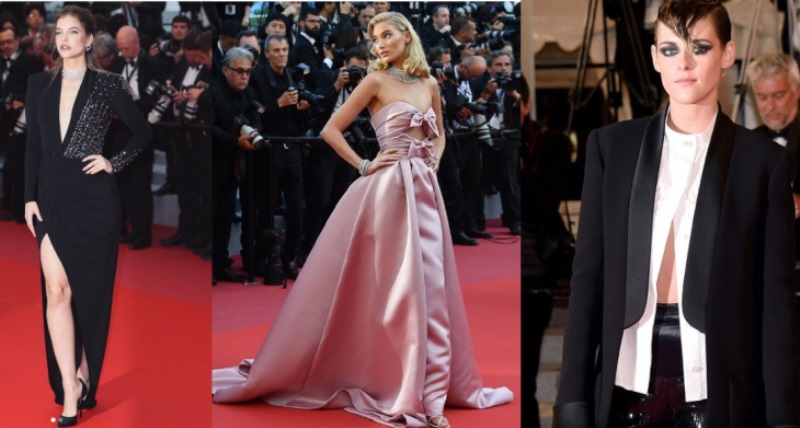 Image source: Instagram 
---
Suggested read: A History Of The Best Cannes Fashion Moments
---
Here is a list of some of the looks from Cannes 2018 that we can't seem to get enough of!
Barbara Palvin
Victoria's Secret model Barbara Palvin looked gorgeous as ever in an Alberta Ferretti black silk jersey wrap dress with a plunging neckline. The Hungarian model's dress also had an intricate embroidery of silver crystals. Her outfit was accessorised with a three layered diamond statement necklace, a pair of studs and a Diamond Whirl ring from Messsika Jewelry. A pair of black stilettos ensured that her entry to the Cannes 2018 red carpet was an unforgettable one.
Angel Elsa Hosk
Swedish model and current Victoria's Secret Angel Elsa Hosk stunned everyone in her custom made Alberta Ferretti gown. This gown truly represents every girl's dream of becoming a princess. The soft blush pink color of this custom made strapless gown will remind you of the soothing spring afternoons when the ground remains strewn with a fresh carpet of cherry blossoms. Hosk looked absolutely dreamy at the premiere of Girls of the Sun.
Kristen Stewart
Hollywood's most badass and no nonsense actress, Kristen Stewart, was a jury member at Cannes Film Festival 2018 which meant that she was on the red carpet quite frequently. Stewart rebelled against the festival's unspoken rule of heels only for women, and ascended the stairs barefoot after taking off her sky high stilettos at the red carpet. Later that week, she rocked a pair of Sarah Flint loafers along with her menswear inspired knee length blazer from Chanel that was accompanied by an unbuttoned white shirt and black cigarette pants. This outfit was a perfect mix of fashion and rebelliousness, driving home the message that Stewart was making a statement about unrealistic expectations in fashion, while simultaneously looking stunning.
 Lupita Nyongo 
Trust Lupita Nyongo to whip up a storm wherever she goes! The stunning actress was adorned in an organza slip dress with multiple layers. The shade of the dress was a pastel apricot color reminiscent of Italian summers that make you want to lose yourself in them. Nyongo turned heads at the Chopard Secret Night in this outfit that she had accessorised with simple hoop earrings and a breezy makeup. The picture of her twirling happily in her beautiful outfit makes us want to do the same!
Penelope Cruz
Penelope Cruz walked the red carpet at Festival de Cannes this year with her husband Javier Bardem, the leading pair in Asghar Farhadi's film titled Everybody Knows. The Vicky Christina Barcelona actress wowed her fans, colleagues and the paparazzi in a black gown designed by Chanel from their Haute Couture collection.
Milla Jovovich 
Milla Jovovich, the Hollywood star best known for slaying disgusting monsters and creatures, exuded grace and sophistication at the screening of Lee Chang- don's film called Burning. The actress, wore a lovely lilac colored dress which was covered in parts with artificial broken glass.The cady slip dress designed by Prada had a plunging neckline in the front and crossed straps adorning the back.
Deepika Padukone 
Bollywood actress Deepika Padukone's entry at the red carpet of Festival de Cannes 2018 was nothing short of a royal entrance. The actress who shot to fame in Hollywood with the film xXx: Xander Cage, co- starring Vin Diesel, wore a dress that was a part of Ashi Studio's Spring Summer 2018 Couture collection. Aptly named 'The Girl in the Painting', this ruffled mullet-cut dress surreal and larger than life. The bright shade of fuchsia and the massive ruffles are a perfect mix for definite red carpet success. We love that Deepika paired this ensemble with matching satin stilettos.
Carey Mulligan
Actress Carey Mulligan was at this year's Cannes Film Festival at the debut of the film Wildlife, directed by Paul Dano, in which she stars as one of the lead actors. The actress was adorned in a strapless ivory dress made with a glimmering satin. The dress, from Dior's Spring Summer 2018 Haute Couture Collection, is fitted at the top and ends in large flaring folds at the bottom. Carey's perfect red lips add just the right amount of color to this elegant outfit.
Aishwarya Rai Bachhan
Aishwarya Rai Bachhan has been a forever favorite at Cannes, and this year she turned things up several notches. The gown, designed by Dubai based designer Michael Cinco, is a reflection of "the impalpable dream of butterfly metamorphosis", he said. This masterpiece is completely covered in Swarovski crystals and has thread work in ultraviolet, midnight blue and red. The 20- foot train is a representation of a butterfly emerging from its chrysalis. Cinco revealed that this dress took a total of 3000 hours to make!
---
Suggested read: Katrina Kaif Debuts On The Red Carpet At The 68th Cannes International Film Festival
---
Winnie Harlow
Canadian model Winnie Harlow looked dreamy and ethereal at the premiere of Solo: A Star Wars Story in a custom creation by Lebanese designer Jean Louis Sabaji. The gown had a liquid silver finish along with cutouts and a super long train. She stole our hearts away when she made it up the steps of the theatre and had her train floating behind her effortlessly. The best part about this outfit is that it perfectly suited the theme for the movie!
Bella Hadid
Bella Hadid stunned everyone at the red carpet in Cannes during the premier for Jia Zhang- Ke's Ash Is Purest White. Her ensemble was a custom made dusky pink strapless cuir dress from Dior that was as regal as it was sexy. Dior ateliers also offered a peek to the making of this masterpiece and it is nothing short of magical.
Sonam Kapoor Ahuja
Sonam Kapoor Ahuja exuded grace and elegance at the Cannes red carpet this year in an intricately designed pastel hued Ralph and Russo lehenga. Her outfit was accessorised with a pair of stud earrings from Chopard; and a loosely tied braid with a traditional parandi. The henna designs from her wedding ceremony still adorned her hands and made her ensemble a perfect mix between traditional and modern.
Paris Hilton
This ensemble is definitely Paris Hilton's most daring red carpet looks in recent years and we're all for it! The socialite wore one of the many naked dresses spotted at this year's Cannes. Hers was a nude sheer gown covered all over with bright and colourful floral appliques. Hilton wore her Nicholas Jebran outfit with a pair of hoop earrings, a silver watch and her 20 carat diamond engagement ring.
Emilia Clarke
Game of Thrones actress Emilia Clarke graced the premier of Solo: A Star Wars Story at Cannes in a custom made Dior couture gown. The tulle gown, designed by Maria Grazia Chiuri, took over 250 hours to make by hand. The dress is made of three different colored layers of tulle to achieve a greater color dimension- purple, aubergine and black. The ruffled off- shoulder sleeves add a dramatic touch to this elegant ensemble.
Fan Bingbing
Chinese actress, model TV producer and pop singer Fan Bingbing made an appearance at Cannes Film Festival 2018 in a frilly princess gown for the screening of Everybody Knows. Fan made a glittering entrance at the French Riviera in this ensemble by Tunisian designer Ali Karoui which had a crystal encrusted bustier, along with a tiered tulle skirt in a pastel hue.
Cate Blanchett
At the Cannes opening red carpet this year, Cate Blanchett decided to revise the Armani Prive Fall 2013 that she had first worn at the 2014 Golden Globe Awards. The black lace ensemble was paired with chandelier earrings studded with purple and green gemstones from Chopard. The Jury President of the 71st Cannes Film Festival sent out a strong and positive message regarding responsible consumerism by revisiting an outfit already worn by her.
---
Suggested read: 12 Stunning Grammy Outfits That Will Make You Wanna Be A Fashionista!
---
With an excellent and varied array of films from across the world, Festival de Cannes 2018 also scored high points on its fashion quotient and gave us some inspiring moments in fashion.
Featured image source: Instagram
Summary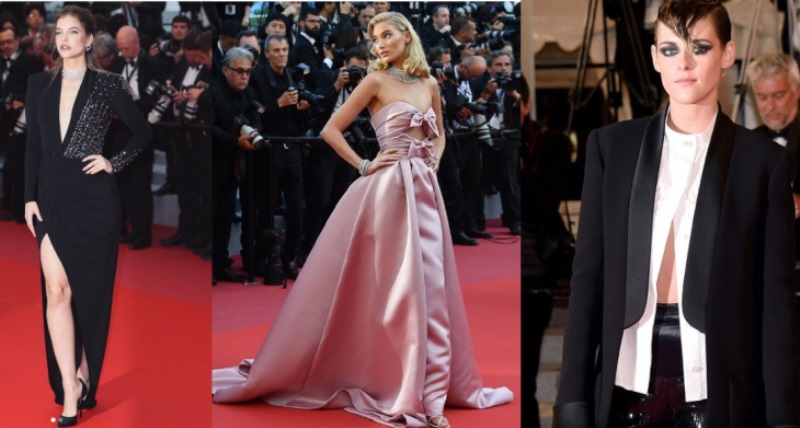 Article Name
16 Best Dressed Celebs At Cannes Film Festival 2018
Author
Description
Here is a list of some of the looks from Cannes Film Festival 2018 that we can't seem to get enough of!