The rich and the gorgeous flood Cannes, a French town, for the prestigious film festival every year. In this article, we have picked what illustrates, according to us, the best and the most memorable Cannes fashion moments.
The film festival at Cannes sees the greatest iconic stars of the world, jet into the French Riviera, in their prettiest and most spectacular avatars, year in, year out. This year, following the fashion tradition of the past years, we saw an extraordinarily impressive collection of splendid gowns in the two-week event. Let's cherish the best looks from this year and the years of past, because Cannes fashion is undoubtedly, worth the flimflam!
Image source: wikipedia
2016 was the 69th year for the film festival, which has seen show-stopping outfits over the decades. Remember Brigitte Bardot, the sex siren, donning a demure look for Cannes? Or Sophia Loren's strapless gown? Mia Farrow's patterned silky maxi dress could not make it to this list, but Johnny Depp and Kate Moss had to be included in this exclusive listicle of Cannes fashion moments. In the LBD cocktail dress, embellished with a feather neckline, Moss grabbed all eyeballs. Depp complemented her with his easy tux teamed up with a grey shirt. They did set a difficult fashion benchmark for years to come!
---
Suggested read: 15 stunning looks from Cannes 2016 that took our breathe away
---
Contemporarily, Carey Mulligan, Jessica Chastain and the likes, have guaranteed that the Cannes panache factor does not go down but rises multifariously. The bubbly tulle creations and Grecian-inspired ball gowns have made the Cannes Film Festival a fashion enthusiast's Mecca! So, it is absolutely fair to dub it as the one most stylish affair!
Now, let us skim through our picks, shall we?
1. Brigitte Bardot, 1956
Image source: Pinterest
First up on our list is the screen diva, Brigitte Bardot! Exotically beautiful, Bardot chats with the greatest painter of contemporary times, Pablo Picasso, at his studio in Cannes. This was in the year 1956, some years before she was propelled into stardom by the movie, 'And God Created Women.'  In the south of France, Bardot, outshined in a sprigged poplin dress. This picture also shows the stunning art work of Picasso who was accompanied by Bardot for a whole afternoon! Did he let her keep some of that? Who knows, eh?! In 1954, the starlet had popped some eyeballs in a famous bikini that people have not forgotten even today.
2. Catherine Deneuve, 1966
Image source: Pinterest
This delicate sequined column dress that Catherine Deneuve donned at the '66 Cannes Film Festival drew attention for all the right reasons! She walked in for the premiere of 'Les Cendres,' a film by Andrzej Wajda, with her husband, David Bailey. Bailey looked nothing less than dapper in his tux!
3. Floella Benjamin, 1977
Image source: Pinterest
Posing for us in the tiniest swimsuit ever designed, Floella Benjamin's presence on this list was quite predictable, wasn't it? She starred in a movie that year, and it was called 'Black Joy.' The film entered the Cannes Film Festival, but unfortunately, did not win. Flo, however, gave her best shot, figuratively and literally! 😉
4. Princess Diana, 1987
Image source: Pinterest
Princess Di's Cannes moment is my personal favorite. She donned a gorgeous floor-grazing cerulean gown in '87. She switched things up by combining her dress with a modish patterned white blazer.
5. Kate Moss and Johnny Depp, 1998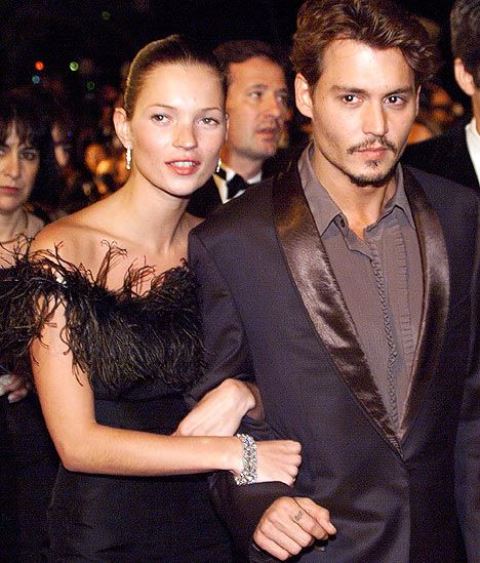 Image source: Pinterest
Johnny Depp and Kate Moss landed together at the premiere of 'Fear and Loathing in Las Vegas.' Moss looked ravishing in her favored dress, a black feathered gown! Though their romance did not last, their happiness in this picture is obvious, isn't it?!
6. Helen Mirren, 2007  
Image source: Pinterest
The dame never disappoints us! She charmed the paparazzi in 2007 with this sunshiny yellow ball gown. She has been given two prestigious Best Actress Awards at Cannes, one for 'Cal' and the other for, 'The Madness of King George'. This outfit does complete justice to what a diva she is!
7. Angelina Jolie, 2007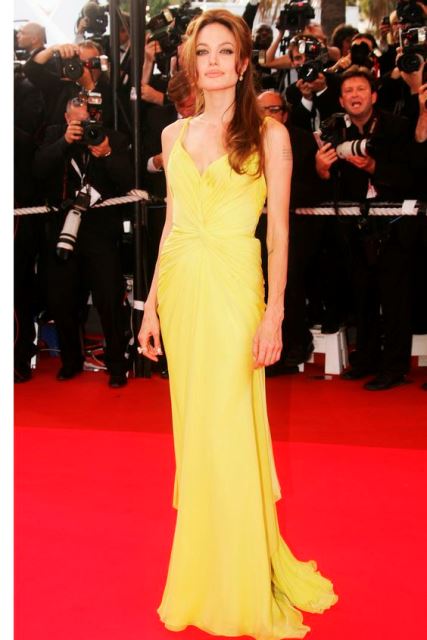 Image source: Pinterest
I love how Jolie cherry-picked a simple, otherworldly flair over a punk-y pick, which is more of her regular style! Now, yellow is something really hard to wear but Jolie here carried it off in the most flattering form! This St. John gown is something I would want to steal!
8. Monica Bellucci and Sophie Marceau, 2009  
Image source: Pinterest
This glamorous duo arrived in matchy-matchy coral reds, dazzling the watchers at the film festival screening of 'Ne Te Retourne Pas,' a French thriller in 2009. While Bellucci arrived in a Christian Dior, Sophie sported Yves Saint Laurent.
---
Suggested read: Top 20 ballsy celebrity outfits of 2015
---
9. Alexa Chung, 2011
Image source: Pinterest
Alexa Chung looked prim and proper in a vintage satin balmy dress that let her reveal her biggest assets, her legs! A 1960 Balenciaga dress to the 2011 Cannes Film Festival? Definitely took a fashion maven's heart away!
10. Kristen Stewart, 2012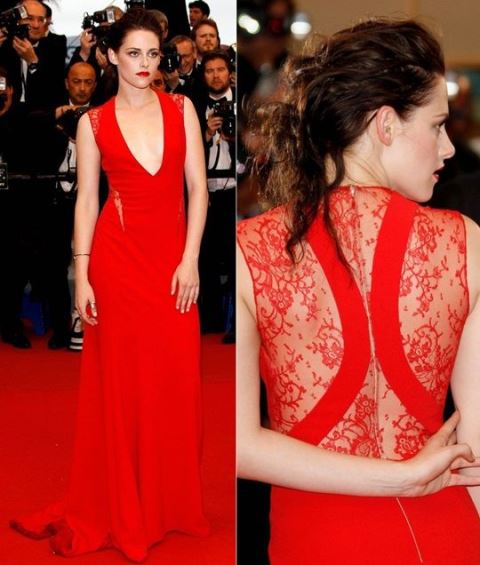 Image source: Pinterest
The Twilight star, Kristen Stewart, wore crimson to the 2012 Cannes Film Festival. Though a lengthy elegant Reem Acra crepe gown, its revealing neckline let her keep the look youthful and contemporary. You go, girl!
11. Cara Delevingne, 2013
Image source: Pinterest
Cara Delevingne dressed immaculately for the Cannes Red Carpet in 2013. The Burberry supercharged gown proved why she was among the most feted models in the world! Attending the screening of 'The Great Gatsby' alongside Georgia May Jagger, she flashed her Chopard diamonds with her finger tattoo that displayed a tiger's crown. Quite a rebel, this one!
12. Aishwarya Rai Bachchan, 2014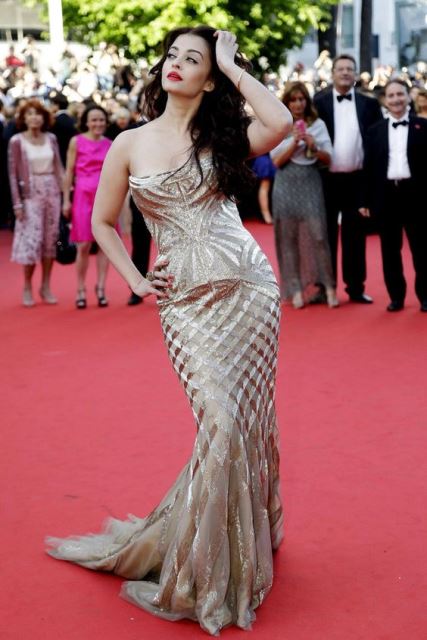 Image source: Pinterest
The former Miss World, looked like a goddess in her gold gown when she stepped on the Cannes Red Carpet for the premiere of a French film, 'Two Days, One Night.' This Roberto Cavalli ensemble flattered her sculpted body.
13. Sienna Miller, 2015
Image source: Pinterest
Siena Miller went ahead and added the cherry on the cake called Cannes with her lacy cerulean-grey skirt and leather spaghetti strap tank. Her ruby-red belt stole the show! Every time a star walks down the Cannes Red Carpet, we expect that they will do so in the most gorgeous of looks. Sienna Miller did not disappoint!
14. Kristen Stewart, 2016  
Image source: Pinterest
Chanel Ambassador and fashion icon, Kristen Stewart, brought her eclectic taste to the table this year, with a pair of comfortable camisoles, a quirky t-shirt and a skirt! She also poured out her thoughts on the film festival's antique and often sexist red carpet dos and don'ts, after she abandoned her heels and stepped out in flats instead.
During a heart-to-heart with director Woody Allen, who is working with Stewart on a new project, 'Café Society,' Stewart said that she actually switched from stilettos to flats (Vans sneakers to be precise) after the red carpet screening. She explained, and I quote her because this is essential, "I was not making a statement. I thought the heels looked better with the dress and that flats look better with a skirt, and they're easier to wear for several hours. Things have to change immediately. It has become really obvious that if [a man and I] were walking the red carpet together and someone stopped me and said, 'Excuse me, young lady, you're not wearing heels. You cannot come in.' Then [I'm going to say], 'Neither is my friend. Does he have to wear heels?' It can work both ways. It's just like you simply cannot ask me to do something that you are not asking him. I get the black-tie thing but you should be able to do either version—flats or heels. This isn't a revolt against heels, however: They're beautiful. I love them. And they look amazing."
15. Blake Lively, 2016
Image source: Pinterest
Blake Lively is one chic mommy, don't you think? After wowing us in this gorgeous blush-beaded creation again by Versace, Blake left us gaping with another dress created by the Italian fashion house. At the "The BFG" premiere, Lively wore a one-shouldered azure Atelier Versace outfit which not only featured a dramatic train but the sleek silhouette also showed off the baby bump, which was adorable! She added a pair of Lorrain Schwartz ear pieces and a diamond pave wrist-piece, amping up the chic factor!
16. Kendall Jenner, 2016
Image source: Pinterest
This could only be pulled off by a showstopper and no one else! Jenner undoubtedly rocked Cannes this year in her half-maxi, half-mini cocktail dress that she slipped into at the Magnum Doubles Party. Didn't she show a whole lot of leg? Well, who's complaining?!! This is a Versace creation which also featured on the Spring/Summer 2016 runway. Kendall coupled the printed silk with Stuart Weitzman's light-strapped pair of stilettos, completing a high-fashion Cannes look.
---
Suggested read: Bollywood celebs give us major #MonochromeMadness
---
17. Naomi Watts, 2016  
Image source: Pinterest
Sparkling flawlessly in this Michael Kors slip dress, Watts did not only turn heads, rather slayed them in the fashion game. This was taken en route the premiere of 'Money Monster.'
That's a wrap from us! Which Cannes fashion moment is your personal favorite? Write to us in the comment section below!
Also, sign up for our newsletter for a daily dose of fashion, glitz and all things bright and beautiful!
Summary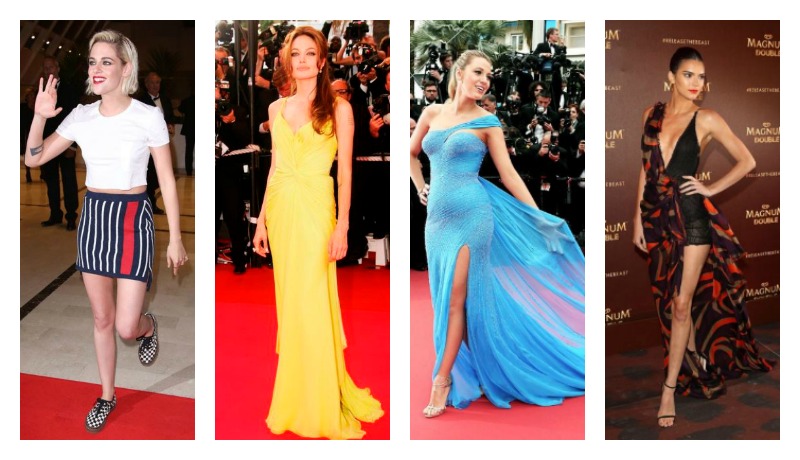 Article Name
17 Of The Best Cannes Fashion Moments Till Date
Author
Description
We bid adieu to the latest Cannes Film Festival just recently. So let's take a look at the best Cannes fashion moments till date, eh?