Do you like looking your best? The top hair trends of this season definitely have the power to make you into the center of attention. Just pair your look with the right hairstyle that also complements your body frame, and there's nothing stopping you from being the talk of the town.
---
Suggested read: Hun, or the half-bun, is the latest hair trend to catch celeb fancy
---
So here are the latest hair trends 2015 for you to wear and use to express your own personal style.
1. Hot red curls
Curls are one of the hair trends that never go out of fashion. If you change the twists of your locks, the style comes back again. A nice new tan complements these hot red curls perfectly. What could be hotter than twisting curls on red tinted hair? Wear these curls paired a smoky eye look and you will look absolutely amazing.
2. Vanguard crops
2015 has seen a lot of celebrities making the shift toward bolder, shorter hairstyles. The best perk of this style is the ease and relaxing weightlessness you will feel. If you are feeling a little edgy, wait no longer to crop the locks and let your look speak for itself.
3. Fishtail braid messed up
The messy fishtail braid is the perfect style to frame your face. Start by pulling your hair together in a ponytail, divide it into two sections, and start braiding the alternated sections one over the other. Just follow the alternating braiding movement lazily with your fingers until you almost reach the end of your hair. Fasten the braid with a hairband or ribbon and you're all ready to go.
4. Keep it half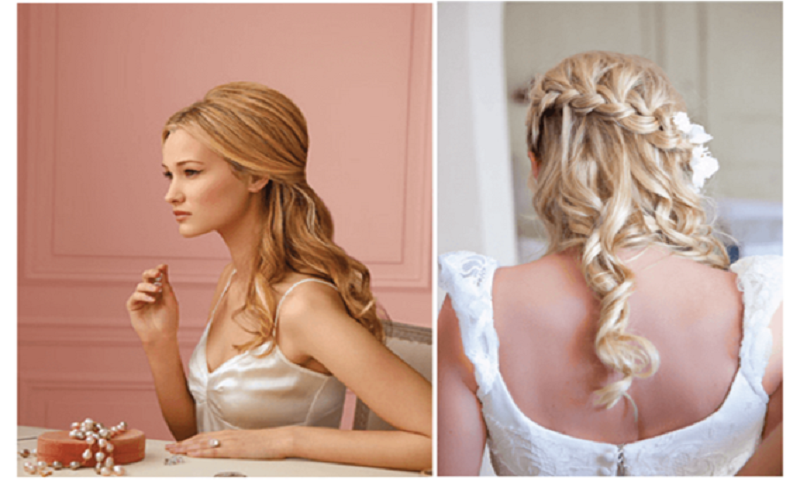 Wearing your hair half up and half down is a very elegant look. No matter your facial structure, this hairstyle helps all women look classy and sophisticated. All you need to do is part a section of your hair in the front and clip or clutch it tight at the top. You can add more strands if you want to add more flair to the look. Give it a little more texture, and this will complete your amazing look!
5. Bob gone baby
For all you chicks who believe that simplicity is sexy, this baby bob is definitely the hairstyle to pick. Worn by so many celebrities worldwide, this hairstyle has gained a lot of popularity recently. Whether you have short or medium length hair, it is a breezy look that will surely help you feel your best.
6. Shag again
Retro shag is much more than just one of the latest hair trends of the season – it is a phenomenon. It gives you a touch of goofiness and you can even blend it with your current hairstyle. This hairdo can be carried on every face shape, but goes best with playful personalities. So, if you're interested in exploring the shaggy look, just go for it and let it show.
7. The cool lob hairdo
Bob haircuts are extremely popular today, with longer bob styles also a common choice for many women. Now, you can even blend the length of your hair with this 'lob' haircut and create a beautiful and dynamic look!
---
Suggested read: Thinning hair? Here's how onion juice can help you fight it
---
8. Crop with style
A pretty face and a bob haircut never goes out of fashion. This stylish crop brings out the tough side of you on one hand, but also adds up to the cuteness of your overall appeal on the other. Short hair can always use some experimentation. Just read the shape of your face, trim your hair a bit in layers, and you will have a beautifully ruffled hairdo with a sparkling attitude. As a little extra tip, this look goes perfect with a pair of good sneakers and worn-in denim.
9. Sexy long waves
So you've got beautiful long hair that reaches your waist – why not show it off even more? You just need to pick up a curler and let your hair flow down in waves. Sexy is always in style and this hairstyle definitely helps achieve that look. This is one of the most beautiful of all the latest hair trends, so give it a try today!
10. Mess and band hairdo
You feel that you have so much to your personality- you're cool, elegant, easy-going, and so much more. So, just know that this messy band look can be a lifesaver. If you've been waiting to express your personality through your look, this one is made for you. It is very easy to form; all you need is some hairpins and a really cool band to support your hairdo. Wear it with your sexy feminine face and you're sculpted into perfection in no time.
11. Voluptuous waves
Best suited for women with more roughly textured hair, this wavy hairdo can complement all body frames. The volume of this hairstyle creates a funky look, and doesn't even require a lot of effort. Don't wash your curls for a day or two and then spray them with some hairspray. All that remains is your sweet smile and the look is perfect.
12. Braided crown
You are the princess and who could dare deny that? It's about time you try out this lovely hairstyle. This amazing look starts with a regular side parting and the strands are used to make a braid. The only trick is to use one section of hair, and have the other flow loosely. And voila! There is your braided crown all ready to shine
13. Semi braid in long pony
Let the glamour in you show with this simple yet sharp look. When a semi braided long ponytail flows down from your shoulder, it enhances your profile and body frame. Many top stars consider this to be one of the best hairstyles to wear. You start with a neat back combing of hair and then fasten the end into a ponytail. Dividing it further, you create a cool effect by twisting it into a half braid. This could possibly win a contest for the sharpest and sexiest hair trends.
14. The messed up bun
What is sexier than a lady who can get a little messy? To create a messy bun on the top of your head, there are no specific rules you need to follow. Just collect the hair, have a go at some twists and turns, and pin it into place when you're done. One of the easiest hair trends, this hairdo expresses the rough side of your personality while adding a sexy touch.
---
Suggested read: Here's what you need to do if your is thinning
---
15. Braided side buns
This hairstyle makes it easy to express the fun side of your personality. These braided buns are so easy to do, and definitely highlight your cheery character traits when you wear them. Just start with a middle part and collect the hair for the braid higher up on both sides of your head. Braid it, roll the tail into a bun, and pin it on the side. When you're done with repeating it for the other side as well, you'll find yourself smiling hard with the most playful hairdo you could ever ask for.
The thing about fashion trends is that they just keep on changing. Keep an eye on trends emerging from all over the world for your next looks. The latest hairstyles we listed here for you are perfect to try out this year. But you should never stop yourself from exploring and experimenting whenever you want to. You are the show stopper of your life after all!
Summary
Article Name
15 Best Hair Trends Of 2015
Author
Description
Be aware of what's hot this year and be a step ahead. Check out the best and latest hair trends of 2015.