Bollywood has always been about cheesy romances and love stories, with a number of songs thrown in here and there. It has, in fact, always molded the manner in which Indians have loved each other, with spectacular gestures and serenades and shayari. Time and again, one of the most elaborately depicted tropes in Bollywood mainstream cinema has been how people transition from being friends to lovers. In fact, there are loads of movies that have become all-time blockbusters because of this very theme. Even now, directors and scriptwriters are finding new ways to deal with this theme and subject.
Image source: Google, copyright-free image under Creative Commons License
---
Suggested read: 11 unknown stories of Shahrukh Khan and Kajol movies
---
Here is a list of movies that have brought many best friends across the country to take their relationship to the next level.
1. Jo Jeeta Wohi Sikander (1992)
One of the most well-loved Bollywood cinemas of all time, Jo Jeeta Wohi Sikander tells the story of Sanjaylal Sharma, played by Aamir Khan, who is a poor boy who is infatuated with a girl from a very elitist college. His best friend Anjali (Ayesha Jhulka), is in love with him, but he is too blind to acknowledge her affection. She sticks by him through thick and thin and eventually fall in love, despite his lack of interest in the beginning. There's a rich brat and a marathon cycle race thrown in too for added effect. The iconic slo-mo song Pehla Nasha, still lingers in many a lover's mind.
2. Kuch Kuch Hota Hai (1998)
Kuch Kuch Hota Hai is a cult movie in Bollywood for a reason – because it celebrates love and friendship like no other. Rahul (Shahrukh Khan) and Anjali (Kajol) have been best friends in college for a really long time, and they cannot imagine being anything more until the gorgeous Tina (Rani Mukerjee) comes along. Rahul and Tina get married, and Tina passes away, and they even have an eight-year-old daughter together (whom they ironically name Anjali). Only after that do Rahul and Anjali finally express their true feelings for each other, and the movie ends with the two of them getting married.
3. Kal Ho Na Ho (2003)
Kal Ho Na Ho is one of Shahrukh Khan's finest, telling the story of Naina (Preity Zinta), a nerdy, introverted girl in New York City who falls in love with her new neighbour, Aman (Shahrukh Khan). Although they fall in love with each other, Aman knows they cannot be together because of his fatal illness, and as a result, ensures that Naina falls in love with her best friend Rohit (Saif Ali Khan) who has always liked Naina. This is a wonderful story about true friendship blossoming into everlasting love.
4. Munna Bhai M.B.B.S. (2003)
Munna Bhai is another cult movie by Rajkumar Hirani, which deals with the story of a local gangster or gunda with good intentions and a heart of gold, and who needs an M.B.B.S. degree to convince his father that he is a doctor. The college he enrols in has another doctor, Suman Asthana, daughter of the Dean and incidentally his long-lost childhood friend. They develop their friendship from scratch without realizing that they were childhood friends, and slowly, this friendship blossoms into love.
5. Hum Tum (2004)
This was one of the first and most successful attempts at animation in Hindi cinema where Saif Ali Khan and Rani Mukerjee play Karan Kapoor and Rhea Prakash. When they meet for the first time on a flight, they cannot stand each other, but slowly they start developing an irreplaceable friendship. When they meet after a few years, Karan is a successful cartoonist, and Rhea is a widow who is going through the motion of living. The former tries desperately to make Rhea happy again, and in the process, the two friends go from being friends to lovers.
6. Jab We Met (2007)
This hilarious movie tells the story of the literal and symbolic journey of Geet (Kareena Kapoor), a super-bubbly, chirpy, Punjabi girl obsessed with marriage; and Aditya (Shahid Kapoor), a serious, depressed businessman who has given up on life. They travel through the country together and become great friends, all the while aware of the fact that Geet is engaged to be married to Anshuman. As they travel, however, they slowly go from being friends to lovers, and this movie shows how two very unlikely people can fall so completely in love.
---
Suggested read: 10 love lessons 90s movies of Bollywood taught us
---
7. Jaane Tu… Ya Jaane Na (2008)
Directed by Abbas Tyrewala, Jaane Tu Ya Jaane Na explores the story of Jai (Imran Khan) and Aditi (Genelia D'Souza) and their group of college friends, set in Mumbai. Jai and Aditi have been best friends for a really long time, but they don't realize their love for each other until they see each other with different people and their feelings start to surface. The movie ends with all the typical Bollywood elements of romance, including a fight scene, Jai riding a horse to meet Aditi, and a romantic proposal at the airport with a dozen or so airport security witnessing it.
8. Wake Up Sid (2009)
Ayan Mukherjee's directorial debut, a coming of age story, is still a favorite among people of all ages because of the fun subject, fresh treatment, and the actors in the film. Wake Up Sid is a story about a rich, spoilt kid Sid, played effectively by Ranbir Kapoor, who keeps failing his classes and doesn't have a care in the world except partying. He gets kicked out of his house by his father who's had enough. He then stays with Aisha Mukherjee, a young, ambitious, and aspiring writer, new to the city of Mumbai. They become the closest of friends and even live together, and not until the end do they realize how much they are actually in love with each other, despite Sid being immature.
9. Band Baaja Baraat (2010)
This YRF production proved to be a blockbuster because of how it portrayed the wedding planning industry and also because of the fabulous acting and onscreen chemistry between Ranveer Singh, who plays Bittoo Sharma, and Anushka Sharma, who plays Shruti Kakkar. They decide to start a wedding planning company together and become inseparable friends, until they start developing feelings for each other after a night of intimacy, which leads to complications. Don't worry though, because they end up falling in love and getting married!
10. Aisha (2010)
Loosely based on Jane Austen's novel Emma, Aisha is a 2010 rom-com which tells the story of Aisha, an upper-class shopaholic determined to set her friends up with each other. She has one sensible friend Arjun, played by Abhay Deol, and in the process of making sure all of her friends find true love, she doesn't realize how messed up her own love life is. The two friends slowly start to realize their love for each other, and go from being friends to lovers.
11. Break Ke Baad (2010)
Abhay (Imran Khan) and Aliyah (Deepika Padukone) are childhood friends who grow up together and try to find their purpose in the world together. They decide to get together in a relationship, but it doesn't work out, and they decide to take a break from each other. However, the movie asks whether friends can become lovers, and whether two people can find their way back to each other even after they have broken up.
12. Mere Brother Ki Dulhan (2011)
Mere Brother Ki Dulhan is a less-known rom-com in Bollywood, which tells the unconventional story of a man falling in love with his brother's fiancée. Imran Khan plays Kush Agnihotri, who goes in search of a perfect bride for his London-based brother, Luv. He finds the perfect bride in Dimple (Katrina Kaif) and everything is settled. However, the two start becoming closer and closer and eventually fall in love, and hilarious results ensue.
13. Barfi (2012)
Barfi is one of the brightest jewels that have come out of Anurag Kashyap's kitty. This movie is about a deaf and dumb boy Barfi (Ranbir Kapoor), and his friend Jhilmil Chatterjee (Priyanka Chopra), who is an autistic girl living in a boarding school. Barfi and Jhilmil only have each other because it is impossible for anyone else to understand them, until Barfi falls in love with Shruti (Ileana D'Cruz), who's moved to Darjeeling recently. Later however, Barfi realizes how much Jhilmil means to him, and they fall in love. This is a story of how love crosses all social and mental barriers, and prevails over everything else.
14. Cocktail (2012)
Veronica (Deepika Padukone) is a carefree girl who lives life on her own terms. Her path crosses with Meera (Diana Penty), who's been abandoned by her husband in London, with nowhere to go. Veronica takes in Meera, and the two become fast friends. Enter Gautam (Saif Ali Khan), who's instantly attracted to Veronica and the two start living together, with Meera sharing the place as well. Trouble starts when Gautam realizes that he has feelings for Meera, and that he'd like to get married to her, rather than Veronica. Although these three sort out their complicated relationship in the end, Veronica gets the short end of the stick for helping out a friend and falling in love with a flake.
---
Suggested read: 10 Mr Right-s straight out of the movies
---
15. Yeh Jawani Hai Deewani (2013)
The second film by new director Ayan Mukherjee was one of the biggest hits of the year, because of the acting, the direction, the music, and of course, the subject of the film. Young, crazy, carefree Bunny (Ranbir Kapoor) goes on a holiday with his friends to Manali, and nerdy, quiet, bespectacled Naina (Deepika Padukone) just happens to come along with them. During this trip, Naina falls in love with Bunny, but the feelings are unreciprocated. Years later, Naina is a changed person, and Bunny is travelling the world with a hot-shot TV production company, when they meet at a friend's wedding. The romance that ensues is a wonderful story of how it is important to be friends before lovers.
Featured image source: Pinterest
Summary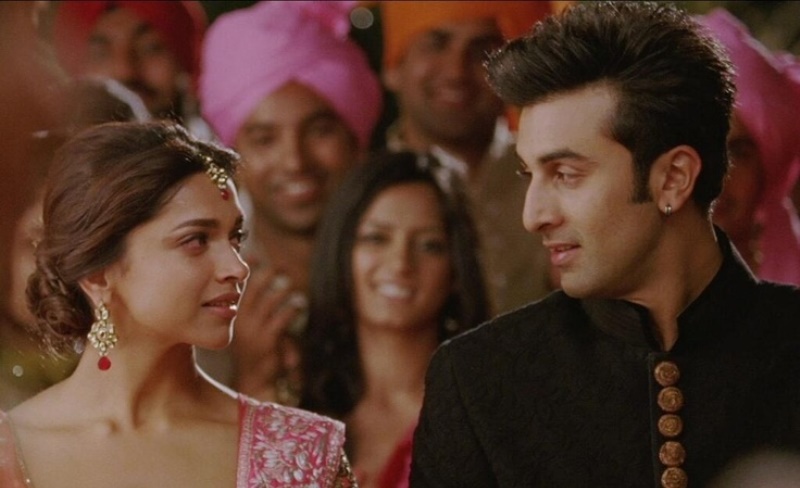 Article Name
Friends To Lovers: 15 Bollywood Movies Where This Formula Worked
Author
Description
'Friendship is love,' said SRK in Kuch Kuch Hota Hai. Take a look at 15 Bollywood movies where the friends to lovers formula was used - successfully.