I think it's safe to say that almost every single girl/woman wishes her hair was a little bit better than it is… a little shinier, a little longer, a little thicker. We've all tried a billion different products, all claiming to improve your hair EXACTLY the way you want. With the increased stress in our daily lives and the increased levels of pollution, loss of hair volume and strength has become a very common problem. So we've decided to come to the rescue.
---
Suggested read: 12 amazing tips on how to strengthen your hair
---
Here are 15 life-changing tips on how to add volume to thin hair and to eventually increase the thickness of your hair as well.
1. Wash your hair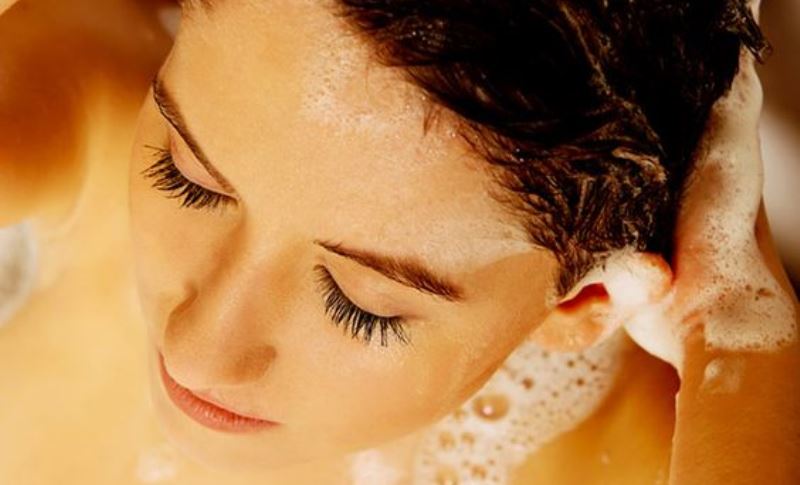 Image source: Pinterest
The world is dirtier and hotter than it used to be. So dirt and grime build-up in your hair is obvious and common. The grime, along with the oil that your scalp secretes naturally, will weigh your hair down and make it look flatter than it is. Also, it will prevent the roots from being sufficiently nourished, thus leading to hair fall. So, make it a point to shampoo your hair at least 3 times a week. Increase the frequency of hair washed if you live in humid places or if your hair is of short to medium length.
2. Eat your veggies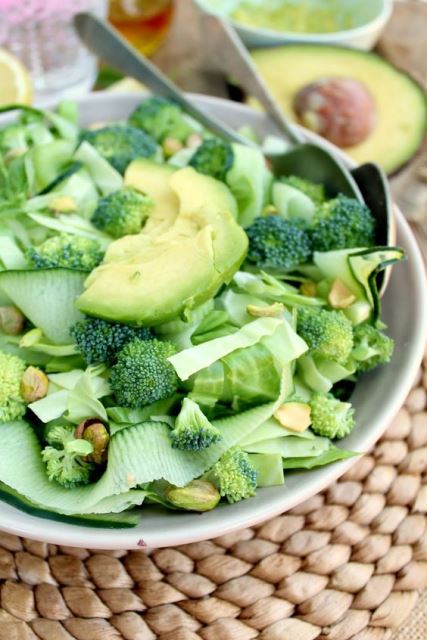 Image source: Pinterest
Your hair needs vitamins in order to grow thick and long. Green vegetables, especially green leafy vegetables, provide the much needed vitamins to the hair, and help it grow stronger and thicker. The effect of eating green veggies, on your hair, may not be immediately visible, but it will help improve the quality of your hair in the long run.
3. Coconut oil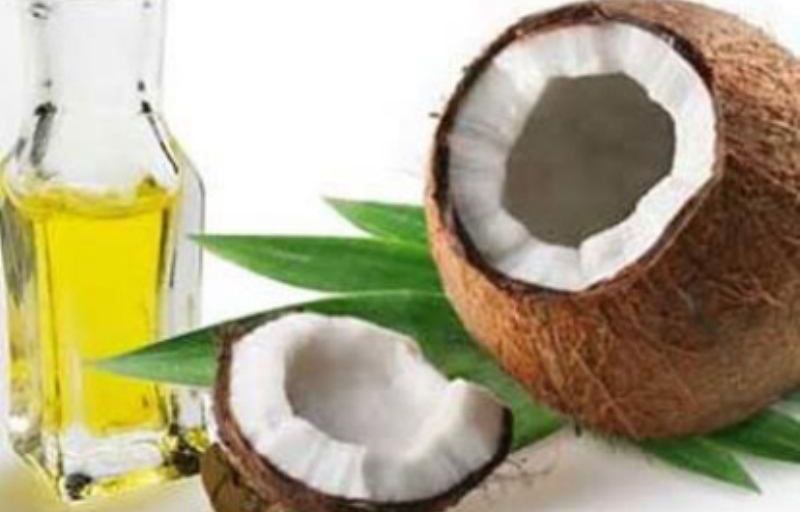 Image source: Google, copyright-free image under Creative Commons License
One thing I've learned as a beauty blogger is that no matter what your problem is, coconut oil is always the solution. Skin problems? Coconut oil. Foul breath? Coconut oil. Plotting a revenge on your ex? Coconut oil. A world ravaged by greed and war? Coconut oil. So, needless to say, if you have issues with your hair, coconut oil is the answer to your prayers. Oil your hair with coconut oil, at least once a month, to provide your hair with the nutrition it needs.
4. Castor oil
Image source: Google, copyright-free image under Creative Commons License
Castor oil is a tried and proven solution to thin hair problems. Apply castor oil (the less refined, the better) to your hair, every few weeks and you will notice the increase in thickness and volume of your hair in no time. Raw castor oil is incredibly potent and can increase hair growth in any spot it might touch, so wear gloves when you use it, in order to avoid ending up looking like a Chewbacca.
5. Use volumizing shampoo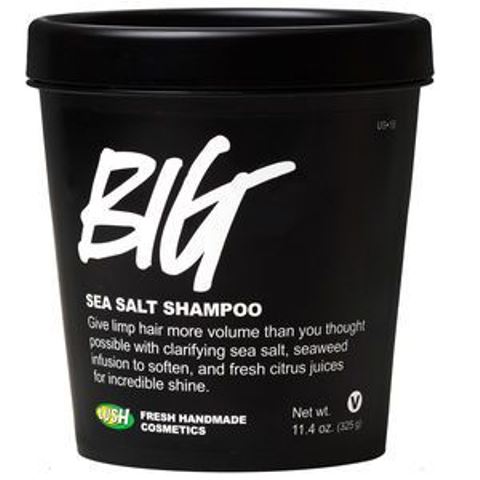 Image source: Pinterest
It is very important to know what shampoo to use and why. If your hair is limp and lacks volume, then go for a volumizing shampoo like the Big sea salt shampoo from Lush. It is made with a majority of natural ingredients, so no worries about ugly chemical reactions. The salt in the shampoo helps cleanse your scalp and also add volume to your hair.
6. Onions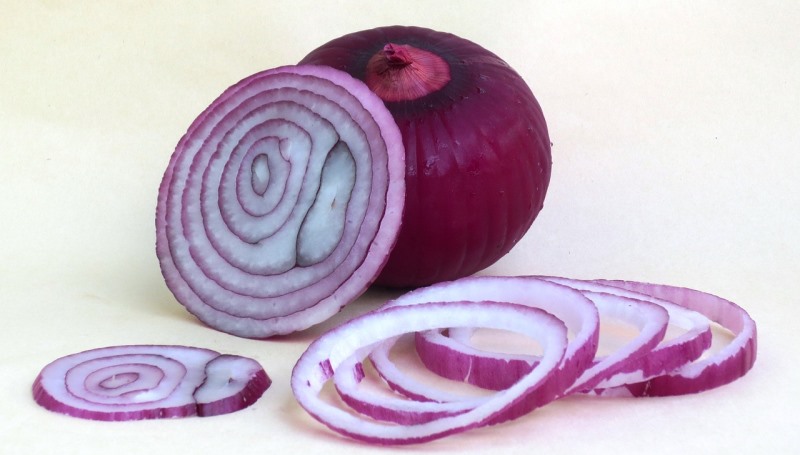 Image source: Pixabay, under Creative Commons License
One very effective DIY treatment for thin hair is onion juice. Throw a couple of onions in the blender and blend it into a thick paste. Then strain the paste in a muslin cloth so that you get just the juice from the onion. Apply the juice to your scalp and roots, for not only thicker strands of hair, but also new hair growth in bald patches. Apply this every few weeks and see the difference in a matter of weeks.
7. Chop it all off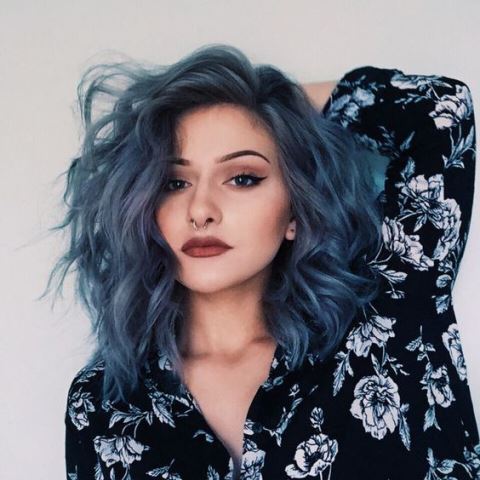 Image source: Pinterest
The longer your hair will get, the more it will weigh, and the flatter your hair will look. Also, there is the problem of split ends, which further prevent proper hair growth. So go ahead and chop off those lovely locks and sport a chic bob or lob, like this super edgy cut. The short-length will give the illusion of a fuller head of hair and will be a lot more bouncy than long hair. Look at it as giving your hair a fresh start; a new chance to grow fast and thick and make you look like an absolute diva.
---
Suggested read: The little-known benefits of the magical argan oil for your skin and hair
---
8. Layer it up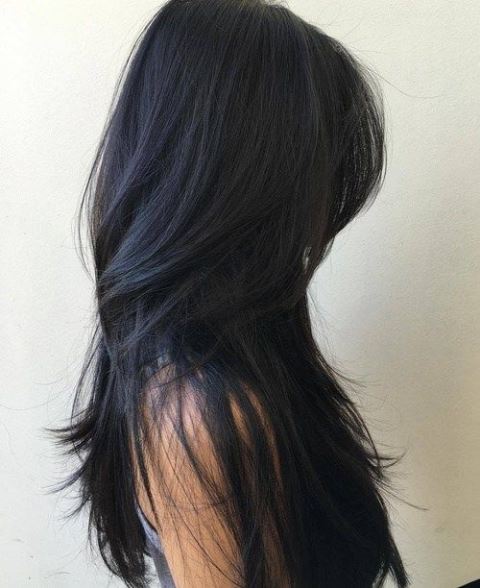 Image source: Pinterest
Not quite ready to give up your long locks? No problem. Go for something a little bit drastic, with a sexy layered haircut. The shorter layers near the top of the head will give the illusion of thicker and more voluminous hair (just like a short haircut).
9. Color your hair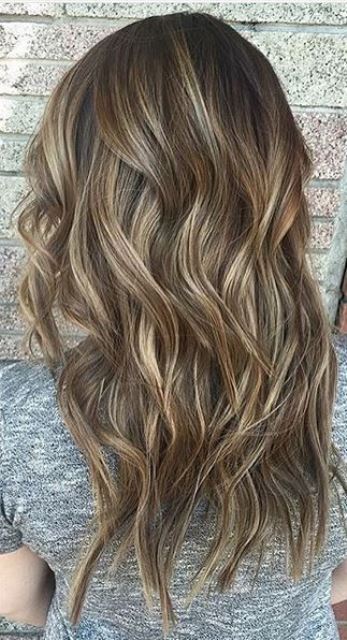 Image source: Pinterest
If you have dark hair, then getting highlights will reduce the contrast between your scalp and your hair. This is will make it seem as though you have more hair than you actually do. Of course, make sure you do not bleach your hair too much because that will dry out your hair and eventually have adverse effects on your hair growth. Of course, getting your stylist's opinion on what color to choose and what coloring style to go for will be a practical idea, since it will be more suited to your individual preferences.
10. Use a sea salt spray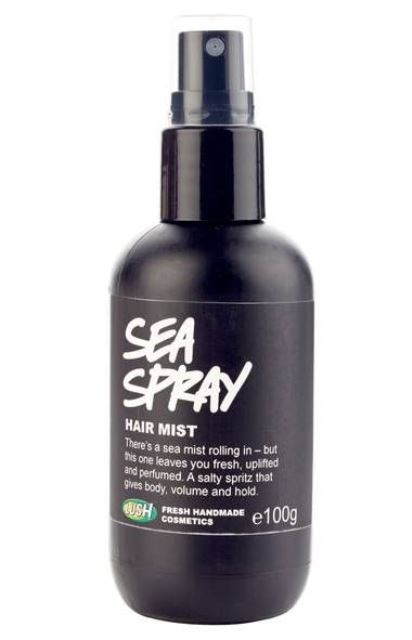 Image source: Pinterest
Apply a salt spray to your hair for more volume. Go for another Lush favorite, the Sea Spray. It will give your hair some body and volume. Also, it'll help perfect those gorgeous beachy waves you've been pining for all summer. Just spray the mist on dry hair and scrunch your hair to create flawless messy waves that will not only make your hair look thicker, but thanks to the sea salt spray, it will also last super long.
11. Know how to towel dry your hair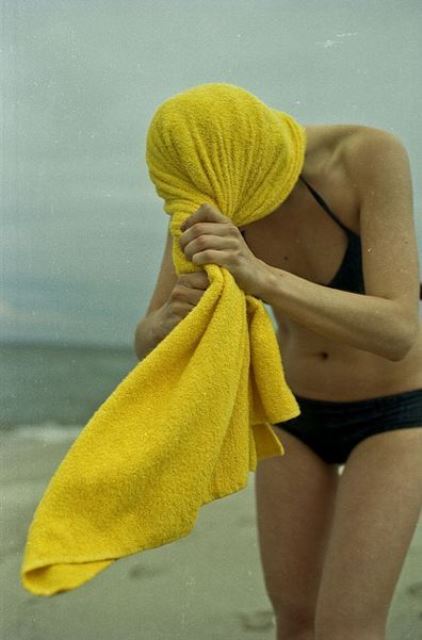 Image source: Pinterest
Your hair is at its weakest when wet. So, if you rub it aggressively with a towel, you will end up tearing off the already thin strands of hair. Instead, gather your hair in the towel and squeeze. This way, there is not much tension at the roots, and thus, lesser risk of you pulling your hair out. As for drying your scalp, pat the towel all over your head in a firm manner.
12. Use a big brush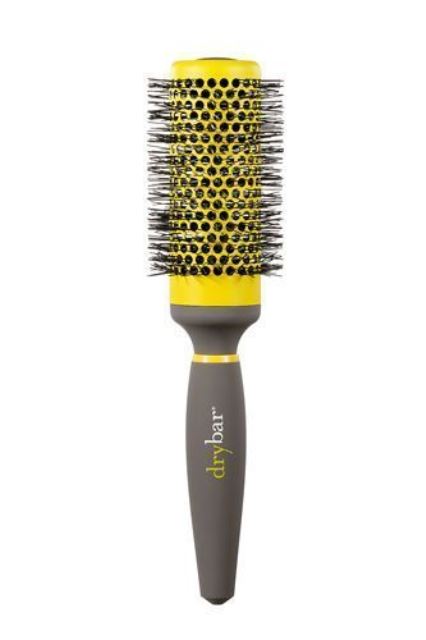 Image source: Pinterest
The bigger the brush, the more volume it'll add to your hair. So, when blow drying your hair, try and use a big round brush. This will make your hair look big and voluminous. Also, since the bristles are thin, they'll separate every strand of hair, making it look like you have more hair on your head than if you use a wide-toothed comb.
13. Back-combing/teasing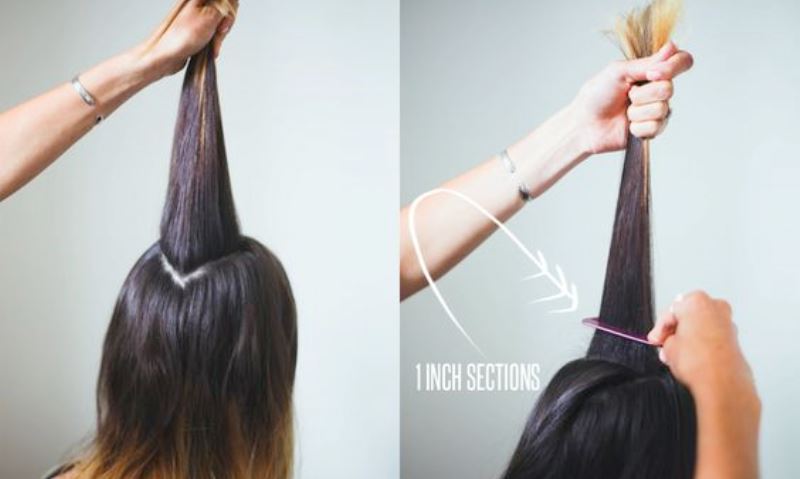 Image source: Pinterest
This is for the times when you're too lazy or in a hurry and you can't quite figure out how to add volume to thin hair. If you do not have the time to wait for castor oil or onion juice to do its magic, or even to blow dry your hair, then go for this lazy people trick. Take a small section of your hair (from the top), start an inch off the scalp and back-comb your hair with a fine-toothed comb or brush. This will make your hair look big and glamorous. And it takes barely 5 minutes to do it!
14. Opt for Volumizing hairstyles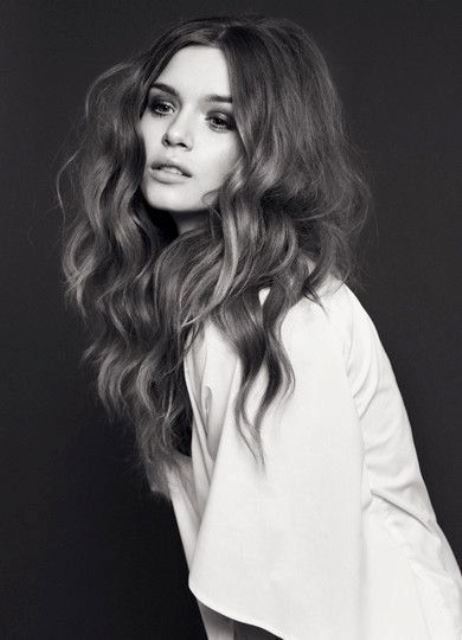 Image source: Pinterest
When you have thin hair, straightening your hair is not a good idea. It'll make your hair look flat and highlight the little bald patches (if any) on your head. Instead, go for bold and beautiful voluminous hairstyles. Try gorgeous curls or sexy waves. Take your curls or waves up a notch by separating and teasing the individual curls or waves. This will add a glamorous, yet an "out-of-bed" feel to your look.
---
Suggested read: 12 top tips for how to grow thicker hair naturally
---
15. Change how you part your hair
This is a very common and strangely overlooked problem. When you part your hair the same way for years, the hair around the part starts thinning, thus increasing the amount of scalp that can be seen. Instead, switch up the parting every couple of months and try and experiment with different hairstyles (back-brushed, center-parted, opposite-side-part, slicked back, etc.,) so as to keep the hair growing straight up, without any impediment of any sort.
Hair loss and thinning hair is a common problem and is nothing to be ashamed of. There are innumerable tips and tricks telling you how to add volume to thin hair. There are a variety of products and procedures promising to do the same. But, before you try anything, always read up about them and about any possible side effects of products you may use or procedures you may try. The safest option is to always go for natural remedies because chemicals almost always have some adverse side effects. Also, healthy living is key to healthy hair growth. If you do not eat healthy or keep yourself healthy and clean, then that will have an adverse effect on your hair as well.
Summary
Article Name
15 Effective Tips On How To Add Volume To Thin Hair
Author
Description
Suffering from thin hair? Worry no more, for we have here 15 super-effective tips on how to add volume to thin hair, and you can thank us later!