Looking beautiful is something we all love and crave. It wouldn't be an overstatement to say that there's something irresistible about the flawless volume of hair falling down your back that redefines beauty. So, when you (like me and so many ladies out there) wish to find a way to grow your hair thicker, longer, and stronger, trust me, I understand. And this is the very reason we have here a fabulous list of the easiest, most natural ways to get those shiny locks. All you'll need is some homespun kitchen magic and your hair will grow its beautiful best in no time.
But there's one little secret I'd really love to let you in on before getting into the recipes ahead for how to grow thicker hair! Once you've gained thick and long tresses, your lifestyle and hair care habits play a big role in letting you keep the beauty. You have to be very selective of what hair products you're using, how often, and how much. Even the slightest changes like shampooing your hair only 3-4 times a week (letting the natural hair oils fill in between), with cool and not hot water (so as to prevent unwanted dry scalp!), and the gentlest drying.
Image source: Pinterest
So, as long as you take care of your longer thicker hair by staying loyal to hair care and hair diet regimes while swearing off harmful heat styling exposure, I bet your locks will steal and lock away all the hearts for you.
So, now that we're good with the lifestyle hair care for women, let's move on to how to grow thicker hair. So, bring out your beauty recipe notebooks and get going!
---
Suggested read: All the amazing benefits of yogurt for skin and hair
---
1. Nothing's better than an olive oil massage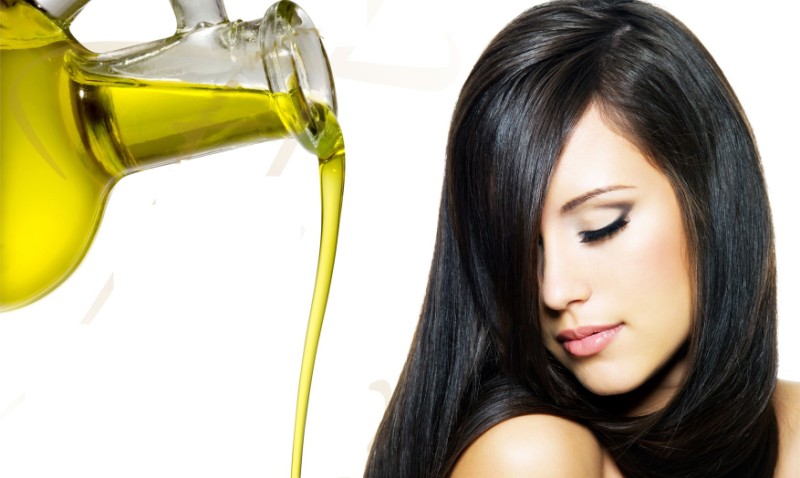 Image source: Google, copyright-free image under Creative Commons License
Rich with omega-3 fatty acids to thicken and nurture body for your hair, olive oil is a must in every hair care plan. The finest way to make the most of it is by massaging your scalp thoroughly for about 30-40 minutes and leaving it to rest overnight before washing it off the next morning. Or you can mix some honey with the olive oil and wash it with cold water after leaving it on for about half an hour.
2. Gain hair strength with protein-rich meals
Protein is a major magic ingredient that assures you healthier and stronger hair. Meats and eggs are the main source of proteins, so be sure to include lots of them in your diet. If you're a vegetarian, you have other options available. From the delicious delights of dairy products to the pulses and grams, the instant supply of protein provides your hair with everything it needs to grow faster, longer, and vibrant. Adding some protein-rich meals in your daily diet is the best (and the tastiest) way to achieve your hair-care goal.
3. Ensure your hair health with Indian gooseberry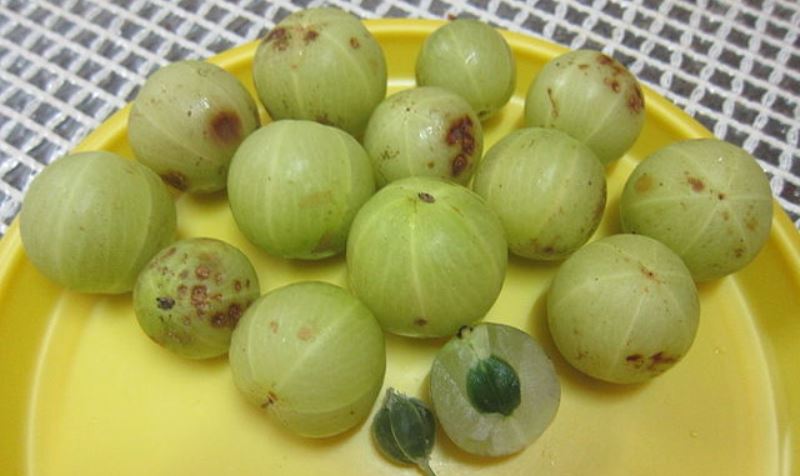 Image source: Google, copyright-free image under Creative Commons License
Thicker hair means the healthiest scalp you can think of, and how better to achieve it than with the antibacterial, anti-inflammatory, exfoliating, and antioxidant benefits of the Indian gooseberry. Getting overnight massages with boiled and strained coconut oil mixed with powdered Indian Gooseberry could provide you with a delightful look after the morning hair wash.
Making a paste by combining half a cup of Indian gooseberry powder in a quarter cup of water and applying it on your hair for about 15-20 minutes is the next best way after dietary changes!
4. Egg masks bless your hair with strength and shine
Easily available and one of the greatest source of proteins, eggs are surely indispensable when it comes to ensuring quicker and improved growth of your hair. Along with including eggs in your diet, you can use them by whisking them and applying them on your wet hair. Let the mix sit for about half an hour before shampooing with lukewarm water. Or, you can mix the egg yolk with the hair oil you love and massage your scalp for wonderful results within weeks.
5. You can better your hair with aloe vera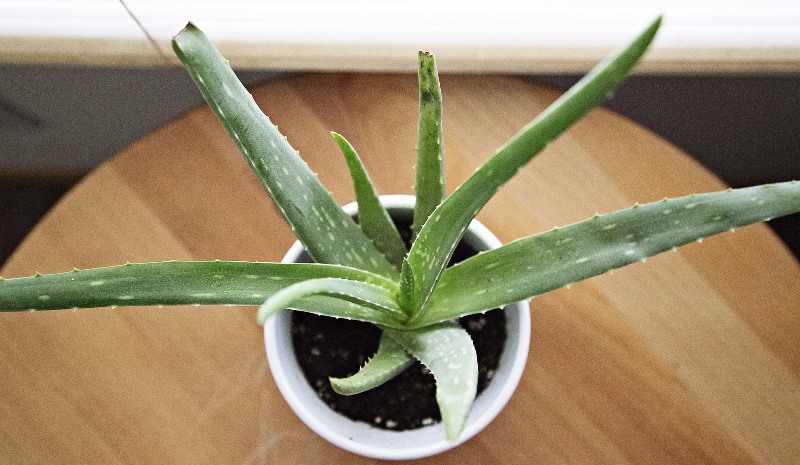 Image source: Pixabay, under Creative Commons License
Beyond compare when it comes to balancing the pH of your scalp and moisturizing your hair, aloe vera makes itself a must-have in hair care recipes. You can either extract the aloe gel and apply it to your scalp directly for about half an hour before a refreshing wash with lukewarm water, or mix it with some coconut milk before applying, for better results. And there's nothing better than including a regular intake of aloe vera juice in your diet for the finest hair growth and overall beauty.
---
Suggested read: Everything you need to know about maintaining your curly tresses
---
6. The amazing benefits of fenugreek seeds
With the unbeatable prevention for hair loss that fenugreek seeds promise you, you can be sure of a healthier scalp and thicker hair growth. You can grind 2-3 tablespoons of fenugreek seeds (soaked in water over the night) and make a mixture with some coconut milk. A weekly ritual of treating your hair with the paste and washing it off after half an hour not only guarantees you a better-moisturized scalp, but also increases your hair growth by many folds.
7. Henna masks can cool your hair from the inside out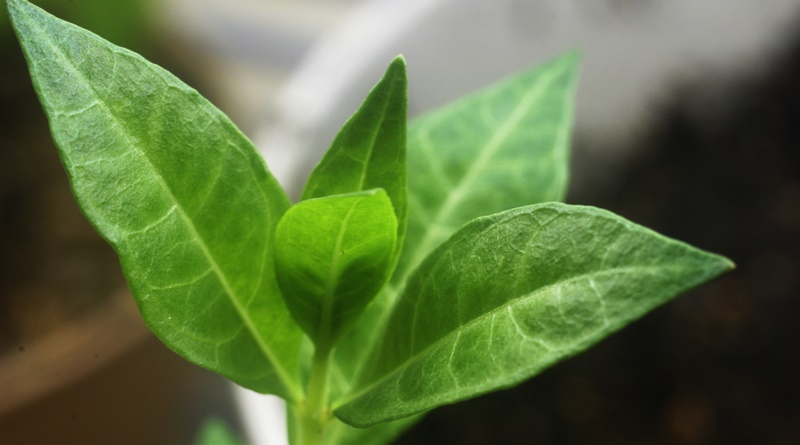 Image source: Google, copyright-free image under Creative Commons License
What's better than getting a thrilling natural color along with thicker and healthy hair growth? You can grind some fresh henna leaves into a fine paste and apply it on your hair. After leaving it on for about 1-2 hours, you can rinse it off. If you're not comfortable with its yogurt-like consistency, you can add either some water or even better, some green tea to achieve the right consistency.
FYI: It'll be best to cover your hair with a shower cap while waiting for it to settle there.
8. The many benefits of working your hair with avocado
Image source: Pixabay, under Creative Commons License
Avocado is a fruit rich in vitamin E, making it the beyond-perfect means for skin and hair beauty. It works well in moisturizing your hair and promoting healthy hair shaft growth. One great way is mashing avocado and banana and mixing it with a tablespoon of olive oil. You can massage it into your scalp for 30 minutes to pamper your scalp, or ready an after-shampoo fresh mask with wheat germ oil and avocado to wash off after about half an hour.
9. Coconut oil massages boost hair growth
This tropical oil is matchless when it comes to the question of achieving perfectly nurtured flawless hair growth. Loaded with the benefits of protein, coconut oil is highly recommended for getting thicker hair naturally. A fine way of extracting all the goodness is warming up the oil a bit before the massage and securing it by wrapping your hair with a hot towel. The heat keeps the oil warm and promotes a better penetration for the hair shaft, before a nice wash.
10. Orange juice promotes refreshing hair growth
Image source: Pixabay, under Creative Commons License
Be it the trouble of thin hair, slow growth, dandruff issues, or the annoying smell, orange juice is an exciting way of addressing all these hair problems that leaves your hair fragrant and refreshed. You can juice an orange without the peels and apply the pulp on your hair and leave it on for about half an hour. Another exciting way is mixing apple and orange puree together. Applying this sweet paste on your hair will not only help increase your hair volume, it also helps in hair growth.
11. A thorough massage with castor oil
With its high viscosity and richness in fatty acids and vitamin E, castor oil is the easiest and the sure-shot road to thicker hair, protecting your hair with a fabulous coating. You can make a mix of coconut and castor oil in equal parts and warm it up before the massage. Massaging your scalp in thorough circular motions helps the oil to penetrate the roots of your hair. You can comb the excess oil out (detangling your hair) and wrap your hair in a moistened warm towel. After about an hour, you can shampoo it to reveal lustrous hair.
12. Benefit from a homemade flaxseed gel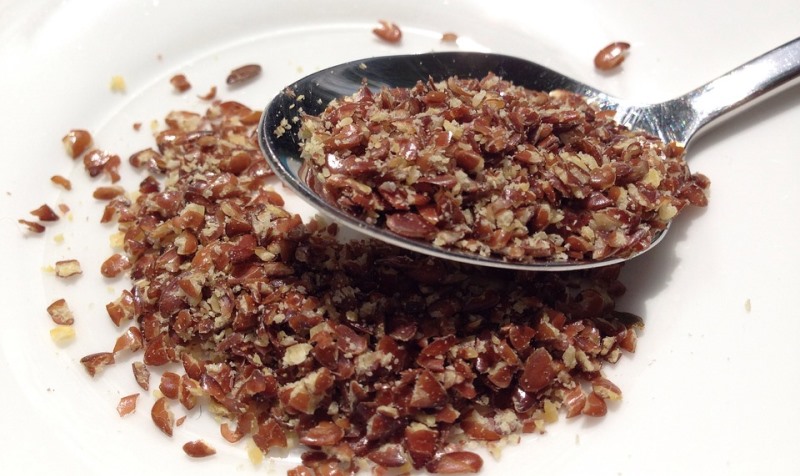 Image source: Pixabay, under Creative Commons License
Packed with the goodness of proteins and omega 3 fatty acids, flaxseed can promote thicker hair growth like no other. You can boil a quarter cupful of flaxseed (soaked overnight) in about two cups of water (not forgetting the occasional stirs). You can strain the gel when the consistency thickens to a foamy jelly. You can add in some drops of the essential oil of your choosing and use the gel for achieving thicker, lustrous, and longer hair in no time. It works best for the ladies with those splendid curls and waves.
With all these wonderful natural tips on how to grow thicker hair naturally, outlined secured in your beauty notebook, there's nothing that can keep you from growing the lustrous and shiny hair you have always wanted. FYI: If only you can pair these effective beauty recipes with the matchless goodness of yoga and meditation, you can flaunt your gorgeous hair with a shine and healthiness from the inside out!
Featured image source: Pinterest
Summary
Article Name
12 Tips On How To Grow Thicker Hair Naturally
Author
Description
Can you grow your hair longer and thicker naturally? Of course you can! Here's how to grow thicker hair naturally. You're welcome! :)