So, we all know that Taylor Swift is officially the queen of pop music, unanimously agreed upon by… everyone.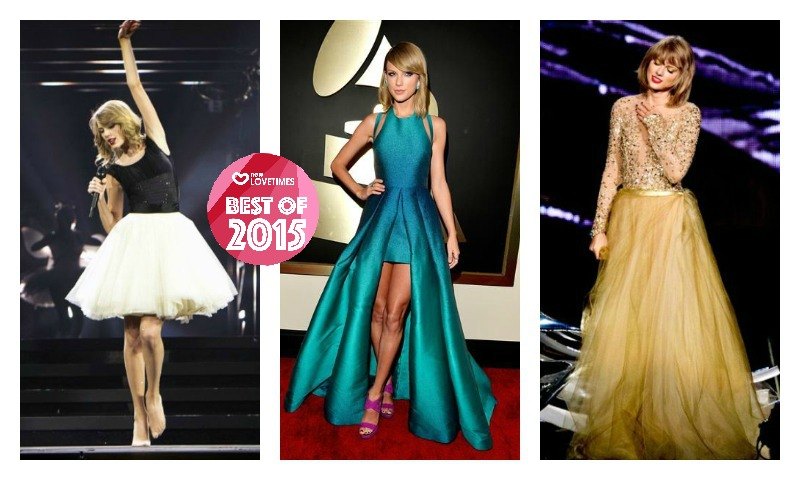 2015 has been a huge year for Taylor, with the release of one of her most successful albums till date, 1989, and the 1989 tour that followed. This is when Taylor literally popped out from inside the stage and all the fans lost their sh*t –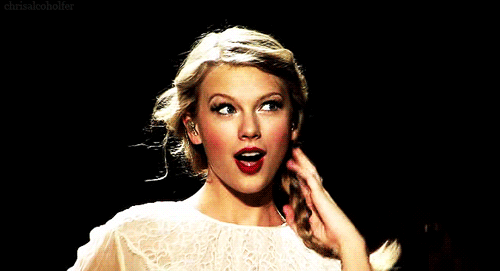 Image source: Tumblr
Literally each of her singles from that album were hugely successful and it included numbers like Style, Shake It Off, Blank Space, and Wildest Dreams. Also, we must not forget that this happened –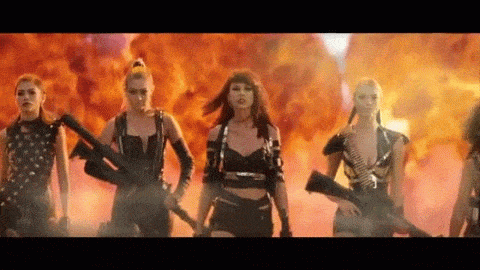 Image source: Youtube
That, ladies and gents, is the Bad Blood music video which broke the internet when it came out, because it has legit star power, everyone starting from Lena Dunham to Jessica Alba to Taylor's BFF, Selena Gomez to Karlie Kloss to Gigi Hadid! Phew! Just LOOK at the people in the music video –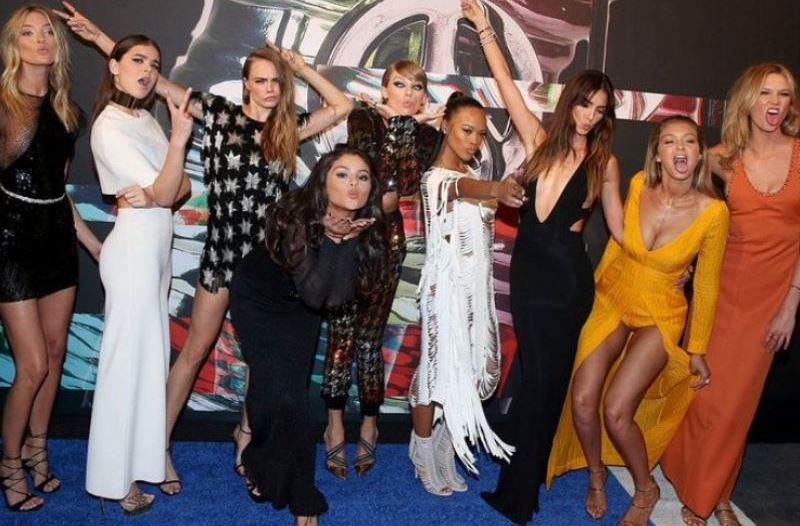 Image source: Instagram
---
Suggested read: How to get toned abs like Taylor Swift and rock crop tops
---
After reaching unprecedented levels of badass-ness with Bad Blood, Tay Tay also gave us ridiculous relationship goals in 2015, with her boyfriend, Calvin Harris, and they seem to be going pretty strong. She posted this picture on Instagram sometime in early June this year.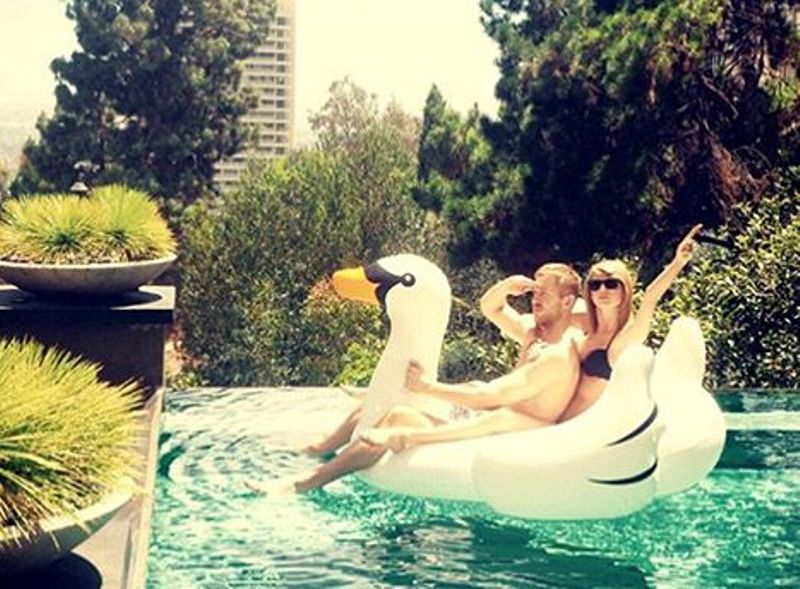 Image source: Instagram
However, 2015 has also been extremely exciting because Taylor seems to have upgraded her style quotient, and she has churned out some of the best outfits she has ever worn, giving us major outfit goals throughout the year.
Here are 10 of her best fashion moments, lined up in descending order:
10. When she taught us a lesson or two about thigh-high slits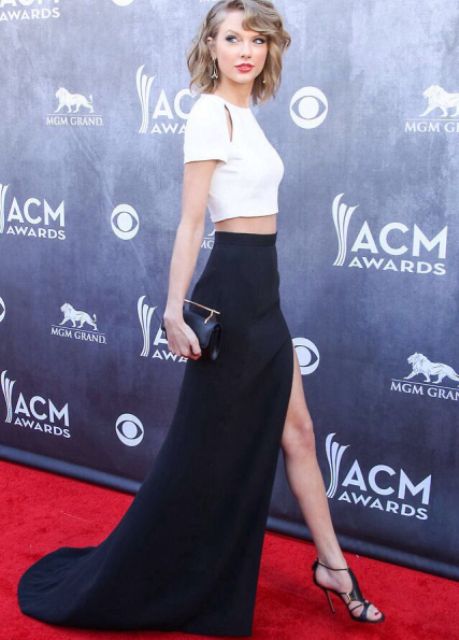 Image source: Pinterest
This year at the ACM awards, Taylor made several jaws drop as she stepped out in this exquisite Reem Acra gown with a thigh-high slit which made us momentarily forget about Angelina Jolie's slit-stint at the Academy Awards in 2012.
9. When she made a jumpsuit look sexy as hell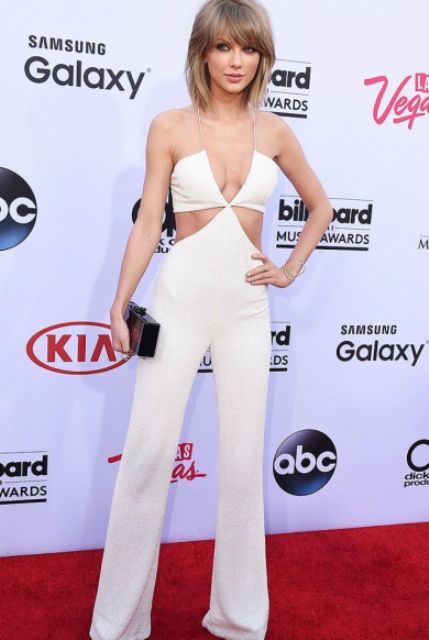 Image source: Pinterest
Seriously though, would you look at everything that is going on with this stark white Balmain outfit? Taylor took a break from her usual skater dress and crop top look to sport this badass number in all white, with a daring neckline at the Billboard Awards in May. She kept her accessories to a minimum with a boxy clutch and a barely noticeable Calvin Harris by her side because everything pales in comparison to Tay! 😉
8. When she redefined the black on black combination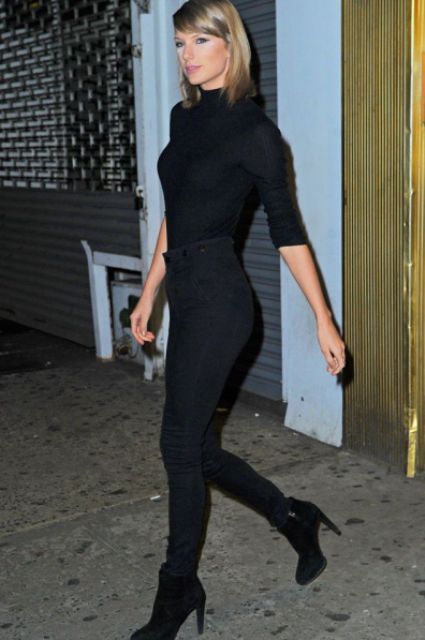 Image source: Pinterest
Everyone goes crazy when it comes to black clothes. However, Taylor here shows you how to rock the risky black-on-black combo like a pro. Pale makeup, simple accessories, and a pair of boots to die for completed her look, as she walked the streets of New York.
7. When she took her peplum top + skirt game to a whole new level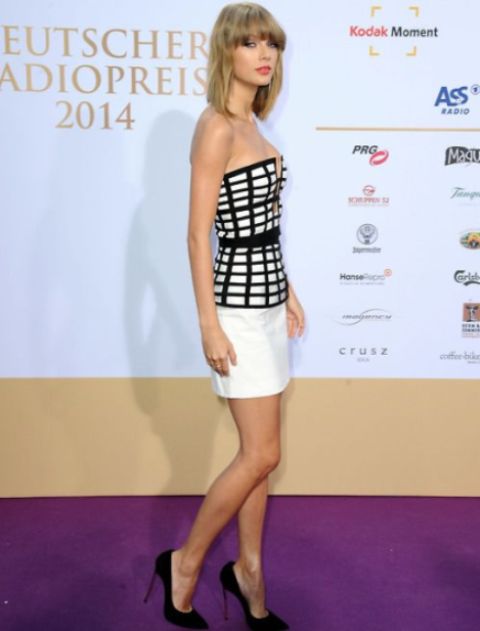 Image source: Pinterest
Taylor sported this edgy peplum top and pencil skirt look at the Germany Radio Awards earlier this year. With the hair and the pop-colored mouth and the Casadei heels that look like they were made for her, the international pop star took our breath away with her style and simplicity.
6. When she turned midriffs into an exciting body part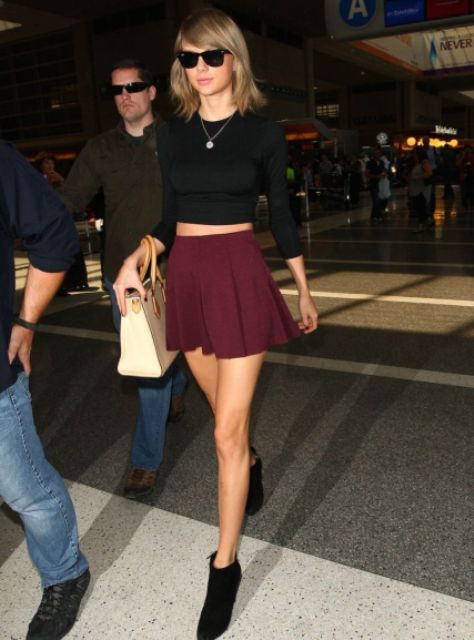 Image source: Pinterest
Yes, that is what Taylor Swift looks like when she hangs out at the airport. In May 2015, she was an image of absolute perfection when she stepped out in a signature plum skater skirt, and a black, quarter-sleeved crop top.
5. When she wore a stark white cut-out top and skirt like a pro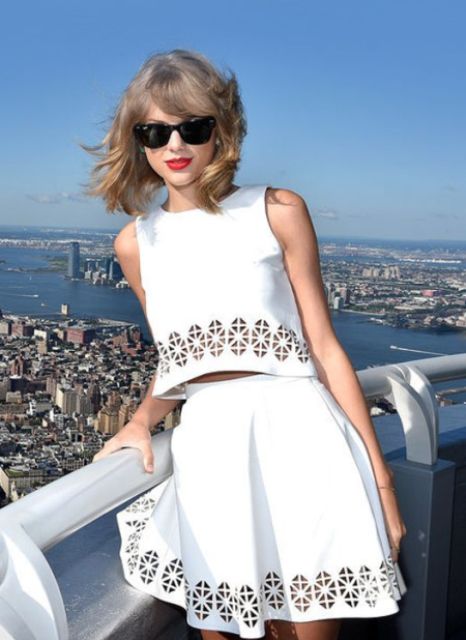 Image source: Pinterest
It is not easy to pull off color-matching clothes, but trust Tay Tay to show you exactly how to do it flawlessly. The stencil cut-outs just add to the oomph factor of the dress she chose for her live Yahoo! show, and her signature red lips are enough to complete this light and airy look.
4. When she showed everyone that you can be blonde AND wear bright yellow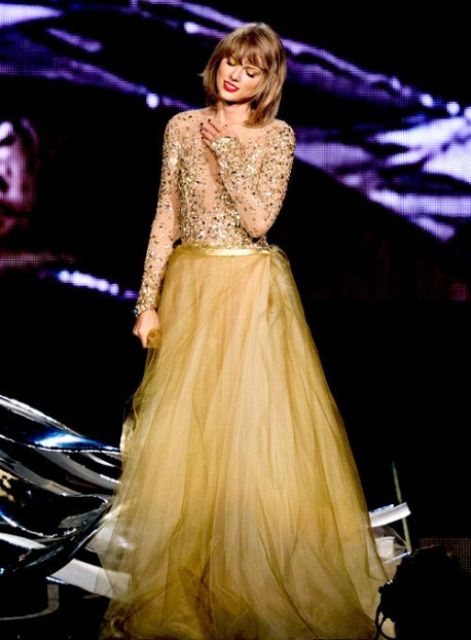 Image source: Pinterest
Taylor broke one of the cardinal rules of fashion during her 1989 Live Tour in Los Angeles, where she rocked a shimmery yellow organza dress, with her blonde hair and popping lips, looking like a vision on stage.
3. When she looked like a damn swan during her tour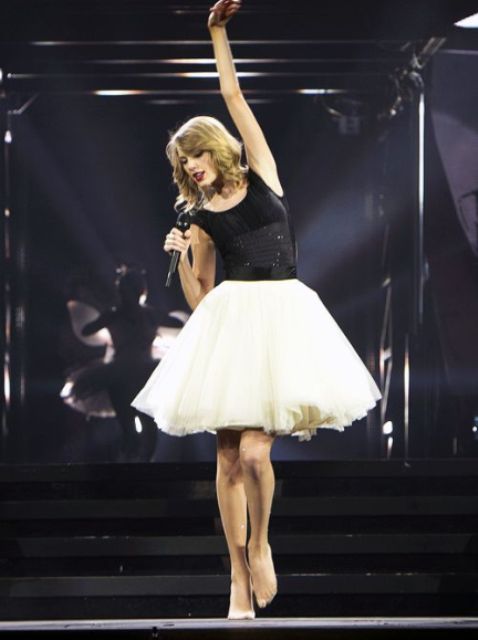 Image source: Pinterest
Taylor pulled out masterpiece after masterpiece when it came to her 1989 Live Tour outfits, but this one still manages to stand out from the rest. That black and white combination on the ballerina dress is absolutely gorgeous and combined with her spot-on makeup, sheer stockings, and killer moves, she left everyone screaming for more.
---
Suggested read: Taylor Swift shared a playlist of 'New songs that will make your life more awesome!'
---
2. When her street style game was too strong to handle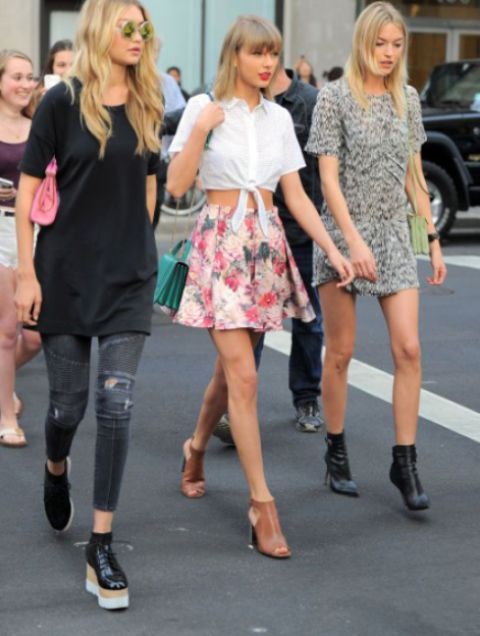 Image source: Pinterest
This is the reason Taylor Swift is considered to be the queen of street fashion, especially during this past year. Her vintage-style white top and floral print high waist skirt is so spot-on that Gigi Hadid and Martha Hunt look pale in comparison.
1. When she looked like an absolute goddess during the 2015 Grammy Awards red carpet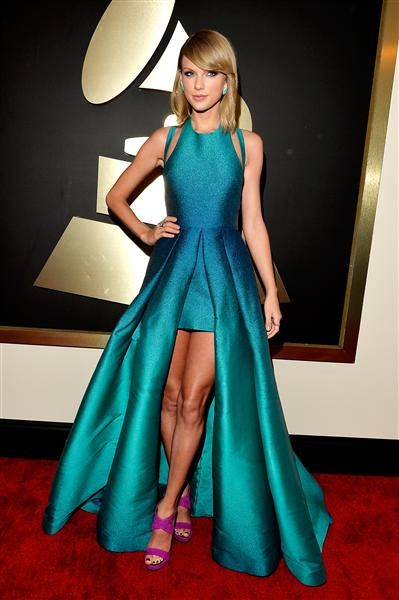 Image source: Pinterest
Taylor broke the internet when she stepped out in her ombré blue Elie Saab number during the Grammys this year. Her look was smooth, sharp, and she looked basically like a badass princess in that asymmetrical number and those purple heels. How is anyone supposed to handle so much perfection?!
Here is hoping Taylor keeps inspiring everyone with her killer outfits in 2016 as well.
Summary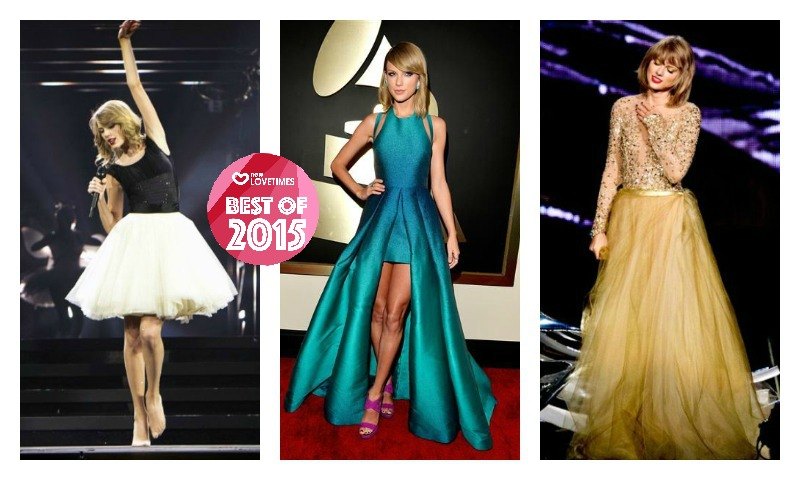 Article Name
#BestOf2015 10 Times Taylor Swift Gave Everyone Major Outfit Goals In 2015
Author
Description
Taylor Swift had an amazing year, both personally and professionally. Here are 10 times she gave us major #OutfitGoals in 2015.