There is an unsaid stigma against cardigans, and a lot of people are averse to wearing it because for some reason, cardigans are considered the quintessential grandma costume. Whoever told you that, wasn't doing cardigans right, because they can be some of the trendiest, most versatile pieces of clothing in your wardrobe.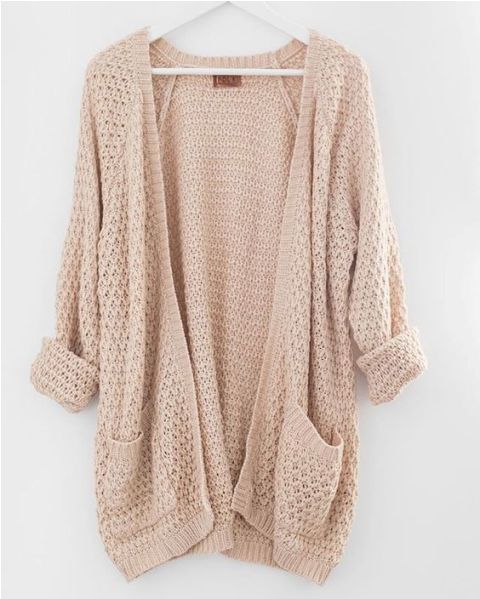 Image source: shopstyle/Pinterest
Cardigans are the easiest way to jazz up your winter wardrobe, because there is no end to the styles and combinations you can try out when you are wearing your cardigan. They have emerged as some of the most preppy attires in fashion today, and with the right accessories, you too can wear your cardigan with style, without looking like a grandma who has 34 cats!
---
Suggested read: The ultimate guide on what shoes to wear with skinny jeans
---
Here are the different, youthful ways in which you can learn how to wear a cardigan.
1. Use your cardigan as an accessory to your casuals
Image source: shein/Pinterest
An oversized cardigan that is not the most flattering on your frame can look like the epitome of a fashion statement. How? By pairing it with your favorite casuals and accessorizing the latter with your cardigan. The cardigan is all the layering you need to oomph up an outfit that is comprised of a simple pair of high-waist shorts and a T-shirt. This is the perfect outfit for a casual fall day out.
2. Long cardigans offset high-waist jeans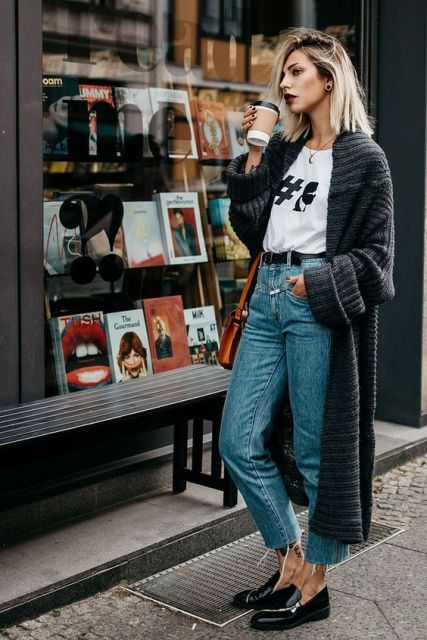 Image source: bloglovin/Pinterest
One of the quintessential rules for making your outfit work is by using mixing and matching techniques to play up the contrasts in your attire. In this case, your well-fitting shirt and high-waist denims can look infinitely cooler with, you guessed it, a long, loose cardigan which looks like a robe thrown over your chic semi-formals. The weather can get pretty chilly at night, and this is the perfect way to look cool without compromising on comfort, when you are out and about!
3. Edgy, printed cardigans are the way to go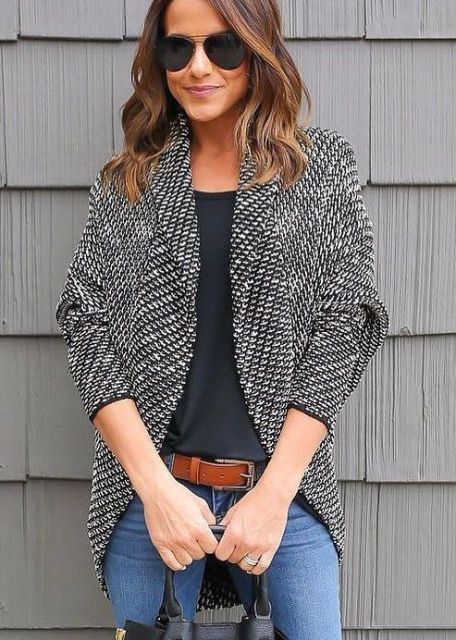 Image source: waysof.life/Pinterest
Formals can be boring sometimes, and when you have to wear them with boring cardigans in cold weather, you don't feel like leaving the house at all. The solution to this fashion crisis is still a cardigan, but a jazzier one at that. Play around with edgy prints and monochromes for a sharp look, which will make your formals look so much more interesting than they otherwise would have.
4. Pair your bright cardigan with a dress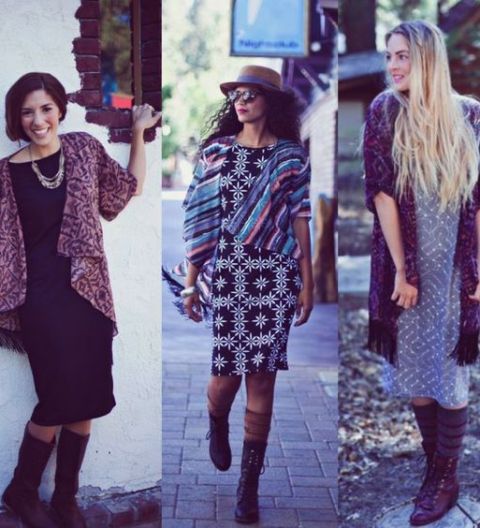 Image source: lularoe/Pinterest
Cardigans and dresses are a match made in Heaven, but unfortunately, they aren't given as much credit as they deserve. A cardigan offsets the length of the dress and acts as a shrug, but looks much prettier than one, and is also much more comfortable. You can play around with print-on-print combinations, although a monochrome dress paired with a printed cardigan is bound to be a classic look.
5. Wear longer layers under your cardigan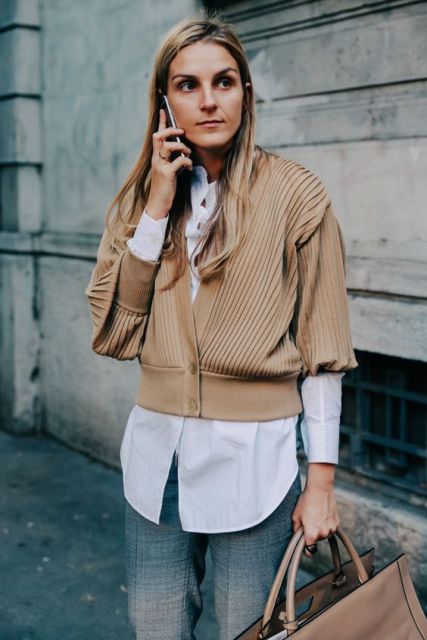 Image source: vogue/Pinterest
When you are trying to figure out how to wear a cardigan and not look like a grandma in the process, think about the things that an old lady wouldn't imagine doing with her cardigan, and you've got the look. Pair your beige cardigan with a long formal shirt and trousers and button it up to ensure that it rides up your midriff, to reveal your shirt from underneath. When you pair your short cardigan with your long shirt, you have a look that is going to make your formals look like an outfit straight off Milan Fashion Week.
6. Match your cardigan with your printed/knitted skirt
Image source: Pinterest
This combination requires some seriously dedicated shopping, but I can assure you, the results are going to be nothing short of ground-breaking and fabulous. If you want to make your cardigan look edgy as heck, you can match the print on it with that of your bottoms, whether it is a skirt or your pants, to get your hipster on in full swing. It is a youthful outfit that is bound to turn heads no matter where you wear them. The funkier the print on your cardigan, the more eye-catching and revolutionary your attire will become.
7. Pop colored cardigans over your shoulder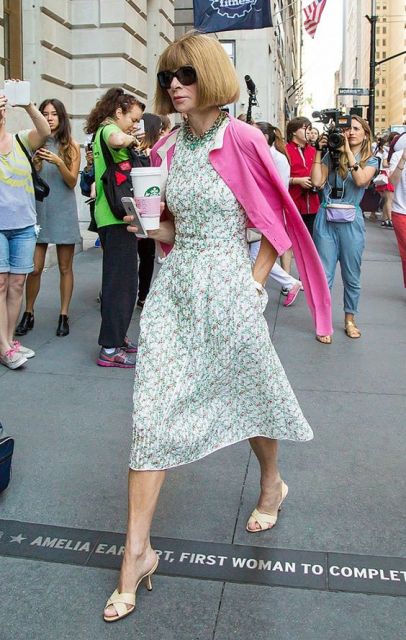 Image source: whowhatwear/Pinterest
Anna Wintour, aka the Goddess of everything, gives you some serious fashion inspiration with this pop-colored cardigan and printed dress, and reminds us yet again why she is anything but another cardigan-wearing old lady. Slinging your cardigan over your shoulder instead of actually wearing it is also a youthful way of playing around with it, and the pop of color only seeks to make the entire look more appealing.
---
Suggested read: 15 stunningly stylish ways to wear thigh high leather boots
---
8. Wear funky, block printed cardigans with neutral casuals
Image source: knittedbelle/Pinterest
If you want to know how to wear a cardigan and not look like you are 60, try to get hold of some funky printed cardigans, or cardigans which are made with a combination of fabrics, or are block textured like this one. Wearing them with simple, neutral casuals only adds to the charm of the outfit, and highlights your accessories (because in this case, they deserve the attention).
9. Layer and accessorize your cardigan
Image source: Pinterest
A cool way to make your cardigan look youthful and innovative is by layering them with other accessories. In this case, a simple white dress is paired with leggings and accessorized with a long cardigan fastened with a belt, along with an infinity scarf. This is a smart outfit both for the workplace and for casual outings.
10. Make the cardigan an organic part of your outfit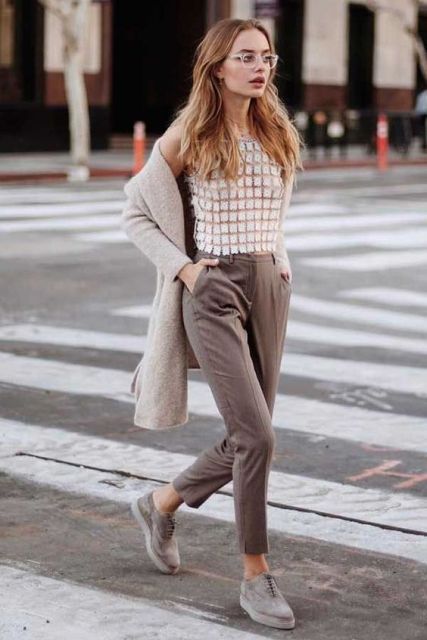 Image source: stealthelook/Pinterest
Choose a color palette that you are comfortable with and arrange the components of your outfit in various shades of that palette. For example, this beige ensemble is all beige in various shades, including the cardigan which is casually flung over the shoulders. Not only does this make you look like a fashion pro, but is also one of the simplest ways to look chic and different, without going OTT with your outfit.
11. Use your cardigan to offset your prints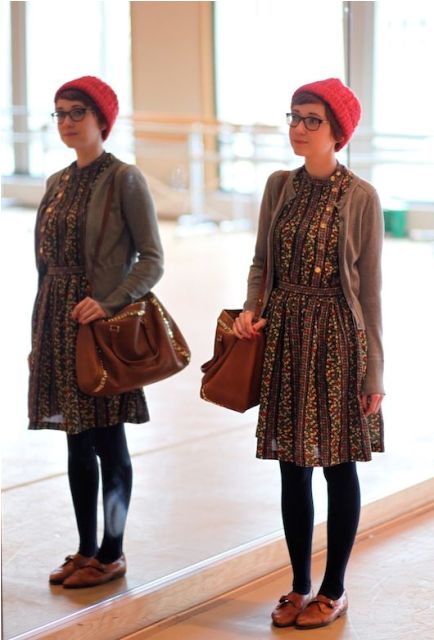 Image source: aclotheshorse/Pinterest
Sometimes, prints on a dress can be overwhelming unless you accessorize it properly. Here is where our hero – the modest cardigan – makes its appearance. You can nicely offset the prints on your dress with a demure colored cardigan which would otherwise look drab. This is a comprehensive outfit where each element works towards making the other look good.
12. Go Boho chic with asymmetrical hemlines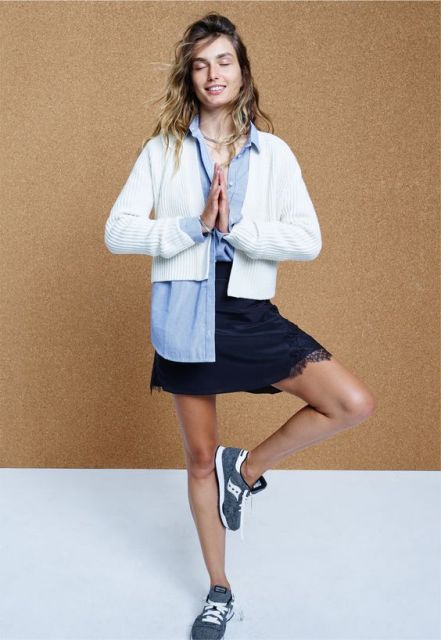 Image source: Pinterest
Loose, white cardigans with straight lines can be difficult to style without looking like a teacher or an old lady. The simplest way to jazz things up is by working those asymmetrical hemlines, not just by wearing your cardigan in a lopsided manner, but also with the other elements in your outfit like your skirt, for a Boho-chic look.
13. Work knitted cardigans like a pro
Image source: ravelry/Pinterest
Knitted cardigans are universally acknowledged as the quintessential grandma costume. So how can you possibly look younger by wearing attire that belongs to the old people's clothes group? By pairing them with unconventional styles, of course! A beautiful printed sweater can be worn buttoned up with a white dress, or a flared skirt, or even a pleated one, or with trousers, where the cardigan itself doubles up as the shirt.
14. Cardigans can make your outfit look super edgy too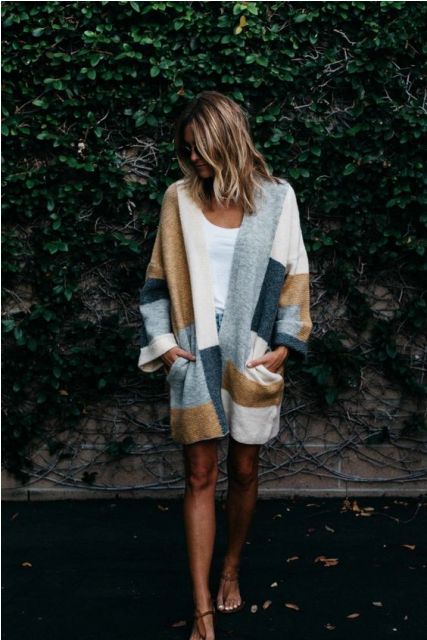 Image source: palms-to-pines/Pinterest
Cardigans do not always have to be monochrome, or drab or with rounded edges or short. They can be cool and edgy and funky too. You just have to look a little harder when you are going cardigan shopping. Even if you find cardigans with patchwork, do not let it go because there are so many contemporary ways in which you can style such cardigans. This beautiful knitted cardigan is paired with shorts and a t-shirt, but you can also make your shift dress look super rad with a hip cardigan like this one.
---
Suggested read: 24 amazing suede ankle boots we are dying to wear
---
15. Work vintage chic to your advantage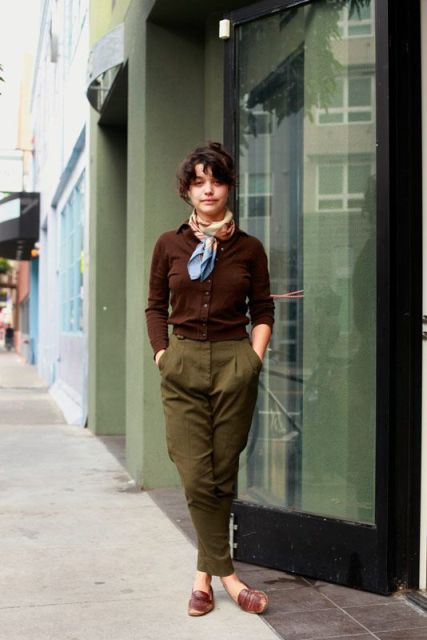 Image source: fashionist/Pinterest
Did you know that you could very well borrow your grandma's cardigan and still manage to look chic and contemporary? You can take advantage of that vintage cut and color and make a revolutionary modern day outfit out of this. Pairing a buttoned up cardigan with a pair of high-waist trousers in rustic colors and a simple accessory is all the fashionspiration you need to rock that vintage chic cardigan.
A cardigan is, in fact, one of the most underrated winter accessories ever, and you are bound to have a couple of unused, sad cardigans lying around in the back of your closet. The trick is to style your cardigan in a way that it looks like the most fashionable thing you ever bought, because honestly, as the examples above demonstrate, there are few things that are as versatile and as adaptable to the ever-changing fashion scene.
Summary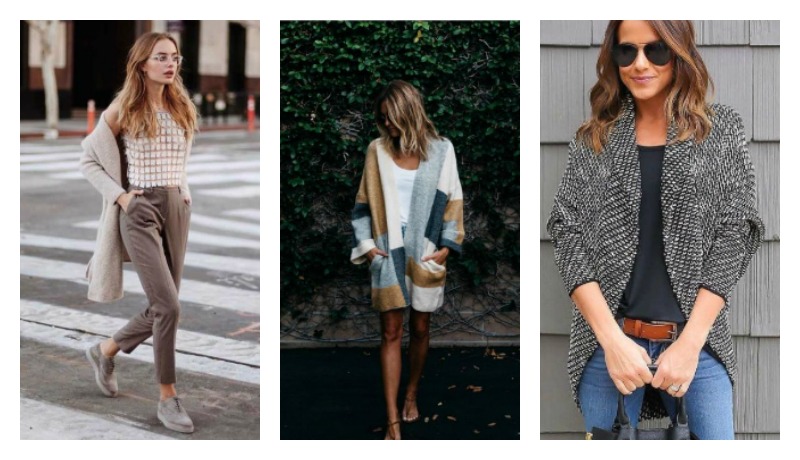 Article Name
15 Stylish Tips On How To Wear A Cardigan
Author
Description
When you're trying to figure out how to wear a cardigan and not look like a grandma in the process, do what an old lady wouldn't imagine doing, & you're set!