Cupcakes are little tokens of sweetness that paint smiles as they melt in the mouth. And when they are a part of wedding celebrations, all the more so! Whether they make for the countryside truck treats or adorn the romantic birchwood table set outdoors for offering some creamy delight to guests, whether they are an assortment of colors on the cupcake stands or simply hang suspended on li'l romantic birdie-swings, there are a million ways unique cupcake wedding cakes ideas can be blended into your D-day for the perfect 'sweet nuptial.'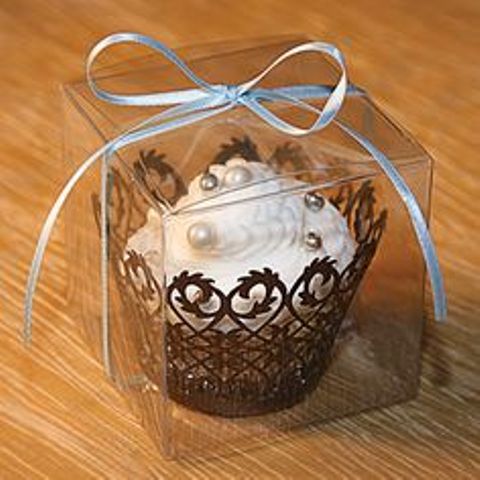 Image source: Pinterest
---
Suggested read: The most jaw-dropping celebrity wedding cakes ever!
---
Which is exactly why we bring to you a yummilicious treat of these li'l tokens of taste right at your fingertips! You can scour through our finest picks of cupcake wedding cakes ideas and select the ones that are best suited to your theme and of course, taste! 😉
Check out our heart-picked list of unique cupcake wedding cakes:
1. Fresh baked blooms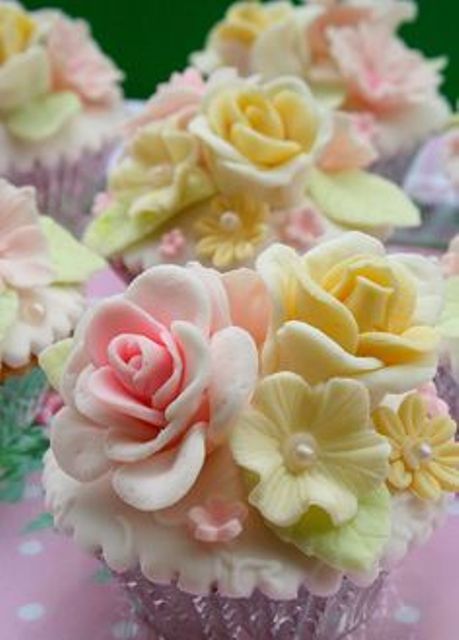 Image source: Pinterest
Perfect posies in a bevy of pastels are the perfect wedding cupcakes. I mean, Swiss meringue blossoms in light yellow, pink, and ivory perched atop a bed of buttercream are the perfect wedding bouquet that nobody shall toss – save in their mouths! Ummm… yummm!
2. For the love of chocolate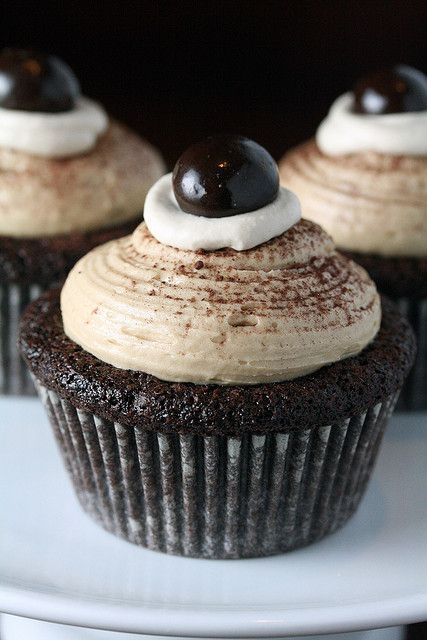 Image source: Pinterest
What is decadence when we talk of chocolate! One can never go overboard with indulgence the choco-way when a moist, coffee-infused chocolate cake, milk chocolate mousse, and a creamy chocolate glaze combine for a mocha moment – complete with a coffee bean. Can one? 😉
3. Berry-licious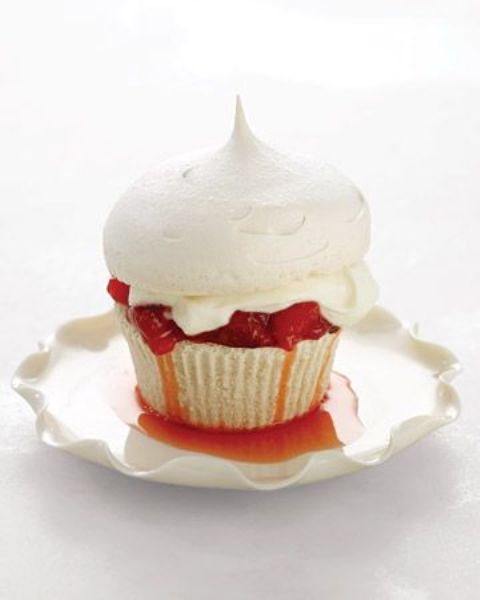 Image source: Pinterest
Well, take your guests on the 'appearances can be deceptive' ride with a delightfully deceptive, yet delicious dive into the layers of a berry-licious cupcake that is actually meringue, split and filled with strawberry-rhubarb compote and cream whipped with creme fraiche.
4. A golden treat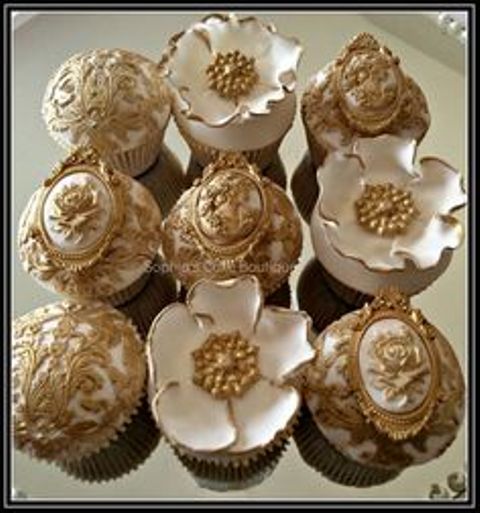 Image source: Pinterest
Take a mini-riff on the souffle by combining a dense, molten chocolate ganache center with light, airy chocolate cake, served warm with a dollop of vanilla ice cream and an edible gold-leaf garnish! We bet the warm rays shall melt your guests' hearts – one bite at a time!
5. Romantic rose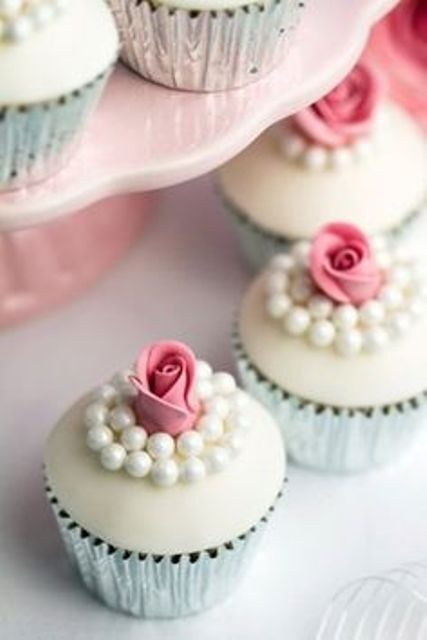 Image source: Pinterest
Nothing beats those pink or peach pastel cupcakes with air-brushed petal or two adorned on top. Maybe a bud or an entire flower too. With their fragrant, rose-flavored glaze and their natural look and creamy delicate insides, they are going to make your guests giddy with gooey-delight!
6. Twenty-four carrots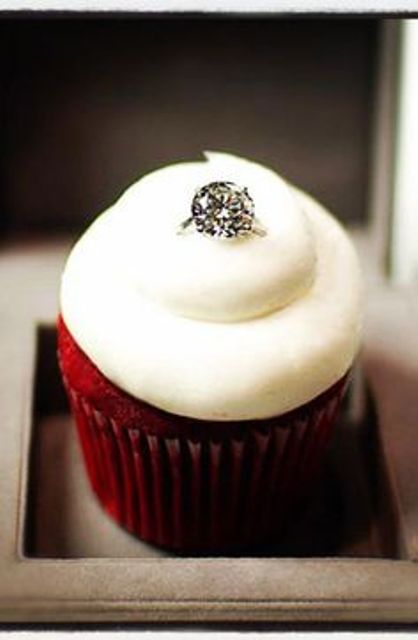 Image source: Pinterest
This one is a favorite on the list. A pint-sized pillow of cake that has a crystal sparkler tucked on top shall make for a perfect wedding cupcake – coz here's the proposals that will always hear a 'yes' from your guests and would not even need them to go down on one knee to taste the 'joy' it brings!
7. The budding blossom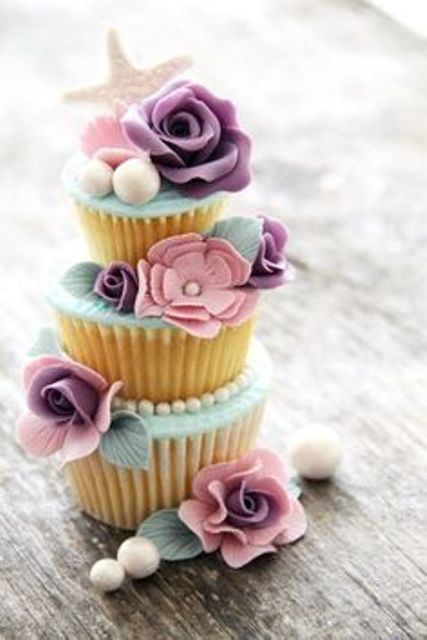 Image source: Pinterest
If towering tiers flowing with buttercream are your nirvana, then this is the cupcake for you. This staggering confection rolls one cupcake on top of the other until one creates a triad of cupcakes with the largest cupcake at the bottom, and with sunflower petals bursting in on all the extra sides of the tiers! Beautiful, huh?
8. Divination cupcakes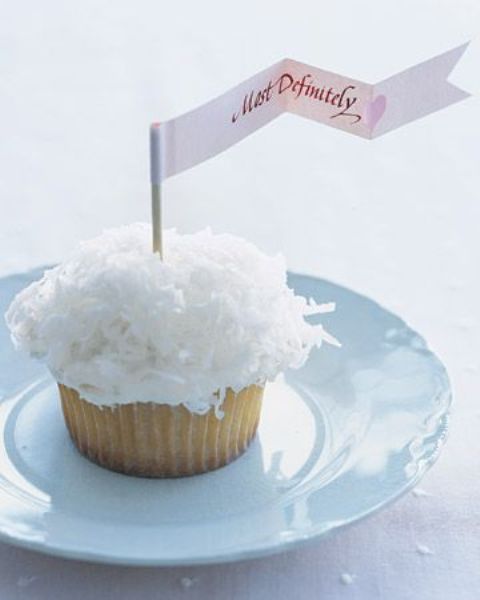 Image source: Pinterest
With swathes of cloudy crème flowing out of these cupcakes, the divination cupcakes will have a sealed banner that will answer the recipient's question in a yes, no, maybe, definitely, probably not, or never, type of options! It's like a wish-cupcake! Sort of!
9. Monogram cupcakes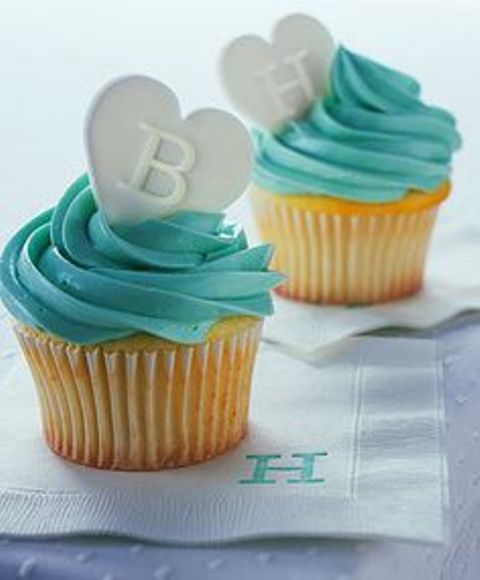 Image source: Pinterest
Homespun cupcakes topped with fondant hearts cut with a cookie cutter and imprinted with the bride and groom's first initials make for an impressive scrumptious treat!
10. Ice cream cone cupcakes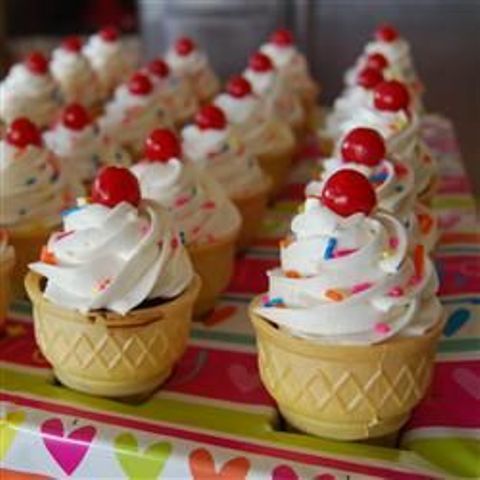 Image source: Pinterest
Cupcakes that are spun out of ice cream cones and topped in swirly crème patterns with maybe chocochips or other savory delights strewn in, can make for an interesting spin on the traditional treat!
11. Glam n glitz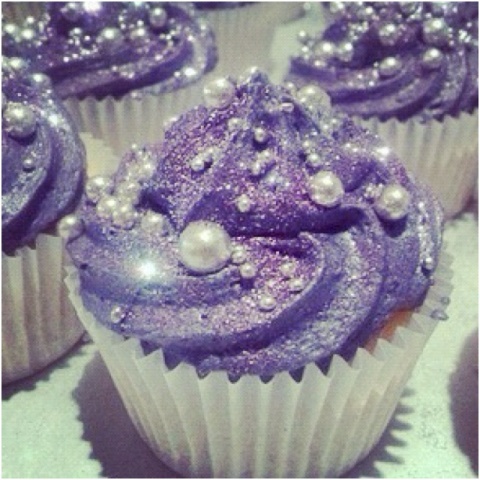 Image source: Pinterest
Adding some sparkly silver beads, pearl piping or lush lustre to your cupcake can make for an impressive delicious-do! Also, going in for a gilded cupcake with disco dust or sparkle lining can add some whimsy touch to your treats!
12. Basket cupcakes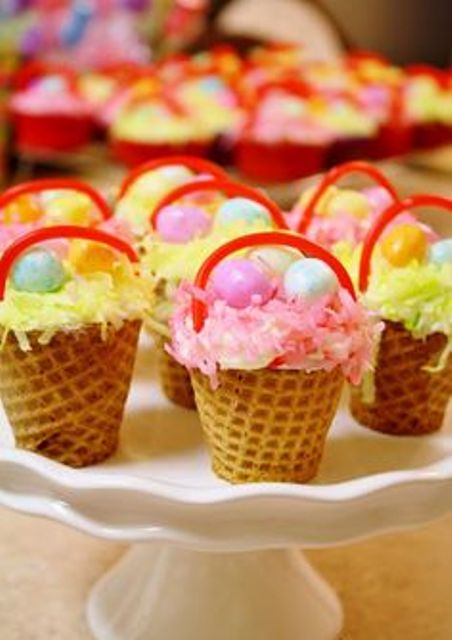 Image source: Pinterest
Basket cupcakes are perfect for an outdoor/picnic wedding. With buttercream piped in basket weave patterns and put in doll-size baskets, put in festive gold-foil liners, adorned in garland twines, and topped with a floret accessory, these li'l lush creamy cupcakes are perfect!
13. Heart-y haven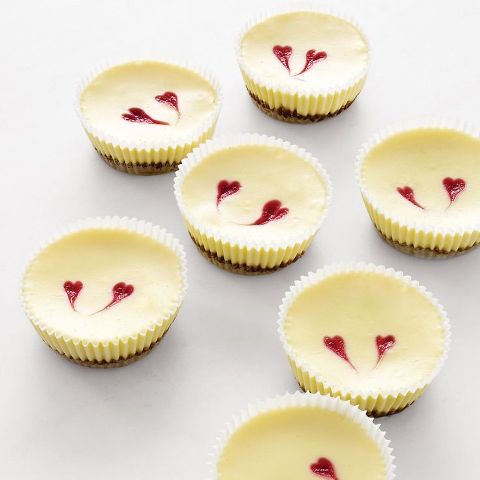 Image source: Pinterest
A tiny version of the classic, creamy graham cracker crusted treat topped with whimsical hearts of raspberry puree is sure to win all hearts at the wedding – ALL!
14. Bead-y delight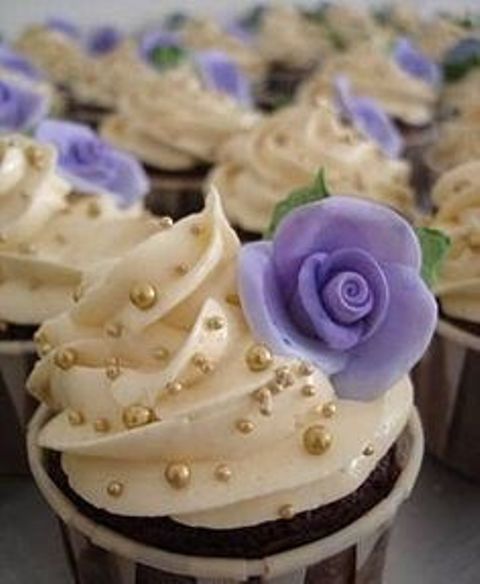 Image source: Pinterest
Beads bring in a playful element to cupcakes. Adding a colorful splatter of beads or adorning the cupcake in a careful pattern, placing a cluster strategically on the cupcake or simply dotting the cupake with a monochrome string of beads can rev up the look by leaps and bounds!
15. With trendy toppers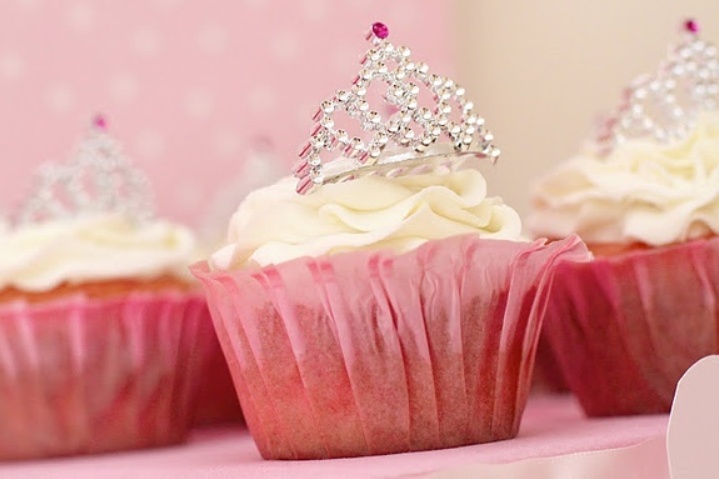 Image source: Pinterest
Cupcakes with trendy toppers like grapevine clusters, monogrammed placards, a kitsch lovebird set, a rustic chuppah with a couple silhouette, or even custom figurines are in! Go all out and make your pick now!
---
Suggested read: Choosing the perfect wedding cake for your reception is easy with our help
---
Tell us about your favorite from these cupcake wedding cakes ideas in the comments below.
Summary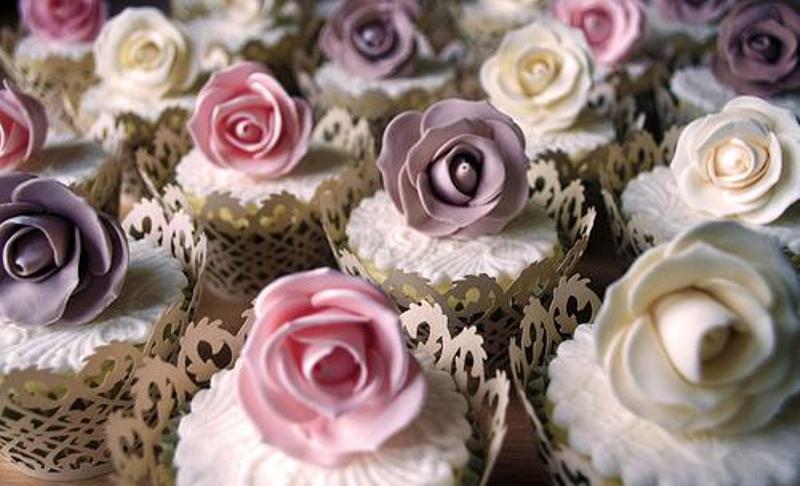 Article Name
15 Unique Cupcake Wedding Cakes For A Non-traditional Bride
Author
Description
The sweetest day of your life needs a dash of sweet sprinkled in li'l doses - that's why you NEED to check these cupcake wedding cakes ideas RIGHT NOW!