"Cakes are special. Every birthday, every celebration ends with something sweet, a cake, and people remember. It's all about the memories." – Buddy Valastro
When planning a wedding, the wedding cake is something that is nearly as looked forward to as the wedding dress!! The bride and the groom cutting a beautiful, multi-tiered cake is a great photo opportunity, and this is one time when everyone's eyes shifts from the bride towards the cake!
Image source: Pixabay, under Creative Commons License
The tradition of the wedding cake began in the ancient Roman empire, but it was actually more bread-like, rather than the kind of cake we have today. Some cultures had a tradition of breaking the bread over the bride's head to wish her good luck, although we fail to see how bread crumbs in your hair translates into anyone's good fortune! Apparently the bride was the one who cut the cake, but as cakes got bigger and heavier, it became impossible for one person to manage the cutting, and thus began the tradition of the couple joining forces for a common cause – feeding everyone cake!
Of course, today wedding cakes occupy prime spots in wedding planning. Some people wonder what all the fuss is about – after all, "It's just cake!" Well, they clearly aren't aware about how much planning goes into choosing the right cake designer and the perfect cake design. There are many factors to consider, and we've simplified it for you with this 10 ideas to choose a perfect wedding cake for your reception!
---
Suggested read: 10 wedding panning apps to make your wedding planning easy
---
Things to consider when choosing the perfect wedding cake
1. Theme
Image source: Google, copyright-free image under Creative Commons License
Time your cake selection after the wedding theme, dress, and décor have been decided upon. This will give you a solid base to work from, in terms of style and color. Many brides want the cake to resemble their wedding dress, down to the last ruffle! If you're having a specific themed wedding, like a beach wedding or an Indian one, you'll have to make sure your cake fits in. A cake with neon green frosting may look a bit out of place if the rest of your wedding is in white and gold, for example. Another nugget of wisdom here: Not everything you see in magazines are real!!
2. Style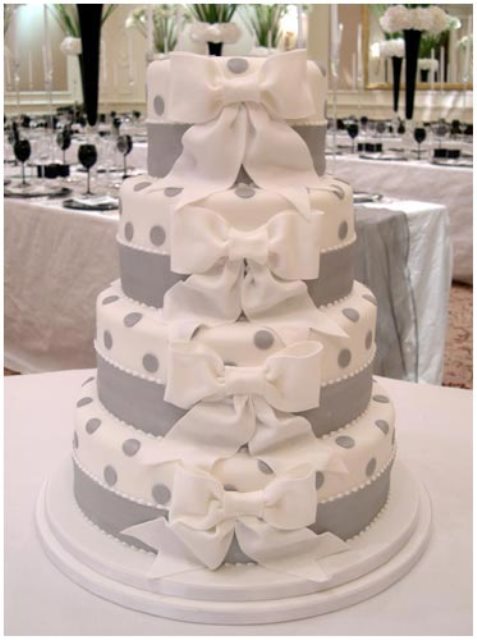 Image source: Google, copyright-free image under Creative Commons License
Wedding cakes aren't just three round cakes stacked on top of each other!! The kind of styles available these days are just mind blowing! Browse magazines and websites to see what style you'd like within the constraints of your overall wedding theme. What shape do you want? Should it be stacked or should there be pillars? Do you want it to be traditional or with a contemporary take? And what about cake toppers – there are so many kinds out there – romantic, funny, and elegant wedding cakes. You see, there's lots to decide!
---
Suggested read: 15 out-of-the-box bridal shower themes
---
3. Designer
Yes, we've done away with simple bakers; we have cake designers now!! The custom cake design is a booming industry right now, and most well known cake designers are booked months in advance. It's important to choose a designer who'll be able to replicate the style you want. But most designers have a certain signature style, so it's worth your while to look at pictures of their creations on their website, so you'll be able to decide if that particular designer is a good fit for you. Online research will also help you find feedback about any designer. You can try newbie designers, but be absolutely sure that they can deliver a cake of the complexity you are looking for.
4. Flavor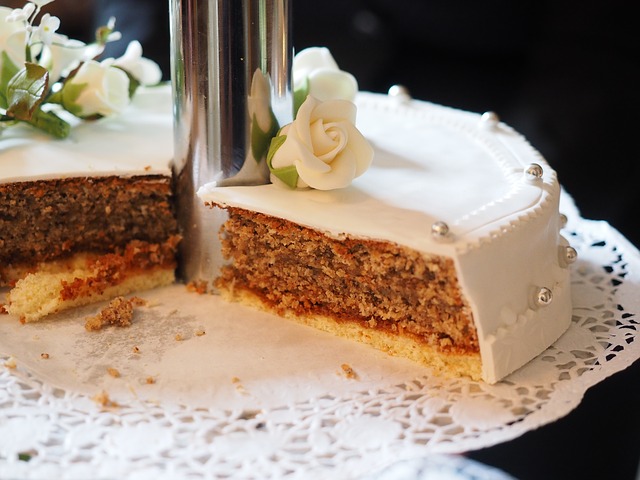 Image source: Pixabay, under Creative Commons License
When it comes to wedding cake, what you see is often not what you get!! Most wedding cakes require you to choose two flavors – for the outside and the inside. Your cake designer will suggest combinations of the two that are known to work, and it's better to stick to what she says. Of course, you can think up never-before done flavor combos for some unique wedding cakes, but do consider your guests – they're the ones who have to eat it! Having a cake testing session is an absolute must; and make sure you taste multiple combinations before narrowing down on one. You can take along your sisters or friends (not more than two!), to help finalize your decision.
5. Budget
Image source: Google, copyright-free image under Creative Commons License
Ah, the all important factor in choosing your wedding cake!! You have obviously allotted a certain budget for your cake when planning your overall wedding budget, so try your best to stick within it. Unless you want your cake to cost more than the dress and jewelry put together!! When searching for your designer, consider your budget first – the high-end ones can cost a bomb. Also, the more exotic the filling or ingredients, the more expensive your cake will be. When going for custom styles, remember that the more intricate your design, the more labor is required on the cake designer's part, which will obviously reflect in the price. Some people go for a smaller wedding cake for purposes of cutting and photography, and then arrange larger sheet cakes of a similar flavor to give out to guests.
6. Weather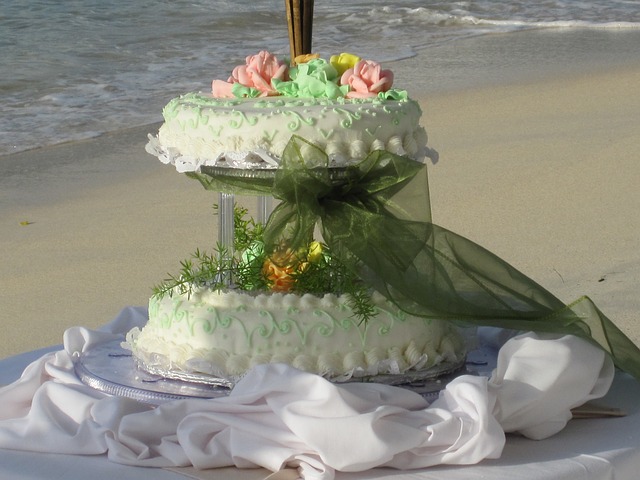 Image source: Pixabay, under Creative Commons License
This is very important as not all kinds of frosting last all year round. If you're getting married in summer, fondant is a good option, since whipped cream and buttercream will melt at high temperatures. Consider whether you'll have facilities to refrigerate your cake before cutting it. You can also align the flavors to the season, for example tropical fruit go well in summer. And being outdoors or indoors with air conditioning makes a difference to the kind of cake you can have. Your designer will have the answers to all your questions; just remember to ask them!
7. Venue
Your wedding venue is just as important as the climate when deciding upon a wedding cake. The best wedding cakes will melt and fall apart if they need to travel cross country before reaching their destination! It's best to find a cake designer who is near your venue and will have no trouble with delivery. If not, be very sure to specify the venue so that your designer can tell you right away if delivery to that area is feasible for the cake you've chosen. Another thing to consider is the assembly of the cake; will your designer need any particular arrangement at the venue to do her assembly? Does your venue have such a facility? Make sure to have thought of all these once you've decided on a design.
---
Suggested read: How to find the perfect wedding venue
---
8. Guests
Yes, it's your special day, but you need to consider the people who're coming to share your happiness too! Make a rough estimate of the number of people you're expecting to attend, and then make the cake for a number bigger than that. Some couples have the tradition of preserving the top tier of the cake; if you have any desires like that, let your cake designer know, so that she can adjust the filling of the top tier as well as make the rest of the cake sufficient for your guests. It would be good to consider dietary restrictions if any, and also the overall 'feel' of the group. If it's largely a traditional family gathering, keep the flavors traditional as well, and keep away from the exotic, which might not appeal to all.
9. Display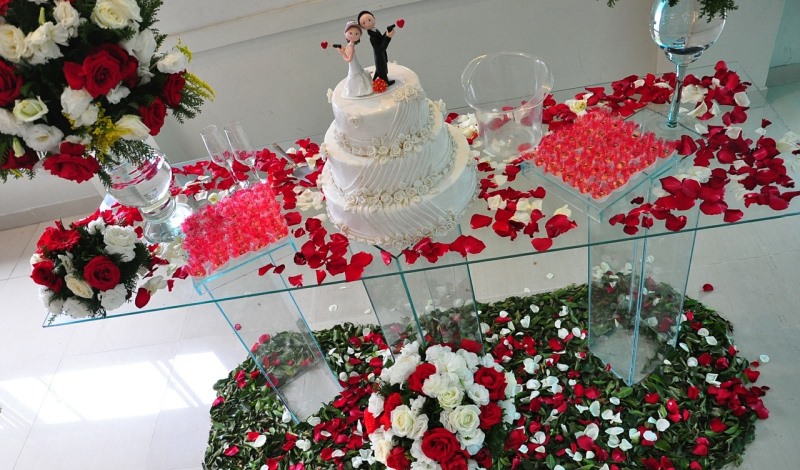 Image source: Pixabay, under Creative Commons License
The choice of your wedding cake should also depend upon your dinner and dessert table arrangement. Is it a formal sit down with dessert served separately? Or is your cake meant to be the dessert? Or is it all going to be on one big dessert table? These are important questions to consider; which is another reason we suggest choosing the cake after everything else has been planned. Also, think of the wedding schedule – ask your planner when the cake cutting is scheduled for, and how much time before that the cake will go up for display. Don't forget to take photos of your beautifully styled wedding cake!
10. Personalization
Image source: Google, copyright-free image under Creative Commons License
It's your special day, so this is your chance to make your wedding exactly what you dreamed of!! Think of anything that you've always wanted on your wedding cake; it could be symbolic of something close to your heart. Couples often request unusual wedding cakes with monograms as well as replications of heirloom jewelry, passed down generations from mother to daughter. If your family has certain traditions, include them too, weddings are a time to honor traditions like that! In many South American weddings, a ring or small charms are attached to the ends of ribbons and placed between the cake layers, with the loose ends outside for the bridesmaids to pull at. Some bake a cake with a hole in between, where a wine bottle is placed!
The wedding cake is an important part of any wedding, and is an event all guests look forward to sharing with the new couple. The photos of the two of you cutting the cake together, and feeding each other a slice are ones you'll look back on down the years, with smiles on your faces. So make sure you choose the perfect wedding cake for you and make some grand wedding memories!
Featured image source: Google, copyright-free image under Creative Commons License
Summary
Article Name
How To Choose Your Wedding Cake
Author
Description
Whether you go for elegant wedding cakes or unusual wedding cakes, here's how to choose the wedding cake that suits you.