Your wedding cake topper is a reflection of your personality and choice, representing the whole theme of your wedding. If you are going for a country themed wedding with a rustic approach, here are some of the classiest rustic wedding cake toppers that are bound to be a hit.
---
Suggested read: Check out these rustic floral arrangements to add charm to your ceremony
---
1. Wooden log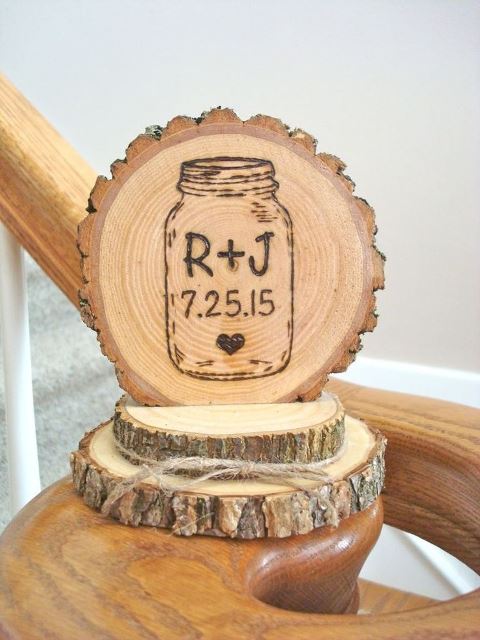 Image source: Pinterest
This topping goes perfectly on rustic wedding cakes. You can customize the symbols and words engraved on this topper, such as your and your partner's initials and the date of your wedding. All that you have to do is leave all your information while ordering, and leave the rest to the experts.
2. The wedding vow toppers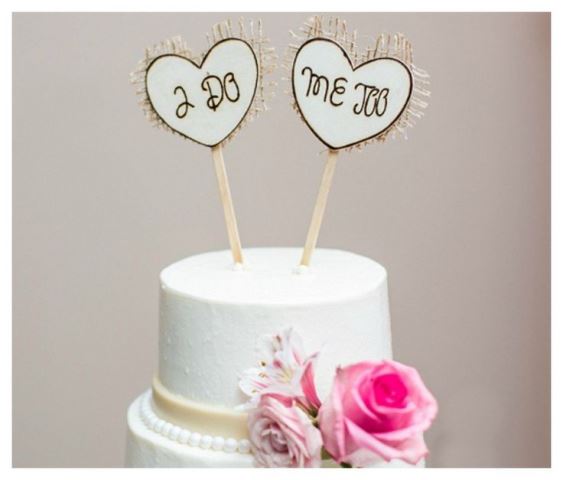 Image source: Pinterest
These adorable heart-shaped slices are another awesome way to confirm your wedding vows.
3. 'I cross my heart and hope to die!'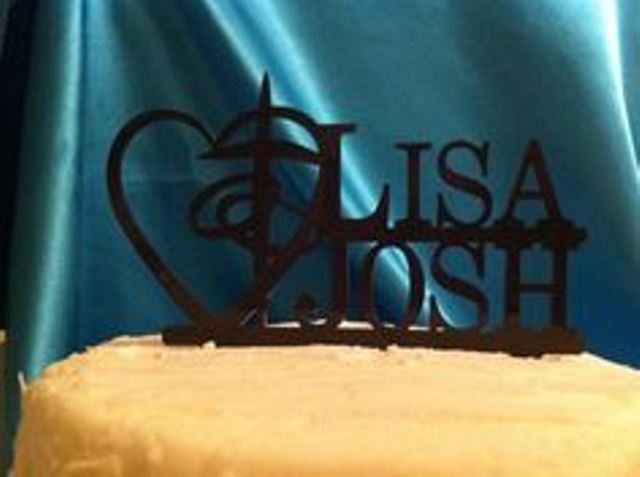 Image source: Pinterest
This is a very cute rustic wedding cake topper that will have a heart and cross personalized according to your wishes. This laser cut topper speaks of pure romance.
4. The 'hitched' topper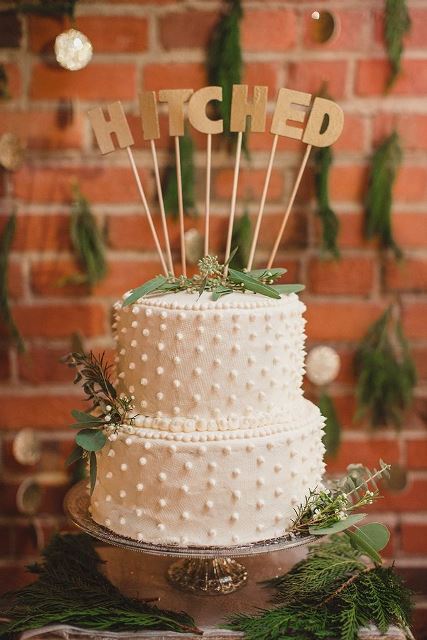 Image source: Pinterest
If you want to flaunt the fact that you are getting 'hitched' through your wedding cake, then go for this simple topper made of smaller pieces of wood. It is lightweight, inexpensive, and made with extreme care.
5. Silhouette of bride and groom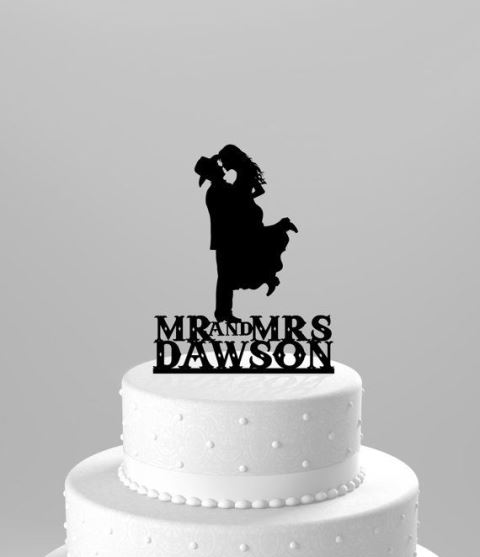 Image source: Pinterest
This works great as a wedding cake topper as it is simple, sleek, and looks very neat on wedding cakes. It comes with the couple's last name below the two figurines.
6. The western couple topper
Image source: Pinterest
If you are a fan of western style, then this is ideal for you. The enigmatic topper is drawn by hand and shows the figure of a groom holding his wife-to-be with the neat and delicate silhouette of the bride.
7. Cowboy style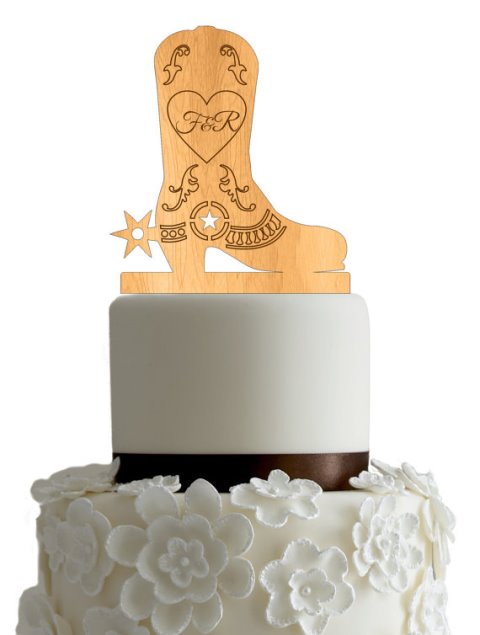 Image source: Pinterest
No other wedding cake topper will be able to convey the message of your inner cowboy self better than this dashing ornament in the shape of a cowboy's boot. The size will vary according to your choice, as is the carving on the boot.
8. Boots for the couple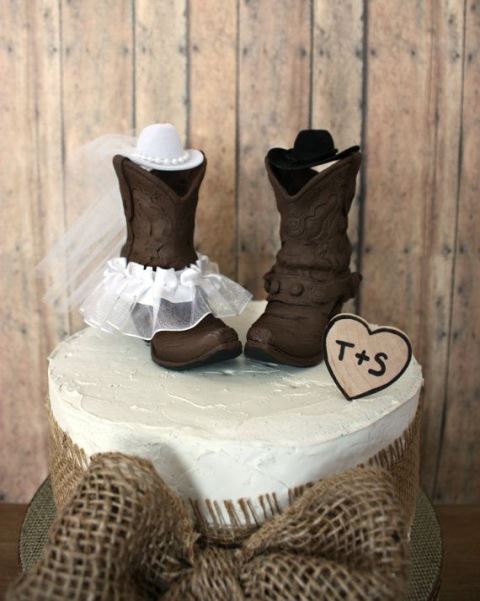 Image source: Pinterest
This is another one for the cowboys. These boots are specially designed with the couple in mind. On the groom's boot there is a large masculine black hat, and on the bride's boot there is a pretty trailing veil and a garter.
9. Cowboy and girl cake topper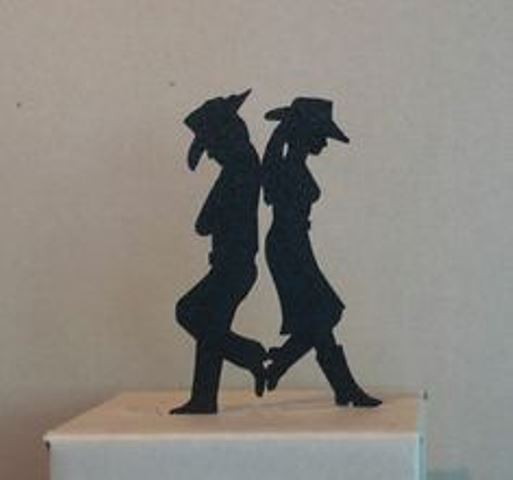 Image source: Pinterest
This exquisite cake topper has the silhouettes of a cowboy couple. It looks really fragile and delicate, but its material is stronger than it looks. It is made of black plastic that has a smooth back and a non-reflecting pebbled surface.
10. The belle and her cowboy topper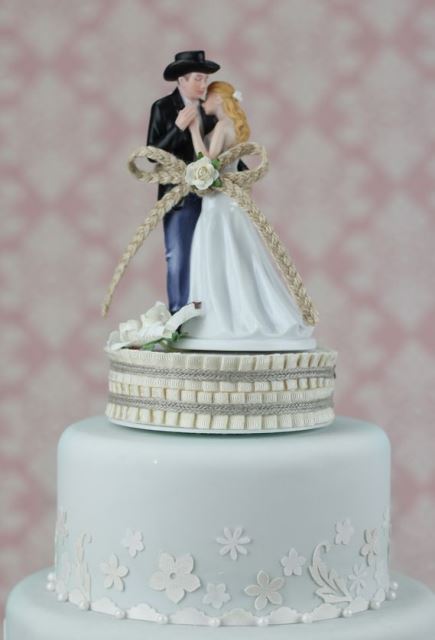 Image source: Pinterest
Nothing will better represent a rustic wedding than this very lovely topper comprised of a cowboy and his belle. The groom is holding his bride close to his side protectively while wearing a cowboy hat, whereas the belle is wearing a huge gown.
11. Cute country girl topper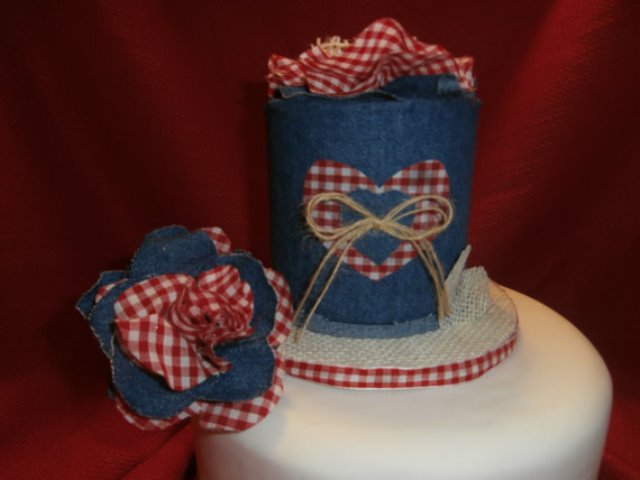 This wedding cake topper is made of denim and fabric roses, giving your cake a very charming look. The front of the topper is adorned with a shabby cute flower and a bow. There's also a burlap heart placed on the side.
12. Horseshoe toppers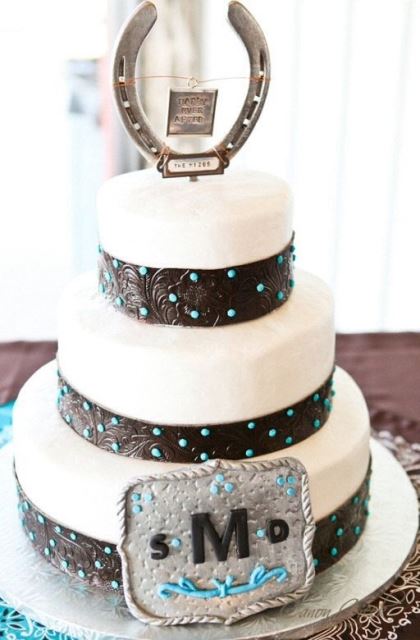 Image source: Pinterest
If you are having a farm wedding or country wedding, then this will be the best choice for you. The topper is made by hand with polymer clay, diamante, and ribbon, surrounded by pearl-colored roses and placed on an embossed base. The interesting thing about this topper is that it is not edible, so you will be able to keep it as a showpiece and a special reminder of your wedding.
---
Suggested read: 15 naked wedding cakes that are rustic yet charming
---
13. The buck and doe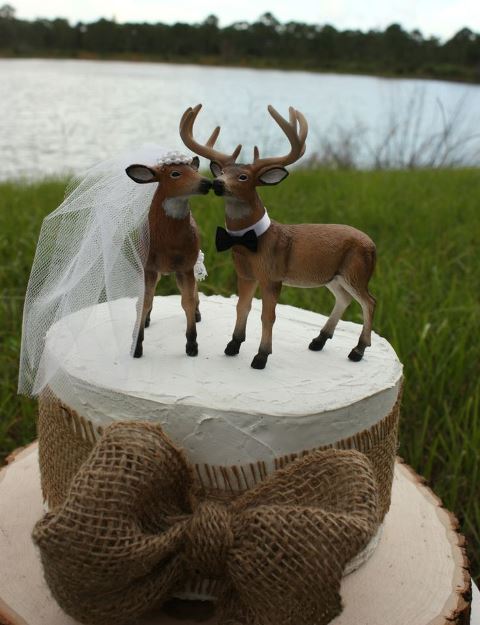 Image source: Pinterest
Among all country wedding cake toppers, this one is definitely the cutest. It has a buck and a doe along with a bow tie for the buck and a veil for the doe. As this piece is handmade, it looks very rustic and natural. It goes without saying that this wedding cake topper is one in a million.
14. Fox topper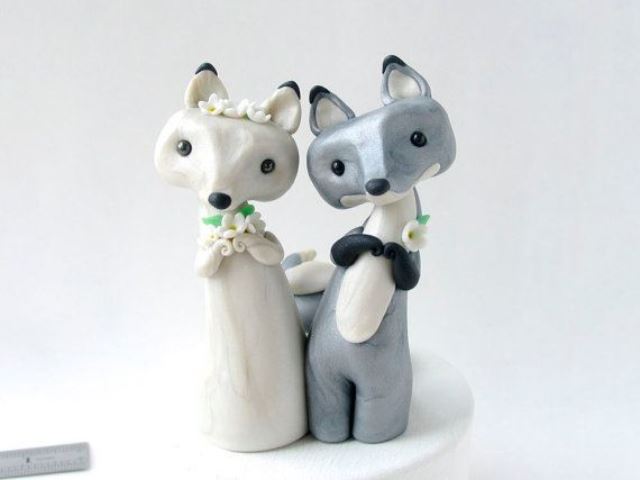 Image source: Pinterest
If you love wild animals, here's a cute idea for a wedding cake topper. The female bride fox wears flowers while the groom wears a single flower on his chest. This could be your perfect choice if you want to make a show of your wild side.
15. Love birds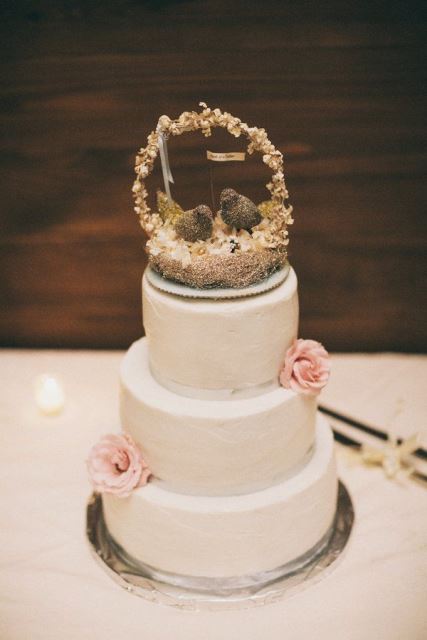 Image source: Pinterest
We all know that nothing depicts love better than the traditional pair of cute love birds. So if you are planning a rustic wedding, you could choose this topper specially dressed with a bow tie and a veil. These burlap love birds will perfectly suit you if your wedding is held in a barn or has a rustic theme.
16. Blue lovebirds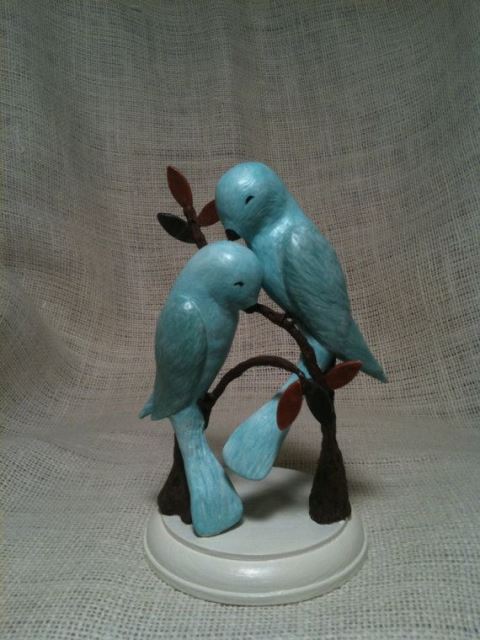 Image source: Pinterest
Take the lovebird motif up a notch by going for porcelain. These gorgeous clay lovebirds are handmade and kiln-fired. This will be a great traditional cake topper as the birds are made to sit on a branch that is finished with a matte brown shade. Overall, it gives the impression of nurturance and support.
17. Two mice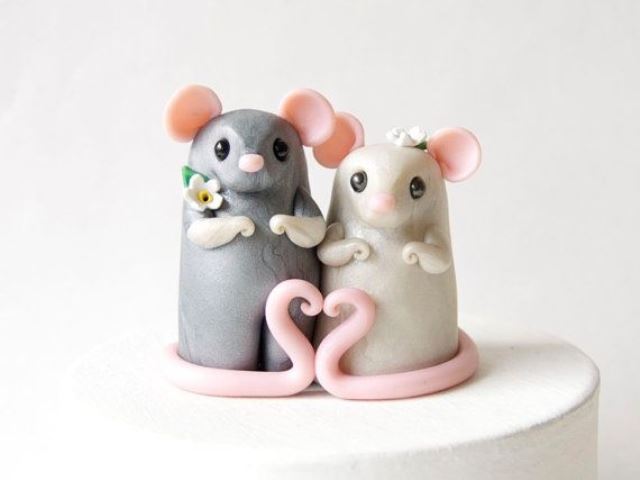 Image source: Pinterest
This is a unique cake topper made with fondant, which you and your newlywed husband can devour. Another option is to go for a cake topper made of harris tweed, lace, wool fabric, and such natural ingredients. Then again, the materials will be selected as per your choice.
18. Horse toppers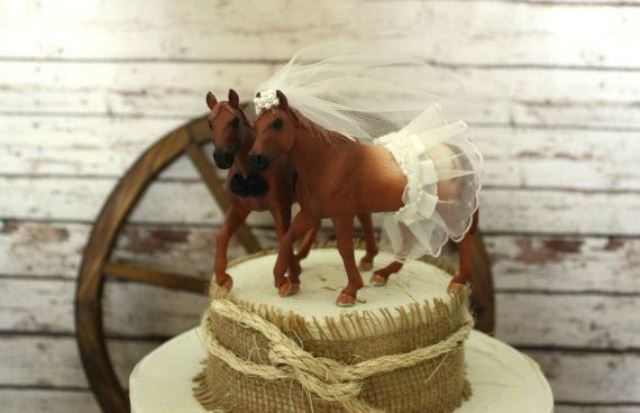 Image source: Pinterest
Here's another one for all the animal lovers who want to show their affection for animals in keeping with the rustic theme. These toppers are intricately made of rubber and feel like resin, and look extremely realistic. The groom horse is made to wear a cute bow time whereas the bride horse wears a veil and a garter that are covered with pearls.
19. Reindeer silhouette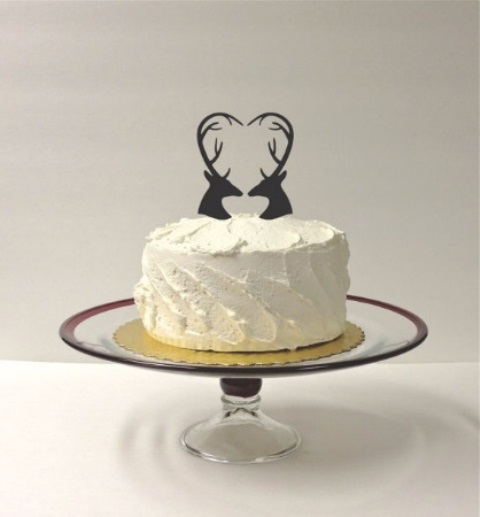 Image source: Pinterest
This is a very romantic wedding cake topper for your rustic wedding, or if your wedding is being held in the winter or sometime around Christmas. This rustic wedding cake topper is also ideal if you have a wildlife themed wedding. These are made of black or white acrylic, as you choose. It is simple, elegant, yet inexpensive and the way the antlers of the buck and doe meet looks mesmerizing.
20. Dairy farm cow toppers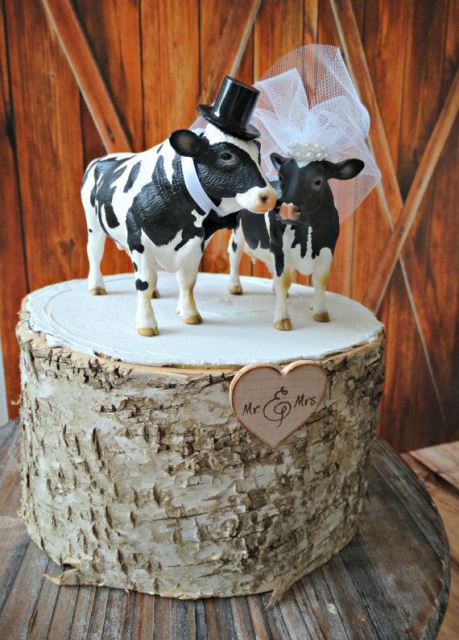 Image source: Pinterest
This is rustic taken to the extreme! If you are a true lover of country and its ways and lifestyle, then you will simply love this. These cows are made to look like a couple – the groom cow is made to wear a bow tie, and the bride cow wears a veil that is covered with pearls.
21. The country image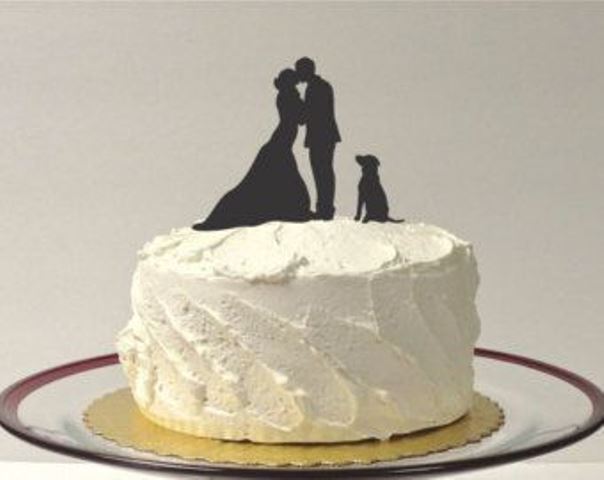 Image source: Pinterest
This wedding cake topper is an absolute symbol of country life and will be a great topper for your rustic wedding cake. It is made of natural wood, with cute silhouettes of domestic pets surrounding the embracing couple.
22. The giving tree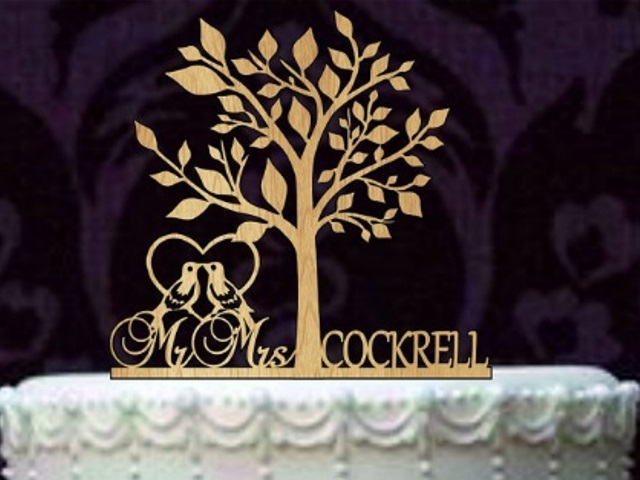 Image source: Pinterest
The materials used to make this are simple comprising of natural wood, plexiglass, and acrylic. Take advantage of laser cutting capabilities to come up with elaborate designs.
23. Pearl monogram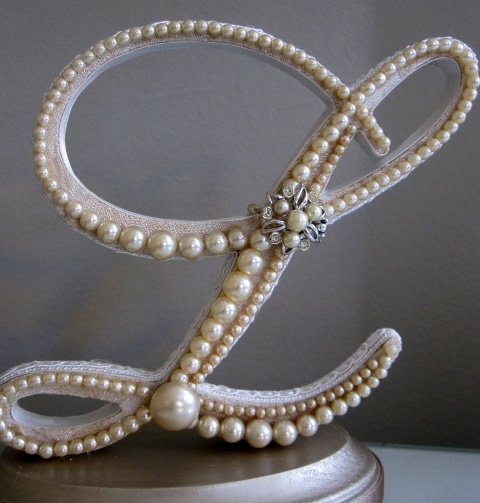 Image source: Pinterest
These wedding cake toppers have pearls adorned on them and are made of birchwood, not plastic or acrylic. They come in various colors and the designs will be of your choice.
24. Pearl monogram, version two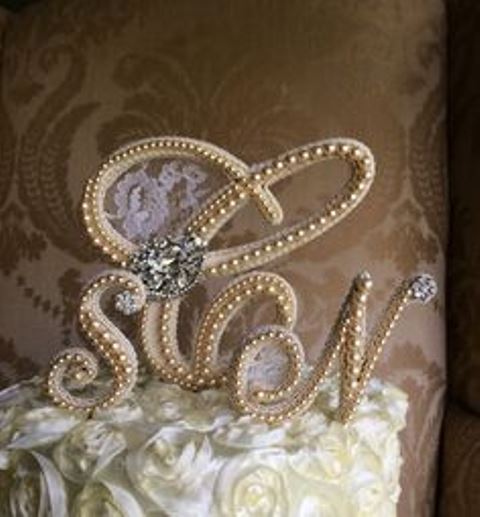 Image source: Pinterest
This is one of those rustic wedding cake toppers made particularly for renaissance-themed weddings. The initials of both the bride and the groom are kept on either side of the cake topper, and the pearls adorned on the cake topper give it a fascinating look. This would make for a fantastic keepsake!
---
Suggested read: 25 rustic wedding dresses that urban brides would love
---
25. The grapevine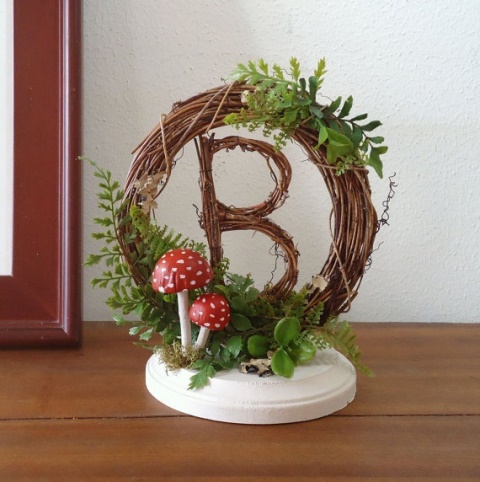 Image source: Pinterest
These initials are carefully created with sticks, wood, grapevine, twigs, and other organic materials, giving off an extremely rustic look. You can choose the letter, the color, and the flowers.
Among these charming rustic wedding cake toppers, which one caught your fancy? Tell us in the comments below!
Featured image source: Pinterest
Summary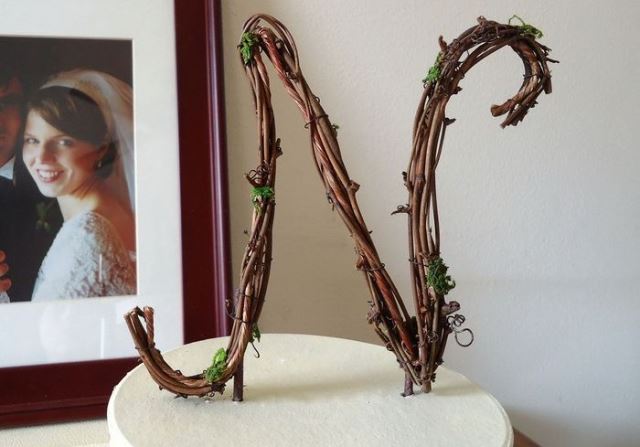 Article Name
25 Rustic Wedding Cake Toppers For A Dash Of Simplicity
Author
Description
Tired of the same old, cliched wedding cake toppers? Check out these simple yet charming rustic wedding cake toppers for inspiration.