It is the most special day of your lives and therefore, the beautiful edible edifice that you have picked after countless tastings so as to appease the gods of sweetness and your loved ones alike must be extra special too, right! Yes, I am talking of your wedding cake and that this multi-tiered paean of sweet delight has to be anything-but-boring-and-white!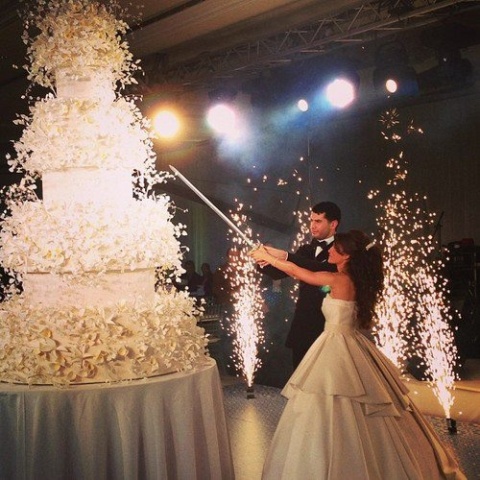 Image source: Pinterest
---
Suggested read: The most jaw-dropping celebrity wedding cakes ever!
---
There are countless wedding cake ideas that can make your wedding cake stand out from among the zillions of choices that baffled you when you were out to pick the perfect wedding cake for yourself! From customizing flavors to including colors that match your theme to chipping in those sugar glamelias or posies – your wedding cake can be anything from a stunner invite for people to please their palate to a bouquet that nobody would want to toss! There's a truly mind-boggling list of wedding cake ideas that can range anywhere on the confection spectrum – from couture confections to trendy ones that involve metallic accents to even edible ornaments (like Swarovski crystals) that'd leave all guests gaping at the perfection! And just because we know that wedding to-do-lists aren't quite a cakewalk (patting myself for the pun :P), we are making your pick from among the most amazing of wedding cake ideas easy, breezy, and well, delicious. Check out our heart-picked platter of the most awesome and unique wedding cake ideas:
1. Bring in the blossoms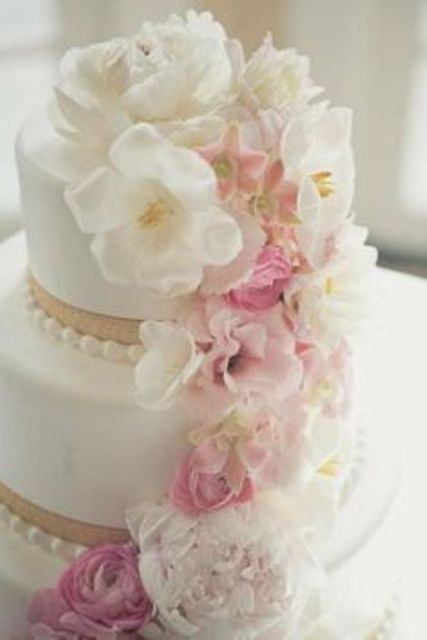 Image source: Pinterest
Whether you wish to create a French croquembouche with handmade, edible sugar rose flowers or have a sugar glamelia blossoming on one face of the cake, whether you wish to top off your cake with a lush magnolia accented with gold or have a whole vine of flowers cascading down across the tiers – blossoms on cakes are an all-time favorite and there is no dearth of options you could have when experimenting with fondant flowers! Go all in!
2. Doves, please?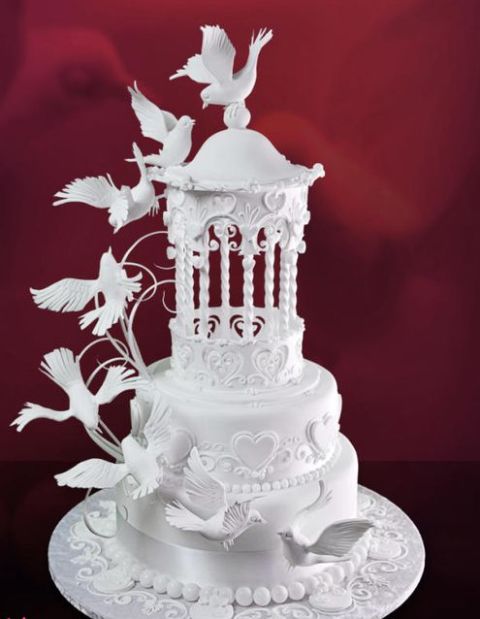 Image source: Pinterest
Doves are birds that mate for life. Their devotion and love make for a splendid motif-echo on the cake when you could strategically place gumpaste doves across the tiers, may be with ribbons sashaying across their beaks and reading a special message of love! The tiers could also be adorned with lush cream ribbon and the whole edible edifice would feel like the celebration of a perfect fairytale romance.
3. The lacey love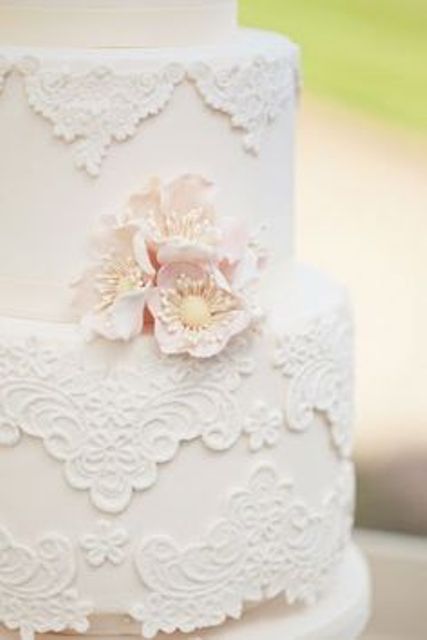 Image source: Pinterest
When delicate, chunky or a fine blend of both textural patterns are added to the tiers of the cake, in alternate segments, the output makes for one striking piece. Of course, an open experimentation with the colors of bold lace can make for a creative contrast and the result would be one creamy delight!
4. Trendy toppers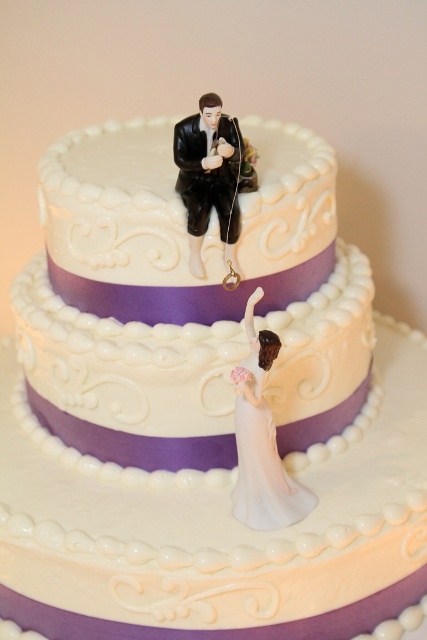 Image source: Pinterest
Trendy toppers aren't just an accessory apt for single-tier cakes. From the traditional couple toppers that can be modified in a variety of forms to rustic swing toppers, wire-love cake toppers, custom figurines, kitschy lovebirds, location-inspired toppers and pomander collections – there are endless options! Go whacky!
5. The shapeshifter stunner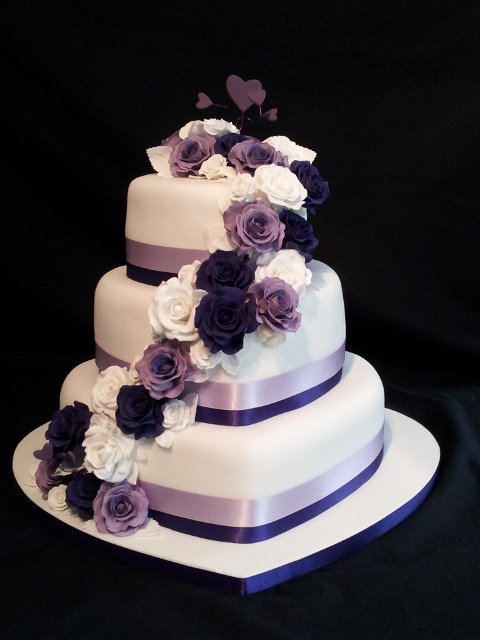 Image source: Pinterest
Instead of opting for the traditional cake that has tiers in one shape, one can opt to have a splatter of shapes on the sweet edifice that one plans to opt for as the 'icing' on one's nuptials. From hexagons, ovals, rectangles, and even triangles – there is no dearth of options to go all gaga on geometry! You could even try petal-shape for a totally unique wedding cake.
6. Twist the texture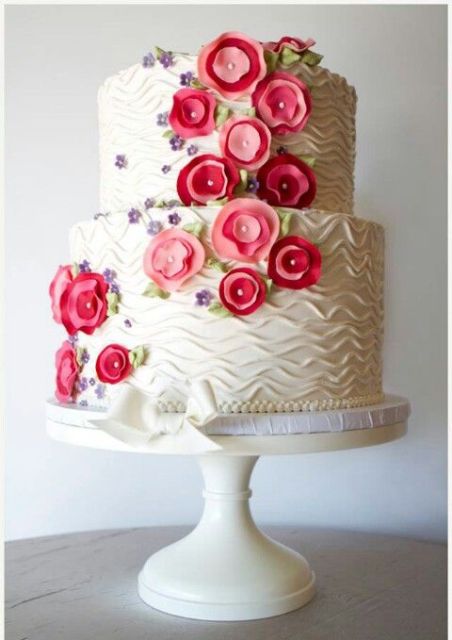 Image source: Pinterest
A grooved silhouette or a modified textural body of the tiers on the cake can be a great way to add some tickly taste to the treats served on your wedding day. From etched-out carvings to scooped out hearts or simple scalloped lines or crisscross patterns, twisting the texture could take the 'treat' to the taste buds higher by several notches!
7. Nature's nurture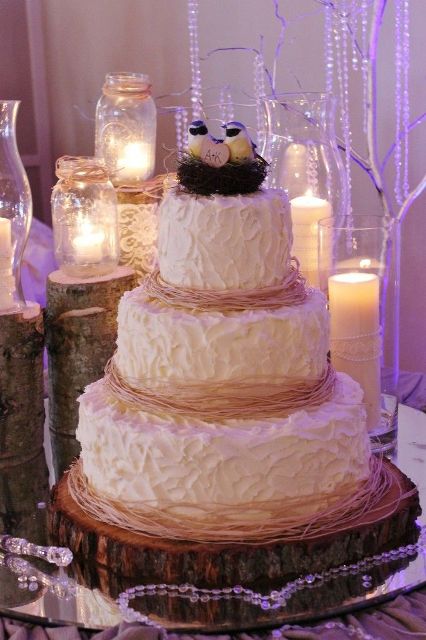 Image source: Pinterest
It would be nice to see leaves, flowers, berries, vines or even birds adorn the wedding cake. After all, what could be more natural to your nuptials than a cake that seals the day, nestled in Nature's nurture! Take it all the way!
8. Go beyond the white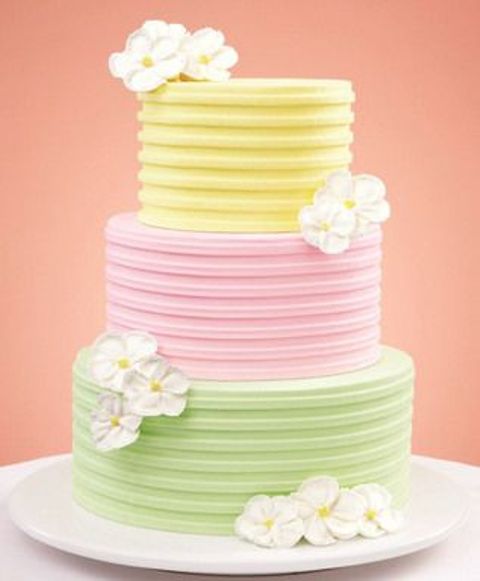 Image source: Pinterest
Whoever said that wedding cakes have to be frosted in white buttercream? Choose creamy chocolate with cascading red spray rose bunches, sunshine yellow with fondant bands gathered with sugar brooches, pink cake topped in romantic swirls of delicate flowers with pearlized fondant, a raised frame and metallic accents. The sky's the limit.
9. Give every table a cake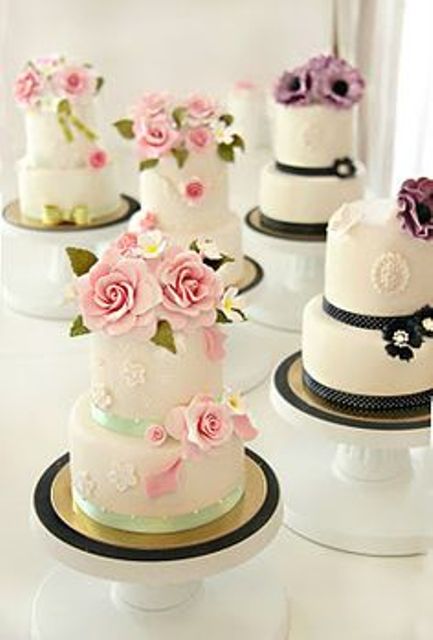 Image source: Pinterest
Have individual mini-cakes in an assortment of flavors, shapes, and toppers be available for your guests to have a turn at cutting their own cakes at their tables. You could even have numeric toppers so as to double them up in their use for showing table numbers! Smart and sweet, eh? 😉
---
Suggested read: 15 unique cupcake wedding cakes that left us wanting more
---
10. Set the sweetness soaring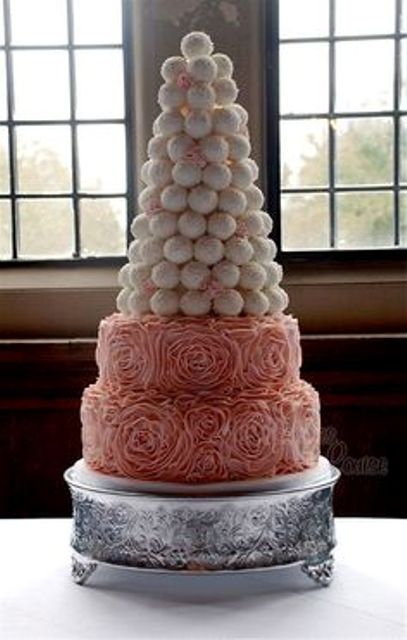 Image source: Pinterest
Get the sweetness soaring sky high by adding other confections like truffles, cookies or even key lime pie to your cake in a rare and unique combination of a dessert buffet in and with your cake!
11. Rev up the romantic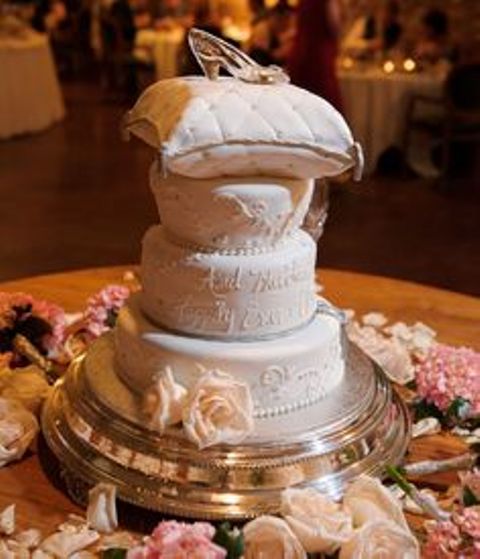 Image source: Pinterest
Go for a Cinderella-theme cake to live out your own fairytale. Add a happily ever after tier along with pillows, ball gowns, and of course, the blatant glass slipper topper on top!
12. Go for pleats or stripes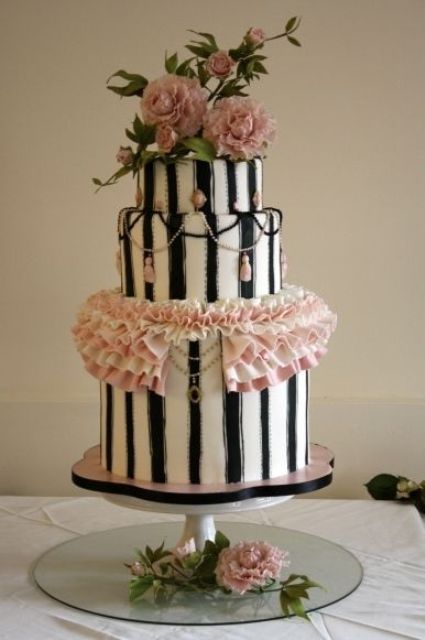 Image source: Pinterest
Pleats and stripes could very well be an optical illusion on the cake! Looks great and tastes even better!
13. Pipe them pretty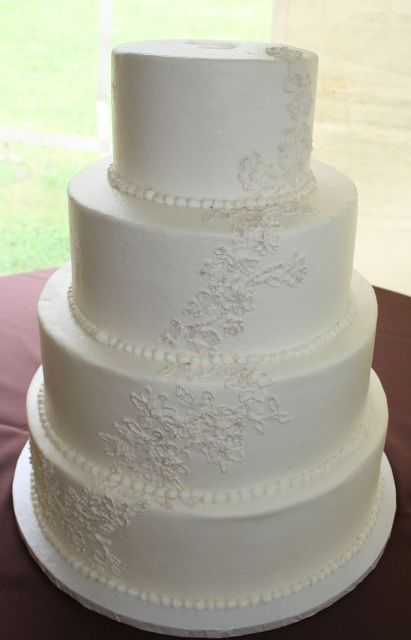 Image source: Pinterest
You could have your entire cake piped in intricate design that may carry symbolic meaning for you as a couple or be steeped in a family legacy or simply have some relevance for the new life you are about to begin together. Alternatively, if you are bold enough, you could have the multiple tiers of your cake be piped in several stages of your anticipated married life, captured in all its hilarity! Fun, and well, futuristic! Not to forget, tasty!
14. Go for gold, live it up like royals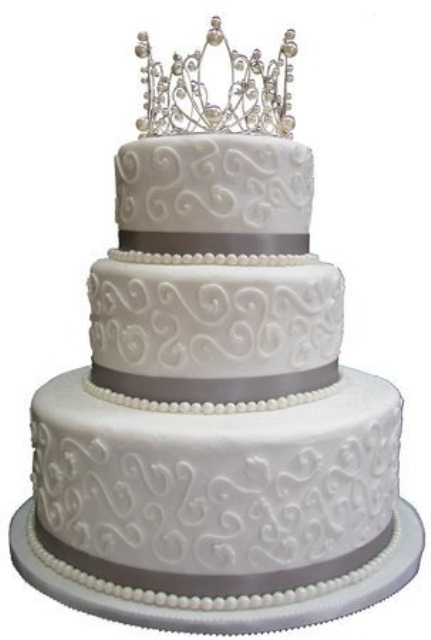 Image source: Pinterest
Go for a simple, ethereal confection that could have tall circular tiers with love verses inscribed in calligraphic hand and topped with a vintage crown/tiara. Alternatively, you could go for a striking gold cake with jewel encrusted all over, giving it the perfect regal touch.
15. Go for the painterly brushstroke effect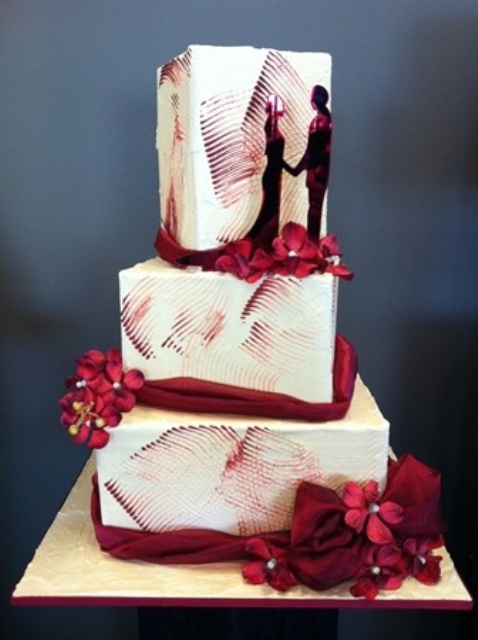 Image source: Pinterest
You could go for the subtle watercolor effect on your cake or opt for a gilded cake with disco dust. You could even go for bold and bright brushstroke accents. Whatever suits your taste!
16. Floral paint pattern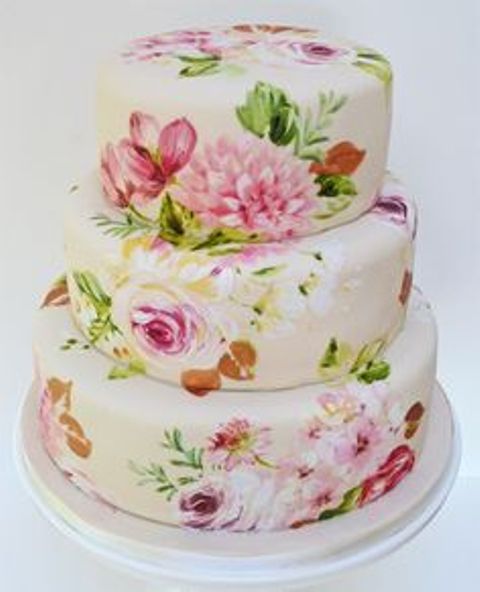 Image source: Pinterest
For a fresh take on the floral vintage pattern, add a handpainted floral pattern on your wedding cake with some dramatic stroke accents or black-and-white stripes so as to infuse a modish twist with the vintage feel.
17. Go for brush embroidery icing
Image source: Pinterest
Brush embroidery involves stroking through royal tinted icing with a paintbrush so as to etch a brush-stroke pattern that resembles stitching in fabric. Using this on your cake sure adds 'layers' to it – visually! While the taste of this visual delight, needless to add, would be heavenly!
18. Have a giant edifice with ruffles/waterfall/blossoms cascading down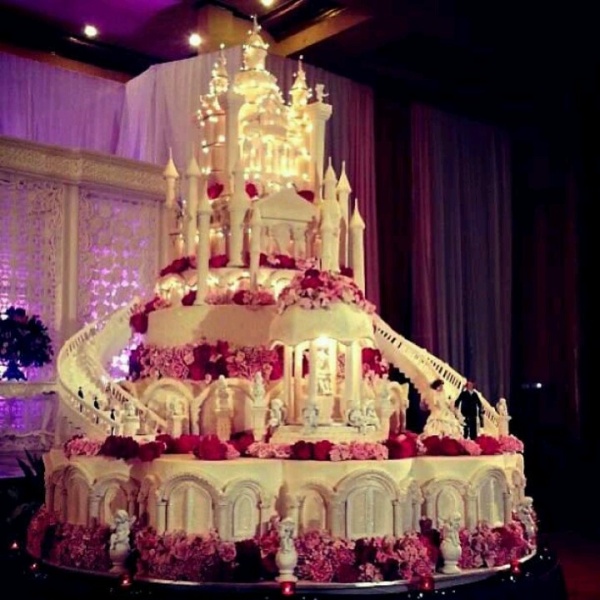 Image source: Pinterest
When you go big – like, seriously big with your wedding cake, it stands tall like a wow-worthy installation in your wedding venue. Of course, you might have leftovers left for days or months but this tall edifice of sweetness will surprise the spectators like nothing else.
19. Have fluttering feathers fondant on the cake 😉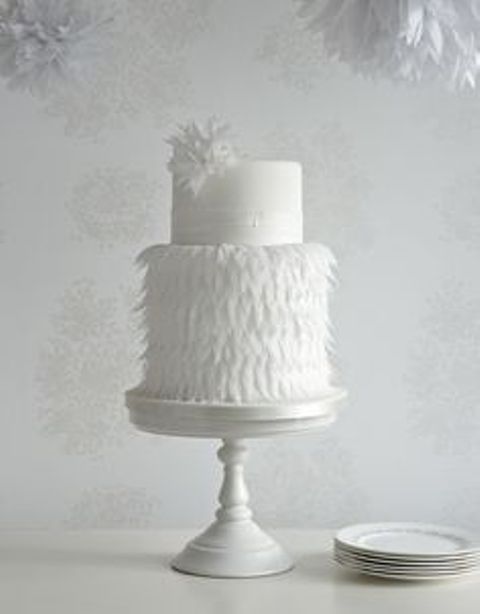 Image source: Pinterest
Fluttering sugar feathers are the perfect cake motif for an outdoor wedding. Each one is hand-cut from fondant and is slightly different and unique and together, with the sugared magnolia toppers that look oh-so-real, you'd devour this piece whole!
---
Suggested read: Choosing the perfect wedding cake for your reception is easy with our help
---
20. Bring on the bling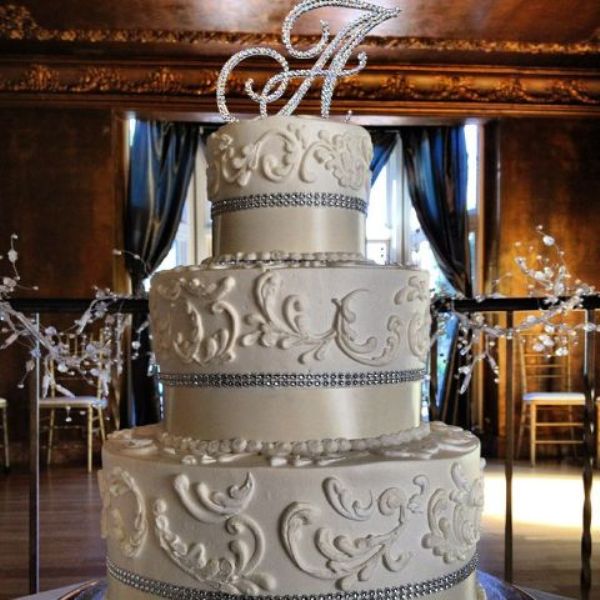 Image source: Pinterest
What could be more delightful than crystal brooches, pearl touches, crystal sashes, pin dots or even embossed bling fondant dressing up a lustrous ivory cake! Throw in some dramatic colors and you have a winner!
Which one do you want to have? Tell us in the comments below!
Featured image source: Pinterest
Summary
Article Name
20 Stunning Wedding Cake Ideas For A Memorable Reception
Author
Description
Weddings make for the sweetest memory ever! Make it extra special with our sweetened wedding cake ideas for just the right icing of awesome on your nuptials.