Weddings are the one day when no soon-to-be-married couple can be blamed for going all out. And this is all the more true for celebrity weddings. After all, our favorite Hollywood celebs leave no stone unturned in being the lavish face of tabloids, splattering their fairytale photos all over cyberspace, making buzz about the most extravagant of preparations for their big day, and ultimately, giving us that one 'perfect' wedding!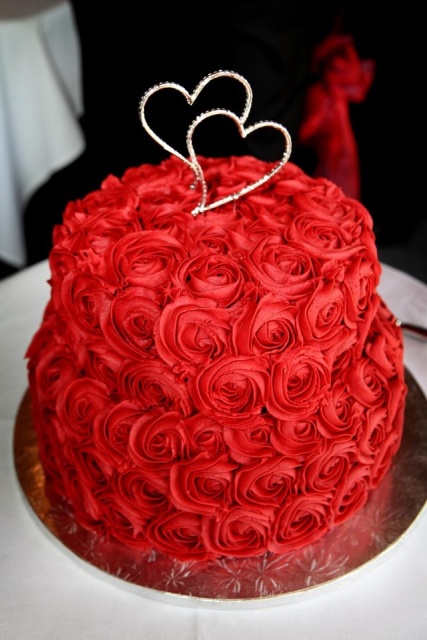 Image source: Pinterest
In this 'wedding of dreams,' not only do celebs clothe themselves in the perfect nuptial ensembles, dress their venue in ethereal décor, and make us swoon over their invites and wedding favors but they also ensure that the multi-tiered paean to the gods of sweetness – the beautiful edible edifice that is the result of countless tastings stands tall as a central attraction for them and the guests alike. Needless to say, the celeb couples dole out a jaw-dropping amount of green – that isn't quite the price tag we, normal folks, would spend on a luxury automobile either – on these beautiful wedding cakes. It wouldn't be much to say that the dough they spend on batter and frosting alone serves in the creation of extravagant wedding cakes that put the final icing on the 'wedding of their wildest dreams.'
---
Suggested read: Best celebrity wedding dresses of 2014
---
Check out the most extravagant celebrity wedding cakes:
1. Pierce Brosnan and Keely Shaye Smith's $2,430 Carrot Wedding Cake
Image source: lvcc.co.uk
If Bond, James Bond is getting married, everything in the wedding has to be 007 classy, right! And so is true of Brosnan and Keely's wedding cake. Created by London's Little Venice Cake Company, the beautiful and elegant six-tier carrot wedding cake was fashioned after the iconic wedding cake of Jack and Jacqueline Kennedy and featured an elegant hand-piped fleur-de-lis design around each tier. The $2,430 wedding cake was displayed on a topiary tablecloth illustrated with gardenias, orange blossoms, white roses, and stephanotis. To add a more luxe touch, Keely's mother crystallized edible flowers to give the cake a dew-like aura.
2. Paul McCartney and Heather Mills' $4,500 Chocoholic Wedding Cake
Image source: richeslifestyle.com
The Beatles star had a wedding cake that could as well have been a song. A scrumptious, luscious choco-treat, this four-tier chocolate confection – a delight to behold and devour, owed its existence to British chocolatier Choccywoccydoodah. The name's musical too, no? 😉
3. Kim and Kanye's $6,685 seven-foot tall Wedding Cake
Image source: Instagram
The wedding of the millennium couldn't have gone without seeing an over the top, lush, and extravagant wedding cake, right! When the sizzling siren of reality TV got ready to tie the knot with the rap star, their nuptials spanned days and countries. Obviously, the sweet treat waiting back home had to be spectacular, and it was. The seven-tier seven-foot-tall cake was all white cake with fruit layers covered in white frosting and was one giant of a cake that had to be carried in by three people!
4. Michael Douglas and Catherine Zeta Jones' $7,000 Vanilla Wedding Cake
Image source: TheriChest.com
If the wedding cost a whopping $1.5 million, it was but apt that a 10-tiered, six-foot-tall vanilla and butter cream wedding cake, covered with thousands of edible sugar flowers and worth $7000 was brought in to mark the union of these actors. In fact, the cake was so big it had to have two tiers removed in order to fit through the ballroom doors before being reassembled! After the wedding, the couple preserved the cake's top tier and gave it to the bride's mother.
5. Chelsea Clinton and Marc Mezvinsky's $11,000 Gluten-Free Wedding Cake
Image source: whitebowsevents.com
When former First Daughter Chelsea Clinton married Marc Mezvinsky, the couple set the foundation for gluten-free and made it cool! Their spectacular four foot nine-tiered cake was a vanilla sponge, created with a gluten-free flour blend, layers of chocolate mousse, and covered in vanilla fondant. The cake weighed almost 500 pounds and was lavishly decorated with 1,000 sugar flowers in the shape of roses, calla lilies, and orchids.
6. Kim Kardashian and Kris Humphries' $20,000 Black and White Cake
Image source: RachelDermanEvents.com
Even though this wedding was short-lived, this television spectacle of a wedding created quite THE stir. The extreme wedding cake to match all the brouhaha, was an eight-foot-tall cake by Patrick Hansen, tipping the scale at 600 pounds. The tiers alternated between black and white, simple in comparison to their larger-than-life wedding. The massive chocolate-chip marble cake was decorated with buttercream frosting. We wonder if the leftovers lasted longer than the wedding!
---
Suggested read: 15 weird wedding dresses that left us scratching our heads!
---
7. Eddie Murphy and Nicole Mitchell's $25,000 Floral Wedding Cake
Image source: Getty Images
The comedian Eddie Murphy and his model wife Nicole Mitchell went all out on their lavish, multitiered wedding cake – a white icing tall edifice overflowing with sugar roses of different pastel hues. And if it cost THAT much, it better have been GOOD, really GOOD!
8. Michael Jordan and Yvette Prieto's Bejeweled Wedding Cake
Image source: Munaluchibridal.com
When basketball legend Michael Jordan married his lady love Yvette Prieto, their $10 million wedding was made all the more luxe with an all-white, seven-layer rum cake, covered in white fondant and sugar crystals and adorned with crystal brooch. The couple's monogram adorned the top layer and Edda's Cake Design were sure proud of their treat to the sweet freaks!
9. 'Sex and the City' $32,000 Wedding Cake
Yes, I know, I know – this was meant for a fictional wedding – but this one was just too gorgeous and of course, quite extravagant to leave out from the list. After all, when Carrie Bradshaw and Mr. Big get married, the cake should match up. Created by Ron Ben-Israel Cakes, this extravagant confection stood more than six feet tall, adorned by approximately 4,100 Swarovski crystals to create the illusion of a glittering chandelier.
10. Liza Minnelli and David Gest's $40,000 Red Accent Wedding Cake
Image source: Palermobakery.com
While we shan't comment on the fact that the sweet, colorful confection on Minelli's fourth marriage to producer David Gest quite matched the bitterness of their separation, we need to tell you that this rather delicious treat was a delight for the eyes too. A black and white, multi-tiered edifice with red flowers and accents and sterling silver-leafed stripes, the cake was a truly lavish dream!
11. Princess Diana and Prince Charles's $40,000 Flowered Wedding Cake
Image source: TheriChest.com
This is of the royalty and therefore, whatever is said would always be less. While there were about 27 other cakes in the wedding, the princess' choice of the central confection was a five-foot-tall main cake that supposedly took 14 weeks to prepare! One of the most beautiful wedding cakes, it was designed by David Avery of the Royal Naval Cookery School, was decorated with roses, lilies of the valley, and orchids, along with the Prince's family's royal coat of arms.
12. Donald Trump and Melania Knauss' Grand Marnier Wedding Cake
Image source: Foxnews.com
Trump trumped his guests with the sweet treats up on his wedding day. The extravagant orange Grand Marnier chiffon wedding cake was a seven-tiered confection, five feet high, 200 pounds, 32 inches in diameter, covered with 3,000 white icing roses, and filled with Grand Marnier buttercream. The cake took two months for pastry chef Cedric Barbaret to create. On top of all that, wedding guests were treated to individual cakes filled with chocolate truffle and decorated with a single rose on top. Well, 'The Donald' couldn't have anything save the best for his D-day, could he?
---
Suggested read: These celebrity tattoos will make you want to get inked!
---
13. Prince William and Kate Middleton's $80,000 Royal Wedding Cake
Image source: Huffingtonpost.com
This royal wedding topped the former one with an even more luxe-wedding cake for its guests! The $80,000 royal wedding cake to grace Prince William and Kate Middleton's nuptials was an eight-tiered fruit cake with white icing and 900 sugar paste flowers, designed by  Fiona Cairns and including 17 different kinds of symbolic flowers. Displayed on the seventh tier, the English rose, Scottish thistle, Welsh daffodil, and Irish shamrock represented the home nations. On the sixth tier were the elaborately scrolled initials of the couple encircled by sugar lily of the valley flowers, symbolizing sweetness and humility. Ahh, if only I were a royal!
We are wondering how many days or months might have seen the leftovers of these extravagant and beautiful wedding cakes! 😛
Featured image source: whitebowsevents.com
Summary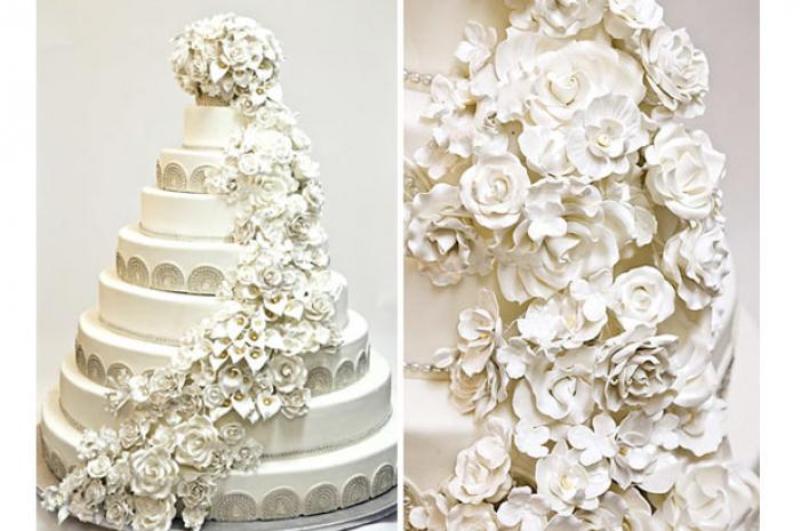 Article Name
13 Most Extravagant And Beautiful Wedding Cakes From Celeb Weddings
Author
Description
Celeb weddings are spun right out of a fairy tale and everything is just 'perfect.' Taste the delight in their extravagant and beautiful wedding cakes here.