Wedding invitation cards are an exciting part of the wedding planning process. While there are people who believe that wedding invitations should be kept simple, some younger couples are using them to express their creativity.
So, if you have a wedding coming up and you are on the lookout for unique wedding invitations that will leave a great impression on all your guests, I am going to be your best friend for the day.
---
Suggested read: The perfect shoes for your wedding day
---
I will be sharing some of the most mind-blowing wedding invitation designs to help make your wedding the talk of the town. I pride myself on my selection because I bring forth a blend of every possible taste. There is the authentic Rajasthan touch in some while you can spot the English elegance or Italian glamor in others. So, are you all set to read about some of the best and most creative wedding invitation ideas?
1. The Midas Touch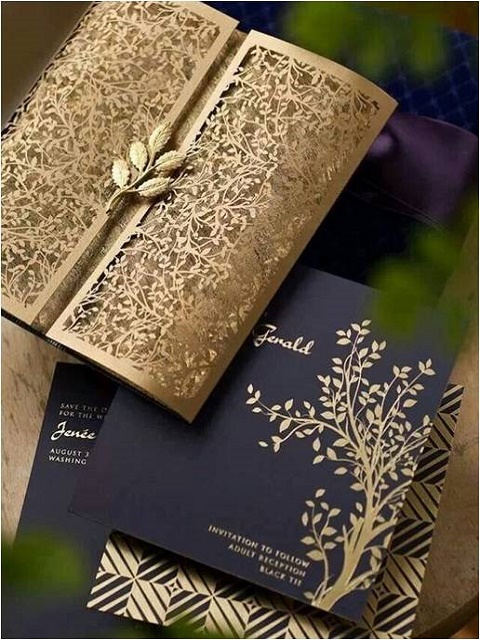 Image source: Pinterest 
If you are someone who loves a touch of gold and you want an invitation card that gives off a royal vibe, this is definitely the design to pick. The fine golden print along with the beautiful detailing makes this invitation a perfect choice.
2. The color blast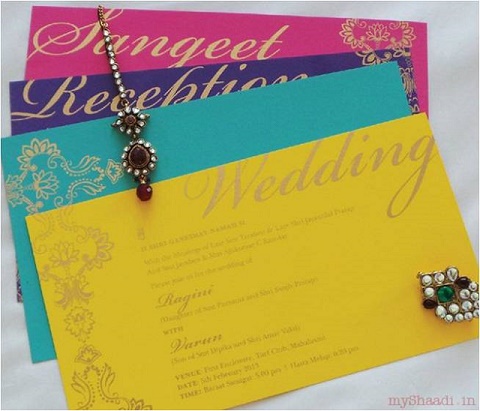 Image source: Pinterest 
What is a wedding without a little color and flare? This unique design is comprised of various bright colors packed into one. It is simple and yet graceful. To complete the look, there is a touch of  traditional beautiful Indian jewelry.
3. The elegance of royalty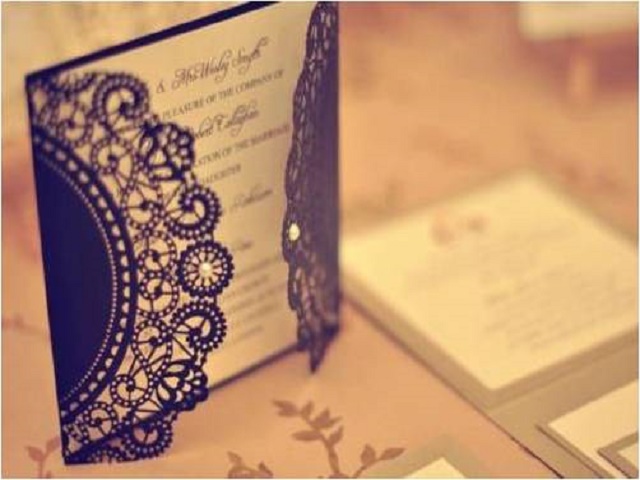 Image source: Pinterest 
This  design suits those who are looking for a royal and timeless appeal for their invitations. The fine cutting in the card makes it stand out. It isn't too showy or vibrant, but the feel of this card sends the right signal and message as well.
4. Rajasthani folk touch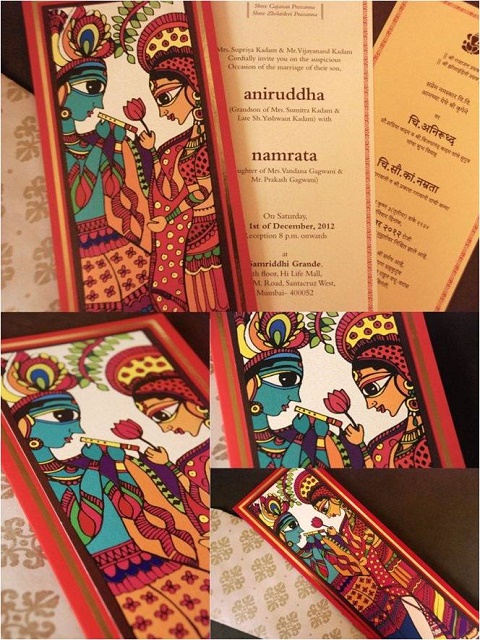 Image source: Pinterest 
Rajasthan has managed to make a mark for itself all over the world. If you are planning a traditional Indian wedding, this is certainly the style to pick. With these fine drawings etched on the cards, it is the perfect symbol for the marriage that is about to happen. Your wedding invitation cards will be just as majestic as the beautiful Rajasthani paintings.
5. Layered splash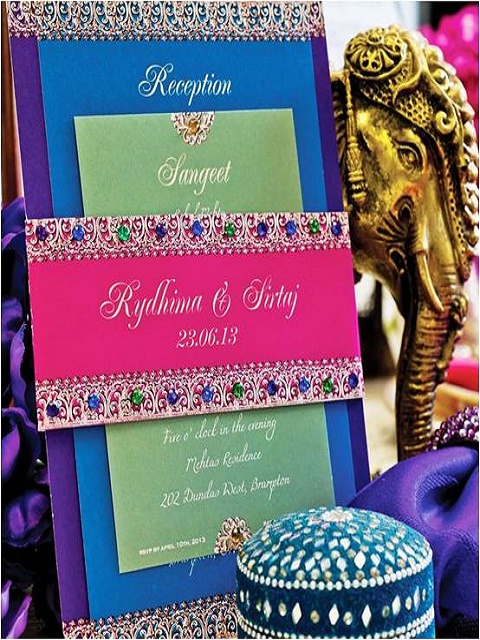 Image source: Pinterest
This checkered and layered wedding invitation design is very appealing. It is free from most embellishment, but to give it a complete traditional look you can add different items like the royal Rajasthani hat to it. No doubt about it, your guests will be left awestruck! The amount of items you add to the card is totally up to you and your budget!
6. The blessing card invitation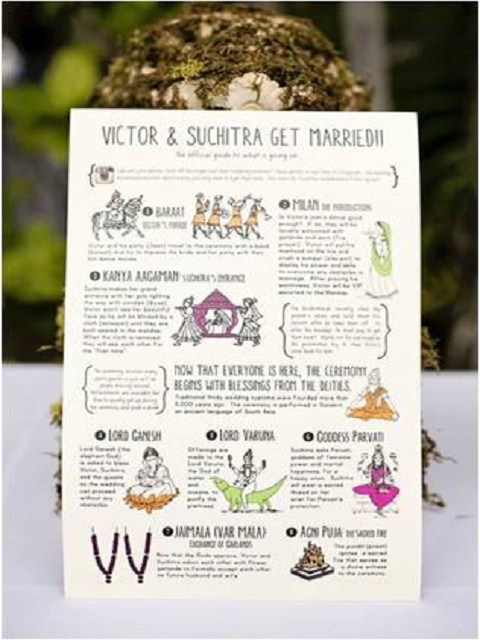 Image source: Pinterest
This design is very much on-trend recently. If you observe the invitation design, it isn't very complex. However, the layout and the overall style give it a jazzy feel. This is a great choice for traditional Hindu weddings. If you want to make it fancier, you can always go for ornate packaging or even add some accessories in the boxes where they will be packed.
7. A bouquet of happiness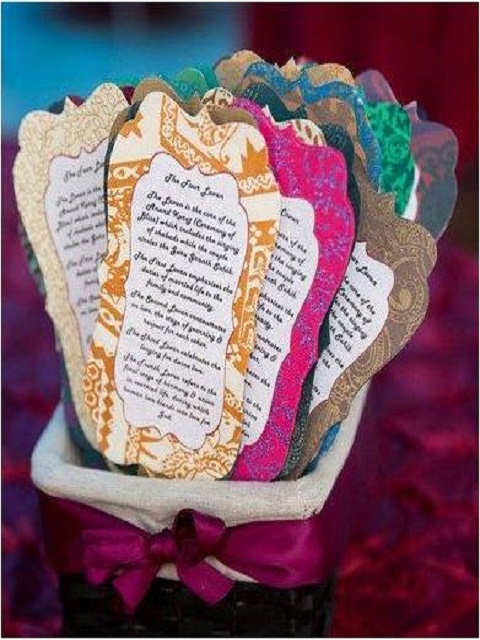 Image source: Pinterest
This collective basket of cards makes a very cute presentation. It looks best for destination weddings or when you have a lot of different events planned for your wedding celebration. Every tiny card can contain details of the events and the basket looks like one cute bundle of joy. There is no doubt that the joyful look of this wedding invitation will match the fun celebration you have in store for your guests.
---
Suggested read: The ultimate wedding gift guide that will tide you over your friend's wedding
---
8. The scroll invite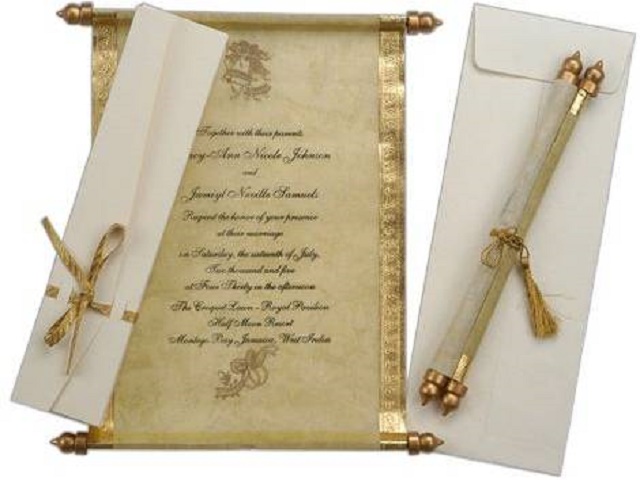 Image source: Pinterest
Remember learning about the age-old times when the royal kings used to send out invitations for their lavish affairs? We all know that the Indian rulers were known for their traditional scrolls that were marked with the royal seal. Are you interested in a wedding invitation that will help people recall the glory of the ancient India as well as the real charm of our legacy and culture? If you have just nodded your head in approval, this is the design to choose. The golden borders and the artistic handwriting make this a beautiful design.
9. Because pink is precious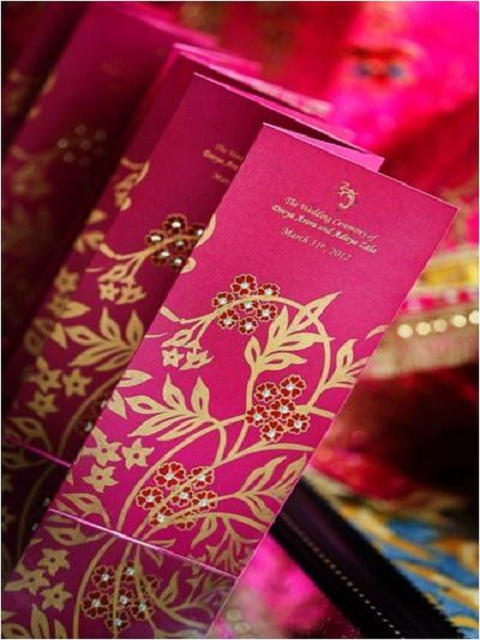 Image source: Pinterest
Do I even need to tell you why this is one of the most gorgeous designs? There are so many great factors in this invitation. The pink background scores an awesome point and the fine golden etchings give the pizzazz that a wedding invitation calls for. This is for those couples that want something traditional, elegant, and nothing too loud. It conveys the message in a subtle manner and yet manages to impress as well.
10. Style meets élan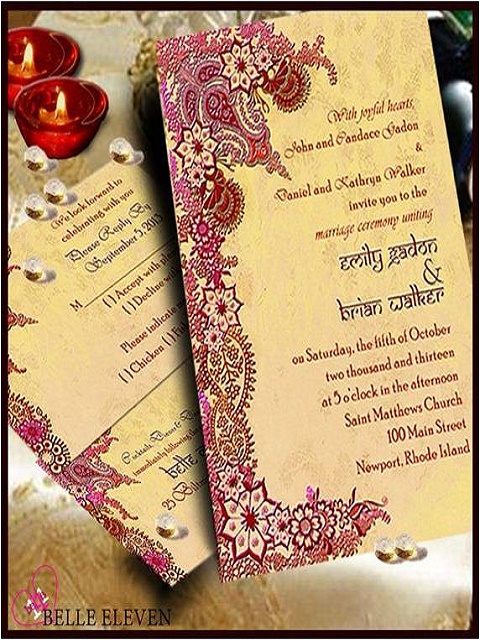 Image source: Pinterest
Sometimes all you want from a wedding invitation is to covey the message clearly. If you don't want to be really loud and instead just want the invitation to express the beauty of your bond and the institution of marriage, then this is the perfect design to choose. It is simple but the design etched at the corners makes it one of the best styles that will definitely be pleasing to your guests.
11. The color of love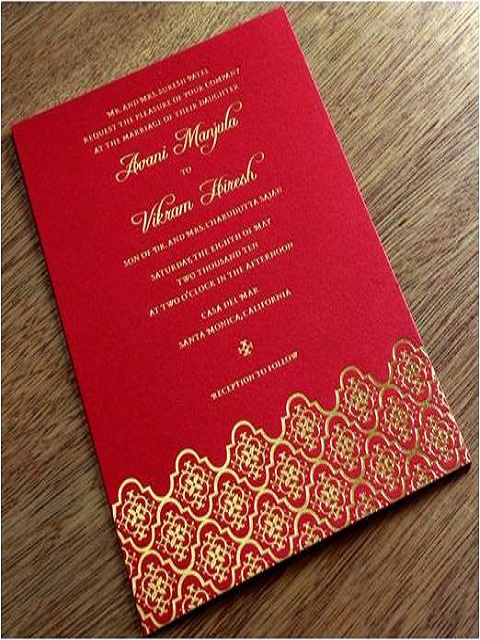 Image source: Pinterest
Red is known to be the color of love and this is why a larger part of traditional Indian wedding invitation cards are often red in color. The Hindu mythology also considers red to be a holy symbol in this context. So, if you want to abide by all these beliefs and norms, this design is definitely an apt choice for you. The blend of red background and the golden font look perfect paired together. You can add embroidered finishing or even pack it in a beautiful case to add to the royal appeal. In all, this card speaks of love!
12. The divine blessings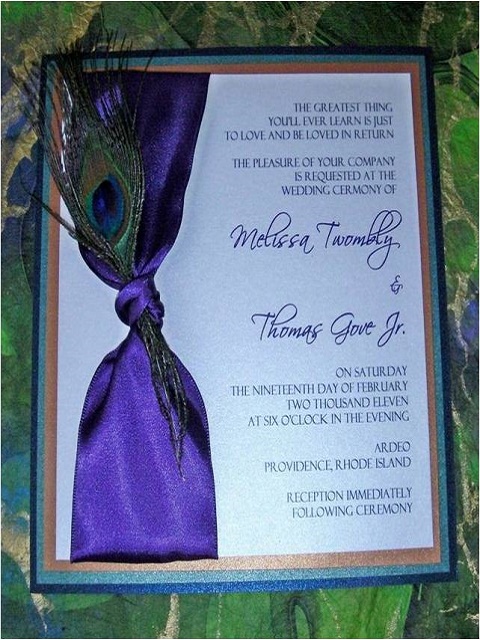 Image source: Pinterest
The feathers of a peacock are considered to be holy, as it is believed that Lord Krishna wore them. There are a lot of people who choose to have them as part of their wedding invitation design because apart from being holy, the feathers look serene and beautiful too. The design is very engaging and the beauty of the feathers definitely stands out like a timeless work of art. So, if you are on the lookout for an artistic card that isn't grandiose but manages to have its own charm, this is definitely a great option.
13. The English elegance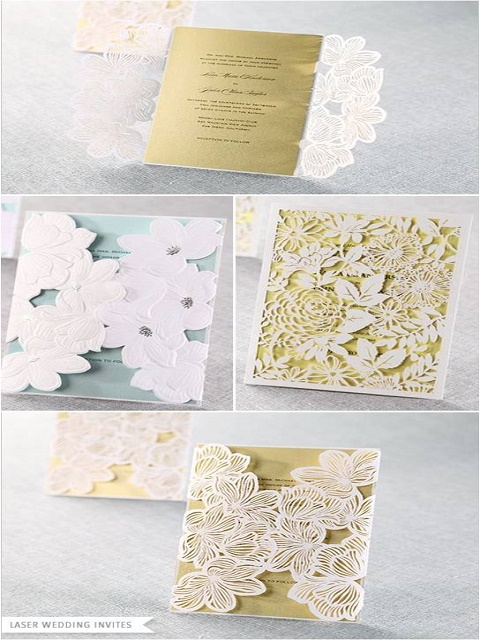 Image source: Pinterest
We can all see how we are being influenced by western society at large. If you are obsessed with English weddings or Christian-style invitations, this idea looks to be the best choice for you. The fine cuts and the intricately woven flowers at the top give it a very English look. It might not be the most traditional choice, but if you are looking for an alternative style of announcing your wedding, I would definitely advise you to check this design out. The overall appeal is too beautiful to be ignored.
14. The big blast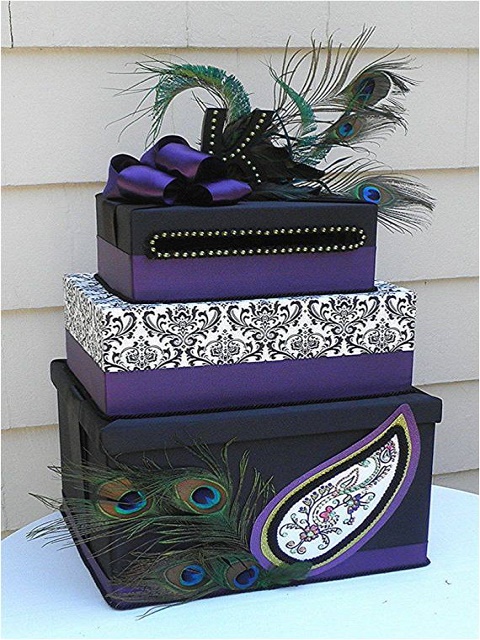 Image source: Pinterest
So, this one is ideally for those mega big fat Indian weddings where half the town is invited. This is a huge box you receive plenty of goodies along with the wedding invitation itself. I would say this is one style where the guests get as excited about the marriage as the couple, because after all, who doesn't like free goodies?
---
Suggested read: The bizarre origins of 10 wedding traditions
---
15. A notch higher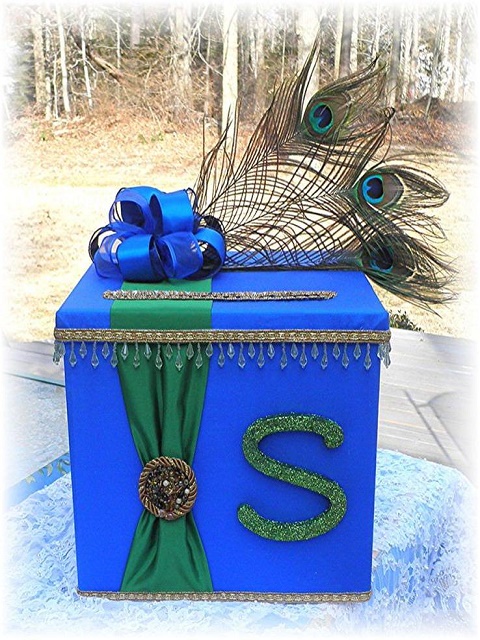 Image source: Pinterest
Want to take things to the next level? This jewel-designed, creative wedding invitation idea will make you the real talk of the town. This is again for those who have a big budget to spare. Stock the box with some amazing goodies and have the regal-looking invitation securely kept inside. You can also etch your initials at the top and give it that extra charm and polish to the overall look.
These are 15 of my top picks for wedding cards? Which of these do you want to use for your wedding?
Featured image source: Pinterest
Summary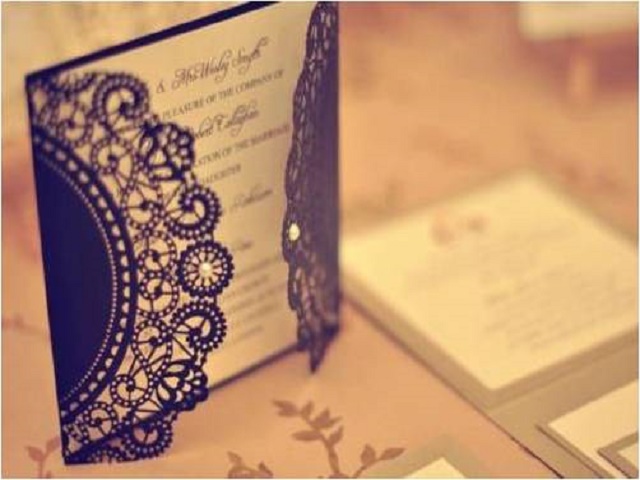 Article Name
15 Wedding Invitation Cards That Are Both Creative And Elegant
Author
Description
Wedding invitation cards are one of the first things that a bride decides upon. Here are some creative and elegant ones you can take inspiration from.